Abstract
The polyploidy induction using mutagenic chemicals is one of the breeding approaches to improve enhancing productivity of yield and secondary metabolites in medicinal plants. In the present research, to induce polyploidy in Stevia rebaudiana plants, the seeds were treated with four concentrations of colchicine (control, 0.05%, 0.1% and 0.2%) for 12, 24, 36 and 48 h in a factorial experiment based on randomized complete block design with three replicates. The morphological and phytochemical traits of plants were measured before the flowering stage. The results indicated that different concentrations of colchicine had a significant effect on the plant height, number of leaves, number of branches, mean of leaf length, stomata size and stomata density. The exposure times of colchicine also caused significant changes in the plant height, number of branches, leaf width and length (P ≤ 0.01). Enhancement of colchicine concentration, significantly increased the above mentioned morphological traits, along with stomata size and rebaudioside-A, while significantly decreased stomata density in comparison to the control (P ≤ 0.01). In contrast, the interaction of colchicine concentration and exposure time had a significant effect on leaf length. The findings of this study indicated that estimation of physiological changes and secondary metabolites amount is one of the effective methods in primary screening of polyploid plants in polyploidisation breeding program and flow cytometry is recommended to be used for accurate identification of ploidy level in Stevia rebaudiana.
Access options
Buy single article
Instant access to the full article PDF.
US$ 39.95
Tax calculation will be finalised during checkout.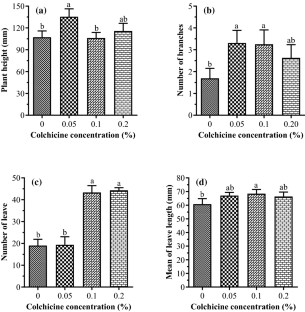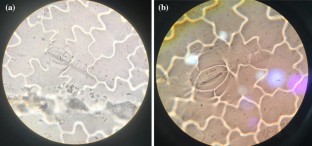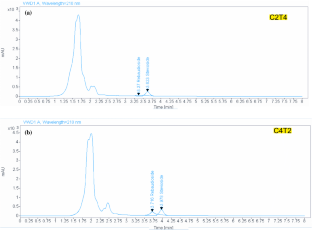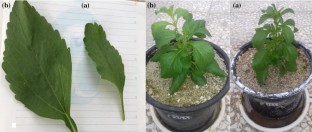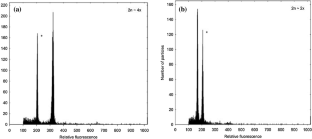 References
Ahmadi T, Jafarkhani Kermani M, Mashayekhi K, Hasanloo T, Shariatpanahi M (2013) Comparing plant morphology, fertility and secondary metabolites in Rosa hybrida cv iceberg and its chromosome-doubled progenies. Int Res J App Bas Sci 4:3840–3849

Alam M (2011) Induction and evaluation of polyploidy in some local potato varieties of Bangladesh. J Biodiver Environ Sci (JBES) 1:6–21

Amiri S, Kazemitabaar S, Ranjbar G, Azadbakht M (2010) The effect of trifluralin and colchicine treatments on morphological characteristics of jimsonweed (Datura Stramonium L.). Trakia J Sci 8:47–61

Basumatari M, Das BN (2017) Karyomorphological studies in two species of Bauhinia Linn. and induction of polyploidy in Bauhinia acuminata Linn. Int J Life Sci Sci Res 3:1223–1229

Bennett MD (2004) Perspectives on polyploidy in plants–ancient and neo. Biol J Lin Soc 82:411–423

Boonbongkarn S, Taychasinpitak T, Wongchaochant S, Kikuchi S (2013) Effect of colchicine tablets on morphology of Torenia fournieri. ITJEMAST 4:299–309

Brandle J, Telmer P (2007) Steviol glycoside biosynthesis. Phytochemistry 68:1855–1863

Castro CM, de Oliveira A, de Carvalho F (2003) Changes in allele frequencies in colchicine-treated ryegrass populations assessed with RAPD markers. Revista Brasileira de Agrociencia (Brazil) 9:107–112

Chavan R, Mahadi S, Ashok T, Shashidhar H, Vasundhara M (2014) Induction of genetic variability in Stevia rebaudiana Bertoni. Eco Env Cons 20:1273–1281

Chen L-L, Gao S-L (2007) In vitro tetraploid induction and generation of tetraploids from mixoploids in Astragalus membranaceus. Sci Hortic 112:339–344

Dhamayanthi K, Gotmare V (2010) Induction of polyploidy in two diploid wild cotton (G. armourianum and G. aridum) species by colchicine treatment. Electron J Plant Breed 1:966–972

Dhawan O, Lavania U (1996) Enhancing the productivity of secondary metabolites via induced polyploidy: a review. Euphytica 87:81–89

Dhooghe E, Van Laere K, Eeckhaut T, Leus L, Van Huylenbroeck J (2011) Mitotic chromosome doubling of plant tissues in vitro. Plant Cell. Tissue Organ Culture (PCTOC) 104:359–373

Escandon AS, Miyajima I, Alderete M, Hagiwara JC, Facciuto G, Mata D, Soto SM (2005) Wild ornamental germplasm exploration and domestication based on biotechnological approaches: In vitro colchicine treatment to obtain a new cultivar of Scoparia montevidiensis. Electron J Biotechnol 8:86–93

Fetouh MI, Kareem A, Knox GW, Wilson SB, Deng Z (2016) Induction, identification, and characterization of tetraploids in Japanese privet (Ligustrum japonicum). HortScience 51:1371–1377

Hamill S, Smith M, Dodd W (1992) In vitro induction of banana autotetraploids by colchicine treatment of micropropagated diploids. Aust J Bot 40:887–896

Harbard J, Griffin A, Foster S, Brooker C, Kha L, Koutoulis A (2012) Production of colchicine-induced autotetraploids as a basis for sterility breeding in Acacia mangium Willd. Forestry. Intl J Forest Res 85:427–436

Li Z, Ruter JM (2017) Development and Evaluation of diploid and polyploid Hibiscus moscheutos. HortScience 52:676–681

Manzoor A, Ahmad T, Bashir MA, Baig MMQ, Quresh AA, Shah MKN, Hafiz IA (2018) Induction and identification of colchicine induced polyploidy in Gladiolus grandiflorus 'White Prosperity'. Folia Horticultur 30:307–319

Maruska A, Proscevicius J, Bimbiraite-Surviliene K, Kornysova O, Ragazinskiene O, Ratautaite V (2010) Comparison of phytochemical composition of medicinal plants by means of chromatographic and related techniques. Procedia Chemy 2:83–91

Mishra P, Singh R, Kumar U, Prakash V (2010) Stevia rebaudiana–A magical sweetener. Global J Biotecnol Biochem 5:62–74

Munzbergova Z (2017) Colchicine application significantly affects plant performance in the second generation of synthetic polyploids and its effects vary between populations. Ann Bot 120:329–339

Omezzine F, Ladhari A, Nefzi F, Harrath R, Aouni M, Haouala R (2012) Induction and flow cytometry identification of mixoploidy through colchicine treatment of Trigonella foenum-graecum L. Afr J Biotech 11:16434–16442

Otto SP (2007) The evolutionary consequences of polyploidy. Cell 131:452–462

Ozturk M, Duru ME, Ince B, Harmandar M, Topcu G (2010) A new rapid spectrophotometric method to determine the rosmarinic acid level in plant extracts. Food Chem 123:1352–1356

Penner R, Shanks K, Timcke J, Krigbaum J, Uno J (2004) Stevia from Paraguay: market perspectives, development and potential; use and international regulations. Paraguay Vende, Asunción

Petersen KK, Hagberg P, Kristiansen K (2003) Colchicine and oryzalin mediated chromosome doubling in different genotypes of Miscanthus sinensis. Plant Cell Tissue Organ Cult 73:137–146

Robinson H, King RM (1977) Eupatoriae-systematic review. In: Heywood VH, Harbone JB, Turner BL (eds) The Biology and Chemistry of the Compositae. Academic Press Inc., London

Sakhanokho HF, Rajasekaran K, Kelley RY, Islam-Faridi N (2009) Induced polyploidy in diploid ornamental ginger (Hedychium muluense RM Smith) using colchicine and oryzalin. HortScience 44:1809–1814

Stanys V, Staniene G, Íikßnianas T (2004) In vitro induction of polyploidy in In vitro Ribes. Acta Universitatis Latviensis 676:235–676

Stebbins GL Jr (1947) Types of polyploids: their classification and significance. Adv Genet 1:403–429

Tang Z-Q, Chen D-L, Song Z-J, He Y-C, Cai D-T (2010) In vitro induction and identification of tetraploid plants of Paulownia tomentosa. Plant Cell. Tissue Organ Cult (PCTOC) 102:213–220

Thao NTP, Ureshino K, Miyajima I, Ozaki Y, Okubo H (2003) Induction of tetraploids in ornamental Alocasia through colchicine and oryzalin treatments. Plant Cell Tissue Organ Cult 72:19–25

Vainola A (2000) Polyploidization and early screening of Rhododendron hybrids. Euphytica 112:239–244

Vanitha J, Jiang S, Ramachandran S (2013) Impact of Colchicine Treatment on Sorghum bicolor BT×623. Molecular Plant Breed 4:128–135

Vijaykumar K, Murthy PB, Kannababu S, Syamasundar B, Subbaraju GV (2007) Estimation of Adrographolide in Andrographis paniculata herb, extracts and dosage forms. Int J Appl Sci Eng 5:27–39

Wang W, He Y, Cao Z, Deng Z (2018) Induction of tetraploids in impatiens (Impatiens walleriana) and characterization of their changes in morphology and resistance to downy mildew. HortScience 53:925–931

Yadav AK, Singh S, Dhyani D, Ahuja PS (2011) A review on the improvement of stevia [Stevia rebaudiana (Bertoni)]. Can J Plant Sci 91:1–27

Yokoya K, Roberts A, Mottley J, Lewis R, Brandham P (2000) Nuclear DNA amounts in roses. Ann Bot 85:557–561

Zlesak DC, Thill CA, Anderson NO (2005) Trifluralin-mediated polyploidization of Rosa chinensis minima (Sims) Voss seedlings. Euphytica 141:281–290
Ethics declarations
Conflict of interest
Author declares that there is no conflict of interest.
About this article
Cite this article
Talei, D., Nekouei, M.K., Mardi, M. et al. Improving productivity of steviol glycosides in Stevia rebaudiana via induced polyploidy. J. Crop Sci. Biotechnol. 23, 301–309 (2020). https://doi.org/10.1007/s12892-020-00038-5
Accepted:

Published:

Issue Date:
Keywords
Colchicine

Flavonoid

Morphological traits

Stevia rebaudiana

Rebaudioside