Abstract
Recent discoveries have improved our understanding of the complex genetic mechanisms underlying autism spectrum disorder (ASD). Despite current guidelines, genetic testing for children with ASD is largely underutilized. This has been attributed to a lack of public awareness regarding genetic testing. The role that autism support groups play in this awareness has not been previously described. A web-based survey was developed and distributed through a community support group to assess the awareness and utilization of genetic testing among caregivers for children with ASD. A total of 138 caregivers responded in total. Only 53.6% were aware that genetic testing exists for ASD. Genetic testing was completed in 17.4% of respondents. Rates of awareness were similar across demographic factors including race, family income, education level, and urban, suburban, or rural residence. This supports low awareness as a key factor in the underutilization of genetic testing for ASD, even among members in an organized autism support group. Targeting public awareness through these organizations may be a promising approach for improving the utilization of genetic testing in ASD.
This is a preview of subscription content, log in to check access.
Access options
Buy single article
Instant access to the full article PDF.
US$ 39.95
Price includes VAT for USA
Subscribe to journal
Immediate online access to all issues from 2019. Subscription will auto renew annually.
US$ 99
This is the net price. Taxes to be calculated in checkout.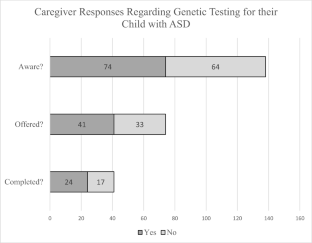 References
American Psychiatric Association (2013) DSM-5 Diagnostic classification. American Psychiatric Association, In diagnostic and statistical manual of mental disorders

Bellando J, Fussell JJ, Lopez M (2016) Autism Speaks toolkits: resources for busy physicians. Clin Pediatr 55(2):171–175

Chen LS, Xu L, Huang TY, Dhar SU (2013) Autism genetic testing: a qualitative study of awareness, attitudes, and experiences among parents of children with autism spectrum disorders. Genet Med 15(4):274–281

Clifford T, Minnes P (2013) Who participates in support groups for parents of children with autism spectrum disorders? the role of beliefs and coping style. J Autism Dev Disord 43(1):179–187

Cuccaro ML, Czape K, Alessandri M, Lee J, Deppen AR, Bendik E, Dueker N, Nations L, Pericak-Vance M, Hahn S (2014) Genetic testing and corresponding services among individuals with autism spectrum disorder (ASD). Am J Med Genet A 164(10):2592–2600

Filipek PA, Accardo PJ, Ashwal S, Baranek GT, Cook EH, Dawson G, Gordon B, Gravel JS, Johnson CP, Kallen RJ, Levy SE, Minshew NJ, Ozonoff S, Prizant BM, Rapin I, Rogers SJ, Stone WL, Teplin SW, Tuchman RF, Volkmar FR (2000) Practice parameter: Screening and diagnosis of autism. Report of the quality standards subcommittee of the American Academy of Neurology and the Child Neurology Society. Neurology 55(4):468–479

Harris PA, Taylor R, Thielke R, Payne J, Gonzalez N, Conde JG (2009) Research electronic data capture (REDCap)--a metadata-driven methodology and workflow process for providing translational research informatics support. J Biomed Inform 42(2):377–381

Hens K, Peeters H, Dierickx K (2016) Genetic testing and counseling in the case of an autism diagnosis: a caregivers perspective. Eur J Med Genet 59(9):452–458

Ho KS, Wassman ER, Baxter AL, Hensel CH, Martin MM, Prasad A, Twede H, Vanzo R, Butler M (2016) Chromosomal microarray analysis of consecutive individuals with autism spectrum disorders using an ultra-high resolution chromosomal microarray optimized for neurodevelopmental disorders. Int J Mol Sci 17(12):2070

Huguet G, Ey E, Bourgeron T (2013) The genetic landscapes of autism spectrum disorders. Annu Rev Genomics Hum Genet 14(1):191–213

Hyman SL, Levy SE, Myers SM (2020) Identification, evaluation, and management of children with autism spectrum disorder. Pediatrics 145(1)

Jang W, Kim Y, Han E, Park J, Chae H, Kwon A, Choi H, Kim J, Son JO, Lee SJ, Hong BY, Jang DH, Han JY, Lee JH, Kim SY, Lee IG, Sung IK, Moon Y, Kim M, Park JH (2019) Chromosomal microarray analysis as a first-tier clinical diagnostic test in patients with developmental delay/intellectual disability, autism spectrum disorders, and multiple congenital anomalies: a prospective multicenter study in Korea. Ann Lab Med 39(3):299–310

Johannessen J, Nærland T, Hope S, Torske T, Høyland A, Strohmaier J, Heiberg A, Rietschel M, Djurovic S, Andreassen O (2017) Parents' attitudes toward clinical genetic testing for autism spectrum disorder—data from a Norwegian sample. Int J Mol Sci 18(6):1078

Kiely B, Vettam S, Adesman A (2016) Utilization of genetic testing among children with developmental disabilities in the United States. Appl Clin Genet 9:93–100

Li M, Amuta A, Xu L, Dhar SU, Talwar D, Jung E, Chen LS (2016) Autism genetic testing information needs among parents of affected children: a qualitative study. Patient Educ Couns 99(6):1011–1016

Maenner MJ, Shaw KA, Baio J, Washington A, Patrick M, DiRienzo M et al (2020) Prevalence of autism spectrum disorder among children aged 8 years — autism and developmental disabilities monitoring network, 11 Sites, United States, 2016. MMWR Surveill Summ 69(SS-4):1–12

McGrew SG, Peters BR, Crittendon JA, Veenstra-VanderWeele J (2012) Diagnostic yield of chromosomal microarray analysis in an autism primary care practice: Which guidelines to implement? J Autism Dev Disord 42(8):1582–1591

Mohd Roffeei SH, Abdullah N, Basar SKR (2015) Seeking social support on Facebook for children with autism spectrum disorders (ASDs). Int J Med Inform 84(5):375–385

Munnich A, Demily C, Frugère L, Duwime C, Malan V, Barcia G, Vidal C, Throo E, Besmond C, Hubert L, Roland-Manuel G, Malen JP, Ferreri M, Hanein S, Thalabard JC, Boddaert N, Assouline M (2019) Impact of on-site clinical genetics consultations on diagnostic rate in children and young adults with autism spectrum disorder. Mol Autism 10:33

Murray DS, Fedele A, Shui A, Coury DL (2016) The Autism Speaks autism treatment network registry data: opportunities for investigators. Pediatrics 137:S72–S78

Ross LF, Saal HM, David KL, Anderson RR (2013) Technical report: ethical and policy issues in genetic testing and screening of children. Genet Med 15(3):234–245

Rutz A, Dent KM, Botto LD, Young PC, Carbone PS (2019) Brief report: pediatrician perspectives regarding genetic evaluations of children with autism spectrum disorder. J Autism Dev Disord 49(2):794–808

Saxena A, Chahrour M (2017) Autism spectrum disorder. In: David SP (ed) Genomic and Precision Medicine. Ch 16, 3rd edn. Academic Press, pp 301–316

Schaefer GB, Mendelsohn NJ (2013) Clinical genetics evaluation in identifying the etiology of autism spectrum disorders: 2013 guideline revisions. Genet Med 15(5):399–407

Shen Y, Dies KA, Holm IA, Bridgemohan C, Sobeih MM, Caronna EB, Miller KJ, Frazier JA, Silverstein I, Picker J, Weissman L, Raffalli P, Jeste S, Demmer LA, Peters HK, Brewster SJ, Kowalczyk SJ, Rosen-Sheidley B, McGowan C, Duda AW, Lincoln SA, Lowe KR, Schonwald A, Robbins M, Hisama F, Wolff R, Becker R, Nasir R, Urion DK, Milunsky JM, Rappaport L, Gusella JF, Walsh CA, Wu BL, Miller DT, on behalf of the Autism Consortium Clinical Genetics/DNA Diagnostics Collaboration (2010) Clinical genetic testing for patients with autism spectrum disorders. Pediatrics 125(4):e727–e735

Singh J, Hallmayer J, Illes J (2007) Interacting and paradoxical forces in neuroscience and society. Nature reviews. Neuroscience 8(2):153–160

Tammimies K, Marshall CR, Walker S, Kaur G, Thiruvahindrapuram B, Lionel AC et al (2015) Molecular diagnostic yield of chromosomal microarray analysis and whole-exome sequencing in children with autism spectrum disorder. JAMA 314(9):595–903

Vande Wydeven K, Kwan A, Hardan AY, Bernstein JA (2012) Underutilization of genetics services for autism: the importance of parental awareness and provider recommendation. J Genet Couns 21(6):803–813

Volkmar F, Siegel M, Woodbury-Smith M, King B, Mccracken J, State M (2014) AACAP OFFICIAL ACTION Practice parameter for the assessment and treatment of children and adolescents with autism spectrum disorder. J Am Acad Child Adolesc Psychiatry 53(2):237–257

Zhao S, Chen WJ, Dhar SU, Eble TN, Kwok OM, Chen LS (2019) Genetic testing experiences among parents of children with autism spectrum disorder in the United States. J Autism Dev Disord 49(12):4821–4833
Acknowledgments
The authors wish to acknowledge Amy Helgeson, Field Development–Executive Director of Autism Speaks Illinois and Wisconsin, who facilitated the dissemination of the survey and the caregivers of the Autism Speaks support group who participated in our survey.
Ethics declarations
All procedures followed were in accordance with the ethical standards of the responsible committee on human experimentation (institutional and national) and with the Helsinki Declaration of 1975, as revised in 2000 (5). Informed consent was obtained from all patients for being included in the study.
Conflict of interest
The authors declare that they have no conflict of interest.
Additional information
Publisher's note
Springer Nature remains neutral with regard to jurisdictional claims in published maps and institutional affiliations.
About this article
Cite this article
Zebolsky, A., Vos, D. & Soares, N. Awareness of genetic testing for children with autism spectrum disorder among caregivers in an autism support group. J Community Genet (2020). https://doi.org/10.1007/s12687-020-00469-1
Received:

Accepted:

Published:
Keywords
Autism spectrum disorder

Support group

Awareness

Community

Genetic testing