Abstract
Existing molecular techniques to determine sex of pinnipeds rely on multiplex PCR amplification and gel electrophoresis, and are consequently expensive, time consuming, insensitive and involve handling hazardous DNA-binding dyes. We developed a qPCR high resolution melt assay that involves a single multiplex PCR with dissociation/melting-curve analysis to determine the melting point temperatures (Tm) of two PCR products. Two sets of primers were selected to amplify short regions of the SRY and ZFX/ZFY loci for molecular sex identification. Primers were designed based on alignment of a broad range of pinniped species to maximize applicability for most or all of the 33 species representing two complete superfamilies in the sub-order Caniformia. The assay was validated using 15 pinniped species totaling 122 animals of known sex. The co-amplification of short products also demonstrated improved results for sex determination of degraded samples. The use of a single step qPCR saves time and reduces the cost of running sex determination tests through reduction of labor and supply costs. This new technique will generate results more quickly and reliably, aiding in the study of population health and sex-specific dispersal and behavior patterns.
Access options
Buy single article
Instant access to the full article PDF.
US$ 39.95
Tax calculation will be finalised during checkout.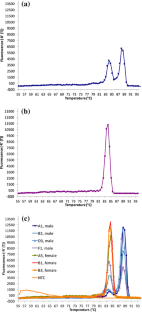 References
Bischoff FZ, Lewis DE, Simpson JL (2005) Cell-free fetal DNA in maternal blood: kinetics, source and structure. Hum Reprod Update 11:59–67

Chang HW, Cheng CA, Gu DL, Chang CC, Su SH, Wen CH, Chou YC, Chou TC, Yao CT, Tsai CL, Cheng CC (2008) High-throughput avian molecular sexing by SYBR green-based real-time PCR combined with melting curve analysis. BMC Biotechnol 8:12

Curtis C, Stewart BS, Karl SA (2007) Sexing pinnipeds with ZFX and ZFY loci. J Hered 98:280–285

Fain SR, Lemay JP (1995) Gender Identification of humans and mammalian wildlife species from PCR amplified sex linked genes. Proc Am Acad Forensic Sci 1:34

Fischbach AS, Jay CV, Jackson JV, Andersen LW, Sage GK, Talbot SL (2008) Molecular method for determining sex of walruses. J Wildl Manag 72:1808–1812

Matejusova I, Bland F, Hall AJ, Harris RN, Snow M, Douglas A, Middlemas SJ (2013) Real-time PCR assays for the identification of harbor and gray seal species and sex: A molecular tool for ecology and management. Mar Mammal Sci 29:186–194.

Miller SA, Dykes DD, Polesky HF (1988) A simple salting out procedure for extracting DNA from human nucleated cells. Nucleic Acids Res 16:1215

Reed JZ, Tollit DJ, Thompson PM, Amos W (1997) Molecular scatology: the use of molecular genetic analysis to assign species, sex and individual identity to seal faeces. Mol Ecol 6:225–234

Sanvito S, Fabiani A, Galimberti F (2014) Sex determination in the near threatened Guadalupe fur seal: Molecular markers and their potential applications. Open J Anim Sci 4:270–277

Shaw CN, Wilson PJ, White BN (2003) A reliable molecular method of gender determination for mammals. J Mammal 84:123–128
Acknowledgements
We thank our Lab Manager, Victoria Pease, and Lab Technician, Tiffany Lowe, for their dedicated help. We are grateful to all the organizations that contributed samples, Alaska Department of Fish and Game, National Marine Fisheries Service (Alaska Region—Stranding Program, West Coast Region's fishery observers and Stranding Program, National Marine Mammal Lab, SWFSC's Antarctic Division), and the Zoological Foundation of El Salvador. All samples were collected under the appropriate NMFS, Marine Mammal Protection Act permits and imported (where necessary) under CITES permit. Funding was provided by the Southwest Fisheries Science Center, Marine Mammal and Turtle Division. Helpful comments were provided by Brittany Hancock-Hanser and two anonymous reviewers.
Author contributions
KMR and PAM conceived the study and wrote the manuscript. KMR and MLL conducted the laboratory work.
Ethics declarations
Conflict of interest
The authors declare that they have no conflict of interest.
About this article
Cite this article
Robertson, K.M., Lauf, M.L. & Morin, P.A. Genetic sexing of pinnipeds: a real-time, single step qPCR technique. Conservation Genet Resour 10, 213–218 (2018). https://doi.org/10.1007/s12686-017-0759-4
Received:

Accepted:

Published:

Issue Date:
Keywords
Pinnipeds

Sex determination

qPCR

Genetics