Excellent Performances of Modified RuOs Bimetallic Materials as Anode Catalysts for Polymer Electrolyte Membrane Fuel Cells
Abstract
Multicomponent catalysts such as RuOs/C binary electrocatalysts and Pt-modified RuOs/C (Pt-RuOs/C) ternary electrocatalysts were prepared using the sodium borohydride reduction method for use as anode materials in proton exchange membrane fuel cells (PEMFCs). The electrocatalyst particles, of size 3–4 nm, were uniformly dispersed on carbon supports and showed a similar performance to commercial Pt/C in single cell tests. In this study, we demonstrate the use of multicomponent materials with no Pt or a very low level of Pt as potential anode catalysts in an actual PEMFC device. The polarization test results showed that, when used in membrane-electrode assemblies (MEAs) within a PEMFC, the RuOs/C binary electrocatalysts exhibited a significantly enhanced electrochemical performance for hydrogen oxidation. In addition, Pt-RuOs/C revealed a similar performance to that of commercial Pt/C; the new electrocatalyst, in particular, showed excellent Pt mass activity. These results indicate that the RuOs/C catalyst is potentially an alternative anode electrocatalyst for PEMFCs.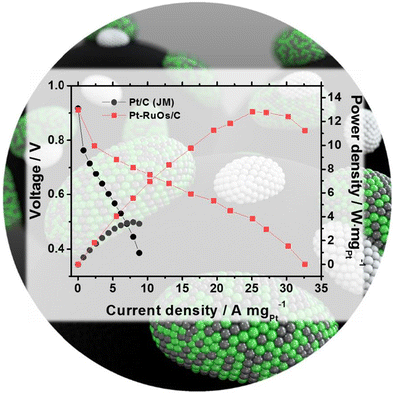 Keywords
RuOs electrocatalyst 
Polymer electrolyte membrane fuel cell 
Hydrogen oxidation reaction 
Membrane electrode assembly 
Notes
Funding information
This work was supported by the Institute for Basic Science (IBS) in Korea (IBS-R006-D1). Y.-H. C. acknowledges financial support from the Basic Science Research Program (2016R1D1A3B03934752) through the National Research Foundation of Korea (NRF), which is funded by the Ministry of Education. This study was also supported by 2015 Research Grant from Kangwon National University.
Copyright information
© Springer Science+Business Media, LLC, part of Springer Nature 2017