Stability Testing of Pt x Sn1 − x /C Anodic Catalyst for Renewable Hydrogen Production Via Electrochemical Reforming of Ethanol
Abstract
The stability testing of three different synthesized Pt x Sn1 − x /C anodic catalysts has been demonstrated for the renewable generation of hydrogen via the electrochemical reforming of ethanol in a proton exchange membrane (PEM) electrolysis cell. Three Pt-Sn anodic catalysts with different nominal Pt:Sn ratios of 60:40, 70:30, and 80:20 atomic (at.) % were synthetized and characterized by the means of electrochemical tests and XRD. Among them, the Pt-Sn anodic catalyst with 70:30 at. ratio showed the highest electrochemical active surface area (ECSA) and highest electrochemical reforming activity, which allowed the production of pure H2 with the lowest electrical energy requirement (below 23 kWh·kgH2 −1). The stability of the system was also demonstrated through a long-term chronopotentiometry experiment of 48 h in duration. The potential for practical use and coupling this technology with renewable solar energy, a number of cyclic voltammetry tests (with a low scan rate of 0.19 mV·s−1) were also carried out. These experiments were performed by simulating the electrical power produced by a photovoltaic cell. This test showed good stability/reproducibility of the MEA and, hence, a suitable integration between the two technologies for the sustainable energy storage in the form of hydrogen.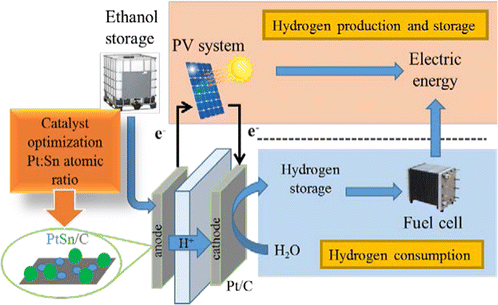 Keywords
Pt-Sn catalyst 
Ethanol electro-oxidation 
Hydrogen production 
Electrochemical reforming 
Energy storage 
Electrolysis 
Notes
Funding Information
We acknowledge the Spanish Ministry of Economy and Competiveness (project CTQ2016-75491-R) for the financial support. A. B. Calcerrada would like also to thank the Junta de Comunidades de Castilla-La Mancha (JCCM) and the European Social Fund for the financial support.
Copyright information
© Springer Science+Business Media, LLC 2017