Green Synthesis of Silver Nanoparticles Using Nostoc linckia and its Antimicrobial Activity: a Novel Biological Approach
Abstract
The biosynthesis of nanoparticles by microorganism is considered a green, non-toxic, and environment-friendly technology. The present study reported for the first time, a rapid and green method for synthesis of silver nanoparticles (AgNPs) using cyanobacteria Nostoc linckia. UV-Vis spectrophotometer, X-ray diffraction (XRD), FT-IR, transmission electron microscopy (TEM), and energy dispersive X-ray (EDX) spectroscopy were used to confirm the formation of silver nanoparticles. The formation and stability of the reduced AgNPs in the colloidal solution were monitored by UV-Vis spectrophotometer analysis. The UV-Vis spectrum revealed a characteristic surface plasmon resonance (SPR) peak at 435 nm, which corresponds to the absorption band of silver nanoparticles. A shift in the absorption bands in FT-IR after the formation of nanoparticles confirmed that the microorganism extract acted not only as reducing agents but also as capping agents to stabilize the formed nanoparticles. X-ray diffraction pattern revealed the crystalline nature of the synthesized nanoparticles. Transmission electron microscope showed spherical shaped nanoparticles. The silver nanoparticles obtained were in the range of 5–60 nm as obtained from TEM. Selected area electron diffraction (SAED) confirmed the formation of metallic Ag. The presence of elemental silver was confirmed by EDX-ray spectroscopy analysis, which showed the peak in silver region at approximately 3 KeV. The AgNPs obtained showed highly potent antibacterial activities toward four different pathogenic bacteria, such as Bacillus subtilis, Escherichia coli, Pseudomonas aeruginosa, and Staphylococcus aureus susp. aureus, and two tested fungal strains (Candida albicans and Aspergillus niger).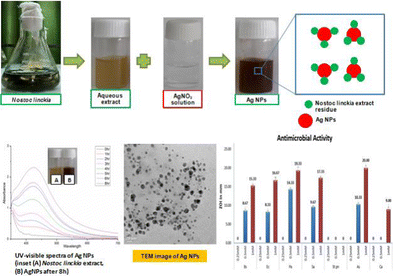 Keywords
Green synthesis 
Silver nanoparticles 
Capping agents 
Nostoc linckia
Antimicrobial activity 
Biological approach 
Notes
Funding Information
This study is funded by SERB, New Delhi (Grant No. SB/FT/CS-103/2013 and SB/EMEQ-076/2014).
Copyright information
© Springer Science+Business Media, LLC, part of Springer Nature 2018