Green Synthesis of Silver Nanoparticles and their Antifungal Properties
Abstract
In this communication, the green synthesis of silver nanoparticles (AgNPs) and their antifungal applications have been reported. The starch-stabilized AgNPs tested on the fungal strain BWP17 of the Candida species were found to have a significant antifungal property with minimum inhibitory concentration (at 80% fungal inhibition, MIC80) of 0.28 mg/ml. The fungicidal property of the nanoparticles was supported by various in vitro staining assays. The modes of inhibition were deciphered by testing the nanoparticles for R6G influx-efflux assay as well as GCMS analysis. Lastly, cell viability assay for determining the toxicity profile of these nanoparticles was performed by using MTT assay kit. It was eventually concluded that the antifungal properties of the starch-stabilized AgNPs are based on cell membrane rupturing mechanism.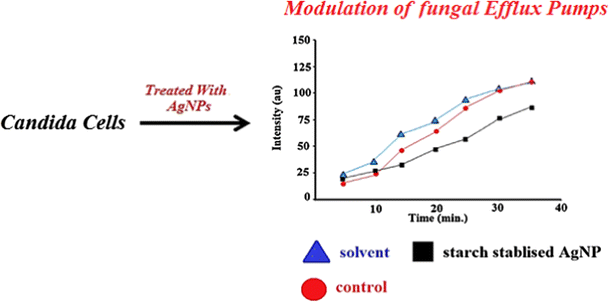 Keywords
Silver nanoparticles 
Green synthesis 
Fungicidal 
Influx-efflux 
Starch 
MTT assay 
Notes
Acknowledgements
The authors have no conflict of interest. PP, MS, and HM are grateful to the R and D department of University of Petroleum and Energy Studies for providing the necessary infrastructure. Department of Applied Sciences, GB Pant University is duly acknowledged for providing the resources and expertise in performing the biological studies.
Copyright information
© Springer Science+Business Media, LLC, part of Springer Nature 2017