Antimicrobial and Catalytic Potential of Soymida febrifuga Aqueous Fruit Extract-Engineered Silver Nanoparticles
Abstract
Nanotechnology has changed the outlook of researchers towards science and technology. The past decade has experienced an enormous upshot of applications of nanoparticles and nanomaterials. The enhanced surface area of the particles due to their nanosize is contributing to the wide range of applications for which nanoparticles are used. In the present study, fruits of a medicinal tree, Soymida febrifuga belonging to the family Meliaceae, were used for the synthesis of silver nanoparticles (AgNPs). The water-soluble phytochemicals extracted from the dried fruits of Soymida febrifuga were used as reducing and stabilizing agents in the reduction of Ag+ to nano-silver. The AgNPs were characterized using various instrumental methods such as UV-Visible spectroscopy, Fourier transform infrared spectroscopy (FTIR), X-ray diffractometer (XRD), Nanoparticle analyzer, Scanning Electron Microscope (SEM), Energy dispersive X-ray analysis (EDAX), and Transmission Electron Microscope (TEM). The characterization studies revealed that the AgNPs were mostly spherical in shape and crystalline in nature with an average particle size of 14.27 nm. The Soymida febrifuga aqueous fruit extract-engineered AgNPs were tested for their antimicrobial activity. The AgNPs were tested for their ability to suppress the growth of two gram-positive bacterial strains, Bacillus subtilis and Escherichia coli, and two gram-negative bacterial strains, Staphylococcus aureus and Pseudomonas putrida. The inhibitory concentration of 0.54 μg/L AgNPs synthesized from the aqueous fruit extract of Soymida febrifuga is the lowest reported till date. The prepared AgNPs were used as effective catalysts in the degradation of Congo red (CR), Bromocresol green (BCG), and Bromophenol blue (BPB) dyes in presence of Sodium borohydride (NaBH4). The developed method is a facile and rapid method of green and eco-friendly synthesis of AgNPs using a minute amount of plant material.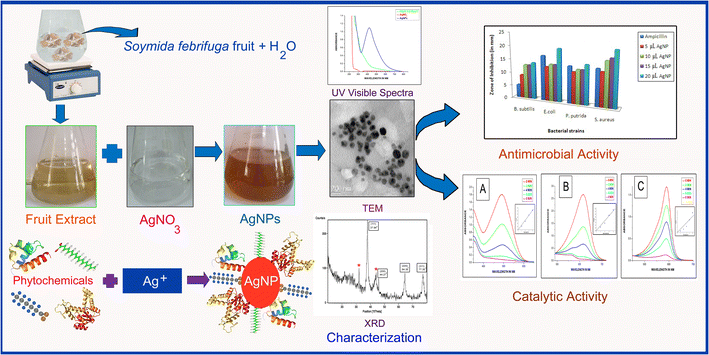 Keywords
Green synthesis 
Silver nanoparticles 
Soymida febrifuga fruit 
Characterization 
Antimicrobial potential 
Catalytic potential 
Notes
Acknowledgements
The authors thank DMRL, Kanchanbagh, Hyderabad, and CFRD, Osmania University, Hyderabad, for providing the experimental facilities.
Compliance with Ethical Standards
Conflict of Interest
The authors declare that they have no conflict of interest.
Copyright information
© Springer Science+Business Media, LLC 2017