Abstract
In the iron and steel industry, the production of narrow particle size distribution (PSD) for pellet feed making with acceptable liberation of valuables from the iron ore is very difficult. This study has been carried out to achieve desired pellet feed with narrow PSD and maximum liberation of hematite from the iron ore. The iron ores have been collected from three different sources (mines in Karnataka state) and milled. The iron ores and the blend feed samples were analyzed in the Optical Microscope (OM) and Quantitative Evaluation of Minerals by Scanning Electron Microscopy (QEMSCAN) to understand the PSD and percentage of hematite liberation. The new approach is adapted to identify the retention time (RT) of the iron ore in the mill, and the total RT taken for the blend sample in the Bond's ball mill is considered as the reference grinding time for milling in the Laboratory Ball Mill (LBM). The desired narrow PSD (− 150/+ 10 µm) with acceptable hematite liberation is achieved at an optimal grinding time of 7 min in the LBM.
This is a preview of subscription content, log in to check access.
Access options
Buy single article
Instant access to the full article PDF.
US$ 39.95
Price includes VAT for USA
Subscribe to journal
Immediate online access to all issues from 2019. Subscription will auto renew annually.
US$ 99
This is the net price. Taxes to be calculated in checkout.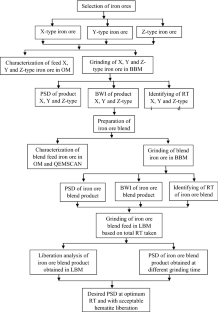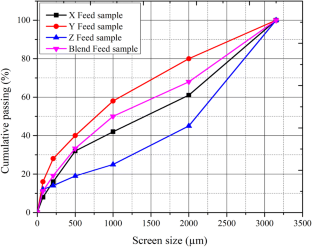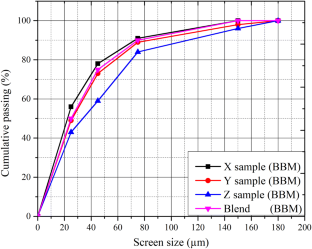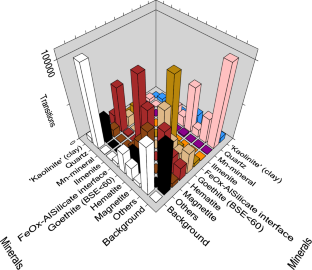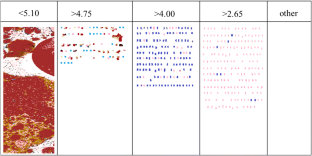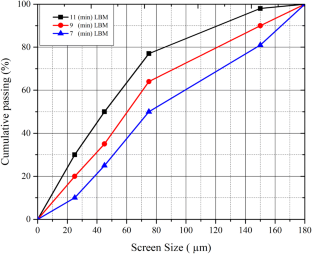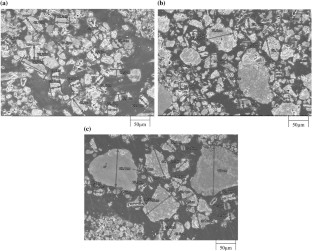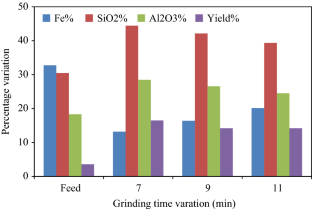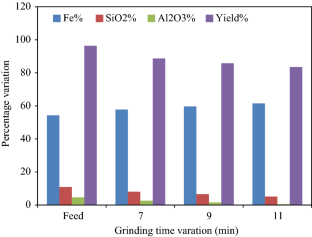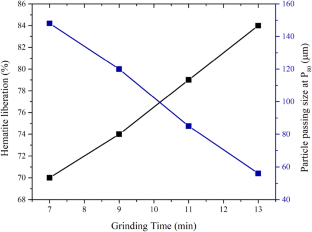 References
1.

Dwarapudi S, Devi T U, Mohan Rao S, and Ranjan M, ISIJ Int 48 (2008) 768.

2.

Hanumanthappa H, Vardhan H, Mandela G R, Kaza M, Sah R, and Shanmugam B K, Miner Eng 145 (2020) 106091.

3.

Shanmugam B K, Vardhan H, Mandela G R, Kaza M, Sah R, and H H, Int J Coal Prep Util 0 (2019) 1.

4.

Shanmugam B K, Vardhan H, Mandela G R, Kaza M, Sah R, and H H, Energy Sources, Part A Recover Util Environ Eff 00 (2019) 1.

5.

Gaudin A M, Principles of Mineral Dressing, McGraw-Hill Book Co, New York (1939).

6.

Ahmadi R and Shahsavari S, Miner Eng 22 (2009) 104.

7.

Kumar R, Trans. Indian Inst Met 70 (2017) 253.

8.

Hanumanthappa H, Vardhan H, Mandela G R, Kaza M, Sah R, and Shanmugam B K, AIP Conf Proc (2020).

9.

Bond FC, Br Chem Eng 80 (1960) 543.

10.

Gupta V K and Hussain M, Trans Indian Inst Met 70 (2017) 303.

11.

Mosher J B and Tague C B, Miner Eng 14 (2001) 1187.

12.

Jankovic, Suthers S, Wills T, and Valery W, Miner Eng 71 (2015) 133.

13.

Deniz V, Umucu Y, and Çayirli S, Part Sci Technol 30 (2012) 403.

14.

Hacıfazlıoğlu H and Korkmaz A V, Part Sci Technol 0 (2019) 1.

15.

Hassanzadeh A and Hassanzadeh A, Geosystem Eng 9328 (2018) 1.

16.

Cho H and Austin L G, Powder Technol 124 (2002) 112.

17.

Chimwani N, Mulenga F K, Hildebrandt D, Glasser D, and Bwalya M M, Miner Eng 73 (2015) 116.

18.

Mulenga F K and Chimwani N., Int J Miner Process 125 (2013) 39.

19.

Gupta V K and Patel J P, Powder Technol 274 (2015) 163.

20.

Hanumanthappa H, Vardhan H, Mandela G R, Kaza M, Sah R, and Shanmugam B K, Mining, Metall Explor 37 (2020) 481.

21.

Umadevi T, Kumar M G S, Kumar S, Prasad C S G, and Ranjan M, Ironmak Steelmak 35 (2013) 327.
Acknowledgements
The present research work is in joint collaboration with NITK, Surathkal, and JSW Steel Pvt. Ltd., Ballari. The authors are thankful to the management of JSW and MHRD, India, for all the support extended during the course of this research work.
Additional information
Publisher's Note
Springer Nature remains neutral with regard to jurisdictional claims in published maps and institutional affiliations.
About this article
Cite this article
Hanumanthappa, H., Vardhan, H., Mandela, G.R. et al. Investigation on Iron Ore Grinding based on Particle Size Distribution and Liberation. Trans Indian Inst Met (2020). https://doi.org/10.1007/s12666-020-01999-5
Received:

Accepted:

Published:
Keywords
Particle size distribution

Retention time

Bond Work Index and circulating load

Optical microscope

QEMSCAN