Abstract
Due to the complexity and high cost, the common doping method is not suitable for the direct element doping on the surface of the Mg alloy. In this paper, antimony-doped potassium stannate powder was prepared by ATO and potassium hydroxide calcination for the first time; then, the antimony-doped stannate coating was prepared on the surface of AZ31B Mg alloy through chemical conversion. The coating was continuously dense and the corrosion potential of the coating was increased by about 214 mV. The corrosion current density was greatly decreased, and the contact resistance was as low as 54.8 Ω/cm.
This is a preview of subscription content, log in to check access.
Access options
Buy single article
Instant access to the full article PDF.
US$ 39.95
Price includes VAT for USA
Subscribe to journal
Immediate online access to all issues from 2019. Subscription will auto renew annually.
US$ 99
This is the net price. Taxes to be calculated in checkout.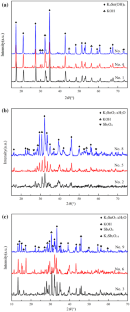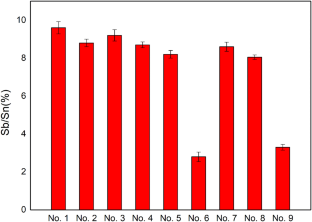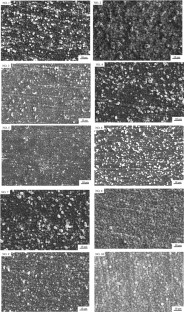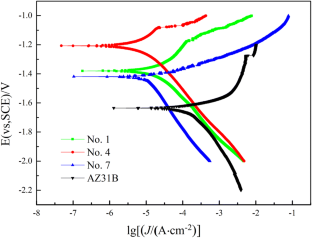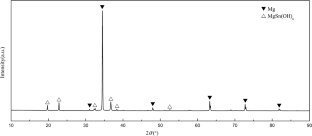 References
1.

Gray J E, and Luan B, J Alloys Compd336 (2002) 88.

2.

Zhong C, Liu F, Wu Y T, and Le J J, J Alloys Compd520 (2012) 11.

3.

Duan G Q, Yang L X, Liao S J, and Zhang C Y, Corros Sci135 (2018) 197.

4.

Ishizaki T, Masuda Y, and Teshima K, Surf Coat Technol217 (2013) 76.

5.

Mahidashti Z, Shahrabi T, and Ramezanzadeh B, Appl Surf Sci390 (2016) 623.

6.

Rajabalizadeh Z, and Seifzadeh D, Surf Coat Technol304 (2016) 450.

7.

Wang C, Zhu S L, Jiang F, and Wang F H, Corros Sci51 (2009) 2916.

8.

Yang K H, Ger M D, Hwu W H, and Sung Y, Mater Chem Phys101 (2007) 480.

9.

Guo X W, Wang S H, Gong J, and Guo J H, Appl Surf Sci313 (2014) 711.

10.

Yang H Y, Guo X W, Chen X B, and Birbilis N, Corros Sci79 (2014) 41.

11.

Ambat R, Zhou W (2004) Surf Coat Technol179: 124.

12.

Huo H W, Ying L, and Wang F H, Corros Sci46 (2004) 1467.

13.

Liu J J, Wang X D, Tian Z Y, and Yuan M, Appl Surf Sci356 (2015) 289.

14.

Shao Z C, Surf Technol47 (2018) 120.

15.

Shi H W, Liu F C, and Han E H, Prog Org Coat66 (2009) 183.

16.

Bestetti M, Cavallotti P L, Forno A D, and Pozzi S, Trans Imf85 (2013) 316.

17.

Gou Y N, Zhang D F, Yi D, and Zhang C Y, Rare Metal Mater Eng46 (2017) 1103.

18.

Zhang W, Appl Mech Mater341-342 (2013) 187.

19.

Chen F, Zhou H, Yao B, and Qin Z, Surf Coat Technol201 (2007) 4905.

20.

Dong Q, Chen C Z, Wang D G, and Ji Q M, Surf Eng22 (2006) 177.

21.

Ma J, Yang Y S, Wang X C, and Zhang J, Key Eng Mater575-576 (2014) 418.

22.

Tian X B, Wei C B, Yang S Q, and Fu R K Y, Surf Coat Technol198 (2005) 454.

23.

Ikhe A B, Kale A B, Jeong J, and Reece M J, Corros Sci109 (2016) 238.

24.

Kartsonakis I A, Balaskas A C, and Kordas G C, Int J Struct Integr4 (2013) 127.

25.

Lan W, Sun J C, Zhou A R, and Zhang D F, Mater Sci Forum610-613 (2009) 880.

26.

Zhang S Y, Li Q, Yang X K, and Zhang H X, Mater Corros62 (2011) 841.

27.

Liao Y, Zhang S T, and Dryfe R, Materialwiss Werkstofftech42 (2011) 833.

28.

Liu W, Xu D D, Duan X Y, and Zhao G S, Trans Nonferrous Metals Soc China25 (2015) 1506.

29.

Riza M A, Ibrahim M A, Ahamefula U C, and Mat Teridi M A, Solar Energy137 (2016) 371.

30.

Wang B H, Zhang W, Yang K B, and Liao T, Ceram Int44 (2018) 16051.

31.

Mahesh R, Mahendiran R, Raychaudhuri A K, and Rao C N R, J Solid State Chem120 (1995) 204.

32.

Upadhyay S, Parkash O, and Kumar D, J Alloys Compd432 (2007) 258.

33.

Guo X Y, Liu J X, Qin H, and Liu Y, Hydrometallurgy156 (2015) 199.

34.

Zhang S G, Wei Y D, Yin S F, and Luo S L, Appl Catal A: Gen 406 (2011) 113.

35.

Song G, Atrens A, John D S, and Wu X, Corros Sci 39 (1997) 1981.
Funding
This work was financially supported by the National Key Research and Development Program of China (Grant Nos. 2016YFB0301105 and 2017YFB0702100).
Additional information
Publisher's Note
Springer Nature remains neutral with regard to jurisdictional claims in published maps and institutional affiliations.
About this article
Cite this article
Cai, Y., Wang, X., Wan, L. et al. Preparation of Antimony-doped Stannate Chemical Conversion Coating on AZ31B Mg Alloy. Trans Indian Inst Met (2020). https://doi.org/10.1007/s12666-020-01996-8
Received:

Accepted:

Published:
Keywords
AZ31B Mg alloy

Stannate

Antimony-doped

Chemical conversion coating