Abstract
To achieve the sustainable agriculture, land capability evaluation in an accurate manner is essential. It also plays an important role to determine either the main potentials or associated limitations of the land. This research aimed to apply the NRCS agricultural land evaluation and site assessment (LESA) system integrated with GIS for classifying and mapping the capability of some calcareous soils in central of Iran as a semi-arid region for agricultural production purposes. The aforementioned model includes two sections: (1) LE and (2) SA. The first section contains soil productivity index and prime farmland, while the second one includes the effect of non-soil characteristics, development pressures, and public values on farming practices. The results showed that the specific weights for LE and SA sections were calculated 0.4 and 0.6, respectively. Integrating LESA outputs with GIS revealed that the 5.34%, 20.85%, 38.38%, and 35.42% of the studied area were, respectively, classified as "best", "good", "marginal", and "not-suitable" area for agriculture productions. The marginal and not-suitable lands can be considered for developing the rangelands, agroforestry, as well as shrubs. It was concluded that the created thematic maps assist decision-makers for land-use planning and risk-based management for agriculture productions.
Access options
Buy single article
Instant access to the full article PDF.
US$ 39.95
Tax calculation will be finalised during checkout.
Subscribe to journal
Immediate online access to all issues from 2019. Subscription will auto renew annually.
US$ 119
Tax calculation will be finalised during checkout.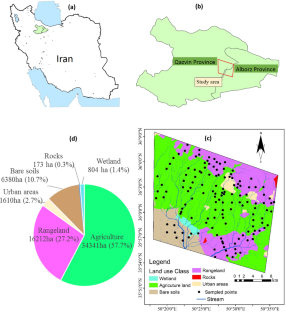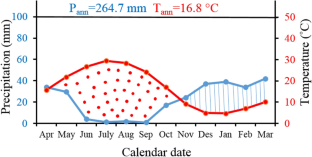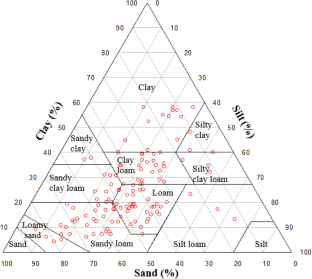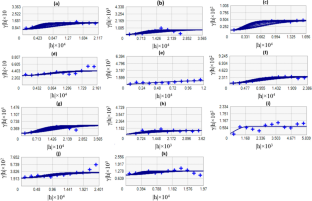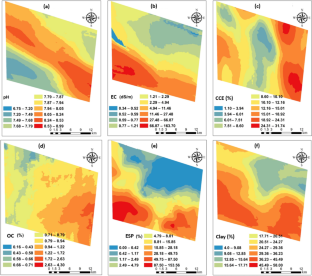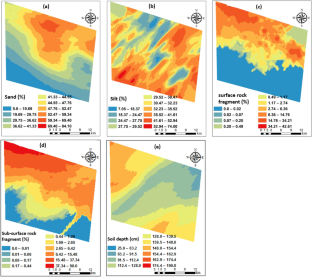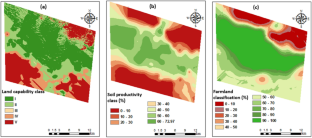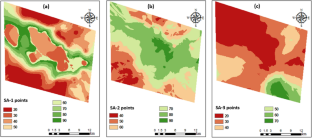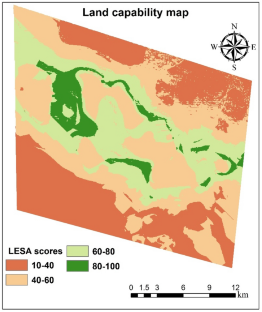 References
Akinci H, Ozalp AY, Turgut B (2013) Agriculture land-use suitability analysis using GIS and AHP technique. Comput Electron Agric 97:71–82

Bagheri Bodaghabadi M (2011) Applied land evaluation and land-use planning, 2nd edn. Pelk Publication, Tehran, p 385

Boyer JS, James RA, Munns R, Condon TAG, Passioura JB (2008) Osmotic adjustment leads to anomalously low estimates of relative water content in wheat and barley. Funct Plant Biol 35(11):1172–1182

Bozdag A, Yavuz F, Gunay AS (2016) AHP and GIS based land suitability analysis for Cihanbeyli (Turkey) County. Environ Earth Sci 75:813

Brady NC, Weil RR (2002) The nature and properties of soils, 13th edn. Prentice Hall, New Jersey

Cambardella CA, Moorman TB, Nocak JM, Parkin TB, Karlen DL, Turco RF, Konopka AE (1994) Field-scale variability of soil properties in central Iowa soils. Soil Sci Soc Am J 58:1501–1511

De La Rosa D, Mayol F, Diaz-Pereira E, Fernandez M, De La Rosa JD (2004) A land evaluation decision support system (MicroLEIS DSS) for agricultural soil protection with special reference to the Mediterranean region. Environ Model Softw 19:929–942

Dung EJ, Sugumaran R (2005) Development of an agricultural land evaluation and site assessment (LESA) decision support tool using remote sensing and geographic information system. J Soil Water Conserv 60:228–235

Eishoeei E, Nazarnejad H, Miryaghoubzadeh M (2019) Temporal soil salinity modeling using SaltMod model in the west side of Urmia hyper saline Lake. Iran Catena 176:306–314

Eldeiry AA, Garcia LA (2010) Comparison of regression kriging and cokriging techniques to estimate soil salinity using Landsat images. J Irrig Drain Eng 136:355–364

FAO (1976) A framework for land evaluation. Food and Agriculture Organization of the United Nations, Soils Bulletin No.32. FAO, Rome

Gee GW, Bauder JW (1986) Particle size analysis. In: Klute A (ed) Methods of soil analysis: part 1 agronomy handbook no 9. American Society of Agronomy and Soil Science Society of America, Madison, pp 383–411

Ghorbani-Dashtaki S, Homaee M, Mahdian MH, Kouchakzadeh M (2009) Site dependence performance of infiltration models. Water Resour Manag 23:1573–1650

Goovaerts P (1997) Geostatistics for natural resources evaluation. Oxford University Press, New York

LESA Handbook (2011) National agricultural land evaluation and site assessment (LESA) handbook. The Natural Resources Conservation Service (NRCS). U.S. Department of Agriculture, Washington, DC

Hoobler BM, Vance GF, Hamerlinck JD, Munn LC, Hayward JA (2003) Applications of land evaluation and site assessment (LESA) and a geographic information system (GIS) in East Park County, Wyoming. J Soil Water Conserv 58:105–112

Kazemi H, Sadeghi S, Akinci H (2016) Developing a land evaluation model for faba bean cultivation using geographic information system and multi-criteria analysis (a case study: Gonbad-Kavous region, Iran). Ecol Ind 63:37–47

Lavkulich LM (1981) Methods manual: pedology laboratory. University of British Columbia, Vancouver, Department of Soil Science

Li Y (2010) Can the spatial prediction of soil organic matter contents at various sampling scales be improved by using regression kriging with auxiliary information? Geoderma 159:63–75

MAFF (Ministry of Agriculture, Fisheries and Food) (1988) Agricultural land classification of England and Wales. Ministry of Agriculture, Fisheries and Food, UK

Mahler PJ (1979) Manual of land classification for irrigation. Soil Inst Iran 205:12–54

Mathews LG, Rex A (2011) Incorporating scenic quality and cultural heritage into farmland valuation: results from an enhanced LESA model. J Conserv Plann 7:39–59

Mirzaee S, Ghorbani-Dashtaki S, Mohammadi J, Asadi H, Asadzadeh F (2016) Spatial variability of soil organic matter using remote sensing data. CATENA 145:118–127

Mirzaee S, Ghorbani-Dashtaki S, Kerry R (2020) Comparison of a spatial, spatial and hybrid methods for predicting inter-rill and rill soil sensitivity to erosion at the field scale. CATENA 188:104439

Munns R, Tester M (2008) Mechanisms of salinity tolerance. Annu Rev Plant Biol 59:651–681

Nelson RE (1982) Carbonate and gypsum. In: Page AL, Miller RH, Keeney DR (eds) Methods of soil analysis, part 2. Agronomy monographs, vol 9. ASA, Madison, pp 181–197

Nelson DW, Sommers LP (1986) Total carbon, organic carbon and organic matter. In: Page AL (ed) Methods of soil analysis: part 2. Agronomy handbook no 9. America Society of Agronomy and Soil Science Society of America, Madison, pp 539–579

Ostovari Y, Ghorbani-Dashtak S, Bahrami HA, Naderi M, Dematte JAM, Kerry R (2016) Modification of the USLE K factor for soil erodibility assessment on calcareous soils in Iran. Geomorphology 273:385–395

Ostovari Y, Honarbakhsh A, Sangoony H, Zolfaghari F, Malekie K, Ingram B (2019) GIS and multi-criteria decision-making analysis assessment of land suitability for rapeseed farming in calcareous soils of semi-arid regions. Ecol Indic 103:479–487

Ostovari Y, Moosavi AA, Pourghasemi HR (2020) Soil loss tolerance in calcareous soils of a semi-arid region: evaluation, prediction, and influential parameters. Land Degrad Dev 31(15):2156–2167

Page AL, Miller RH, Keeney DR (1982) Methods of soil analysis (part 2): chemical and microbiological properties, 2nd edn. Society of Agronomy, Madison

Piccini C, Marchetti A, Francaviglia R (2014) Estimation of soil organic matter by geostatistical methods: use of auxiliary information in agriculture and environmental assessment. Ecol Indic 36:301–314

Pilevar AR, Matinfar HR, Sohrabi A, Sarmadian F (2020) Integrated fuzzy, AHP and GIS techniques for land suitability assessment in semi-arid regions for wheat and maize farming. Ecol Ind 110:105887

Rossiter DG, Van Wambeke AR (1994) Ales: automated land evaluation system. Version 4.1. Department of soil, crop and atmospheric sciences, Cornell University, Ithaca

Shahbazi F, Jafarzadeh A, Shahbazi M (2009) Agro-ecological field vulnerability evaluation and climate change impacts in Souma area (Iran), using MicroLEIS DSS. Biologia 64(3):555–559

Triantafilis J, Odeh IOA, McBratney AB (2001) Five geostatistical models to predict soil salinity from electromagnetic induction data across irrigated cotton. Soil Sci Soc Am J 65:869–878

Webster R, Oliver MA (2001) Geostatistics for environmental scientist. Wiley, New York

Wu C, Wu J, Luo Y, Zhang L, DeGloria SD (2009) Spatial prediction of soil organic matter content using cokriging with remotely sensed data. Soil Sci Soc Am J 73:1202–1208

Zekai S (2009) Spatial modeling principles in earth sciences. Springer, Berlin

Zhang J, Su Y, Wu J, Liang H (2015) GIS based land suitability assessment for tobacco production using AHP and fuzzy set in Shandong province of China. Comput Electron Agric 114:202–211

Zhu Q, Lin HS (2010) Comparing ordinary kriging and regression kriging for soil properties in the contrasting landscape. Pedosphere 20:594–606
Ethics declarations
Conflict of interest
The authors declare that they have no known competing financial interests or personal relationships that could have appeared to influence the work reported in this paper.
Additional information
Publisher's Note
Springer Nature remains neutral with regard to jurisdictional claims in published maps and institutional affiliations.
About this article
Cite this article
Esmaeili, E., Shahbazi, F., Sarmadian, F. et al. Land capability evaluation using NRCS agricultural land evaluation and site assessment (LESA) system in a semi-arid region of Iran. Environ Earth Sci 80, 163 (2021). https://doi.org/10.1007/s12665-021-09468-y
Received:

Accepted:

Published:
Keywords
Land capability

LESA system

Semi-arid

Thematic maps

GIS