Abstract
A large number of subsided wetlands have formed in eastern China in areas with high-intensity mining. However, data are not currently available to indicate their spatial distribution and expansion in the past thirty years. This paper uses a modified normalized difference water index (mNDWI) and a maximum between-cluster variance (OTSU) image segmentation algorithm to extract the subsided wetlands in mining areas with high ground-water levels of eastern China from 1988 to 2018 based on Google Earth Engine. The results show that the overall accuracy of the extraction of subsided wetlands is 98%; the Kappa coefficient reached 0.81. The total area of subsided wetland in 2018 was 26,034.88 ha, of which 14,290.97 ha was in Anhui Province, accounting for 54.89% of all such wetlands. The spatial extent of subsided wetlands has grown rapidly in the past three decades with the area of subsided wetlands expanding by 11.86 times from 1988 to 2018. The total area of subsided wetlands in the winter of 2018 was 25,296.25 ha, which was smaller than in summer. This indicates that seasonal precipitation affects the spatial extent of subsided wetlands. Although some restoration activities have been successful, most of the subsided wetlands still need active development and management. In conclusion, mNDWI and OTSU image segmentation algorithms could quickly and accurately allow the extraction of the spatial extent of subsided wetlands. Subsided wetlands have strong potential for development in future ecological restoration. The ecosystem services of wetlands and availability of dynamic monitoring technology should be considered important in the future.
Access options
Buy single article
Instant access to the full article PDF.
US$ 39.95
Tax calculation will be finalised during checkout.
Subscribe to journal
Immediate online access to all issues from 2019. Subscription will auto renew annually.
US$ 119
Tax calculation will be finalised during checkout.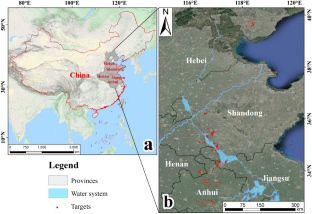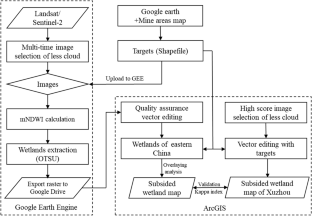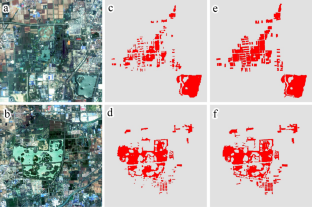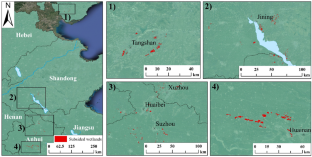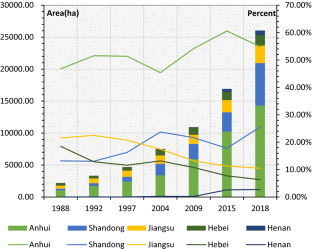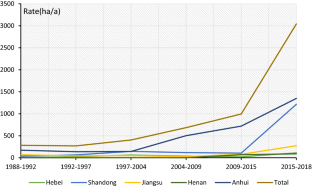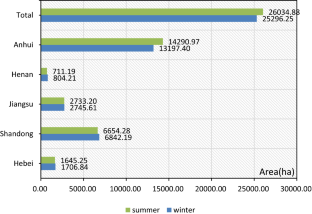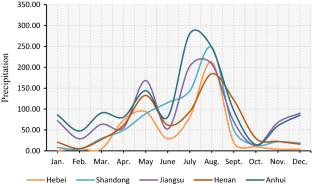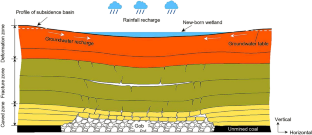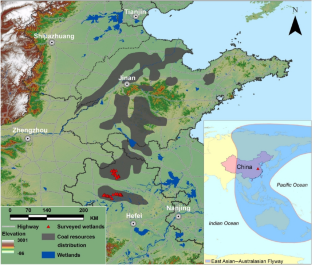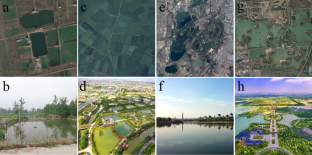 References
An S, Li H, Guan B, Zhou C, Wang Z, Deng Z, Zhi Y, Liu Y, Xu C, Fang S, Jiang J, Li H (2007) China's natural wetlands: past problems, current status, and future challenges. Ambio 36(4):335–342. https://doi.org/10.1579/0044-7447(2007)36[335:CNWPPC]2.0.CO;2

Bancheva-Preslavska H, Bezlova D (2018) Communication criteria for conservation and sustainable use of bulgarian wetlands of international importance. J Environ Prot Ecol 19(4):1873–1880

Blanchette M, Lund M (2016) Pit lakes are a global legacy of mining: an integrated approach to achieving sustainable ecosystems and value for communities. Curr Opin Environ Sustain 23:28–34. https://doi.org/10.1016/j.cosust.2016.11.012

Costanza R, de Groot R, Sutton P, van der Ploeg S, Anderson SJ, Kubiszewski I, Farber S, Turner RK (2014) Changes in the global value of ecosystem services. Global Environ Change 26(1):152–158. https://doi.org/10.1016/j.gloenvcha.2014.04.002

Darmody RG, Bauer R, Barkley D, Clarke S, Hamilton D (2014) Agricultural impacts of longwall mine subsidence: the experience in Illinois, USA and Queensland, Australia. Int J Coal Sci Technol 1(2):207–212. https://doi.org/10.1007/s40789-014-0026-1

Davidson NC (2014) How much wetland has the world lost? Long-term and recent trends in global wetland area. Mar Freshw Res 65(10):934–941. https://doi.org/10.1071/MF14173

Davranche A, Lefebvre G, Poulin B (2010) Wetland monitoring using classification trees and SPOT-5 seasonal time series. Remote Sens Environ 114(3):552–562. https://doi.org/10.1016/j.rse.2009.10.009

Diao X, Bai Z, Wu K, Zhou D, Li Z (2018) Assessment of mining induced damage to structures using InSAR time series analysis : a case study of Jiulong Mine, China. Environ Earth Sci 77(5):1–14. https://doi.org/10.1007/s12665-018-7353-2

Ding Y, Chan J (2005) The East Asian summer monsoon: an overview. Meteorol Atmos Phys 89(1–4):117–142. https://doi.org/10.1007/s00703-005-0125-z

Donchyts G, Baart F, Winsemius H, Gorelick N, Kwadijk J, Van De Giesen N (2016) Earth's surface water change over the past 30 years. Nat Clim Change 6(9):810–813. https://doi.org/10.1038/nclimate3111

Gardner, R. C., Finlayson, M. (2018). Global wetland outlook: State of the world's wetlands and their services to people. Secretariat of the Ramsar Convention.

Gorelick N, Hancher M, Dixon M, Ilyushchenko S, Thau D, Moore R (2017) Google earth engine: planetary-scale geospatial analysis for everyone. Remote Sens Environ 202:18–27. https://doi.org/10.1016/j.rse.2017.06.031

Guo A, Li X, Tang X, Xu Y (2011) The change of Tangshan Nanhu City wetland landscape based on multi-level classification method. ICCRD2011–2011 3rd Int Conf Comput Res Develop 2:440–443. https://doi.org/10.1109/ICCRD.2011.5764169

Horwitz P, Finlayson CM (2011) Wetlands as settings for human health: incorporating ecosystem services and health impact assessment into water resource management. Bioscience 61(9):678–688. https://doi.org/10.1525/bio.2011.61.9.6

Hu Z, Gu H (1995) Reclamation planning for abandoned mining subsidence lands in Eastern China: a case study. Int J Surf Min Reclam Environ 9(3):129–132. https://doi.org/10.1080/09208119508964733

Hu X, Li X (2019) Information extraction of subsided cultivated land in high—groundwater—level coal mines based on unmanned aerial vehicle visible bands. Environ Earth Sci 78(14):1–11. https://doi.org/10.1007/s12665-019-8417-7

Hu Z, Xu X, Zhao Y (2012) Dynamic monitoring of land subsidence in mining area from multi-source remote-sensing data—a case study at Yanzhou, China. Int J Remote Sens 33(17):5528–5545. https://doi.org/10.1080/01431161.2012.663113

Hu Z, Yang G, Xiao W, Li J, Yang Y, Yu Y (2014) Farmland damage and its impact on the overlapped areas of cropland and coal resources in the eastern plains of China. Resour Conserv Recycl 86:1–8. https://doi.org/10.1016/j.resconrec.2014.01.002

Hu Z, Fu Y, Xiao W, Zhao Y, Wei T (2015) Ecological restoration plan for abandoned underground coal mine site in Eastern China. Int J Min Reclam Environ 29(4):316–330. https://doi.org/10.1080/17480930.2014.1000645

Hu S, Niu Z, Chen Y, Li L, Zhang H (2017) Global wetlands: potential distribution, wetland loss, and status. Sci Total Environ 586:319–327. https://doi.org/10.1016/j.scitotenv.2017.02.001

Kumar L, Mutanga O (2018) Google earth engine applications since inception: usage, trends, and potential. Remote Sensing 10(10):1–15. https://doi.org/10.3390/rs10101509

Lan J, Zeng Y (2013) Multi-threshold image segmentation using maximum fuzzy entropy based on a new 2D histogram. Optik 124(18):3756–3760. https://doi.org/10.1016/j.ijleo.2012.11.023

Li C, Zhang Y, Zha D, Yang S, Huang ZYX, de Boer WF (2019) Assembly processes of waterbird communities across subsidence wetlands in China: a functional and phylogenetic approach. Divers Distrib 25:1118–1129. https://doi.org/10.1111/ddi.12919

McFeeters SK (1996) The use of the Normalized Difference Water Index (NDWI) in the delineation of open water features. Int J Remote Sens 17(7):1425–1432. https://doi.org/10.1080/01431169608948714

Meng W, He M, Hu B, Mo X, Li H, Liu B, Wang Z (2017) Status of wetlands in China: a review of extent, degradation, issues and recommendations for improvement. Ocean Coast Manag 146:50–59. https://doi.org/10.1016/j.ocecoaman.2017.06.003

Minderhoud PSJ, Coumou L, Erban LE, Middelkoop H, Stouthamer E, Addink EA (2018) The relation between land use and subsidence in the Vietnamese Mekong delta. Sci Total Environ 634:715–726. https://doi.org/10.1016/j.scitotenv.2018.03.372

Mitsch WJ, Zhang L, Waletzko E, Bernal B (2014) Validation of the ecosystem services of created wetlands: two decades of plant succession, nutrient retention, and carbon sequestration in experimental riverine marshes. Ecol Eng 72:11–24. https://doi.org/10.1016/j.ecoleng.2014.09.108

Mui A, He Y, Weng Q (2015) An object-based approach to delineate wetlands across landscapes of varied disturbance with high spatial resolution satellite imagery. ISPRS J Photogramm Remote Sens 109:30–46. https://doi.org/10.1016/j.isprsjprs.2015.08.005

Najafi Z, Pourghasemi H, Ghanbarian G, Shamsi F (2020) Land-subsidence susceptibility zonation using remote sensing, GIS, and probability models in a Google Earth Engine platform. Environ Earth Sci 79:491. https://doi.org/10.1007/s12665-020-09238-

Otsu N (1996) A threshold selection method from gray-level histograms. IEEE Trans on Syst, Man Cybernet 9(1):62–66

Przylucka M, Herrera G, Graniczny M, Colombo D, Béjar-Pizarro M (2015) Combination of conventional and advanced DInSAR to monitor very fast mining subsidence with TerraSAR-X data: Bytom City (Poland). Remote Sensing 7(5):5300–5328. https://doi.org/10.3390/rs70505300

Pujol FA, Pujol M, Rizo R, Pujol MJ (2011) On searching for an optimal threshold for morphological image segmentation. Pattern Anal Appl 14(3):235–250. https://doi.org/10.1007/s10044-011-0215-0

Verhoeven JTA (2014) Wetlands in Europe: perspectives for restoration of a lost paradise. Ecol Eng 66:6–9. https://doi.org/10.1016/j.ecoleng.2013.03.006

Wang H, Dong K, Yang B, Ma Z (2009) Urban wetland ecosystem: function, challenge and strategy. 2nd International conference on environmental and computer science. ICECS. https://doi.org/10.1109/ICECS.2009.51

Wang S, Baig M, Zhang L, Jiang H, Ji Y, Zhao H, Tian J (2015) A simple enhanced water index (EWI) for percent surface water estimation using landsat data. IEEE J Sel Top Appl Earth Obs Remote Sens 8(1):90–97. https://doi.org/10.1109/JSTARS.2014.2387196

Wang L, Wang L, Yin P, Cui H, Liang L, Wang Z (2017) Value assessment of artificial wetland derived from mining subsided lake: a case study of Jiuli Lake wetland in Xuzhou. Sustainability 9(10):1860. https://doi.org/10.3390/su9101860

Xiao W, Hu Z, Li J, Zhang H, Hu J (2011) A study of land reclamation and ecological restoration in a resource-exhausted city—a case study of Huaibei in China. Int J Min Reclam Environ 25(4):332–341. https://doi.org/10.1080/17480930.2011.608888

Xie K, Zhang Y, Yi Q, Yan J (2013) Optimal resource utilization and ecological restoration of aquatic zones in the coal mining subsidence areas of the Huaibei Plain in Anhui Province, China. Desalination Water Treat 51(19–21):4019–4027. https://doi.org/10.1080/19443994.2013.781096

Xu H (2006) Modification of normalised difference water index (NDWI) to enhance open water features in remotely sensed imagery. Int J Remote Sens 27(14):3025–3033. https://doi.org/10.1080/01431160600589179

Xu T, Weng B, Yan D, Wang K, Li X, Bi W, Li M, Cheng X, Liu Y (2019b) Wetlands of international importance: status, threats, and future protection. Int J Environ Res Public Health 16(10):1818. https://doi.org/10.3390/ijerph16101818

Xu J, Zhao H, Yin P, Wu L, Li G (2019a) Landscape ecological quality assessment and its dynamic change in coal mining area: a case study of Peixian. Environ Earth Sci 78(24):708. https://doi.org/10.1007/s12665-019-8747-5

Yang Y, Ren X, Zhang S, Chen F, Hou H (2017) Incorporating ecological vulnerability assessment into rehabilitation planning for a post-mining area. Environ Earth Sci 76(6):1–16. https://doi.org/10.1007/s12665-017-6568-y

Zedler JB, Kercher S (2005) Wetland resources: status, trends, ecosystem services, and restorability. Annu Rev Environ Resour 30(1):39–74. https://doi.org/10.1146/annurev.energy.30.050504.144248

Zhang M, Yuanm X, Guan D, Liu H, Zhang G, Wang K, Zhou L, Wu S, Sun K (2019) Eco-exergy evaluation of new wetlands in the Yanzhou coalfield subsidence areas using structural-dynamic modelling. Mine Water Environ 38:746–756. https://doi.org/10.1007/s10230-019-00628-y
Acknowledgments
The authors appreciate assistance from the Google Earth Engine Development team and the valuable suggestions from anonymous reviewers.
Funding
This study was funded by the Fundamental Research Funds for the Central Universities (Grant No. 2017XKZD14).
Ethics declarations
Conflicts of interest
The authors declare no conflict of interest.
Additional information
Publisher's Note
Springer Nature remains neutral with regard to jurisdictional claims in published maps and institutional affiliations.
About this article
Cite this article
Yang, Y., Zhang, Y., Su, X. et al. The spatial distribution and expansion of subsided wetlands induced by underground coal mining in eastern China. Environ Earth Sci 80, 112 (2021). https://doi.org/10.1007/s12665-021-09422-y
Received:

Accepted:

Published:
Keywords
Environmental monitoring

Subsided wetland

Google earth engine

mNDWI

OTSU

Remote sensing

Mining