Abstract
In the present paper, a supplementary method was elaborated for synthesis of phillipsite from perlite utilizing mother waters from wet gel EMT preparation. The method is reproducible and cheap—synthesis was performed at mild conditions at 90 °C. One of the obtained phillipsite samples was tested as ion exchanger with solutions containing K+, Cs+ and Sr2+ for simulated radioactive fixation of these ions. The kinetics of ion exchange was adequately described by pseudo-second-order kinetic model equations. The obtained parameters for the ion exchange properties of the synthesized phillipsite show that this material could be used in the Cs+ and Sr2+ removal in decontamination processes. Cation-exchange effectiveness was also tested for Cs+ and Sr2+ solutions, contaminated with model nonionic surfactant Pluronic 123, which may appear as a municiple pollutant.
Access options
Buy single article
Instant access to the full article PDF.
US$ 39.95
Tax calculation will be finalised during checkout.
Subscribe to journal
Immediate online access to all issues from 2019. Subscription will auto renew annually.
US$ 119
Tax calculation will be finalised during checkout.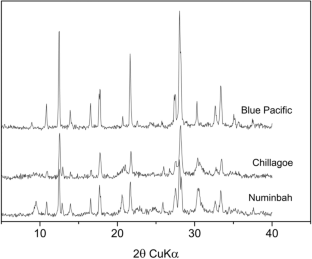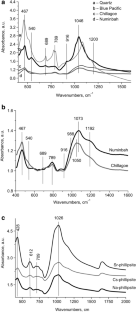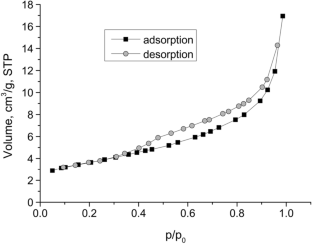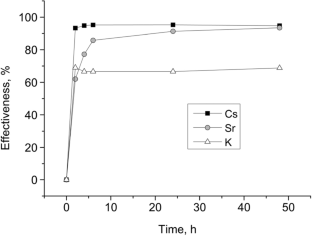 References
Adabbo M, Caputo D, de Gennaro B, Pansini M, Colella C (1999) Ion exchange selectivity of phillipsite for Cs and Sr as a function of framework composition. Microporous Mesoporous Mater 28:315–324. https://doi.org/10.1016/S1387-1811(98)00246-7

Barrer RM, Klinowski J (1972) Influence of framework charge density on ion-exchange properties of zeolites. J Chem Soc Faraday Trans 1(68):1956–1963. https://doi.org/10.1039/F19726801956

Behrens E, Clearfield A (1997) Titanium silicates, M3HTi4O4(SiO4)3.4H2O (M=Na+, K+), with three dimensional tunnel structures for the selective removal of strontium and cesium from wastewater solutions. Microporous Mater 11:65–75. https://doi.org/10.1016/S0927-6513(97)00022-9

Brundu A, Cerri G (2015) Thermal transformation of Cs-clinoptilolite to CsAlSi5O12. Microporous Mesoporous Mater 208:44–49. https://doi.org/10.1016/j.micromeso.2015.01.029

Caputo D, Pepe F (2007) Experiments and data processing of ion exchange equilibria involving Italian natural zeolites: a review. Microporous Mesoporous Mater 105:222–231. https://doi.org/10.1016/j.micromeso.2007.04.024

Chakarova K, Andonova S, Dimitrov L, Hadjiivanov K (2016) FTIR study of CO and N2 adsorption on [Ge]FAU zeolites in their Na- and H-forms. Microporous Mesoporous Mater 220:188–197. https://doi.org/10.1016/j.micromeso.2015.09.002

Colella C, Torracca E, Colella A, de Gennaro B, Caputo D, de Gennaro M (2001) Ion-exchange features of intermediate-silica sedimentary phillipsite. In: Galarneau A, De Renzo F, Fajula F, Vedrine J (eds) Zeolites and mesoporous materials at the Dawn of the 21st Century, studies in surface science and catalysis. Elsevier, Amsterdam

Coleman NJ, Brassington DS, Raza A, Mendham AP (2006) Sorption of Co2+ and Sr2+ by waste-derived 11 A tobermorite. Waste Manag 26:260–267. https://doi.org/10.1016/j.wasman.2005.01.019

Flanigen EM (1976) Structural Analysis by Infrared Spectroscopy. In: Rabo JA (ed) Zeolite Chemistry and Catalysis, ACS Monograph 171. Washington D.C, American Chemical Soc., pp 80–117

Hou J, Yuan J, Xu J, Sun L (2013) Synthesis and characterization of K-phillipsite (K-PHI) membrane for potassium extraction from seawater. Microporous Mesoporous Mater 172:217–221. https://doi.org/10.1016/j.micromeso.2013.01.034

Itabashi K, Kamimura Y, Iyoki K, Shimojima A, Okubo T (2012) A working hypothesis for broadening framework types of zeolites in seed-assisted synthesis without organic structure-directing agent. J Am Chem Soc 134:11542–11549. https://doi.org/10.1021/ja3022335

Kamimura Y, Itabashi K, Okubo T (2012) Seed-assisted, OSDA-free synthesis of MTW-type zeolite and "Green MTW" from sodium aluminosilicate gel systems. Microporous Mesoporous Mater 147:149–156. https://doi.org/10.1016/j.micromeso.2011.05.038

Komarneni S (1985) Phillipsite in Cs decontamination and immobilization. Clays Clay Miner 33:145–151. https://doi.org/10.1346/CCMN.1985.0330209

Lucovsky G, Wong CK, Pollard WB (1983) Vibrational properties of glasses: Intermediate range order. J Non-Cryst Solids 59–60:839–846. https://doi.org/10.1016/0022-3093(83)90301-0

Munthali MW, Johan E, Aono H, Matsue N (2015) Cs+and Sr2+ adsorption selectivity of zeolites in relation to radioactive decontamination. J Asian Ceram Soc 3:245–250. https://doi.org/10.1016/j.jascer.2015.04.002

Ng E-P, Chateigner D, Bein T, Valtchev V, Mintova S (2012) Capturing ultrasmall EMT zeolite from template-free systems. Science 335:70–73. https://doi.org/10.1126/science.1214798

Notario JS, Garcia JE, Caceres JM, Arteaga IJ, Gonzalez MM (1995) Characterization of natural phillipsite modified with orthophosphoric acid. Appl Clay Sci 10:209–217. https://doi.org/10.1016/0169-1317(95)00025-Y

Osacký M, Pálková H, Hudec P, Czímerová A, Galusková D, Vítková M (2020) Effect of alkaline synthesis conditions on mineralogy, chemistry and surface properties of phillipsite, P and X zeolitic materials prepared from fine powdered perlite by-product. Microporous Mesoporous Mater 294:109852. https://doi.org/10.1016/j.micromeso.2019.109852

Powder Diffraction File (PDF-4 Data Base 2016), International Centre for Diffraction Data (ICDD), Newtown Square, PA, USA, 2016

Reddad Z, Gerente C, Andres Y, Le Cloirec P (2002) Adsorption of several metal ions onto a low-cost biosorbent: kinetic and equilibrium studies. Environ Sci Technol 36:2067–2073. https://doi.org/10.1021/es0102989

Robson H (ed) (2001) Verified syntheses of zeolitic materials. Elsevier, Amsterdam

Singh V, Khullar P, Dave PN, Kaur N (2013) Micelles, mixed micelles, and applicatiuons of polyoxypropylene (PPO)-polyoxyethylene (PEO)-polyoxypropylene (PPO) triblock polymers. Int J Ind Chem 4(12):1–18. https://doi.org/10.1186/2228-5547-4-12

Wu FC, Tseng RL, Juang RS (2001) Kinetic modeling of liquid-phase adsorption of reactive dyes and metal ions on chitosan. Water Res 35:613–618. https://doi.org/10.1016/S0043-1354(00)00307-9

Yoldi M, Fuentes-Ordoñez EG, Korili SA, Gil A (2019) Zeolite synthesis from industrial wastes. Microporous Mesoporous Mater 287:183–191. https://doi.org/10.1016/j.micromeso.2019.06.009
Additional information
Publisher's Note
Springer Nature remains neutral with regard to jurisdictional claims in published maps and institutional affiliations.
About this article
Cite this article
Dimitrov, L., Lihareva, N., Tzvetanova, Y. et al. Synthesis of phillipsite from perlite utilizing mother waters from wet gel EMT preparation and study of the obtained zeolitic material as ion exchanger. Environ Earth Sci 80, 86 (2021). https://doi.org/10.1007/s12665-021-09378-z
Received:

Accepted:

Published:
Keywords
Perlite

Synthesis

Phillipsite

Ion exchange

Kinetics