Abstract
The river sediment is a sink for heavy metals flowed into a river from natural and anthropogenic sources. It can be a potential pollutant source in varying environmental conditions. The Taehwa River runs through Ulsan City with different geological terrains and different land uses. Hence, research on the determination of various factors affecting accumulation and mobility changes in heavy metals in the river sediment is important. The present research investigated the mineralogical compositions of the Taewha River sediment in addition to the distribution, speciation, sources, and contamination level of As and heavy metals. The sediment showed different mineralogical changes associated with flowing distance, indicating the influence of country rocks, comprising igneous rocks in the upper stream region and sedimentary rocks in the lower stream region, on mineral composition. The total concentrations of As and heavy metals in the sediment exhibited the order of Zn > Pb > Cr > Cu > Ni > As > Cd. The overall concentrations of As and heavy metals increased in the downstream region, albeit with varying degrees. According to the Environmental Protection Agency guideline for sediment pollution, including the index of pollution intensity (IPOLL) and the potential ecological risk index (RI), the sediment in the sampling stations was discovered to be polluted to varying degrees from anthropogenic activities. An abrupt increase in Pb, Zn, and Cd concentrations was observed at Station 3 in summer and fall, which was linked to the increased clay mineral content caused by seasonal and lithological changes. The sources of this increase can be attributed to a nearby industrial complex or the oxidation of sulfide minerals, which could be related to an abandoned amethyst mine. Sequential extraction studies show that potential toxicity varies for each metal. By comparison, metals such as Cr, Ni, and Cu with higher percentages in exchangeable fractions and fractions bound to carbonates can be highly toxic. The statistical analysis indicates that two groups of metals, one including Zn, Cd, and Pb and another including Cr, Ni, As, and Cu, had distinct origins.
We're sorry, something doesn't seem to be working properly.
Please try refreshing the page. If that doesn't work, please contact support so we can address the problem.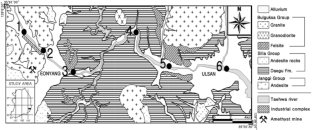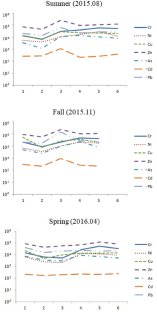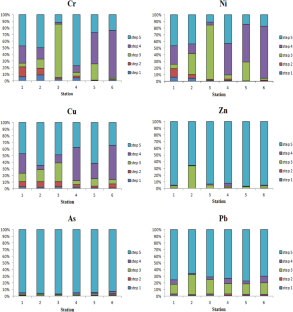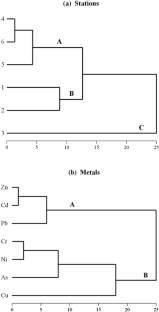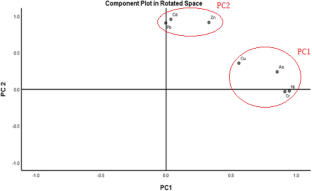 References
Ali BNM, Lin CY, Cleophas F, Abdullah MH, Musta B (2015) Assessment of heavy metals contamination in Mamut river sediments using sediment quality guidelines and geochemical indices. Environ Monit Assess 187:4190

Chae JS, Choi MS, Song YH, Um IK, Kim JG (2014) Source identification of heavy metal contamination using metal association and Pb isotopes in Ulsan Bay sediments, East Sea, Korea. Mar Poll Bull 88:373–382

Charriau A, Lesven L, Gao Y, Leermakers M, Baeyens W, Ouddane B, Billon G (2011) Heavy metal behaviour in riverine sediments: role of organic matter and sulfides. Appl Geochem 26:80–90

Farkas A, Erratico C, Vigano L (2007) Assessment of the environmental significance of heavy metal pollution in surficial sediments of the River Po. Chemosphere 68:761–768

Fernández-Cadena JC, Andrade S, Silva-Coello CL, Iglesia RDL (2014) Heavy metal concentration in mangrove surface sediments from the north-west coast of South America. Mar Pollut Bull 82:221–226

Filgueiras AV, Lavilla I, Bendicho C (2004) Evaluation of distribution, mobility and binding behaviour of heavy metals in surficial sediments of Louro River (Galicia, Spain) using chemometric analysis: a case study. Sci Total Environ 330:115–129

Forghani G, Moore F, Lee S, Qishlaqi A (2009) Geochemistry and speciation of metals in sediments of the Maharlu Saline Lake, Shiraz, SW Iran. Environ Earth Sci 59:173–184

Hakanson L (1980) An ecological risk index for aquatic pollution control, a sedimentological approach. Water Res 14:975–1001

Hanif N, Eqani SAMAS, Ali SM, Cincinelli A, Ali N, Katsoyiannis IA, Tanveer ZI, Bokhari H (2016) Geo-accumulation and enrichment of heavy metals in sediments and their associated risks in the Chenab River, Pakistan. J Geochem Explor 165:62–70

He M, Zheng H, Huang X, Jia J, Li L (2013) Yangtze River sediments from source to sink traced with clay mineralogy. J Asian Earth Sci 69:60–69

Hong SJ, Kwon HO, Choi SD, Lee JS, Khim JS (2016) Arsenic speciation in water, suspended particles, and coastal organisms from the Taehwa River Estuary of South Korea. Mar Poll Bull 108:155–162

Hwang DW, Lee IS, Choi MK, Kim CS, Kim HC (2015) Evaluation of pollution level for organic matter and heavy metals in sediments around Taehwa River estuary. Ulsan Fish Aquati Sci 48:542–554

Kalender L, Uçar SÇ (2013) Assessment of metal contamination in sediments in the tributaries of the Euphrates River, using pollution indices and the determination of the pollution source, Turkey. J Geochem Explor 134:73–84

Karbassi AR, Monavari SM, Bidhendi GRN, Nouri J, Nematpour K (2008) Metal pollution assessment of sediment and water in the Shur River. Environ Monitor Assess 147:107–116

Kim WS, Shin HS, Lee SS (1988) Characterization of inclusions in amethysts from Eonyang, Korea. J Miner Soc Korea 1:83–93

Kim Y, Kirkpatrick RJ, Cygan RT (1996) 133Cs NMR study of cesium on the surfaces of kaolinite and illite. Geoch Cosmochim Acta 60:4059–4074

Kim Y, Kim BK, Kim K (2010) Distribution and speciation of heavy metals and their sources in Kumho River sediment, Korea. Environ Earth Sci 60:943–952

Krika A, Krika F (2018) Assessment of heavy metals pollution in water and sediments of Djendjen River, North Eastern Algeria. Pollution 4:495–502

Kwon HO, Son HS, Oh JY, Oh JE, Choi SD (2013) Monitoring and pollution assessment of heavy metals in the Taehwa River, Ulsan, Korea. J Korean Soc Environ Anal 16:212–219

Li XD, Cloes BJ, Ramsey MH, Thornton I (1995) Sequential extraction of soils for multi-element analysis by ICP-AES. Chem Geol 124:109–123

Louis Y, Garnier C, Lenoble V, Mounier S, Cukrov N, Omanović D, Pižeta I (2009) Kinetic and equilibrium studies of copper-dissolved organic matter complexation in water column of the stratified Krka River estuary (Croatia). Mar Chem 114:110–119

McBride MB (1994) Environmental chemistry of soils. Oxford University Press, New York, p 332

Mohiuddin KM, Ogawa Y, Zakir HM, Otomo K, Shikazono N (2011) Heavy metals contamination in water and sediments of an urban river in a developing country. Int J Environ Sci Technol 8:723–736

Müller G (1979) Schwermetalle in den sedimenten des Rheins—Veränderungen seitt 1971. Umschan 79:778–783

Olivares-Rieumont S, de la Rosa D, Lima L, Graham DW, Alessandro KD, Borroto J, Martınez F, Sanchez J (2005) Assessment of heavy metal levels in Almendares River sediments—Havana City, Cuba. Water Res 39:3945–3953

Ong MC, Menier D, Shazili NAM, Kamaruzzaman BY (2013) Geochemical characteristics of heavy metals concentration in sediments of Quiberon Bay Waters, South Brittany, France. Orient J Chem 29:39–45

Pagnanelli F, Moscardini E, Giuliano V, Toro L (2004) Sequential extraction of heavy metals in river sediments of an abandoned pyrite mining area: pollution detection and affinity series. Environ Pollut 132:189–201

Paik IS, Kim HJ (2006) Playa lake and sheetflood deposits of the Upper Cretaceous Jindong Formation, Korea: Occurrences and paleoenvironments. Sediment Geol 187:83–103

Pandey J, Singh R (2017) Heavy metals in sediments of Ganga River: up-and downstream urban influences. Appl Water Sci 7:1669–1678

Patel P, Raju NJ, Reddy BCSR, Suresh U, Sankar DB, Reddy TVK (2018) Heavy metal contamination in river water and sediments of the Swarnamukhi River Basin, India: risk assessment and environmental implications. Environ Geochem Health 40:609–623

Relić D, Đorđević D, Popović A, Blagojević T (2005) Speciations of heavy metals in the Danube alluvial sediments within an oil refinery. Environ Int 31:661–669

Reza R, Singh G (2010) Heavy metal contamination and its indexing approach for river water. Int J Environ Sci Technol 7:785–792

Rodríguez-Barroso MR, García-Morales JL, Coello Oviedo MD, Quiroga Alonso JM (2010) An assessment of heavy metal contamination in surface sediment using statistical analysis. Environ Monit Assess 163:489–501

Salam MA, Kabir MM, Yee LF, Rak ALE, Khan MS (2019) Water quality assessment of Perak River, Malaysia. Pollution 5:637–648

Salati S, Moore F (2010) Assessment of heavy metal concentration in the Khoshk River water and sediment, Shiraz, Southwest Iran. Environ Monit Assess 164:677–689

Sharmin S, Zakir HM, Shikazono N (2010) Fractionation profile and mobility pattern of heavy metals in sediments of Nomi River, Tokyo, Japan. J Soil Sci Environ Manag 1:001–014

Shen F, Mao L, Sun R, Du J, Tan Z, Ding M (2019) Contamination evaluation and source identification of heavy metals in the sediments from the Lishui River watershed, Southern China. Int J Environ Res Public Health 16:336

Shikazono N, Tatewaki K, Mohiuddin KM, Nakano T, Zakir HM (2012) Sources, spatial variation, and speciation of heavy metals in sediments of the Tamagawa River in Central Japan. Environ Geochem Health 34:13–26

Singh M (2001) Heavy metal pollution in freshly deposited sediments of the Yamuna River (the Ganga river tributary): a case study from Delhi and Agra urban centres India. Environ Geol 40:664–671

Singh P (2010) Geochemistry and provenance of stream sediments of the Ganga River and its major tributaries in the Himalayan region, India. Chem Geol 269:220–236

Singh KP, Mohan D, Singh VK, Malik A (2005) Studies on distribution and fractionation of heavy metals in Gomti river sediments: a tributary of the Ganes, India. J Hydrol 312:14–27

Suthar S, Nema AK, Chabukdhara M, Gupta SK (2009) Assessment of metals in water and sediments of Hindon River, India: impact of industrial and urban discharges. J Hazard Mater 171:1088–1095

Tamim U, Khan R, Jolly YN, Fatema K, Das S, Naher K, Islam MA, Islam SMA, Hossain SM (2016) Elemental distribution of metals in urban river sediments near an industrial effluent source. Chemosphere 155:509–518

Tessier A, Campbell PGC, Bisson M (1979) Sequential extraction procedure for the speciation of particulate heavy metals. Anal Chem 1:851–888

Waheed S, Malik RN, Jahan S (2013) Health risk from As contaminated fish consumption by population living around River Chenab, Pakistan. Environ Toxicol Pharmacol 36:579–587

Weber P, Behr ER, Knorr CDL, Vendruscolo DS, Flores EMM, Dressler VL, Baldisserotto B (2013) Metals in the water, sediment, and tissues of two fish species from different trophic levels in a subtropical Brazilian river. Microchem J 106:61–66

Yu GB, Liu Y, Yu S, Wu SC, Leung AOW, Luo XS, Wong MH (2011) Inconsistency and comprehensiveness of risk assessments for heavy metals in urban surface sediments. Chemosphere 85:1080–1087

Zhang C, Yu Z, Zeng G, Jiang M, Yang Z, Cui F, Zhu M, Shen L, Hu L (2014) Effects of sediment geochemical properties on heavy metal bioavailability. Environ Int 73:270–281
Funding
This work was supported by the National Research Foundation of Korea (NRF) grant funded by the Korean government (MSIT) (No. 2019R1A2C1002254).
Ethics declarations
Conflict of interest
The authors declare no conflict of interest.
Additional information
Publisher's Note
Springer Nature remains neutral with regard to jurisdictional claims in published maps and institutional affiliations.
About this article
Cite this article
Shin, JH., Jo, DH. & Kim, Y. Mobility and source apportionment of As and heavy metals in the Taehwa River sediment, South Korea: anthropogenic and seasonal effects. Environ Earth Sci 80, 79 (2021). https://doi.org/10.1007/s12665-021-09371-6
Received:

Accepted:

Published:
Keywords
River sediment

Heavy element

Sequential extraction

Index of pollution intensity (I POLL)

Ecological risk index (Er)