Abstract
The Yellow River Basin is an important water conservation and ecological barrier in China. Studying its water supply services is of great significance for the development of the Yellow River Basin and conservation of its ecosystems. This study is based on the InVEST model and scenario analysis method. We used data including land use cover, meteorology and soil type as inputs to analyze the spatial and temporal pattern of water yield in the Yellow River Basin from 1995 to 2018 and the impact of precipitation and land use change on water yield in the basin. The results show that from 1995 to 2018, the water yield in the Yellow River basin increased by 20,106 million m3, the high-value areas of water yield distributed in the southwest and southeast, the low-value areas distributed in the northwest region, and the spatial pattern of water yield changed insignificantly. From 1995 to 2005, the contribution rates of land use change and climate change to water production were 3.32% and 96.68%, respectively, and the contribution rates of land use change and climate change to water production from 1995 to 2018 were − 0.48% and 100.48%, respectively. In conclusion, the influence of precipitation on water production is more significant, and the effect of land use change on water production is smaller. This study reveals the temporal and spatial variation characteristics of water yield and its controlling factors in the Yellow River Basin, which is of great significance to the protection of ecological environment and the maintenance of ecological balance of the whole basin.
Access options
Buy single article
Instant access to the full article PDF.
US$ 39.95
Tax calculation will be finalised during checkout.
Subscribe to journal
Immediate online access to all issues from 2019. Subscription will auto renew annually.
US$ 119
Tax calculation will be finalised during checkout.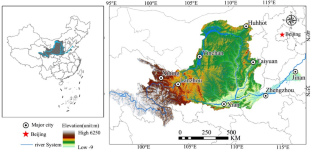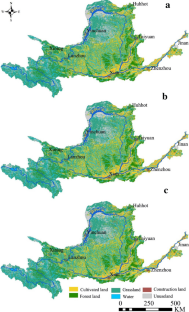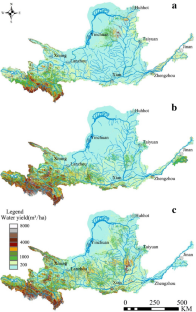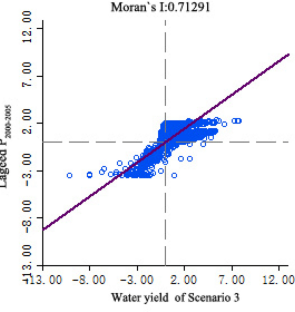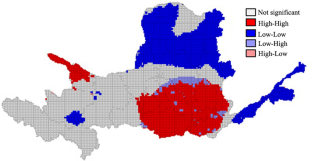 References
Ahmed MAA, Abd EA, Escobedo FJ, Cropper WPJ, Martin TA, Timilsina N (2017) Spatially-explicit modeling of multi-scale drivers of aboveground forest biomass and water yield in watersheds of the Southeastern United States. J Environ Manage 199:158–171. https://doi.org/10.1016/j.jenvman.2017.05.013

Bagstad KJ, Villa F, Batker D, Harrisoncox J, Voigt B, Johnson GW (2014) From theoretical to actual ecosystem services: mapping beneficiaries and spatial flows in ecosystem service assessments. Ecol Soc 19(2):64–69. https://doi.org/10.5751/ES-06523-190264

Baker TJ, Scott NM (2013) Using the Soil and Water Assessment Tool (SWAT) to assess land use impact on water resources in an East African watershed. J Hydrol 486:100–111. https://doi.org/10.1016/j.jhydrol.2013.01.041

Bao ZX, Yan XL, Wang GQ, Guan TS, Jin JL, Li M (2019) Evolution of river runoff in the Yellow River Basin from 1956 to 2016. J Water Resour Water Eng 30(5):52–57

Chen L, Xie GD, Zhang CS, Pei S, Fan N, Ge LQ, Zhang CX (2011) Modelling ecosystem water supply services across the Lancang River Basin. J Resour Ecol 2:322–327. https://doi.org/10.3969/j.issn.1674-764x.2011.04.005

Costanza R, de Groot R, Sutton P, van der Ploeg S, Anderson SJ, Kubiszewski I, Farber S, Turner RK (2014) Changes in the global value of ecosystem services. Global Environ Change 26:152–158. https://doi.org/10.1016/j.gloenvcha.2014.04.002

Daily GC (1997) Nature's services: societal dependence on natural ecosystems. Nat Serv Soc Depend Nat Ecosyst 1:220–221. https://doi.org/10.1016/S1066-7938(00)80033-0

Deng XZ, Zhao CH (2018) Identification of water scarcity and providing solutions for adapting to climate changes in the Heihe River Basin of China. Adv Meteorol. https://doi.org/10.1155/2015/279173

Droogers P, Allen RG (2002) Estimating reference evapotranspiration under inaccurate data conditions. Irrig Drain Syst 16(1):33–45. https://doi.org/10.1023/A:1015508322413

Gao J, Li F, Gao H, Zhou CZ, Zhang XL (2017) The impact of land-use change on water-related ecosystem services: a study of the Guishui River Basin, Beijing, China. J Clean Prod 163:S148–S155. https://doi.org/10.1016/j.jclepro.2016.01.049

Geng XL, Wang XS, Yan HM, Zhang Q, Jin G (2015) Land use/cover change induced impacts on water supply service in the upper reach of Heihe River Basin. Sustainability 7:366–383. https://doi.org/10.3390/su7010366

Hargreaves GH (1994) Defining and using reference evapotranspiration. J Irrig Drain Eng 120(6):132–1139. https://doi.org/10.1016//(ASCE)0733-9437(1994)120:6(1132)

He S, Wu J (2019) Relationships of groundwater quality and associated health risks with land use/land cover patterns: a case study in a loess area, northwest China. Hum Ecol Risk Assess 25(1–2):354–373. https://doi.org/10.1080/10807039.2019.1570463

He S, Li P, Wu J, Elumalai V, Adimalla N (2019) Groundwater quality under land use/land cover changes: a temporal study from 2005 to 2015 in Xi'an, northwest China. Hum Ecol Risk Assess. https://doi.org/10.1080/10807039.2019.1684186

Lang YQ, Song W, Zhang Y (2017) Responses of the water-yield ecosystem service to climate and land use change in Sancha River Basin, China. Phys Chem Earth 101:102–111. https://doi.org/10.1016/j.pce.2017.06.003

Legesse D, Vallet-Coulomb C, Gasse F (2003) Hydrological response of a catchment to climate and land use change in tropical Africa: case study south Central Ethiopia. J Hydrol 275:67–85. https://doi.org/10.1016/S0022-1694(03)00019-2

Leh MDK, Matlock MD, Cummings EC, Nalley LL (2013) Quantifying and mapping multiple ecosystem services change in West Africa. Ecosyst Environ 165:6–18

Li P (2020) Meeting the environmental challenges. Hum Ecol Risk Assess 26(9):2303–2315. https://doi.org/10.1080/10807039.2020.1797472

Li SY, Tao JH, Yu L (2013) Study on water environmental integrated management modeling platform in Zhangweinan Basin, China. Adv Mater Res 2480:3506–3512. https://doi.org/10.4028/www.scientific.net/AMR.726-731.3506

Li P, Qian H, Wu J (2014) Accelerate research on land creation. Nature 510(7503):29–31. https://doi.org/10.1038/510029a

Lian XH, Qi Y, Wang HW, Zhang JL, Yang R (2019) Assessing changes of water yield in Qinghai Lake watershed of China. Water 12(1):11. https://doi.org/10.3390/w12010011

Liu JY, Xu XL, Zhuang DF (2005) The influence of LUCC process on the Photosynthetic Thermal Productivity of farmland in China in the 1990s: dynamic observation data of land use based on climate observation and remote. Chin Sci (Ser D Geosci) 35(6):483–492

Lyu LT, Ren TT, Sun CZ, Zheng DF, Wang H (2020) Water supply and water conservation function of Sanjiangyuan National Park from 1980 to 2016. Acta Ecol Sin 40(3):993–1003

Marques M, Bangash RF, Kumar V, Sharp R, Schuhmacher M (2013) The impact of climate change on water provision under a low flow regime: a case study of the ecosystems services in the Francoli river basin. J Hazard Mater 263:224–232. https://doi.org/10.1016/j.jhazmat.2013.07.049

Millenium Ecosystem Assessment (2003) Ecosystems and Human Well-Being: a Framework for Assessment. World Resources Institute, Washington, DC

Momblanch A, Paredes-Arquiola J, Andreu J (2017) Improved modelling of the freshwater provisioning ecosystem service in water scarce river basins. Environ Modell Softw 94:87–99. https://doi.org/10.1016/j.envsoft.2017.03.033

Nelson E, Mendoza G, Regetz J, Polasky S, Tallis H, Cameron DR, Chan KMA, Daily GC, Goldstein J, Kareiva PM et al (2009) Modeling multiple ecosystem services, biodiversity conservation, commodity production, and tradeoffs at landscape scales. Front Ecol Environ 7:4–11. https://doi.org/10.1890/080023

Nie WM, Yuan YP, Kepner W, Nash MS, Jackson M, Erickson C (2011) Assessing impacts of landuse and landcover changes on hydrology for the upper San Pedro watershed. J Hydrol 407:105–114. https://doi.org/10.1016/j.jhydrol.2011.07.012

Olander LP, Johnston RJ, Tallis H, Kagan J, Maguire LA, Polasky S, Urban D, Boyd J, Wainger L, Palmer M (2018) Benefit relevant indicators: ecosystem services measures that link ecological and social outcomes. Ecol Indic 85:1262–1272. https://doi.org/10.1016/j.ecolind.2017.12.001

Pessacg N, Flaherty S, Brandizi L, Solman S, Pascual M (2018) Getting water right: a case study in water yield modelling based on precipitation data. Sci Total Environ 537:225–234. https://doi.org/10.1016/j.scitotenv.2015.07.148

Sharp R, Tallis H, Ricketts T, Guerry AD, Wood SA, Chaplin-Kramer R, Nelson E, Ennaanay D, Wolny S, Olwero N, et al. (2016) InVEST 3.3.3 User's Guide. The Natural Capital Project: Stanford University, University of Minnesota, The Nature Conservancy, and World Wildlife Fund

Shomar B, Darwish M, Rowell C (2014) What does integrated water resources management from local to global perspective mean? Qatar as a case study, the very rich country with no water. Water Resour Manag 8:2781–2791. https://doi.org/10.1007/s11269-014-0636-9

Song W, Deng XZ (2017) Land-use/land-cover change and ecosystem service provision in China. Sci Total Environ 576:705–719. https://doi.org/10.1016/j.scitotenv.2016.07.078

Su SL, Xiao R, Jiang ZL, Zhang Y (2012) Characterizing landscape pattern and ecosystem service value changes for urbanization impacts at an eco-regional scale. Appl Geogr 34:295–305. https://doi.org/10.1016/j.apgeog.2011.12.001

Sun S, Sun G, Caldwell P, McNulty S, Cohen E, Xiao JF, Zhang Y (2018) Drought impacts on ecosystem functions of the U.S. National Forests and Grasslands: Part II assessment results and management implications. For Ecol Manag 353:269–279. https://doi.org/10.1016/j.foreco.2015.04.002

Tallis HT, Ricketts T, Guerry AD, Nelson E, Ennaanay D, Wolny S, Olwero N, Vigerstol K, Pennington D, Mendoza G, Aukema J, Foster A, Forrest J, Cameron D, et al. (2011) InVEST2.1 Beta User's guide: integrated valuation of ecosystem services and tradeoff. The Nature Conservancy (TNC), Stanford

Tao Y, Li F, Crittenden JC, Lu ZM, Sun X (2016) Environmental impacts of China's urbanization from 2000 to 2010 and management implications. J Environ Manag 57:498–507. https://doi.org/10.1007/s00267-015-0614-x

Tesfaye A, Brouwer R, van der Zaag P, Negatu W (2016) Assessing the costs and benefits of improved land management practices in three watershed areas in Ethiopia. Int Soil Water Conserv Res 4(1):20–29. https://doi.org/10.1016/j.iswcr.2016.01.003

Thellmann K, Golbon R, Cotter M, Cadisch G, Asch F (2019) Assessing hydrologicale ecosystem services in a Rubber-Dominated watershed under scenarios of land use and climate change. Forests 10(2):176. https://doi.org/10.3390/f10020176

Tong R, Yang XL, Ren LL, Liu YL, Ma MW (2012) Spatial-temporal characteristics of evapotranspiration and its influencing factors in the Yellow River Basin from 1961 to 2012. Water Resour Protect 31(3):16–21

Trisurat Y, Eawpanich P, Kalliola R (2016) Integrating land use and climate change scenarios and models into assessment of forested watershed services in Southern Thailand. Environ Res 147:611–620. https://doi.org/10.1016/j.envres.2016.02.019

United Nations General Assembly (2018) Transforming our world: the 2030 agenda for sustainable development. UN, New York

Wang YH, Dai EF, Ma L (2020) Study on the spatial-temporal distribution pattern and influencing factors of water yield in Hengduan Mountain Area. J Nat Resour 35(2):371–386

Xie GD, Zhang CX, Zhen L, Zhang LM (2017) Dynamic changes in the value of China's ecosystem services. Ecosyst Serv 26:146–154. https://doi.org/10.1016/j.ecoser.2017.06.010

Xu J, Xiao Y, Li N, Wang H (2015) Spatial and temporal patterns of supply and demand balance of water supply services in the Dongjiang Lake Basin and its beneficiary areas. J Resour Ecol 6(6):386–396. https://doi.org/10.5814/j.issn.1674-764x.2015.06.006

Yang D, Liu W, Tang LY, Chen L, Li XZ, Xu XL (2019) Estimation of water provision service for monsoon catchments of South China: applicability of the InVEST model. Landsc Urban Plan 182:133–143. https://doi.org/10.1016/j.landurbplan.2018.10.011

Zhan CS, Xu ZX, Ye AZ, Su HB (2011) LUCC and its impact on run-off yield in the Bai River catchment-upstream of the Miyun Reservoir basin. J Plant Ecol 4:61–66. https://doi.org/10.1093/jpe/rtr003

Zhang L, Dawes WR, Walker GR (2001) Response of mean annual evapotranspiration to vegetation changes at catchment scale. Water Resour Res 37(3):701–708. https://doi.org/10.1029/2000WR900325

Zhao MM, He ZB, Du J, Chen LF, Lin PF, Fang S (2018) Assessing the effects of ecological engineering on carbon storage by linking the CA-Markov and InVEST models. Ecol Indic 198:29–38. https://doi.org/10.1016/j.ecolind.2018.10.052

Zhao YR, Zhou JJ, Lei L, Xiang J, Huang MH, Feng W, Zhu GF, Wei W, Wang JA (2019) Identification of water yield driving factors in the upper reaches of Shiyang River based on InVEST model. Chin J Ecol 38(12):3789–3799. https://doi.org/10.13292/j.1000-4890.201912.017
Acknowledgements
This study was financially supported by the National Key R&D Program of China (no. 2016YFC0501902) and the University Research Project of Gansu Provincial Education Department (no. 2018A-038). We thank International Science Editing (http://www.internationalsCienceediting.com) for editing this manuscript.
Ethics declarations
Conflict of interest
The authors declare no conflict of interest.
Additional information
Publisher's Note
Springer Nature remains neutral with regard to jurisdictional claims in published maps and institutional affiliations.
This article is a part of the Topical Collection in Environmental Earth Sciences on "Water in Large Basins" guest edited by Peiyue Li and Jianhua Wu.
About this article
Cite this article
Yang, J., Xie, B., Zhang, D. et al. Climate and land use change impacts on water yield ecosystem service in the Yellow River Basin, China. Environ Earth Sci 80, 72 (2021). https://doi.org/10.1007/s12665-020-09277-9
Received:

Accepted:

Published:
Keywords
Water yield

Land use change

Climate

Yellow River Basin

InVEST model