Abstract
Lead (Pb) isotope ratios are commonly used to determine the relative contributions of anthropogenic and geogenic sources to metal contaminations in soils. For successful source apportionment, it is critical to obtain a reliable Pb isotope ratio value for each end member. However, the conventional practice for estimating the geogenic Pb isotope ratio can get affected by the anthropogenic Pb, which might produce misleading results. Therefore, this study proposes a modified approach that enhances the reliability of geogenic Pb isotope ratio estimations. To evaluate the feasibility of the proposed approach, laboratory experiments and field soil sample analyses were conducted. In the laboratory experiments, possible transformation of the metal-binding forms was monitored for a year using soils artificially contaminated with Pb and zinc (Zn). The results indicated that the anthropogenic metals in the soil barely transformed into the residual form, and thus, soil samples without less stable metal forms may better represent the original soil minerals. Field soil samples were collected from a metal-contaminated site near a zinc-smelter and were investigated using both the conventional and modified approaches. The modified method involves collecting multiple soil samples along consecutive depths at a location, chemically leaching out the mobile fractions of metals from the samples and determining the converging value of Pb isotope ratio by comparing subsequent values. The results revealed that the modified method gives the Pb isotope ratios which gradually decrease to a certain depth and then converge to a value. On the other hand, the conventional method shows the irregular vertical distributions of Pb isotope ratios possibly due to the infiltrations of anthropogenic Pb. Finally, the application of the modified approach to the zinc-smelter sites was found to yield more reasonable metal source apportionments.
This is a preview of subscription content, log in to check access.
Access options
Buy single article
Instant access to the full article PDF.
US$ 39.95
Price includes VAT for USA
Subscribe to journal
Immediate online access to all issues from 2019. Subscription will auto renew annually.
US$ 199
This is the net price. Taxes to be calculated in checkout.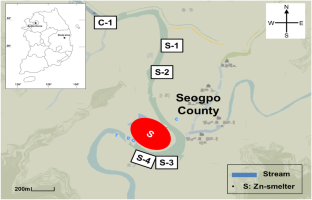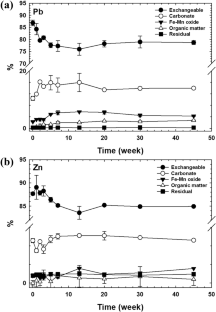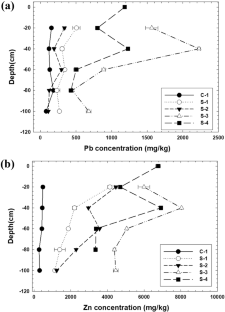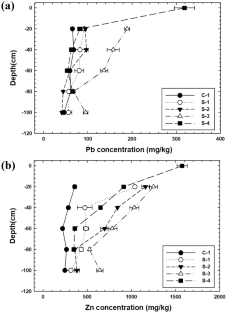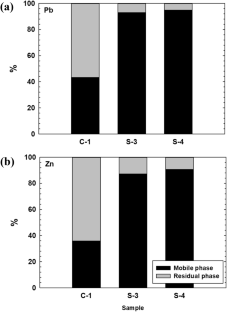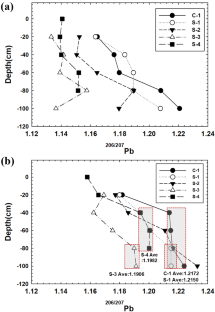 References
Abdu N, Abdulkadir A, Agbenin JO, Buerkert A (2011) Vertical distribution of heavy metals in wastewater-irrigated vegetable garden soils of three West African cities. Nutr Cycl Agroecosys 89(3):387–397. https://doi.org/10.1007/s10705-010-9403-3

Adriano DC (1986) Trace elements in the terrestrial environment. Springer-Verlag, New York

Ayuso RA, Foley NK (2016) Pb-Sr isotopic and geochemical constraints on sources and processes of lead contamination in well waters and soil from former fruit orchards, Pennsylvania, USA: a legacy of anthropogenic activities. J Geochem Explor 170:125–147. https://doi.org/10.1016/j.gexplo.2016.08.008

Ayuso RA, Foley NK, Seal RR, Bove M, Civitillo D, Cosenza A, Grezzi G (2013) Lead isotope evidence for metal dispersal at the Callahan Cu–Zn–Pb mine: Goose Pond tidal estuary, Maine, USA. J Geochem Explor 126:1–22. https://doi.org/10.1016/j.gexplo.2012.12.013

Brümmer GW (1986) Heavy metal species, mobility and availability in soils. In: Bernhard, M., Brinckman, F.E., Sadler, P.J. (Eds.) The importance of chemical "Speciation" in environmental processes. Springer-Verlag, Berlin, Heidelberg, pp. 169–192. https://doi.org/10.1007/978-3-642-70441-3_11

Emmanuel S, Erel Y (2002) Implications from concentrations and isotopic data for Pb partitioning processes in soils. Geochim Cosmochim Acta 66(14):2517–2527. https://doi.org/10.1016/s0016-7037(02)00863-3

García G, Zanuzzi AL, Faz Á (2005) Evaluation of heavy metal availability prior to an in situ soil phytoremediation program. Biodegradation 16(2):187–194. https://doi.org/10.1007/s10532-004-4880-1

Hooda PS (2010) Trace elements in soils. Wiley, New York

Hou X, Parent M, Savard MM, Tasse N, Begin C, Marion J (2006) Lead concentrations and isotope ratios in the exchangeable fraction: tracing soil contamination near a copper smelter. Geochem Explor Environ Anal 6:229–236. https://doi.org/10.1144/1467-7873/05-092

Hu Y, Cheng H (2016) A method for apportionment of natural and anthropogenic contributions to heavy metal loadings in the surface soils across large-scale regions. Environ Pollut 214:400–409. https://doi.org/10.1016/j.envpol.2016.04.028

Imperato M, Adamo P, Naimo D, Arienzo M, Stanzione D, Violante P (2003) Spatial distribution of heavy metals in urban soils of Naples city (Italy). Environ Pollut 124(2):247–256. https://doi.org/10.1016/s0269-7491(02)00478-5

Isaure MP, Manceau A, Geoffroy N, Laboudigue A, Tamura N, Marcus MA (2005) Zinc mobility and speciation in soil covered by contaminated dredged sediment using micrometer-scale and bulk-averaging X-ray fluorescence, absorption and diffraction techniques. Geochim Cosmochim Acta 69(5):1173–1198. https://doi.org/10.1016/j.gca.2004.08.024

Jeon SK, Kwon MJ, Yang JS, Lee S (2017) Identifying the source of Zn in soils around a Zn smelter using Pb isotope ratios and mineralogical analysis. Sci Total Environ 601:66–72. https://doi.org/10.1016/j.scitotenv.2017.05.181

Jiao W, Ouyang W, Hao FH, Lin CY (2015) Anthropogenic impact on diffuse trace metal accumulation in river sediments from agricultural reclamation areas with geochemical and isotopic approaches. Sci Total Environ 536:609–615. https://doi.org/10.1016/j.scitotenv.2015.07.118

Kang MJ, Kwon YK, Yu S, Lee PK, Park HS, Song N (2019) Assessment of Zn pollution sources and apportionment in agricultural soils impacted by a Zn smelter in South Korea. J Hazard Mater 364:475–487. https://doi.org/10.1016/j.jhazmat.2018.10.046

Kelepertzis E, Komarek M, Argyraki A, Sillerova H (2016) Metal(loid) distribution and Pb isotopic signatures in the urban environment of Athens. Greece Environ Pollut 213:420–431. https://doi.org/10.1016/j.envpol.2016.02.049

Komárek M, Ettler V, Chrastny V, Mihaljevic M (2008) Lead isotopes in environmental sciences: a review. Environ Int 34(4):562–577. https://doi.org/10.1016/j.envint.2007.10.005

Lee PK, Yu S, Jeong YJ, Seo J, Choi SG, Yoon BY (2019) Source identification of arsenic contamination in agricultural soils surrounding a closed Cu smelter, South Korea. Chemosphere 217:183–194. https://doi.org/10.1016/j.chemosphere.2018.11.010

Li Z, Shuman LM (1996) Heavy metal movement in metal-contaminated soil profiles. Soil Sci 161(10):656–666. https://doi.org/10.1097/00010694-199610000-00003

Li Z, Shuman LM (1997) Mobility of Zn, Cd and Pb in soils as affected by poultry litter extract—II Redistribution among soil fractions. Environ Pollut 95(2):227–234. https://doi.org/10.1016/s0269-7491(96)00074-7

Li X, Thornton I (2001) Chemical partitioning of trace and major elements in soils contaminated by mining and smelting activities. Appl Geochem 16(15):1693–1706. https://doi.org/10.1016/s0883-2927(01)00065-8

Lu A, Zhang S, Shan XQ (2005) Time effect on the fractionation of heavy metals in soils. Geoderma 125(3–4):225–234. https://doi.org/10.1016/j.geoderma.2004.08.002

Martınez CE, Motto HL (2000) Solubility of lead, zinc and copper added to mineral soils. Environ Pollut 107(1):153–158. https://doi.org/10.1016/s0269-7491(99)00111-6

McBride MB, Richards BK, Steenhuis T, Russo JJ, Sauve S (1997) Mobility and solubility of toxic metals and nutrients in soil fifteen years after sludge application. Soil Sci 162(7):487–500. https://doi.org/10.1097/00010694-199707000-00004

Osher LJ, Leclerc L, Wiersma GB, Hess CT, Guiseppe VE (2006) Heavy metal contamination from historic mining in upland soil and estuarine sediments of Egypt Bay, Maine, USA. Estuar Coast Shelf Sci 70(1–2):169–179. https://doi.org/10.1016/j.ecss.2006.06.009

Rezza C, Albanese S, Ayuso R, Lima A, Sorvari J, De Vivo B (2018) Geochemical and Pb isotopic characterization of soil, groundwater, human hair, and corn samples from the Domizio Flegreo and Agro Aversano area (Campania region, Italy). J Geochem Explor 184:318–332. https://doi.org/10.1016/j.gexplo.2017.01.007

Rodríguez L, Ruiz E, Alonso-Azcárate J, Rincón J (2009) Heavy metal distribution and chemical speciation in tailings and soils around a Pb–Zn mine in Spain. J Environ Manag 90(2):1106–1116. https://doi.org/10.1016/j.jenvman.2008.04.007

Scokart PO, Meeusverdinne K, Deborger R (1983) Mobility of heavy metals in polluted soils near zinc smelters. Water Air Soil Pollut 20(4):451–463. https://doi.org/10.1007/bf00208519

Shuman LM (1991) Chemical forms of micronutrients in soils, in: Mortvedt, J.J. (Ed.) Micronutrients in Agriculture, SSSA Book Ser. 4. SSSA, Madison, Wisconsin, USA, pp. 113–144. https://doi.org/10.2136/sssabookser4.2ed.c5.

Sterckeman T, Douay F, Proix N, Fourrier H (2000) Vertical distribution of Cd, Pb and Zn in soils near smelters in the North of France. Environ Pollut 107(3):377–389. https://doi.org/10.1016/s0269-7491(99)00165-7

Tessier A, Campbell PGC, Bisson M (1979) Sequential extraction procedure for the speciation of particulate trace-metals. Anal Chem 51(7):844–851. https://doi.org/10.1021/ac50043a017

Todt W, Cliff RA, Hanser A, Hofmann AW (1996) In: Basu, A., Hart, S. (Eds.), Earth processes: reading the isotopic code, Vol. 95, Geophysical Monograph Series, American Geophysical Union.

Trivedi P, Axe L (2000) Modeling Cd and Zn sorption to hydrous metal oxides. Environ Sci Technol 34(11):2215–2223. https://doi.org/10.1021/es991110c

Ure AM, Quevauviller P, Muntau H, Griepink B (1993) Speciation of heavy metals in soils and sediments. An account of the improvement and harmonization of extraction techniques undertaken under the auspices of the BCR of the Commission of the European Communities. Int J Environ Anal Chem 51(1–4):135–151. https://doi.org/10.1080/03067319308027619

Verner JF, Ramsey MH, Helios-Rybicka E, Jeˆdrzejczyk B (1996) Heavy metal contamination of soils around a Pb–Zn smelter in Bukowno. Poland Appl Geochem 11(1–2):11–16. https://doi.org/10.1016/0883-2927(95)00093-3

Violante A, Cozzolino V, Perelomov L, Caporale AG, Pigna M (2010) Mobility and bioavailability of heavy metals and metalloids in soil environments. J Soil Sci Plant Nutr 10(3):268–292. https://doi.org/10.4067/s0718-95162010000100005
Acknowledgements
This work was supported by the Korea Environment Industry & Technology Institute (KEITI) through the Geo-Advanced Innovative Action (GAIA) Project (2015000540001) and the Subsurface Environment Management (SEM) Project (2018002440006) funded by the Korea Ministry of Environment (MOE). The authors also acknowledge the support of the Future Research Program (2E29660) funded by the Korea Institute of Science and Technology (KIST).
Additional information
Publisher's Note
Springer Nature remains neutral with regard to jurisdictional claims in published maps and institutional affiliations.
About this article
Cite this article
Jeon, S., Kwon, M., Yun, S. et al. Modified approach for estimating geogenic Pb isotope ratios in soils for metal source apportionment. Environ Earth Sci 79, 315 (2020). https://doi.org/10.1007/s12665-020-09061-9
Received:

Accepted:

Published:
Keywords
Metal contamination

Metal source identification

Stable Pb isotope

Geogenic source

Environmental forensics