Abstract
The systematically varying properties and generally coherent and predictable behavior of rare earth elements (REE) make them potential tracers for studying water/rock interaction and weathering processes. In this work, a compilation and analysis of REE data in mineral and thermal waters were performed, focusing on their content and distributions in different hydrogeological systems, to quantify the natural REE variability and to discuss the controlling factors of REE concentrations. Quantitative challenges presented by multiply censored data were addressed with nonparametric and multivariate statistical methods. Considering a regional character of the research the application of Q and R mode Hierarchical Cluster Analysis with spatial analysis was an important approach for meaningful interpretation of large data set. An efficient approach to analyze differences between obtained HCA groups (clusters) was using a plot of reference-normalized concentrations. The results showed that REE data along with anomalies of Ce and Eu and inter-element ratios were good indicators of the aquifer lithology (hydrogeological systems formed in granitoid and volcanic rocks of various age, two main types of hydrogeological basins, and carbonate aquifers). The important mechanisms controlling REE migration in water were hydrochemical conditions in aquifers. The significance of the applied statistical analyses was represented by defining specific hydrochemical fingerprints of identified hydrogeological systems with distinct geochemical characteristics where REE showed the necessity of understanding of complex geological and hydrogeological settings, geodynamic evolution, and hydrogeochemical processes in fluid flow systems.
This is a preview of subscription content, log in to check access.
Access options
Buy single article
Instant access to the full article PDF.
US$ 39.95
Price includes VAT for USA
Subscribe to journal
Immediate online access to all issues from 2019. Subscription will auto renew annually.
US$ 199
This is the net price. Taxes to be calculated in checkout.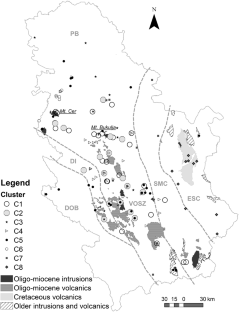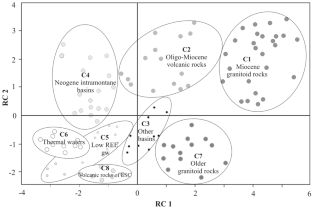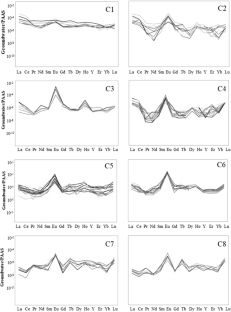 References
Bau M (1991) Rare–earth element mobility during hydrothermal and metamorphic fluid–rock interaction and the significance of the oxidation state of europium. Chem Geol 93:219–230

Ćuk M, Todorović M, Šišović J, Štrbački J, Andrijašević J, Papić P (2016) Hydrogeochemical approach to estimate the quality of bottled waters in Serbia. Hem ind 70:347–358

Cvetković V, Downes H, Prelević D, Jovanović M, Lazarov M (2004a) Characteristics of the lithospheric mantle beneath East Serbia inferred from ultramafic xenoliths in Paleogene basanites. Contrib Miner Petrol 148:335–357

Cvetković V, Prelević D, Downes H, Jovanović M, Vaselli O, Pecskay Z (2004b) Origin and geodynamic significance of Tertiary postcollisional basaltic magmatism in Serbia (central Balkan Peninsula). Lithos 73:161–186

Cvetkovic V, Prelević D, Schmid S (2016) Geology of South-Eastern Europe. In: Papic P (eds) Mineral and thermal waters of Southeastern Europe. Environmental Earth Sciences, pp 1–29

EPA/600/R-07/041 ProUCL Version 5.1 User Guide Statistical Software for Environmental Applications for Data Sets with and without Nondetect Observations. Prepared by: Singh A, Maichle R, Martin L/SERAS IS&GS-CIVIL 2890 Woodbridge Ave Edison NJ 08837. U.S. Environmental Protection Agency Office of Research and Development Washington, DC 20460

Filipović B (2003) Mineral, thermal and thermao-mineral waters of Serbia. University of Belgrade, Faculty of Min-ing and Geology, Belgrade, pp. 278

Hanson GN (1980) Rare earth elements in petrogenetic studies of igneous systems. Annu Rev Earth Planet Sci 8:371–406

Helsel D (2005a) More than obvious: better methods for interpreting nondetect data. Environ Sci Technol 39:1766–1774

Helsel D (2005b) Nondetects and data analysis: statistics for censored environmental data. John Wiley and Sons Inc, Hoboken

Helsel D (2012) Statistics for censored environmental data using minitab and R, 2nd Edn. Wiley Publishing, pp 344

Henderson  P (1984) Rare earth element geochemistry, developments in geochemistry 2. Elsevier, Amsterdam, pp 343–374

Johannesson KH, Stetzenbach KJ, Hodge VF (1997) Rare earth elements as geochemical tracers of regional groundwater mixing. Geochim Cosmochim Acta 61:3605–3618

Johannesson K, Zhou X, Guo C, Stetzenbach KJ, Hodge VF (2000) Origin of rare earth element signatures in groundwaters of circumneutral pH from southern Nevada and eastern California, USA. Chem Geol 164:239–257

Karamata S, Krstić B (1996) Terranes of Serbia and neighborin areas. In: Knežević V, Ðorđević P, Krstić B (eds) Terranes of Serbia. University of Belgrade and Serbian Academy of Sciences and Arts, Belgrade, pp 25–40

Karamata S, Knežević V, Pécskay Z, Djordjević M (1997) Magmatism and metallogeny of the Ridanj-Krepoljin belt (eastern Serbia) and their correlation with northern and eastern analogues. Miner Deposita 32(5):452–458

Karamata S, Olujić J, Protić L, Milovanović D, Vujnović L, Popević A, Memović E, Radovanović Z, Resimić-Šaric K (2000) The western belt of the Vardar Zone—the remnant of a marginal sea. In: Karamata S, Jankovic S (eds) Geology and metallogeny of the dinarides and the Vardar Zone, Banja Luka-Srpsko Sarajevo. Collections and Monographs 1, The Academy of Sciences and Arts of the Republic of Srpska, pp 131–135

Kolb M, von Quadt A, Peytcheva I, Heinrich CA, Fowler SJ, Cvetković V (2013) Adakite-like and normal arc magmas: distinct fractionation paths in the East Serbian segment of the Balkan-Carpathian. Arc J Petrol 54(3):421–451

Kovačević J, Todorović M, Ćuk M, Papić P (2016) Geochemical study of U, Th and REE mineralizations in Jurassic sediments and hydrochemical characterization of groundwaters in Eastern Serbia—case study: Plavna area. Carpathian J Earth Environ Sci 11(2):463–474

Laboutka M, Vylita B (1983) Mineral and thermal waters of Western Bohemia. GeoJournal 7(5):403–411

Leybourne MI, Johannesson KH (2008) Rare earth elements (REE) and yttriumin stream waters, stream sediments, and Fe–Mn oxyhydroxides: fractionation, speciation, and controls over REE + Y patterns in the surface environment. Geochim Cosmochim Acta 72:5962–5983

Liu W, Etschmann B, Migdisov A, Boukhalfa H, Testemale D, Müllere M, Hazemannd JL, Brugge J (2017) Revisiting the hydrothermal geochemistry of europium(II/III) in light of newin-situ XAS spectroscopy results. Chem Geol 459:61–74

Martinović M, Milivojević M (2000) The hydrogeothermal model of Mačva. In: Proceedings of world geothermal congress, Kyushu–Tokou, Japan, pp 2145–2151

Massart DL, Kaufman L (1983) The interpretation of analyticalchemical data by the use of cluster analysis. Wiley, New York

Matiatos I, Alexopoulos A (2013) Analysis of temporal hydrochemical and isotopic variations in spring waters of eastern peloponnesus (Greece). Bull Geol Soc Greece 47(2):750–759 (507)

McCarthy JF, Sanford WE, Stafford PL (1998) Lanthanide field tracers demonstrate enhanced transpport of transuranic radionuclides by natural organic matter. Environ Sci Technol 32:3901–3906

McLennan SM (1999) Elements: lanthanide series, rare earths. In: Marshall CP, Fairbridge R (eds) Encyclopedia of geochemistry Dordrecht. Kluwer Academic Publishers, Netherlands

Milenic D, Krunic O, Milankovic Dj (2012) Thermomineral waters of inner dinarides karst. Acta carsologica 41(2-3):235–252

Milivojevic M, Martinović M (2005) Geothermal energy possibilities, exploration and future prospects in Serbia. In: Proceedings world geothermal congress. Antalya, Turkey, pp 1–11

Möller P, Rosenthal E, Dulsk P, Geyer S, Guttman Y (2003) Rare earths and yttrium hydrostratigraphy along the lake Kinneret-dead sea–arava transform fault, Israel and adjoining territories. Appl Geochem 18:1613–1628

Pantić TP, Birke M, Petrović B, Nikolov J, Dragišić V, Živanović V (2015) Hydrogeochemistry of thermal groundwaters in the Serbian crystalline core region. J Geochem Explor 159:101–114

Petrović T, Zlokolica-Mandić M, Veljković N, Vidojević D (2010a)  Hydrogeological conditions for the forming and quality of mineral waters in Serbia. J Geochem Explor 107:373–381. https://doi.org/10.1016/j.gexplo.2010.07.009

Petrović T, Zlokolica-Mandić M, Veljković N, Papić P, Stojković J (2010b) In: Quercia FF, Vidojević D (Eds) Clean soil and safe water: geochemistry of bottled waters in Serbia, NATO science for peace and security series C: environmental security, Springer 247–266

Petrovic Pantic T, Tomic T, Atanasković M, Samolov K (2019) Geothermal resources of Serbia. In: Proceedings of 4th conference of IAH CEG (Central European Group of IAH) and guide of geotrip of the IAH karst commission. Donji Milanovac, Serbia, pp 88–89

Prelević D, Foley SF, Romer RL, Cvetković V, Downes H (2005) Tertiary ultrapotassic volcanism in Serbia: constraints on petrogenesis and mantle source characteristics. J Petrol 46:1443–1487

Prelević D, Foley S, Cvetković V (2007) A review of petrogenesis of mediterranean tertiary lamproites: a perspective from the Serbian ultrapotassic province. Geol Soc Am Spec Pap 418:113–129

Prelević D, Foley SF, Romer R, Conticelli S (2008) Mediterranean tertiary lamproites derived from multiple source components in postcollisional geodynamics. Geochim Cosmochim Acta 72:2125–2156

Protić D (1995) Mineralne i termalne vode Srbije (mineral and thermal waters of Serbia). Special Edition of Geoinstitute, Belgrade

Santamaría R, Therón R, Quintales L (2008) BicOverlapper: a tool for bicluster visualization. Bioinformatics 24(9):1212–1213

Shuster ET, White WB (1971) Seasonal fluctuations in the chemistry of limestone springs: a possible means for characterizing carbonate aquifers. J Hydrol 14:93–128

Smedley LP (1991) The geochemistry of rare earth elements in groundwater from the Carnmenellis area, southwest England. Geochim Cosmochim Acta 55:2767–2779

Stüben D, Kupper T (2005) Anthropogenic emission of Pd and traffic-related PGEs—results based on monitoring with sewage sludge. In: Zereini F, Alt F (eds) Palladium emissions in the environment-analytical methods, environmental assessment and health effects, pp 325–341

Tanasković I, Golobocanin D, Miljević N (2012) Multivariate statistical analysis of hydrochemical and radiological data of Serbian spa waters. J Geochem Explor 112:226–234

Todorović M, Papić P, Ćuk M, Stojković J (2013) Rare earth elements in some bottled waters of Serbia. Ann Géol Pénins Balk 74:71–81

Todorović M, Štrbački J, Ćuk M, Andrijašević J, Šišović J,  Papić P (2016) Mineral and thermal waters of Serbia: multivariate statistical approach to hydrochemical characterization. In Papic P (eds) Mineral and thermal waters of Southeastern Europe. Environmental Earth Sciences, pp 81–95

Toth J (1970) A conceptual model of the groundwater regime and the hydrogeological environment. J Hydrol 540(10):164–176

Tweed SO, Weaver TR, Cartwright I, Schaefer B (2006) Behavior of rare earth elements in groundwater during flow and mixing in fractured rock aquifers: an example from the Dandenong Ranges, southeast Australia. Chem Geol 234:291–307

Von Quadt A, Peytcheva I, Kamenov B, Fanger L, Heinrich CA, Frank M (2002) The Elatsite porphyry copper deposit in the Panagyurishte ore district, Srednogorie zone, Bulgaria; U–Pb zircon geochronology and isotope-geochemical investigations of magmatism and ore genesis. In: Blundell DJ, Neubauer F, Von Quadt A (eds) The timing and location of major ore deposits in an evolving orogen, vol 204. Geological Society, Special Publications, London, pp 119

Zelic M, Levi N, Malasoma A, Marroni M, Pandolfi L, Trivic B (2010) Alpine tectono-metamorphic history of the continental units from Serbian Cenozoic Igneous Province Vardar zone: the Kopaonik metamorphic complex (Dinaric-Hellenic belt, Serbia). Geol J 45:59–77
Acknowledgements
This work is supported by the Ministry of Education, Science and Technological Development of the Republic of Serbia within the Projects III 43004.
Additional information
Publisher's Note
Springer Nature remains neutral with regard to jurisdictional claims in published maps and institutional affiliations.
This article is a part of the Topical Collection in Environmental Earth Sciences on "Mineral and Thermal Waters" guest edited by Drs. Adam Porowski, Nina Rman and Istvan Forizs, with James LaMoreaux as the Editor-in-Chief.
About this article
Cite this article
Todorović, M., Ćuk Đurović, M., Štrbački, J. et al. Rare earth elements in mineral waters in Serbia. Environ Earth Sci 79, 290 (2020). https://doi.org/10.1007/s12665-020-09029-9
Received:

Accepted:

Published:
Keywords
Rare earth elements

Mineral water

Regional hydrogeology

Hydrogeological systems

REE signatures