Abstract
Water scarcity is increasing throughout the world due to the effects of increasing groundwater abstraction and climatic change. The present study was undertaken to evaluate groundwater potential zones (GP) in Dhaka city using GIS and remote sensing (RS) techniques. A weighted linear combination (WLC) was used in association with GIS techniques to identify GP zones for an area that encompassed the city to 5 km outside of the city boundaries. Declining groundwater levels are a significant issue for the city, and these are influenced by the rate of groundwater abstraction, potential evapotranspiration (PET), rainfall, land use/land cover pattern, surface lithology, drainage pattern, recharge conditions, and geomorphology. Seven thematic layers were used for the GP calculation, where drainage density and infiltration zone maps were modified for the settlement area to reduce the negative influence on the final result. The GP calculation indicated that 188 km2 (24%) had a 'very low' groundwater potential; 150 km2 (19%) had a 'low' potential; 138 km2 (18%) had a 'moderate' potential; 143 km2 (19%) had a 'high' potential; and 154 km2 (20%) had a 'very high' potential. Surface lithology was found to be the most sensitive parameter. This parameter had standard deviations of 4.18% and 36.39% were found for a map removal sensitivity analysis (MRSA) and a single parameter sensitivity analysis (SPSA), respectively. The validation result shows that 93% area with a 'high' groundwater potential zone falls in the area where the groundwater depth is in the range 6–22 m below the land surface.
This is a preview of subscription content, log in to check access.
Access options
Buy single article
Instant access to the full article PDF.
US$ 39.95
Price includes VAT for USA
Subscribe to journal
Immediate online access to all issues from 2019. Subscription will auto renew annually.
US$ 199
This is the net price. Taxes to be calculated in checkout.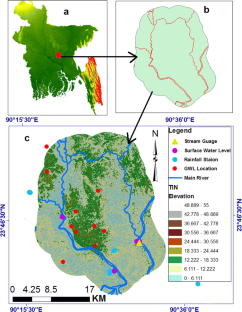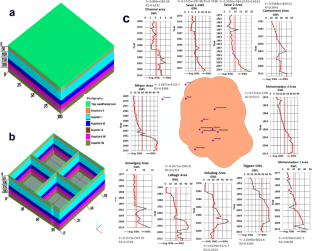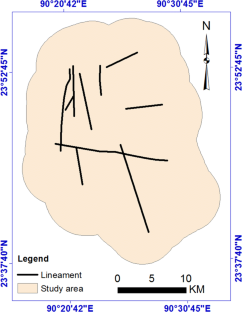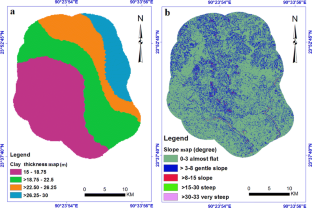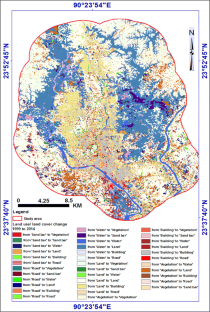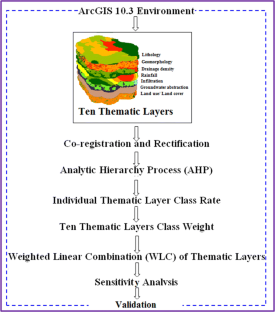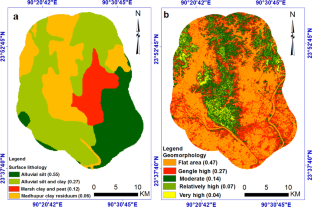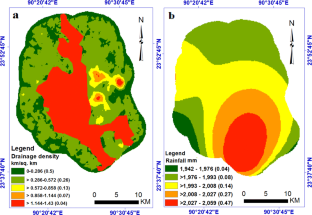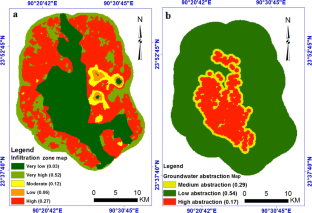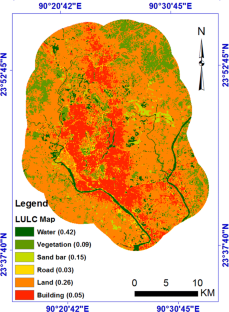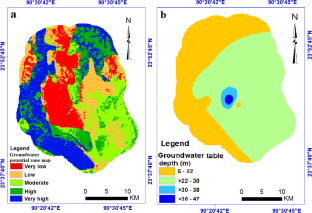 References
Ahmed KM, Hasan MA, Sharif SU, Hossain KS (1998) Effect of urbanisation on groundwater regime, Dhaka City, Bangladesh. J Geol Soc India 51:229–338

Akhter S, Hossain MS (2017) Groundwater modelling of Dhaka City and surrounding areas and evaluation of the effect of artificial recharge to aquifers. World J Res Rev (WJRR) 5(3):54–60

Akinlalu AA, Adegbuyiro A, Adiat KN, Akeredolu BE, Lateef WY (2017) Application of multi-criteria decision analysis in prediction of groundwater resources potential: a case of Oke-Ana, Ilesa Area Southwestern, Nigeria. NRIAG J Astron Geophys 6(1):184–200. https://doi.org/10.1016/j.nrjag.2017.03.001

Alam K (1988) Geology of Madhupur Tract and its adjoining areas in Bangladesh. Geological Survey of Bangladesh

Alam K, Aurangzeb M (1975) Geological environment for greater Dacca City. In: Conference issue of the Bangladesh Geological Society, pp 34–36

Bear J (1979) Hydraulics of groundwater. McGraw-Hill, New York

Bear J, Verruijt A (1987) Modeling groundwater flow and pollution. D. Reidel Publishing Company, Dordecht

Biswas SK, Mahtab SB, Rahman MM (2010) Integrated water resources management options for Dhaka City. In: Proc. of international conference on environmental aspects of Bangladesh (ICEAB10), Japan

Bro C (2007) Joint feasibility study of pre-treatment for water supply for the Saidabad treatment plant II. DWASA, Dhaka

Chenini I, Zghibi A, Kouzana L (2015) Hydrogeological investigations and groundwater vulnerability assessment and mapping for groundwater resource protection and management: state of the art and a case study. J Afr Earth Sc 109:11–26. https://doi.org/10.1016/j.jafrearsci.2015.05.008

Department of Environment (DoE) (2016) Surface and groundwater Quality Report-2016. Ministry of the Environment and Forest, Government of the People's Republic of Bangladesh. Dhaka Water Supply and Swerage Authority (WASA). Annual report WASA 2015–2016. WASA, Dhaka

Elbeih SF (2015) An overview of integrated remote sensing and GIS for groundwater mapping in Egypt. Ain Shams Eng J 6(1):1–15. https://doi.org/10.1016/j.asej.2014.08.008

Faniran A (1968) The index of drainage intensity—a provisional new drainage factor. Aust J Sci 31:328–330

Gintamo TT (2015) Ground water potential evaluation based on integrated GIS and RS techniques in Bilate river catchment, South rift valley of Ethiopia. Am Sci Res J Eng Technol Sci (ASRJETS) 10(1):85–120

Global Water Partnership (GWP) & the International Network of Basin Organizations (INBO) (2009) A handbook for integrated water resources management in basins. Elanders, Sweden

Hassan MQ, Zahid A (2017) Management of overexploited Dhaka City Aquifers, Bangladesh. J Nepal Geol Soc 43:1–12. https://doi.org/10.3126/jngs.v43i0.25615

Healy RW, Cook PG (2002) Using groundwater levels to estimate recharge. Hydrogeol J 10(1):91–109. https://doi.org/10.1007/s10040-001-0178-0

Huq F, Hossain Z (2013) Assessment of groundwater quality parameters of zone 6 of Dhaka City. UITS J 2(2):49–59

Ibrahim-Bathis K, Ahmed SA (2016) Geospatial technology for delineating groundwater potential zones in Doddahalla watershed of Chitradurga district, India. Egypt J Remote Sens Space Sci 19(2):223–234. https://doi.org/10.1016/j.ejrs.2016.06.002

Madrucci V, Taioli F, Araujo CC (2008) Groundwater favorability map using GIS multicriteria data analysis on crystalline terrain, São Paulo State. Brazil J Hydrol 357(3–4):153–173. https://doi.org/10.1016/j.jhydrol.2008.03.026

Muthukrishnan MA, Bhuvaneswaran C, Panneerselvam A, Palanichamy A (2013) Role of remote sensing and GIS in artificial recharge of the groundwater aquifer in the Shanmuganadi subwatershed in the Cauvery River Basin, Tiruchirappalli District, Tamil Nadu. Int J Appl Sci Eng Res 2(3):181–192. https://doi.org/10.6088/ijaser.020300001

Bangladesh Bureau of Statistics (BBS) (2014) Bangladesh Population and Housing Census 2011. Ministry of Planning Government of the People's Republic of Bangladesh

Okhue ET, Olorunfemi MO (1991) Electrical resistivity investigation of a typical basement complex area—the Obafemi Awolowo University Campus Case Study. J Min Geol 2(27):63–69. https://doi.org/10.1007/s11069-016-2237-9

Oseji JO, Ovini OM (2010) Determination of groundwater flow direction in Utagba Ogbe Kingdom, Udukwa Land Area of Delta State. Nigeria J Earth Sci 2(4):32–34. https://doi.org/10.3923/ojesci.2010.32.34

Patra S, Mishra P, Mahapatra SC (2018) Delineation of groundwater potential zone for sustainable development: a case study from Ganga Alluvial plain covering Hooghly District of India using Remote Sensing, Geographic Information System and Analytic Hierarchy Process. J Clean Prod 172:2485–2502. https://doi.org/10.1016/j.jclepro.2017.11.161

Pradhan B, Lee S, Buchroithner MF (2009) Use of geospatial data and fuzzy algebraic operators to landslide-hazard mapping. Appl Geom 1(1–2):3–15. https://doi.org/10.1007/s12665-009-0245-8

Rahman SSM, Hasan MM (2016) Roof-top rainwater harvesting—an alternative option to urban flood mitigation and groundwater recharge for the City of Dhaka, Bangladesh. IOSR J Mech Civ Eng (IOSR-JMCE) 13(6):68–73. https://doi.org/10.9790/1684-1306066873

Rajaveni SP, Brindha K, Elango L (2017) Geological and geomorphological controls on groundwater occurrence in a hard rock region. Appl Water Sci 7:1377–1389. https://doi.org/10.1007/s13201-015-0327-6

Saaty TL (1980) The Analytic Hierarchy Process. McGraw-Hill, New York

Senanayake IP, Dissanayake DMDOK, Mayadunna BB, Weerasekera WL (2016) An approach to delineate groundwater recharge potential sites in Ambalantota, Sri Lanka using GIS techniques. Geosci Front 7(1):115–124. https://doi.org/10.1016/j.gsf.2015.03.002

Shams N (1999) Urban geology of Dhaka city for geohazard mitigation and development planning. University of Dhaka, Dhaka

Shamsudduha M, Taylor RG, Ahmed KM, Zahid A (2011) The impact of intensive groundwater abstraction on recharge to a shallow regional aquifer system: evidence from Bangladesh. Hydrogeol J 19(4):901–916. https://doi.org/10.1007/s10040-011-0723-4

Singha LK, Jha MK, Chowdary VM (2018) Assessing the accuracy of GIS-based Multi-Criteria Decision Analysis approaches for mapping groundwater potential. Ecol Ind 91:24–37. https://doi.org/10.1016/j.ecolind.2018.03.070

Solomon S, Ghebreab W (2008) Hard-rock hydrotectonics using geographic information systems in the central highlands of Eritrea: implications for groundwater exploration. J Hydrol 349(1–2):147–155. https://doi.org/10.1016/j.jhydrol.2007.10.032

Srivastava VK, Giri DN, Bharadwaj P (2012) Study and mapping of ground water prospect using remote sensing, GIS and geoelectrical resistivity techniques—a case study of Dhanbad district, Jharkhand. India J Ind Geophys Union 16(2):55–63

Todd DK (2004) Ground water hydrology. Wiley, New York

Venkateswaran S, Ayyandurai R (2015) Groundwater potential zoning in upper Gadilam River Basin Tamil Nadu. Int Conf Water Resour Coast Ocean Eng (ICWRCOE) Aquat Procedia 4:1275–1282. https://doi.org/10.1016/j.aqpro.2015.02.166

Yeh H-F, Cheng Y-S, Lin H-I, Lee C-H (2016) Mapping groundwater recharge potential zone using a GIS approach in Hualian River, Taiwan. Sustain Environ Res 26(1):33–43. https://doi.org/10.1016/j.serj.2015.09.005
Acknowledgements
The research is not connected to any private and profitable organization.
Funding
The research work did not collect funds from any agency.
Ethics declarations
Conflict of interest
The research work is not associated with any government or private organization so there is no conflict of interest.
Ethical approval
The data sets used for the research are publicly available so there is no need for ethical approval. The manuscript was not submitted to any other journal before or after submission to this journal.
Additional information
Publisher's Note
Springer Nature remains neutral with regard to jurisdictional claims in published maps and institutional affiliations.
About this article
Cite this article
Arefin, R. Groundwater potential zone identification using an analytic hierarchy process in Dhaka City, Bangladesh. Environ Earth Sci 79, 268 (2020). https://doi.org/10.1007/s12665-020-09024-0
Received:

Accepted:

Published:
Keywords
WLC

Thematic layers

Groundwater potential zone

MRSA

SPSA