Abstract
Many ejection landslides in the 2008 Wenchuan earthquake exhibited unusually dramatic behaviour in which a huge sliding mass was launched into the air and supported for a long distance because of the aerodynamic effect. In this paper, the formation conditions and movement characteristics of ejection landslides are analysed. The flight behaviour of the centroid of the ejection mass is studied by numerical solution with and without the aerodynamic effect. The impact and movement processes of the sliding mass are simulated by incorporating an advanced discretisation approach into discontinuous deformation analysis (DDA). Simulation results of the Dayanke rock avalanche induced by the 2008 Wenchuan earthquake show that the aerodynamic effect significantly affects its flight behaviour before collision. Simultaneously, the colluvium on the slope surface remarkably reduces its traveling speed and runout. Moreover, the initial angle between the velocity of the detached ejection mass and the horizontal direction strongly affects the flight distance and final deposition pattern of the avalanche.
This is a preview of subscription content, log in to check access.
Access options
Buy single article
Instant access to the full article PDF.
US$ 39.95
Price includes VAT for USA
Subscribe to journal
Immediate online access to all issues from 2019. Subscription will auto renew annually.
US$ 199
This is the net price. Taxes to be calculated in checkout.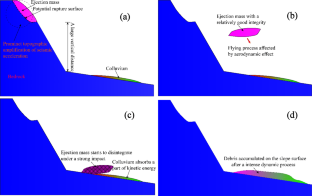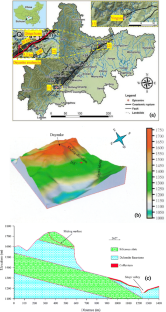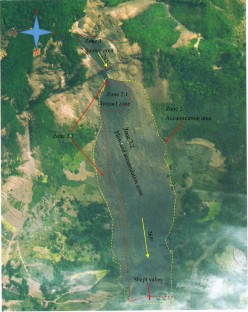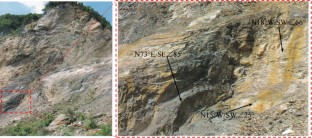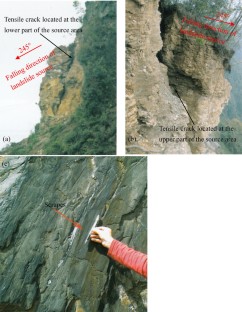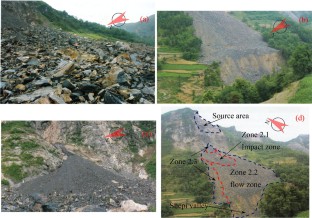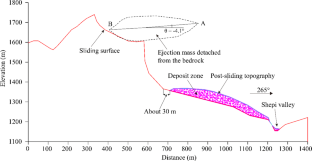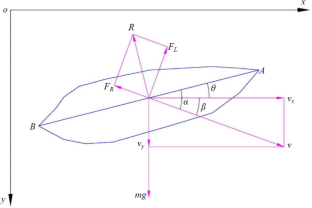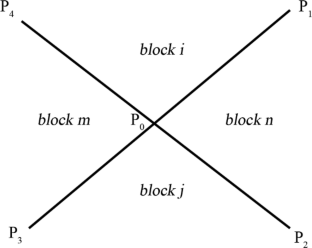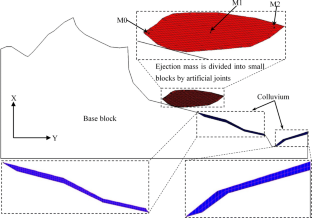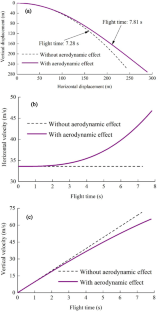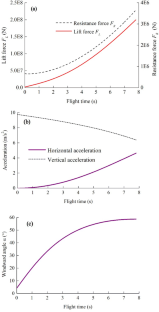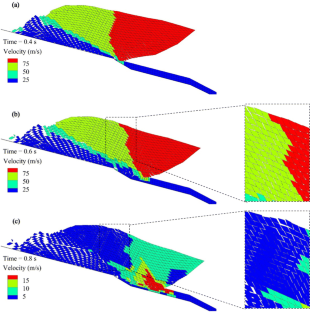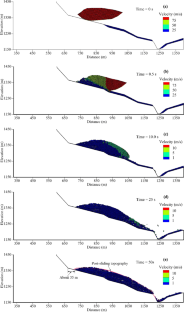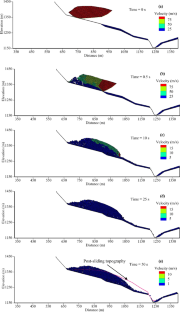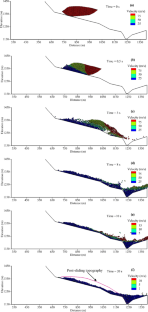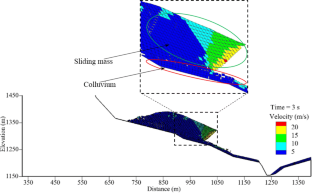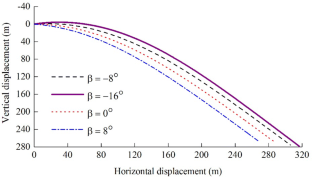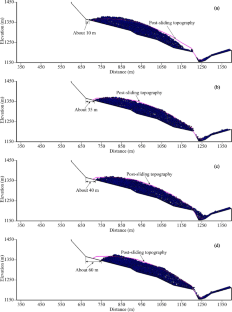 References
Bird JF, Bommer JJ (2004) Earthquake losses due to ground failure. Eng Geol 75(2):147–179

Blasio FVD (2008) Production of frictional heat and hot vapour in a model of self-lubricating landslides. Rock Mech Rock Eng 41(1):219–226

Budimir MEA, Atkinson PM, Lewis HG (2015) Seismically induced landslide hazard and exposure modelling in Southern California based on the 1994 Northridge California earthquake event. Landslides 12(5):895–910

Davies TR, Mcsaveney MJ (2002) Dynamic simulation of the motion of fragmenting rock avalanches. Can Geotech J 39(4):789–798

Davies TR, Mcsaveney MJ, Hodgson KA (2011) A fragmentation-spreading model for long-runout rock avalanches. Can Geotech J 36(6):1096–1110

Delgado J, Garrido J, Lenti L, Lopez-Casado C, Martino S, Sierra FJ (2015) Unconventional pseudostatic stability analysis of the Diezma landslide (Granada, Spain) based on a high-resolution engineering-geological model. Eng Geol 184:81–95

Dufresne A (2012) Granular flow experiments on the interaction with stationary runout path materials and comparison to rock avalanche events. Earth Surf Proc Land 37(14):1527–1541

Dufresne A, Davies TR (2009) Longitudinal ridges in mass movement deposits. Geomorphology 105(3–4):171–181

Farin M, Mangeney A, Roche O (2014) Fundamental changes of granular flow dynamics, deposition, and erosion processes at high slope angles: Insights from laboratory experiments. J Geophys Res Earth Surf 119(3):504–532

Foda MA (1994) Landslides riding on basal pressure waves. Continuum Mech Thermodyn 6(1):61–79

Gorum T, Fan X, Westen CJV, Huang RQ, Xu Q, Tang C, Wang G (2011) Distribution pattern of earthquake-induced landslides triggered by the 12 May 2008 Wenchuan earthquake. Geomorphology 133(3–4):152–167

Hoek E, Brown ET (1997) Practical estimates of rock mass strength. Int J Rock Mech Min Sci 34(8):1165–1186

Hoek E, Carranza-Torres C, Corkum B (2002) Hoek–Brown failure criterion—2002 edition. NARMS-TAC conference. Toronto; pp. 267–273.

Hu JC, Yuan RM, Tang CL, Xu X (2013) Ejection mechanism of the Donghekou landslide triggered by the 2008 Wenchuan Earthquake revealed by discrete element modeling. Nat Hazards Earth Syst Sci 1(6):1195–1205

Huang R (2013) Slope motion response and failure under strong earthquakes: recording, monitoring and modeling. Earthquake-Induced Landslides. Springer, Heidelberg, pp 59–73

Huang R, Li W (2008) Research on development and distribution rules of geohazards induced by Wenchuan earthquake on 12th May, 2008. Chin J Rock Mechan Eng 27(12):2585–2592 (In Chinese with English abstract)

Huang R, Pei X, Fan X, Zhang W, Li S, Li B (2012) The characteristics and failure mechanism of the largest landslide triggered by the Wenchuan earthquake, May 12, 2008, China. Landslides 9(1):131–142

Huang D, Song Y, Cen D, Fu G (2016) Numerical modeling of earthquake-induced landslide using an improved discontinuous deformation analysis considering dynamic friction degradation of joints. Rock Mech Rock Eng 49(12):4767–4786

Imre B, Laue J, Springman SM (2010) Fractal fragmentation of rocks within sturzstroms: insight derived from physical experiments within the ETH geotechnical drum centrifuge. Granular Matter 12(3):267–285

Jiao YY, Zhang XL, Zhao J (2012) Two-dimensional DDA contact constitutive model for simulating rock fragmentation. J Eng Mech-Asce 138(2):199–209

Jibson RW, Harp EL, Michael JA (2000) A method for producing digital probabilistic seismic landslide hazard maps. Eng Geol 58(3–4):271–289

Khazai B, Sitar N (2004) Evaluation of factors controlling earthquake-induced landslides caused by Chi-Chi earthquake and comparison with the Northridge and Loma Prieta events. Eng Geol 71(1–2):79–95

Liu YJ, Hu HT, Bai ZY (2002) Aerodynamic dynamic effect of large-scale and high-speed landslide. J Southwest Jiaotong Univ 37(1):6–9 (In Chinese with English abstract)

Liu YJ, Hu HT, Bai ZY (2003) Testing study on aerodynamics effect of large-scale and high-speed flying landslide. Chin J Rock Mechan Eng 22(5):784–789 (In Chinese with English abstract)

Lu WN (1991) Aerodynamic approach to sliding problems of high speed landslide. J Xi'an Coll Geol 13(4):78–85 (in Chinese with English abstract)

Mangeney A, Roche O, Hungr O, Mangold N, Faccanoni G, Lucas A (2010) Erosion and mobility in granular collapse over sloping beds. J Geophys Res Atmos 115(F3):1480–1493

Marcato G, Mantovani M, Pasuto A, Zabuski L, Borgatti L (2012) Monitoring, numerical modelling and hazard mitigation of the Moscardo landslide (Eastern Italian Alps). Eng Geol 128:95–107

Melosh HJ (1986) The physics of very large landslides. Acta Mech 64(1):89–99

Ning Y, Yang J, An X, Ma G (2011) Modelling rock fracturing and blast-induced rock mass failure via advanced discretisation within the discontinuous deformation analysis framework. Comput Geotech 38(1):40–49

Okada Y, Sassa K, Fukuoka H (2005) Undrained shear behaviour of sands subjected to large shear displaceme. Can Geotech J 42(3):787–803

Sassa K (2005) Landslide disasters triggered by the 2004 Mid-Niigata Prefecture earthquake in Japan. Landslides 2(3):135–142

Sepúlveda SA, Serey A, Lara M, Pavez A, Rebolledo S (2010) Landslides induced by the April 2007 Aysén Fjord earthquake Chilean Patagonia. Landslides 7(4):483–492

Shi GH, Goodman RE (1985) Two dimensional discontinuous deformation analysis. Int J Numer Anal Meth Geomech 9(6):541–556

Shi GH, Goodman RE (1989) Generalization of two-dimensional discontinuous deformation analysis for forward modelling. Int J Numer Anal Meth Geomech 13(4):359–380

Shi C, You L, Xu W, Huang W, Zhuang Y (2012) Stability analysis of deposit landslide based on improved dynamic programming algorithm. Chin J Rock Mechan Eng 31(2):3599–3606 (In Chinese with English abstract)

Shreve RL (1966) Sherman landslide, alaska. Science 154(3757):1639–1643

Shreve RL (1968) The Blackhawk landslide. Geol Soc Am Special Papers 108:1–48

Sitar N, MacLaughlin MM, Doolin DM (2005) Influence of kinematics on landslide mobility and failure mode. J Geotech Geoenviron Eng 131(6):716–728

Song Y, Huang D, Cen D (2016) Numerical modeling of the 2008 Wenchuan earthquake-triggered Daguangbao landslide using a velocity and displacement dependent friction law. Eng Geol 215:50–68

Sun P, Zhang Y, Shi J, Chen L (2011) Analysis on the dynamical process of Donghekou rockslide-debris flow triggered by 5.12 Wenchuan earthquake. J Mountain Sci 8:140–148

Tang HM, Liu X, Hu XL, Griffiths DV (2015) Evaluation of landslide mechanisms characterized by high-speed mass ejection and long-run-out based on events following the Wenchuan earthquake. Eng Geol 194:12–24

Tian Q, Zhao Z, Bao H (2014) Block fracturing analysis using nodal-based discontinuous deformation analysis with the double minimization procedure. Int J Numer Anal Meth Geomech 38(9):881–902

Togo T, Shimamoto T, Dong JJ, Lee CT, Yang CM (2014) Triggering and runaway processes of catastrophic Tsaoling landslide induced by the 1999 Taiwan Chi-Chi earthquake, as revealed by high-velocity friction experiments. Geophys Res Lett 41(6):1907–1915

Wang M (2009) Coseismic slip distribution of the 2008 Wenchuan great earthquake constrained using GPS coseismic displacement field. Chin J Geophys 52:2519–2526 (in Chinese)

Wang F, Cheng QG, Highland L, Miyajima M, Wang HB, Yan CG (2009a) Preliminary investigation of some large landslides triggered by the 2008 Wenchuan earthquake, Sichuan Province, China. Landslides 6(1):47–54

Wang F, Sun P, Cheng Q, Fukuoka H (2009b) The mechanism of initiation and motion of the rapid and long runout landslides triggered by the 2008 Wenchuan earthquake. Proceedings of International Conference on Earthquake Engineering-the First Anniversary of Wenchuan Earthquake, pp 723–728

Wang Y, Xu H, Luo Y, Wu J (2009) Study of formation conditions and toss motion program of high landslides induced by earthquake. Chin J Rock Mech Eng 28(11):2360–2368

Wang G, Huang R, Chigira M, Wu X (2013) Landslide Amplification by Liquefaction of Runout-Path Material after the 2008 Wenchuan (M 8.0) Earthquake China. Earth Surf Process Landforms 38(3):265–274

Wang F, Sun P, Highland L, Cheng Q (2014) Key factors influencing the mechanism of rapid and long runout landslides triggered by the 2008 Wenchuan earthquake, China. Geoenviron Disasters 1:1. https://doi.org/10.1186/s40677-014-0001-6

Wieczorek GF, Snyder JB, Waitt RB, Morrissey MM, Uhrhammer RA, Harp EL, Norris RD, Bursik MI, Finewood LG (2000) Unusual July 10, 1996, rock fall at Happy Isles, Yosemite National Park, California. Geol Soc Am Bull 112(1):75–85

Wu JH (2010) Seismic landslide simulations in discontinuous deformation analysis. Comput Geotech 37(5):594–601

Wu JH, Chen CH (2011) Application of DDA to simulate characteristics of the Tsaoling landslide. Comput Geotech 38(5):741–750

Wu JH, Tsai PH (2011) New dynamic procedure for back-calculating the shear strength parameters of large landslides. Eng Geol 123(1–2):129–147

Wu JH, Lin JS, Chen CS (2009) Dynamic discrete analysis of an earthquake-induced large-scale landslide. Int J Rock Mech Min Sci 46(2):397–407

Xing AG, Wang G, Yin YP, Jiang Y, Wang GZ, Yang SY, Dai DR, Zhu YQ, Dai JA (2014) Dynamic analysis and field investigation of a fluidized landslide in Guanling, Guizhou, China. Eng Geol 181:1–14

Xu Q, Pei XJ, Huang RQ (2009) Larger-scale landslides induced by the Wenchuan earthquake. Science, Beijing (In Chinese)

Yin Y, Xing A (2012) Aerodynamic modeling of the Yigong gigantic rock slide-debris avalanche, Tibet, China. Bull Eng Geol Env 71(1):149–160

Yin Y, Zheng W, Li X, Sun P, Li B (2011) Catastrophic landslides associated with the M8.0 Wenchuan earthquake. Bulletin of Engineering Geology and the Environment 70(1): 15–32

Yuan RM, Xu XW, Chen GH, Tan XB, Klinger Y, Xing HL (2010) Ejection Landslide at Northern Terminus of Beichuan Rupture Triggered by the 2008 Mw 7.9 Wenchuan Earthquake. Bulletin of the Seismological Society of America 100(B5): 2689–2699

Yuan RM, Tang CL, Deng QH (2014) Effect of the acceleration component normal to the sliding surface on earthquake-induced landslide triggering. Landslides 12(2):335–344

Zhang M, Yin Y, Wu S, Zhang Y, Han J (2011) Dynamics of the Niumiangou Creek rock avalanche triggered by 2008 M s 8.0 Wenchuan earthquake, Sichuan, China. Landslides 8(3): 363–371

Zhang Y, Chen G, Zheng L, Li Y, Wu J (2013) Effects of near-fault seismic loadings on run-out of large-scale landslide: a case study. Eng Geol 166(8):216–236

Zhao Z, Gu J (2009) Stress recovery procedure for discontinuous deformation analysis. Adv Eng Softw 40(1):52–57

Zhou X (2010) Study on air cushion effect of high-speed and long-runout landslide triggered by earthquake. M.Sc. Thesis, Shanghai Jiao Tong University, Shanghai. (In Chinese with English abstract)

Zhou X, Xing A, Chen L (2010) Numerical analysis on the flying of Yigong high-speed and long run-out landslide at the short-range stage. J Shanghai Jiaotong Univ 44(6):833–838 (In Chinese with English abstract)

Zhou JW, Cui P, Yang XG (2013) Dynamic process analysis for the initiation and movement of the Donghekou landslide-debris flow triggered by the Wenchuan earthquake. J Asian Earthences 76(S1):70–84
Acknowledgement
This work is supported by the National Natural Science Foundation of China (Nos. 41472245, 41672300), and Opening Fund of State Key Laboratory of Geohazard Prevention and Geoenvironment Protection (Chengdu University of Technology) (SKLGP2017K015).
Additional information
Publisher's Note
Springer Nature remains neutral with regard to jurisdictional claims in published maps and institutional affiliations.
About this article
Cite this article
Huang, D., Li, Y.Q., Song, Y.X. et al. Ejection landslides triggered by the 2008 Wenchuan earthquake and movement modelling using aerodynamic theory and artificial disintegration collision technique. Environ Earth Sci 79, 263 (2020). https://doi.org/10.1007/s12665-020-09021-3
Received:

Accepted:

Published:
Keywords
Wenchuan earthquake

Ejection landslide

Aerodynamic effect

Rock avalanche

Discontinuous deformation analysis (DDA)