Abstract
This study aimed to determine the current geological and engineering features of granite blocks used as riprap material in the construction of Gelingüllü Dam which is in use for nearly 20 years. The riprap layer is divided into four zones (A, B, C and D) from the lowest lake water level to dam crest by noting the durations underwater. Samples taken from the zones were investigated for petrographic, physical, chemical and mechanical characteristics. Schmidt hardness hammer experiments were completed on site for blocks in the zones. The shape features of the blocks were determined with the fractal dimension method. Physical weathering developed on sections close to the surface of blocks in zones A, B and C which were in contact with water. Compared to blocks in zone D, blocks in zones A, B and C had higher porosity, water absorption and Los Angeles abrasion loss values, with lower density, uniaxial compressive strength, Schmidt hardness rebound values and Vp values. The increased porosity of blocks from zones A, B and C was caused by greater effects of physical factors like wetting–drying and freeze–thaw affecting the blocks in these zones in contact with lake water. This increased the speed of fragmentation and weakening of the blocks. According to the results obtained in the study, it is understood that over nearly twenty years, the weathering processes affecting the riprap layer have caused changes to the physical and mechanical features of the rock blocks.
This is a preview of subscription content, log in to check access.
Access options
Buy single article
Instant access to the full article PDF.
US$ 39.95
Price includes VAT for USA
Subscribe to journal
Immediate online access to all issues from 2019. Subscription will auto renew annually.
US$ 199
This is the net price. Taxes to be calculated in checkout.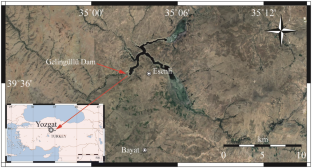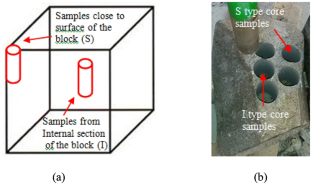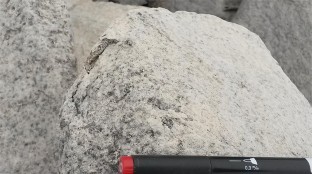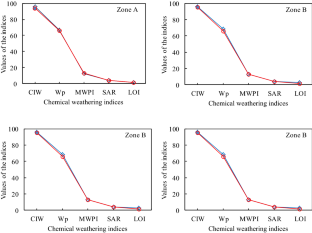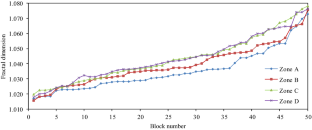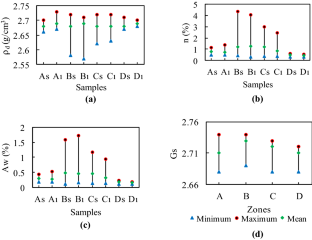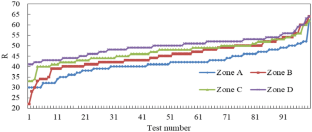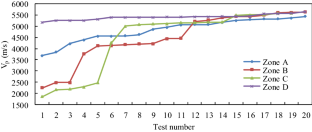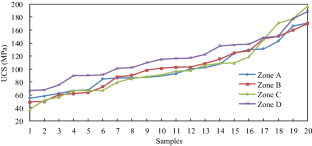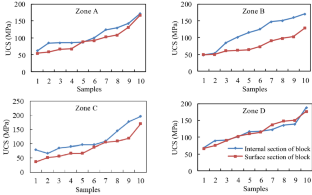 References
Acır Ö (2007) Quality and durability assessment of basalts used as armourstones at the Eastern Black Sea ports. PhD Thesis (in Turkish), Ankara University, Ankara

Ahrens JP (1981) Design of riprap revetments for protection against wave attack. Technical paper no: 81-5, U.S Army, Corps of Engineers Coastal Engineering Research Center, Kingman Building

Akçalı E, Arman H (2006) Preference criterions of dam fill materials and risks of exceeding limits. SAUJS 10(2):16–23

Akçay AE, Dönmez M, Kara H, Yergök AF, Esentürk K (2008) Geological Maps of Turkey, Yozgat İ-34 sheet, General Directorate of Mineral Research and Exploration (MTA)

Arel E, Tugrul A (2001) Weathering and its relation to geomechanical properties of Çavuşbaşı granitic rocks in Northwestern Turkey. Bull Eng Geol Environ 60:123–133

ASTM (2006) Standard test method for resistance to degradation of small-size coarse aggregate by abrasion and impact in the Los Angeles Machine (C131). ASTM International, West Conshohocken

ASTM (2018) Standard test method for soundness of aggregates by use of sodium sulfate or magnesium sulfate (C88). ASTM International, West Conshohocken

Baykan NO, Saf B (2004) Barajların yıpranma ve elden çıkma nedenleri ile güvenlik sınamaları. 1. Ulusal Barajlar ve HES Sempozyumu, DSİ Genel Müdürlüğü Barajlar ve HES Dairesi Başkanlığı, Ankara, pp 395–401 (in Turkish)

Bell FG (1993) Durability of carbonate rock as building stone with comments on its preservation. Environ Geol 21:187–200

Bell FG (2004) Engineering geology and constraction. Spone Press, New York, p 797

Biswas AK, Chatterjee S (1971) Dam disasters—an assessment. Eng J (Canada) 54(3):3–8

Çetin H, Laman M, Ertunç A (2000) Settlement and slaking problems in the world's fourth largest rock-fill dam, the Ataturk Dam in Turkey. Eng Geol 56(3–4):225–242

Coduto DP (1998) Geotechnical Engineering. Prentice Hall, Upper Saddle River, p 759

Ergüler ZA, Shakoor A (2009) Relative contribution of various climatic processes in disintegration of clay-bearing rocks. Eng Geol 108:36–42

Golden Software (2000) Didger 2.0. Golden Software Inc., Golden

Grossi CM, Brimblecombe P, Harris I (2007) Predicting long term freeze–thaw risks on Europe built heritage and archaeological sites in a changing climate. Sci Total Environ 377(2):273–281

Harnois L (1988) The CIW index : a new chemical index of weathering. Sediment Geol 55:319–355

Haskins D (2006) Chemical and mineralogical weathering indices as applied to a granite saprolite in South Africa. IAEG paper no:465

Heidari H, Khanlari GR, Momeni AA (2010) Weathering indices and its relation to uniaxial compressive strength of Hamedan hololeucogranite rocks in west of Iran. WASJ 11(2):142–150

Irfan TY (1994) Mineralogy and fabric characterization of weathered granitic rocks in Hong Kong. Geo Report no: 41. Geotechnical Engineering Office, Civ Eng Dep, Hong Kong

ISRM (2007) The complete ISRM suggested methods for rock characterization, testing and monitoring: 1974–2006. In: Ulusay R, Hudson JA (eds) Suggested methods prepared by the commission on testing methods. International Society for Rock Mechanics (ISRM), Ankara

ISRM (2015) The ISRM suggested methods for rock characterization, testing and monitoring: 2007–2014, 2015th Edition by R. Ulusay (Editor)

Kaş İ, Yıldız E (2002) Toprak Baraj Dolgusu Üzerinden Suların Savaklanması Durumunda Kullanılan Gövde Koruma Metotları. TMH, pp 420–422 (in Turkish)

Kolay E, Kayabalı K (2005) Use of the fractal dimension method for determining the angularity and surface roughness of aggregates. Bull Earth Sci Appl Res Center Hacettepe Univ 26(2):49–61

Latham JP (2000) Assesment and specification of armourstone quality: from CIRIA/CUR (1991) to CEN (2000). In: Latham JP (ed) Advences in aggregates and armourstone evaluation. Engineering Geology Special Publication No: 13. The Geological Society, London, pp 91–106

Lienhart DA (1988) The geographic distribution of intensity and frequency of freeze–thaw cycles. Bull Assoc Eng Geol 25(4):465–469

Mandelbrot BB (1967) How long is the coast of Great Britain: statical self similarity and the fractional dimension. Science 156:636–638

Mandelbrot BB (1983) The fractal geometry of nature. W. H Freeman, New York

Parker A (1970) An index of weathering for silicate rocks. Geol Mag 107:501–504

Pinho AB, Andrade PS, Duarte IMR (2017) Physical weathering. In: Bobrowsky PT, Marker B (eds) Encyclopedia of engineering geology. Springer International Publishing, Cham (10.1007/978-3-319-12127-7_219-1)

Rahn PH (1996) Engineering geology. Prentice-Hall, New York

Ruxton BP (1968) Measures of the degree of chemical weathering of rocks. J Geol Chicago Univ 76:518–527

Selby MJ (1993) Hillslope materials and processes, 2nd edn. Oxford University Press, Oxford

SHW (1979) Delice Irmak Project, natural building materials research report of Gelingüllü Dam. General Directorate of State Hydraulic Works, Ankara (in Turkish)

Takarli M, Prince W, Siddique R (2008) Damage in granite under heating/cooling cycles and water freeze–thaw condition. Int J Rock Mech Min Sci 45:1164–1175

Thorne CR, Abt SR, Batends FBJ, Maynord ST, Pilarczyk KW (1995) Coastal and shoreline portection. Wiley, Chichester

Vogel DE (1975) Precambrian weathering in acid metavolcanic rocks for the Superior Province. Villebond Township, Southcentral Quebec. Can J Earth Sci 12:2080–2085

Zhang SJ, Lai YM, Zhang XF, Pu YB, Yu WB (2004) Study on the damage propagation of surrounding rock from a cold-region tunnel under freeze–thaw cycle condition. Tunn Undergr Space Technol 19:295–302
Acknowledgements
This study was supported by Yozgat Bozok University Scientific Research Projects Unit with Project Number 2014 MMF/A83. We would like to thank SHW 123rd Branch (Yozgat) Director Avni YILMAZ and map technician Mustafa ATİK for their support during our study.
Additional information
Publisher's Note
Springer Nature remains neutral with regard to jurisdictional claims in published maps and institutional affiliations.
About this article
Cite this article
Kolay, E., Atay, M.O. Investigation of ageing effects on riprap blocks used in Gelingüllü earthfill dam, Yozgat, Turkey. Environ Earth Sci 79, 286 (2020). https://doi.org/10.1007/s12665-020-09012-4
Received:

Accepted:

Published:
Keywords
Earth dam

Gelingüllü dam

Granitic rock

Riprap

Yozgat