Abstract
Hydraulic fracturing (fracking) operations, associated with horizontal drilling for oil/gas production, are known to induce earthquakes from fluid injection in disposal wells. In recent years, numerous studies have shown a close relationship between induced seismic activities and the high-pressure injection of wastewater, especially in Texas, Kansas, and Oklahoma. Detailed analysis of 17 major fracking locations across the USA has been carried out to study the impact of horizontal wells and the corresponding injected wastewater on earthquake activities. Earthquake data for the period 1998–2018 obtained from the USGS earthquake catalog shows an increase in frequency of earthquakes within a radius of 150 km at fracking locations, prominently in south-central USA. The stimulation of earthquakes depends on the amount of injected water in both horizontal and disposal injected wells, and the geology, hydrological, and geophysical settings nearby the drilling site. The observed seismicity increases with the number of horizontal wells in Texas (correlation R2 = 0.726) and Oklahoma (correlation R2 = 0.636) at the fracking locations.
This is a preview of subscription content, log in to check access.
Access options
Buy single article
Instant access to the full article PDF.
US$ 39.95
Price includes VAT for USA
Subscribe to journal
Immediate online access to all issues from 2019. Subscription will auto renew annually.
US$ 199
This is the net price. Taxes to be calculated in checkout.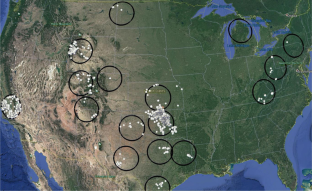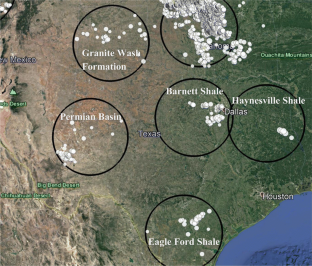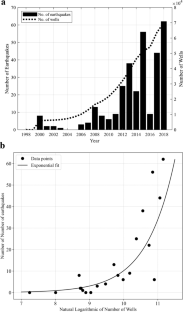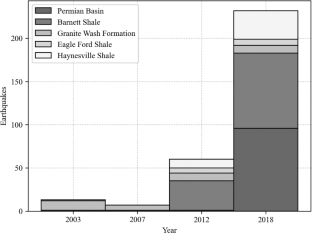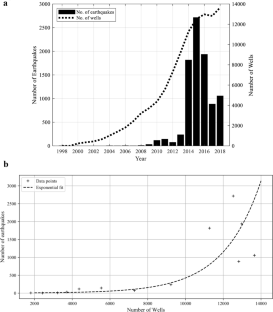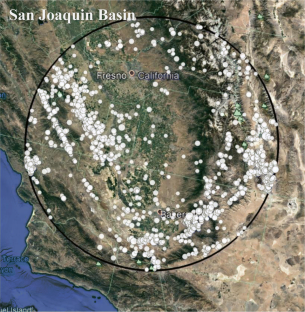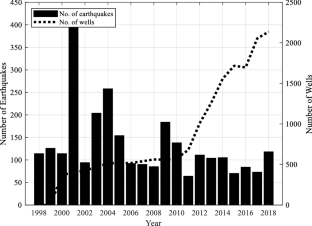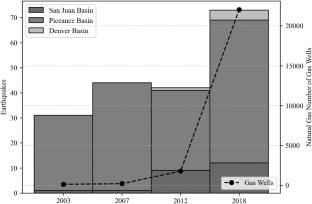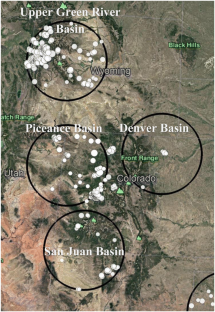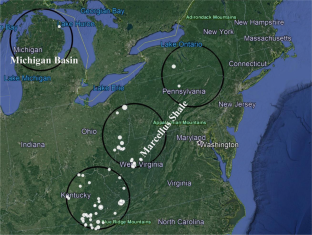 References
Boone WH, Robinson MB (2013) Whole Lotta Shakin' going on: recent studies link fracking and earthquakes. Conning the IADC Newsletters. 2:69–76. https://www.greenpeace.org/international/Global/international/planet-2/report/2008/7/conning-the-congo.pdf. Accessed June 2018

Boss A, Insider B, Resources C (2012) Fracking earthquakes. Geol Today 28(1):2–12. https://doi.org/10.1111/j.1365-2451.2012.00819.x

Brudzinski MR, Kozlowska M (2019) Seismicity induced by hydraulic fracturing and wastewater disposal in the Appalachian Basin, USA: a review. Acta Geophys 67(1):351–364

Chen X, Nakata N, Pennington C, Haffener J, Chang JC, He X, Walter JI (2017) The Pawnee earthquake as a result of the interplay among injection, faults and foreshocks. Sci Rep. https://doi.org/10.1038/s41598-017-04992-z

Davies R, Foulger G, Bindley A, Styles P (2013) Induced seismicity and hydraulic fracturing for the recovery of hydrocarbons. Mar Pet Geol 45:171–185. https://doi.org/10.1016/j.marpetgeo.2013.03.016

Davis C, Fisk JM (2017) Mitigating risks from fracking-related earthquakes: assessing state regulatory decisions. Soc Nat Resour. https://doi.org/10.1080/08941920.2016.1273415

Doser DI, Baker MR, Luo M, Marroquin P, Ballesteros L, Kingwell J, Kaip G (1992) Not so simple relationship between seismicity and oil production in the Permian Basin, west Texas. Pure Appl Geophys 139(3–4):481–506. https://doi.org/10.1007/bf00879948

Eaton DW, Schultz R (2018) Increased likelihood of induced seismicity in highly overpressured shale formations. Geophys J Int 214:751–757. https://doi.org/10.1093/gji/ggy167

Ellsworth WL (2013) Injection-induced earthquakes. Science. https://doi.org/10.1126/science.1225942

Ethridge S, Bredfeldt T, Sheedy K, Shirley S, Lopez G, Honeycutt M (2015) The Barnett Shale: from problem formulation to risk management. J Unconv Oil Gas Resour 11:95–110. https://doi.org/10.1016/j.juogr.2015.06.001

Flewelling SA, Tymchak MP, Warpinski N (2013) Hydraulic fracture height limits and fault interactions in tight oil and gas formations. Geophys Res Lett 40(14):3602–3606. https://doi.org/10.1002/grl.50707

Frohlich C, Brunt M (2013) Two-year survey of earthquakes and injection / production wells in the Eagle Ford Shale, Texas, prior to the MW 4.8 20 October 2011 earthquake. Earth Planet Sci Lett 379:56–63

Frohlich C, Gan W, Herrmann RB (2015) Two deep earthquakes in Wyoming. Seismol Res Lett 86(3):810–818. https://doi.org/10.1785/0220140197

Frohlich BC, Deshon H, Stump B, Hayward C, Hornbach M, Walter JI (2016) A historical review of induced earthquakes in Texas. Seismol Res Lett 87(4):1–17

Goebel THW, Hauksson E, Aminzadeh F, Ampuero J (2015) An objective method for the assessment of fluid injection-induced seismicity and application to tectonically active regions. J Geophys Res Solid Earth. https://doi.org/10.1002/2015JB011895.Abstract

Goetz JD, Floerchinger C, Fortner EC, Wormhoudt J, Massoli P, Knighton WB, Decarlo PF (2015) Atmospheric emission characterization of Marcellus Shale natural gas development sites. Environ Sci Technol 49(11):7012–7020

Haley M, McCawley M, Epstein AC, Arrington B, Bjerke EF (2016) Adequacy of current state setbacks for directional high-volume hydraulic fracturing in the Marcellus, Barnett, and Niobrara shale plays. Environ Health Perspect 124:1323–1333. https://doi.org/10.1289/ehp.1510547

Heywood P (2012) Fracking safer and greener? Chem Eng 850:42–45

Hearn EH, Koltermann C, Rubinstein JL (2018) Numerical models of pore pressure and stress changes along basement faults due to Wastewater injection: applications to the 2014 Milan, Kansas earthquake. Geochem Geophys Geosyst 19(4):1178–1198

Higley BDK, Cox DO (2007) Oil and gas exploration and development along the front range in the Denver Basin of Colorado, Nebraska, and Wyoming. U.S. Geological Survey Digital Data Series DDS-69-P

Kenomore M, Hassan M, Malakooti R, Dhakal H, Shah A (2018) Shale gas production decline trend over time in the Barnett Shale. J Petrol Sci Eng 165(October 2017):691–710. https://doi.org/10.1016/j.petrol.2018.02.032

Kocharyan G, Kishkina S, Ostapchuk A (2011) Seismogenic width of a fault zone. Dokl Earth Sci 437:412–415. https://doi.org/10.1134/S1028334X11030147

Kim W (2013) Induced seismicity associated with fluid injection into a deep well in Youngstown. Ohio 118(July):3506–3518. https://doi.org/10.1002/jgrb.50247

Kondash AJ, Albright E, Vengosh A (2017) Quantity of flowback and produced waters from unconventional oil and gas exploration. Sci Total Environ 574:314–321. https://doi.org/10.1016/j.scitotenv.2016.09.069

Long JCS, Feinstein LC, Birkholzer J, Jordan P, Houseworth J, Dobson PF, Gautier DL (2015) An independent scientific assessment of well stimulation in California. In: Well stimulation technologies and their past, present, and potential future use in California, California council on science and technology. Lawrence Berkeley National Laboratory, Berkley, California, USA

Mediaview (2012) Geology today, 28:2–12. doi:10.1111/j.1365-2451.2012. 00819.x

Peduzzia P, Harding R (2013) Gas fracking: can we safely squeeze the rocks? Environ Dev 6:86–99. https://doi.org/10.1016/j.envdev.2012.12.001

Pei S, Peng Z, Chen X (2018) Locations of injection-induced earthquakes in Oklahoma controlled by crustal structures. Geophys Res Solid Earth 123:2332–2344

Peterie SL, Miller RD, Intfen JW, Gonzales JB (2018) Earthquakes in Kansas induced by extremely far-field pressure diffusion. Geophys Res Lett 45:1395–1401

Rubinstein JL, Mahani AB (2015) Myths and facts on wastewater injection, hydraulic fracturing, enhanced oil recovery, and induced seismicity. Seismol Res Lett 86(4):1–8. https://doi.org/10.1785/0220150067

Scotchman IC (2016) Shale gas and fracking: exploration for unconventional hydrocarbons. Proc Geol Assoc 127(5):535–551. https://doi.org/10.1016/j.pgeola.2016.09.001

Shapiro SA, Dinske C (2009) Fluid-induced seismicity: pressure diffusion and hydraulic fracturing. Geophys Prospect 57(2):301–310. https://doi.org/10.1111/j.1365-2478.2008.00770.x

Singh RP, Sato T, Nyland E (1995) The geodynamic context of the Latur (India) earthquake of September 30, 1993. Phys Earth Planet Int 91:245–251

Singh RP, Singh UK (1996) Evidence of fluid in the lower crust of Deccan trap region and its possible role in the observed seismicity. Himalayan Geol 17:105–111

Sneegas G (2016) The extractive industries and society media representations of hydraulic fracturing and agriculture: a New York case study. Extr Industries and Society 3(1):95–102. https://doi.org/10.1016/j.exis.2015.11.011

Spellman FR (2012) Environmental Impacts of Hydraulic Fracturing. https://doi.org/10.1201/b13042

Walter JI, Dotray PJ, Frohlich C, Gale JFW (2016) Earthquakes in Northwest Louisiana and the Texas—Louisiana border possibly induced by energy resource activities within the Haynesville Shale Play. Seismol Res Lett 87(2):1–10. https://doi.org/10.1785/0220150193

Wangen M (2017) A 2D volume conservative numerical model of hydraulic fracturing. Comput Struct 182:448–458

Weingarten M, Ge S, Godt JW, Bekins BA, Rubinstein JL (2015) High-rate injection is associated with the increase in U.S. mid-continent seismicity. Science 348(6241):1336–1340

Westwood RF, Toon SM, Styles P, Cassidy NJ (2017) Horizontal respect distance for hydraulic fracturing in the vicinity of existing faults in deep geological reservoirs: a review and modelling study. Geomech Geophys Geo-Energy Geo-Resour 3(4):379–391. https://doi.org/10.1007/s40948-017-0065-3

Wilson MP, Worrall F, Davies RJ, Almond S (2018) Fracking: how far from faults? Geomech Geophys Geo-Energy Geo-Resour 4:193–199. https://doi.org/10.1007/s40948-018-0081-y

Wu Q, Chapman M, Chen X (2018) Stress-drop variations of induced earthquakes in Oklahoma. Seismol Soc Am 108(3):1107–1123. https://doi.org/10.1785/0120170335

Zemlick K, Kalhor E, Thomson BM, Chermak JM, Graham EJS, Tidwell VC (2018) Mapping the energy footprint of produced water management in New Mexico. Environ Res Lett 13:1–11
Acknowledgements
The authors are grateful to the United States Geological Survey (USGS) for making earthquake data freely available (https://earthquake.usgs.gov/earthquakes/search/) for the present study. One of us (VV) is grateful to NSF-REU program for the award of fellowship to work on Chapman University campus as SURFEE Fellow during June–August 2018. The data used in the present study from various open sources are freely available; we will be happy to provide data used in the present study to the readers. The authors thank the editor and two anonymous reviewers for their valuable comments and suggestions that have helped to improve earlier versions of the manuscript.
Additional information
Publisher's Note
Springer Nature remains neutral with regard to jurisdictional claims in published maps and institutional affiliations.
About this article
Cite this article
Villa, V., Singh, R.P. Hydraulic fracturing operation for oil and gas production and associated earthquake activities across the USA. Environ Earth Sci 79, 271 (2020). https://doi.org/10.1007/s12665-020-09008-0
Received:

Accepted:

Published:
Keywords
Fracking

Hydraulic fracturing

Earthquake

Injection wells

Oil production

Shale formation