Abstract
The aim of our study is to quantify the relationship between ecosystem and climate variables in southwest China. We further examined spatiotemporal distribution patterns of daily reference evapotranspiration (ET0) and ecosystem types through integrated approaches, including spatiotemporal interpolation, Penman–Monteith, Mann–Kendall test, statistical correlation analysis and transition matrix based on those datasets including observation climate data, satellite remote sensing images (MODIS and Landsat) and observed ecosystem data. The following results are achieved. First, changes of ET0 were greatly influenced by the combined effects of precipitation (with a decrease rate of −13 mm/10 years) and temperature (with a decrease rate of + 0.17 ℃/10 years). The annual average ET0 increased by + 2.1 mm/10 years, and the increased ET0 are more than 25% of the total area. Second, evapotranspiration was regarded as a sensitive indicator of climate and ecosystem feedbacks, and these ecosystem types have a great transformation, including forest, agriculture, and grass. Forest and grass were distributed primarily in the southern and eastern mountain areas, grass was in high mountains area while agriculture was prevalent in basin areas respond to climate changes. The area of forest converted to grass was 3670 km2, which was greater than transition from grass to forest (1720 km2). Correlation coefficients of evapotranspiration and NDVI were positive in forest and negative in agriculture. Third, the effects of these changes on climate vegetation and ecosystem process feedbacks on the quickly warming southwest China are potentially significant. Although the variation in ecosystem types was combined effects caused by climate variation and human activities, an effective ecological restoration program "Grain for Green" has improved the environmental conditions in southwest China.
This is a preview of subscription content, log in to check access.
Access options
Buy single article
Instant access to the full article PDF.
US$ 39.95
Price includes VAT for USA
Subscribe to journal
Immediate online access to all issues from 2019. Subscription will auto renew annually.
US$ 199
This is the net price. Taxes to be calculated in checkout.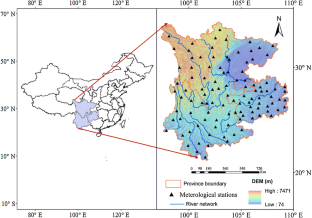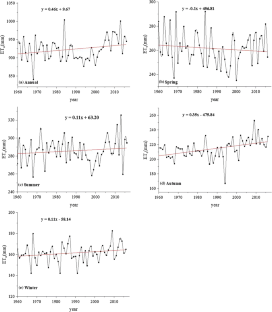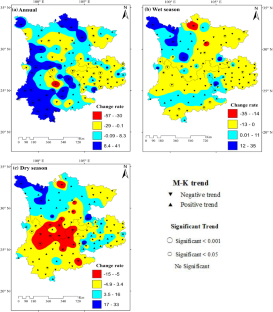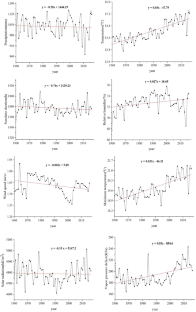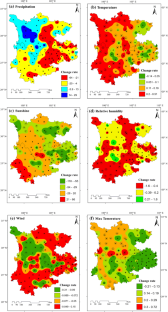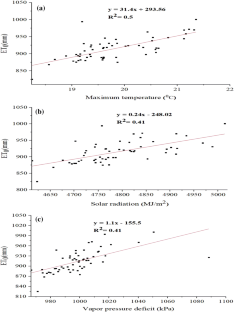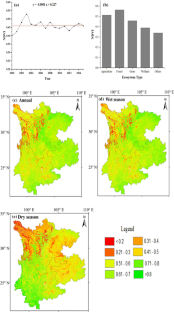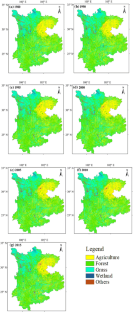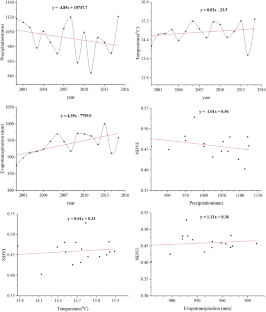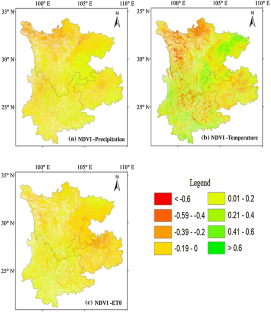 References
Allen MR, Ingram WJ (2002) Constraints on future changes in climate and the hydrologic cycle. Nature 419:224–232

Allen RG (2000) Using the FAO-56 dual crop coefficient method over an irrigated region as part of an evapotranspiration inter comparison study. J Hydrol 229:27–41

Allen RG, Pereira LS, Raes D, Smith M (1998) Crop evapotranspiration-Guidelines for computing crop water requirements-FAO irrigation and drainage paper 56. Fao Rome 300(9):D05109

Bonan GB (2008) Forests and climate change: forcings, feedbacks, and the climate benefits of forests. Science 320(5882):1444–1449

Bonan GB, Pollard D (1992) Vegetation on global climate. Nature 359:22

Chen SB, Liu YF, Thomas A (2006) Climatic change on the Tibetan plateau: potential evapotranspiration trends from 1961 to 2000. Clim Change 76:291–319

Chen XQ, Hu B, Yu R (2005) Spatial and temporal variation of phenological growing season and climate change impacts in temperate eastern China. Glob Change Biol 11:1118–1130

Cramer W, Bondeau A, Woodward FI, Prentice IC, Betts RA, Brovkin V, Cox PM, Fisher V, Foley JA, Friend AD (2001) Global response of terrestrial ecosystem structure and function to CO2 and climate change: results from six dynamic global vegetation models. Glob Change Biol 7(4):357–373

DeWalle DR, Swistock BR, Johnson TE, McGuire KJ (2000) Potential effects of climate change and urbanization on mean annual stream flow in the United States. Water Resour Res 36:2655–2664

Du J, Fang J, Xu W (2013) Analysis of dry/wet conditions using the standardized precipitation index and its potential usefulness for drought/flood monitoring in Hunan Province, China. Stoch Env Res Risk Assess 27:377–387

Fabricante I, Oesterheld M, Paruelo JM (2009) Annual and seasonal variation of NDVI explained by current and previous precipitation across Northern Patagonia. J Arid Environ 73(8):745–753

Fan ZX, Thomas A (2013) Spatiotemporal variability of reference evapotranspiration and its contributing climatic factors in Yunnan Province, SW China, 1961–2004. Clim Change 116:309–325

Fang JY, Piao SL, He JS, Ma WH (2004) Increasing terrestrial vegetation activity in China, 1982–1999. Sci China Life Sci 47(3):229–240

Feng L, Yang Q, Chen S, Luo Z, Fei Y, Wang R (2014) Temporal and spatial variability of sediment flux into the sea from the three largest rivers in China. J Asian Earth Sci 87:102–115

Foley JA, DeFries R, Asner GP, Barford C, Bonan G, Carpenter SR, Chapin FS, Coe MT, Daily GC, Gibbs HK, Helkowski JH, Holloway T, Howard EA, Kucharik CJ, Monfreda C, Patz JA, Prentice IC, Ramankutty N, Snyder PK (2005) Global consequences of land use. Science 309:570–574. https://doi.org/10.1126/science.1111772

Gao G, Chen D, Ren GY, Chen Y, Liao YM (2006) Spatial and temporal variations and controlling factors of potential evapotranspiration in China:1956–2000. J Geog Sci 16(1):3–12

Gao ZD, He JS, Dong KB, Bian XD, Li X (2017) Trends in reference evapotranspiration and their causative factors in the West Liao River basin, China. Agric For Meteorol 232:106–117

Gemmer M, Becker S, Jiang T (2004) Observed monthly precipitation trends in China 1951–2002. Theor Appl Climatol 77:39–45

Gobron N, Pinty B, Mélin F, Taberner M, Verstraete MM, Belward A, Lavergne T, Widlowski JL (2005) The state of vegetation in Europe following the 2003 drought. Int J Remote Sens 26:2013–2020

Gong L, Xu CY, Chen D, Chen DL, Halldin S, Chen YD (2006) Sensitivity of the Penman- Monteith reference evapotranspiration to key climatic variables in the Changjiang (Yangtze River) basin. J Hydrol 329:620–629

Goovaerts P (2000) Geostatistical approaches for incorporating elevation into the spatial interpolation of rainfall. J Hydrology 228:113–129

Gu G, Adler RF, Huffman G, Curtis S (2007) Tropical rainfall variability on interannual-to interdecadal/longer-time scales derived from the GPCP monthly product. J Clim 20:4033–4046

Han SJ, Xu D, Wang SL (2012) Decreasing potential evaporation trends in China from 1956 to 2005: accelerated in regions with significant agricultural influence? Agric For Meteorol 156:44A–56A

Irmak S, Kabenge I, Skaggs KE, Mutiibwa D (2012) Trend and magnitude of changes in climate variables and reference evapotranspiration over 116-year period in the Platte River Basin, Central Nebraska–USA. J Hydrol 420–421:228–244

Jackson RB, Carpenter SR, Dahm CN, McKnight DM, Naiman RJ, Postel SL, Running SW (2001) Water in a changing world. Ecol Appl 11:1027–1045

Jhajharia D, Dinpashoh Y, Kahya E, Choudhary RR, Singh VP (2014) Trends in temperature over Godavari River basin in Southern Peninsular India. Int J Climatol 34:1369–1384

Kendall MG (1955) Rank correlation methods. Hafner, New York

Khanmohammadi N, Rezaie H, Montaseri M, Behmanesh J (2017) The effect of different meteorological parameters on the temporal variations of reference evapotranspiration. Environ Earth Sci 76:540

Kjaersgaard JH, Plauborg F, Mollerup M, Petersen CT, Hansen S (2008) Crop coefficients for winter wheat in a sub-humid climate regime. Agric Water Manag 95:918–924

Lehmann CER, Archibald SA, Hoffmann WA, Bond WJ (2011) Deciphering the distribution of the savanna biome. New Phytol 191:197–209

Lewis SL (2006) Tropical forests and the changing earth system. Philos Trans R Soc B 361:195–210

Li G, Zhou L, Wang D (2008) Variation of net primary productivity of grassland and its response to climate in Inner Mongolia (in Chinese with English abstract). Ecol Environ 17(5):1948–1955

Li J, Heap AD (2008) Spatial interpolation methods: a review for environmental scientists. Geoscience Australia, Canberra, Geoscience Australia, Record

Li J, Lewis J, Rowland J, Tappan G, Tieszen LL (2004) Evaluation of land performance in Senegal using multi-temporal NDVI and rainfall series. J Arid Environ 59(3):463–480

Li XZ (2011) Long-term change in summer water vapor transport over South China in recent decades. J Meteorol Soc Japan 89A:271–282

Li Z, Xu X, Yu B, Xu C, Liu M, Wang K (2016) Quantifying the impacts of climate and human activities on water and sediment discharge in a karst region of southwest China. J Hydrol 542:836–849

Li Z, Zheng FL, Liu WZ (2012) Spatiotemporal characteristics of reference evapotranspiration during 1961–2009 and its projected changes during 2011–2099 on the Loess Plateau of China. Agric For Meteorol 154–155:147–155

Li ZS, Liu GH, Fu BJ, Zhang JL (2011) The potential influence of seasonal climate variables on the net primary production of forests in Eastern China. Environ Manage 48(6):1173–1181

Lin XS, Yu Q (2008) Study on the spatial interpolation of agroclimatic resources in Chongqing. J Anhui Agric 36(30):13431–13463, 13470

Liu B, Chen C, Lian Y, Chen J, Chen X (2015) Long-term change of wet and dry climatic conditions in the southwest karst area of China. Glob Planet Change 127:1–11

Liu CM, Zhang D, Liu XM, Zhao CS (2012) Spatial and temporal change in the potential evapotranspiration sensitivity to meteorological factors in China (1960–2007). J Geog Sci 22(1):3–14

Liu JH, Wu JJ, Wu ZT, Liu M (2013) Response of NDVI dynamics to precipitation in the Beijing–Tianjin sandstorm source region. Int J Remote Sens 34(15):5331–5350

Liu Y, Stanturf J, Lu H (2008) Modeling the potential of the northern China forest shelterbelt in improving hydroclimate conditions. J Am Water Resour Assoc 44:1176–1192

Liu JY, Kuang WH, Zhang ZX, Xu XL, Qin YW, Ning J, Zhou WC, Zhang SW, Li RD, Yan CZ (2014) Spatiotemporal characteristics, patterns, and causes of land-use changes in China since the late 1980s. J Geogr Sci 24:195–210. https://doi.org/10.1007/s11442-014-1082-6

Lu GY, Wong DW (2008) An adaptive inverse-distance weighting spatial interpolation technique. Comput Geosci 34(9):1044–1055

Ma ZG, Ren XB (2007) Drying trend over China from 1951 to 2006. Adv Clim Change Res 3(4):195–200

Mokhtar A, He H, Zhao H, Keo S, Bai C, Zhang C, Ma Y, Ibrahim A, Li Y, Li F, He W, Abdo AI, Zhou J (2019) Water resources risks and management strategy in River Basins of Hengduan Mountains, Southwest China. Environ Sci Water Res Technol 6:656–678. https://doi.org/10.1039/C9EW00883G

Mann HB (1945) Nonparametric tests against trend. Econometrica 13:245–259

Mantua N, Tohver I, Hamlet A (2010) Climate change impacts on streamflow extremes and summertime stream temperature and their possible consequences for freshwater salmon habitat in Washington state. Clim Change 102(1–2):187–223. https://doi.org/10.1007/s10584-010-9845-2

Miao C, Ni J, Borthwick AG (2010) Recent changes of water discharge and sediment load in the Yellow River basin. China Prog Phys Geog 34:541–561

Mkhabela MS, Bullock P, Raj S, Wang S, Yang Y (2011) Crop yield forecasting on the Canadian Prairies using MODIS NDVI data. Agric For Meteorol 151(3):385–393

Moeletsi ME, Shabalala ZP, De Nysschen G, Walker S (2016) Evaluation of an inverse distance weighting method for patching daily and dekadal rainfall over the Free State Province. South Africa. Water SA 42(3):466–474

Peng J, Xu YQ, Cai YL, Xiao HL (2011) The role of policies in land use/cover change since the 1970s in ecologically fragile karst areas of Southwest China: A case study on the Maotiaohe watershed. Environ Sci Policy 14:408–418

Piao S, Fang J, Liu H, Zhu B (2005) NDVI-indicated decline in desertification in China in the past two decades. Geophys Res Lett 32:L06402. https://doi.org/10.1029/2004GL021764

Piao SL, Fang JY, Ji W, Guo QH, Ke JH, Tao S, Woods K (2004) Variation in a satellite-based vegetation index in relation to climate in China. J Veg Sci 15(2):219–226

Ray DK, Gerber JS, MacDonald GK, West PC (2015) Climate variation explains a third of global crop yield variability. Nat Commun 6(1):1–9. https://doi.org/10.1038/ncomms6989

Sui Y, Jiang DB, Tian ZP (2013) Latest update of the climatology and changes in the seasonal distribution of precipitation over China. Theoret Appl Climatol 113:599–610

Suleiman AA, Tojo Soler CM, Hoogenboom G (2007) Evaluation of FAO-56 crop coefficient procedures for deficit irrigation management of cotton in a humid climate. Agric Water Manag 91:33–42

Sumner DM, Jacobs JM (2005) Utility of Penman–Monteith, Priestley–Taylor, reference evapotranspiration, and pan evaporation methods to estimate pasture evapotranspiration. J Hydrol 308:81–104

Sun G, Alstad K, Chen JQ, Chen SP, Ford CR, Lin GH, Liu CF, Lu N, McNulty SG, Miao HX, Noormets A, Vose JM, Wilske B, Zeppel M, Zhang Y, Zhang ZQ (2011) A general predictive model for estimating monthly ecosystem evapotranspiration. Ecohydrology 4:245–255

Suyker AE, Verma SB (2009) Evapotranspiration of irrigated and rainfed maize–soybean cropping systems. Agric For Meteorol 149:443–452

Thomas A (2008) Agricultural irrigation demand under present and future climate scenarios in China. Global Planet Change 60:306–326

Tony P (2008) Conceptual framework for assessment and management of ecosystem impacts of climate change. Ecol complex 5:329–338

Wang J, Meng JJ, Cai YL (2008) Assessing vegetation dynamics impacted by climate change in the southwestern karst region of China with AVHRR NDVI and AVHRR NPP time-series. Environ Geol 54(6):1185–1195

Wang Y, Zhou G (2010) Evapotranspiration characteristics and crop coefficient of rain-fed maize agroecosystem. Chin J Appl Ecol 21:647–653 (in Chinese)

Xu X, Chen H, Levy JK (2008) Spatiotemporal vegetation cover variations in the Qinghai–Tibet Plateau under global climate change. Chin Sci Bull 53(6):915–922

Xu X, Du YG, Tang JP, Wang Y (2011) Variations of temperature and precipitation extremes in recent two decades over China. Atmos Res 101:143–154

Ye JS, Li WB, Li LF, Zhang F (2013) "North drying and south wetting" summer precipitation trend over China and its potential linkage with aerosol loading. Atmos Res 125:12–19

Yin YH, Wu SH, Chen G, Dai EF (1960s) Attribution analyses of potential evapotranspiration changes in China since the 1960s. Theor Appl Climatol 101:19–28

Yin YH, Wu SH, Dai EF (2010b) Determining factors in potential evapotranspiration changes over China in the period 1971–2008. Chin Sci Bull 55(29):3329–3337

Yu F, Cui N, Lu Z, Gong D, Zhang K (2017) Spatiotemporal variation of reference evapotranspiration during 1954–2013 in Southwest China. Quatern Int 441:S1040618216300635

Zhai PM, Zhang XB, Wan H, Pan X (2004) Trends in total precipitation and frequency of daily precipitation extremes over China. J clim 18:1096–1108

Zhang D, Liu XM, Hong HY (2013) Assessing the effect of climate change on reference evapotranspiration in China. Stoch Env Res Risk Assess 27:1871–1881

Zhang FM, Shen SH (2007) Spatial distribution and temporal trend of reference crop evapotranspiration in China. J Nanjing Inst Meteorol 30(5):705–709

Zhu HY, Jia SF (2004) Uncertainty in the spatial interpolation of rainfall data. Prog Hum Geogr 23(2):34–42
Acknowledgements
In this research, we are grateful for the assistance of anonymous reviewers and the editor for their invaluable comments to improve this paper. This article was financially supported by Projects of the National Key Research and Development Program (Grant No. 2017YFC0505200; 2017YFC0505205), the National Natural Science Foundation of China (Grant No. 41672180), the Project of the Integrated Scientific Expedition of the Ailao-Wuliang Mountains National Park (Grant No. 2019IB018), the Second Tibetan Plateau Scientific Expedition and Research Program (Grant No. SQ2019QZKK2003), the Strategic Priority Research Program of the Chinese Academy of Sciences (Grant No. XDA23020603), the Science & Technology Basic Resources Investigation Program of China (Grant No. 2017FY101303), the Key Platforms and Scientific Research Projects in Universities in Guangdong Province of China (Grant No. 2018KTSCX212) and the Guangdong Rural Science and Technology Commissioner Project of China (Grant No. 319B0203).
Additional information
Publisher's Note
Springer Nature remains neutral with regard to jurisdictional claims in published maps and institutional affiliations.
About this article
Cite this article
Mokhtar, A., He, H., Alsafadi, K. et al. Evapotranspiration as a response to climate variability and ecosystem changes in southwest, China. Environ Earth Sci 79, 312 (2020). https://doi.org/10.1007/s12665-020-09007-1
Received:

Accepted:

Published:
Keywords
Evapotranspiration

Climate change

Ecosystem types

Ecological restoration

NDVI