Abstract
The aim of this work is to evaluate the nitrate content and its impact on groundwater quality used for supply in dairy farms in a sector of the Pampas Plain in relation to specific point sources of pollution. Samples were collected in nine dairy farms during the months of June, August and November 2017 and April 2018. In all the samples, electrical conductivity and pH were measured in situ with a portable multiparameter equipment and water samples were collected to determine nitrates content. In the April 2018 sampling, carbonates, bicarbonates, chlorides, sulphates, nitrates, sodium, calcium, magnesium, and potassium were also determined. Results show that groundwater is mainly sodium bicarbonate to magnesium calcium bicarbonate type with variable pH and salinity. Nitrates and hardness were above the limits for human and animal consumption. Nitrate contents are significantly correlated with pH, electrical conductivity and hardness, and tend to decrease in wells which are more distant from point sources of pollution. In turn, the incorporation of other ions into the aquifer is evidenced by the increase of chlorides and EC and their correlation with nitrates. It is interpreted that the nitrification process acidifies the medium, triggering the dissolution of carbonates present in the aquifer matrix which increases groundwater hardness. Water quality deterioration could not only put at risk farmers' health but it also conditions animal production and the dairy farm machinery. This study is the first contribution to defining local guidelines to set a proper water management plan as well as to provide tools to address the problem in other dairy farms in this sector of the Pampas Plain and in other regions.
This is a preview of subscription content, log in to check access.
Access options
Buy single article
Instant access to the full article PDF.
US$ 39.95
Price includes VAT for USA
Subscribe to journal
Immediate online access to all issues from 2019. Subscription will auto renew annually.
US$ 199
This is the net price. Taxes to be calculated in checkout.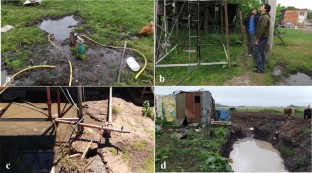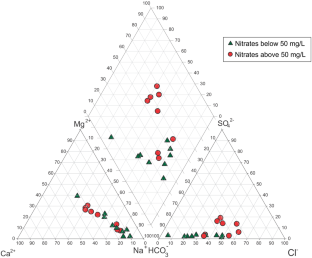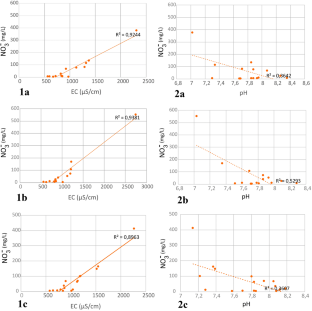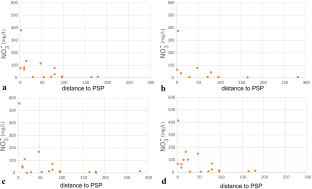 References
Almasri MN, Kaluarachchi JJ (2004) Assessment and management of long-term nitrate pollution of ground water in agriculture-dominated watersheds. J Hydrol 295(1–4):225–245

APHA (American Public Health Association) (1998) Standard methods for the examination of water and wastewater, 20th edn. American Public Health Association, American Water Works Association, Water Environment Federation, Washington, DC, USA

Auge MP (2005) Hidrogeología de La Plata, Provincia de Buenos Aires. In: Relatorio del XVI Congreso Geológico Argentino, Quick Press, La Plata, pp 293–311

Bavera G (2011) Aguas y aguadas para el ganado. Imberti-Bavera, Córdoba

Borzi G, Desbois M, Dode C, Santucci L, Carol E (2017) Influencia de la ganadería intensiva en la calidad química del agua subterránea en un sector de la cuenca del río Samborombón. In: PROIMCA-PRODECA 2017, Bahía Blanca

Canter LW (2019) Nitrates in groundwater. Routledge, Abingdom

Carbó L, Flores M, Herrero MA (2009) Well site conditions associated with nitrate contamination in a multilayer semiconfined aquifer of Buenos Aires, Argentina. Environ Geol 57(7):1489–1500

Cellone F, Córdoba J, Butler L, Lamarche L (2017) Calidad de agua para fines múltiples en establecimientos tamberos del Partido de Punta Indio. 6° Congreso de Ciencias Ambientales, Buenos Aires

Clark I (2015) Groundwater geochemistry and isotopes. CRC Press, Boca Raton

Doole GJ, Marsh D, Ramilan T (2013) Evaluation of agri-environmental policies for reducing nitrate pollution from New Zealand dairy farms accounting for firm heterogeneity. Land Use Policy 30(1):57–66

Herrero MA, Iramain MS, Korol S, Buffoni H, Flores M, Fortunato M (2002) Calidad de agua y contaminación en tambos de la cuenca lechera de Abasto Sur, Buenos Aires (Argentina). Rev Arg De Prod Anim 22(1):61–70

Iramain MS, Nosetti L, Herrero MA, Maldonado May V, Flores M, Carbó L (2001) Evaluación del uso y manejo del agua en establecimientos lecheros de la provincia de Buenos Aires, Argentina. In: III Encuentro de las Aguas, pp 1–11

Kebreab E, France J, Beever DE, Castillo AR (2001) Nitrogen pollution by dairy cows and its mitigation by dietary manipulation. Nutr Cycl Agroecosyst 60(1–3):275–285

Krapac IG, Dey WS, Roy WR, Smyth CA, Storment E, Sargent SL, Steele JD (2002) Impacts of swine manure pits on groundwater quality. Environ Pollut 120(2):475–492

Lasagna M, De Luca DA, Franchino E (2016) Nitrate contamination of groundwater in the western Po Plain (Italy): the effects of groundwater and surface water interactions. Environ Earth Sci 75(3):240

Menció A, Mas-Pla J, Otero N, Regàs O, Boy-Roura M, Puig R, Folch A (2016) Nitrate pollution of groundwater; all right…, but nothing else? Sci Total Environ 539:241–251

Mingzhu L, Seyf-Laye ASM, Ibrahim T, Gbandi DB, Honghan C (2014) Tracking sources of groundwater nitrate contamination using nitrogen and oxygen stable isotopes at Beijing area, China. Environ Earth Sci 72(3):707–715

Sala JM et al (1973) Contribución al estudio geohidrológico del noreste de la provincia de Buenos Aires. EASNE-CFI. Serie. Tec 24, Buenos Aires

Shuval HI, Gruener N (2013) Infant methemoglobinemia and other health effects of nitrates in drinking water. In: Proceedings of the conference on nitrogen as a water pollutant, Pergamon, pp 183–193

Spalding RF, Exner ME (1993) Occurrence of nitrate in groundwater—a review. J Environ Qual 22(3):392–402

Stuart ME, Chilton PJ, Kinniburgh DG, Cooper DM (2007) Screening for long-term trends in groundwater nitrate monitoring data. Q J Eng Geol Hydrogeol 40(4):361–376

Teruggi ME (1957) The nature and origin of Argentine loess. J Sediment Res 27(3):322–332

Vystavna Y, Diadin D, Yakovlev V, Hejzlar J, Vadillo I, Huneau F, Lehmann MF (2017) Nitrate contamination in a shallow urban aquifer in East Ukraine: evidence from hydrochemical, stable isotopes of nitrate and land use analysis. Environ Earth Sci 76(13):463

Wakida FT, Lerner DN (2005) Non-agricultural sources of groundwater nitrate: a review and case study. Water Res 39(1):3–16

World Health Organization (2004) Guidelines for drinking-water quality (Vol 1). World Health Organization
Acknowledgements
The authors wish to thank the National Institute of Agricultural Technology (INTA) and the Punta Indio local government for having started this study in the dairy farms and for partially financing this research. In turn, they would like to thank the National University of La Plata and the Faculty of Natural Sciences for financing this research through the N782 grant, PRIBA project and the Young Researchers Grant 2017 and 2018.
Additional information
Publisher's Note
Springer Nature remains neutral with regard to jurisdictional claims in published maps and institutional affiliations.
This article is a part of the Topical Collection in Environmental Earth Sciences on "Advances in Environmental Geochemistry" guest edited by Dr. Eleanor Carol, Dr. Lucia Santucci and Dr. Lia Botto.
About this article
Cite this article
Cellone, F., Carol, E., Pugliese, I. et al. Nitrate pollution in dairy farms and its impact on groundwater quality in a sector of the Pampas plain, Argentina. Environ Earth Sci 79, 258 (2020). https://doi.org/10.1007/s12665-020-09005-3
Received:

Accepted:

Published:
Keywords
Water quality

Groundwater pollution

Hydrochemistry

Nitrate pollution