Abstract
A comprehensive environmental assessment of the Abu Zenima coast, Egypt, was done by evaluating the heavy metal pollutant levels in sediments, marine seashells, and seawater. Environmental parameters as the geoaccumulation index, contamination factor, enrichment factor, soil pollution index and potential ecological risk index proved that the study area was very severely enriched with Cd, severely enriched with Pb, and moderately enriched with Zn. However, these pollutant levels were still lower than some standardized reference values. Furthermore, the bioaccumulation index indicated that gastropod shells had greater ability to concentrate Fe, Cd, Ni and Zn than pelecypod shells, which may be attributable to the shape of the gastropod shell. Regarding the seawater samples, Pb, Cd, Cu, and Fe levels were higher than their average oceanic metal concentrations. Moreover, the average concentrations of heavy metals in the studied area, especially those of Pb, Cd, and Zn, were higher than those the coasts of Rosetta, Kazakhstan, Russia, southeast India, and the North Adriatic Sea. The main sources of these pollutants were anthropogenic sources such as gypsum and manganese factories, kaolin deposits, sewage, industrial wastes, urban runoff and irrigation.
This is a preview of subscription content, log in to check access.
Access options
Buy single article
Instant access to the full article PDF.
US$ 39.95
Price includes VAT for USA
Subscribe to journal
Immediate online access to all issues from 2019. Subscription will auto renew annually.
US$ 199
This is the net price. Taxes to be calculated in checkout.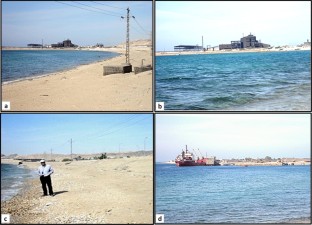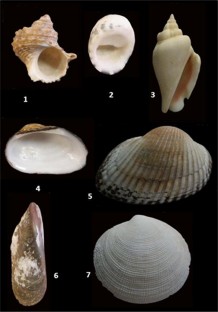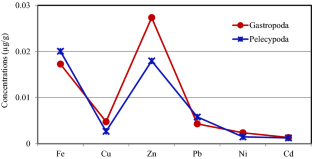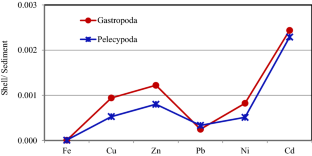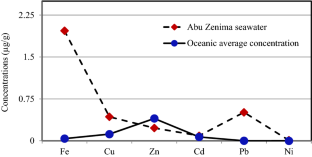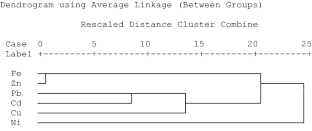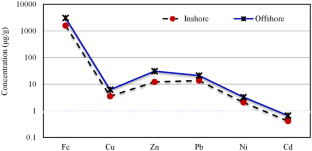 References
Acevedo-Figueroa D, Jimenez B, Rodrigues-Sierra C (2006) Trace metals in sediments of two estuarine lagoons from Puerto Rico. Environ Pollut 141:336–342

Alharbi T, El-Sorogy A (2017) Assessment of metal contamination in coastal sediments of Al-Khobar area, Arabian Gulf, Saudi Arabia. J Afr Earth Sc 129:458–468

Al-Tanni A, Batayneh A, Nazzal Y, Ghrefat H, Elawadi E, Zaman H (2014) Status of trace metals in surface seawater of the Gulf of Aqaba, Saudi Arabia. Mar Pollut Bull 86:582–590

Amin B, Ismail A, Arshad A, Yap CK, Kamarudin MS (2009) Anthropogenic impacts on heavy metal concentrations in the coastal sediments of Dumai, Indonesia. Environ Monit Assess 148:291–305

Boulis S, Attia A (2001) Mineralogy and origin of carboniferous and cretaceous kaolin deposits from a number of localities in Egypt. In: Piestrzyrisk A (ed) Mineral deposits at the beginning of the 21st century. Swets and Zeitinger Publications, Lisse, pp 221–229

Brewer PG, Spencer DW, Smith CL (1969) Determination of trace metals in seawater by atomic absorption spectroscopy. Am Soc Test Mater 443:70–77

Broecker WS, Peng TH (1982) Tracers in the sea. Lamont-Doherty Geological Observatory. Columbia University, Palisades

Chen T, Zheng Y, Lei M, Huang Z, Wu H, Chen H, Ke-Ke F (2005) Assessment of heavy metal pollution in surface soils of urban parks in Beijing, China. Chemosphere 60:542–551

Chen X, Wei G, Deng W, Liu Y, Sun Y, Zeng T, Xie L (2015) Decadal variations in trace metal concentrations on a coral reef: evidence from a 159 year record of Mn, Cu, and V in a Porites coral from the northern South China Sea. J Geophys Res Oceans 120:405–416

Clesceri LS (1998) Collection and preservation of samples and metals. In: Arnold EG, Andrew DE (eds) Standard methods for the examination of water and wastewater, 20th edn. APHA, AWWA, WEF, Washington, DC, pp 1.27–3.21

de Mora S, Fowler SW, Wyse E, Azemard S (2004) Distribution of heavy metals in marine bivalves, fish and coastal sediments in the Gulf and Gulf of Oman. Mar Pollut Bull 49:410–424

El-Refaei AA (1992) Water resources of southern Sinai, Egypt: geomorphological and hydrological studies. Cairo University, Faculty of Sciencec, Giza

El-Sorogy A, Attiah A (2015) Assessment of metal contamination in coastal sediments, seawaters and bivalves of the Mediterranean Sea coast, Egypt. Mar Pollut Bull 101:867–871

El-Sorogy A, Abdelwahab M, Nour H (2012) Heavy metals contamination of the Quaternary coral reefs, Red Sea coast, Egypt. Environ Earth Sci 67:777–785

El-Sorogy A, El Kammar A, Ziko A, Aly M, Nour H (2013) Gastropod shells as pollution indicators, Red Sea coast, Egypt. J Afr Earth Sci 87:93–99

Forstner U, Ahlf W, Calmano W (1993) Sediment quality objectives and criteria development in Germany. Water Sci Technol 28:307

Fukai R, Huynh-Ngoc L (1976) Copper, zinc and cadmium in coastal waters of the NW Mediterranean. Mar Pollut Bullet 7(1):9–13

Harrison RM, Laxen DP, Wilson SJ (1981) Chemical association of lead, cadmium, copper and zinc in street dust and roadside soil. Environ Sci 15:1378–1383

Hökanson L (1980) An ecological risk index for aquatic pollution control. A sedimentological approach. Water Res 14:975–1001

Huanxin Z, Lejun Z, Presley BJ (2000) Bioaccumulation of heavy metals in oyster (Crassostrea virginica) tissue and shell. Environ Geol 39(11):1216–1226

ISQG (1995) Interim sediment quality guidelines. Environment Canada, Ottawa, p 9

Kabata-Pendias A, Pendias H (2001) Trace element in soils and plants, 4th edn. CRC Press, London

Leopold E, Jung M, Auguste O, Ngatcha N, Georges E, Lape M (2008) Metals pollution in freshly deposited sediments from River Mingoa, main tributary to the municipal lake of Yaounde. Cameroon Geosci J 12:337–347

Long E, MacDonald D, Smith S, Calder F (1995) Incidence of adverse biological effects within ranges of chemical concentrations in marine and estuarine sediments. Environ Manag 19:18–97

Martincié D, Nürnberg H, Stoeppler M, Branica M (1984) Bioaccumulation of heavy metals by bivalves from Lim Fjord (North Adriatic Sea). Mar Biol 81:177–188

Muller G (1979) Heavy metals in the sediment of the Rhine-Changes seity, 1971. Umsch Wiss Tech 79:778–783

Naser HA (2013) Assessment and management of heavy metal pollution in the marine environment of the Arabian Gulf: a review. Mar Pollut Bull 72:6–13

Nour HE (2015) Distribution of hydrocarbons and heavy metals pollutants in groundwater and sediments from northwestern Libya. Indian J Geo Mar Sci 44(7):993–999

Nour HE (2019a) Assessment of heavy metals contamination in surface sediments of Sabratha, Northwest Libya. Arab J Geosci 12:177–186

Nour HE (2019b) Distribution, ecological risk, and source analysis of heavy metals in recent beach sediments of Sharm El-Sheikh, Egypt. Environ Monit Assess 191:546. https://doi.org/10.1007/s10661-019-7728-1

Nour HE (2020) Distribution and accumulation ability of heavy metals in bivalve shells and associated sediment from Red Sea coast, Egypt. Environ Monit Assess 192:353. https://doi.org/10.1007/s10661-020-08285-3

Nour HE, El-Naggar W (2007) Heavy metals distribution in molluscan shells in northern Safaga bay, Red Sea coast, Egypt: a tool for environmental monitoring. M.E.R.C. Ain Shams Univ Earth Sci Ser 21:99–114

Nour HE, El-Sorogy A (2017) Distribution and enrichment of heavy metals in Sabratha coastal sediments, Mediterranean Sea, Libya. J Afr Earth Sci 134(273):222–229

Nour HE, Nouh E (2020a) Comprehensive pollution monitoring of the Egyptian Red Sea Coast by using the environmental indicators. Environ Sci Pollut Res (ISSN 0944-1344). https://doi.org/10.1007/s11356-020-09079-3

Nour HE, Nouh E (2020b) Using Coral skeletons for monitoring of heavy metals pollution in the Red Sea Coast, Egypt. Arab J Geosci 13:341. https://doi.org/10.1007/s12517-020-05308-8

Nour HE, El-Sorogy A, Abu El-Enain F (2013) Environmental impacts of fertilizers factories, Abou Zabal area, Southern Sharkia Governorate Egypt. J Appl Sci Res 9:4142–4150

Nour H, El-Sorogy AS, Abdel-Wahab M, Almadani S, Alfaifi H, Youssef M (2018) Assessment of sediment quality using different pollution indicators and statistical analyses, Hurghada area, Red Sea coast, Egypt. Mar Pollut Bull 133:808–813

Nour HE, El-Sorogy A, Abd El-Wahab M, Nouh E, Mohamaden M, Al-Kahtany K (2019) Contamination and ecological risk assessment of heavy metals pollution from the Shalateen coastal sediments, Red Sea, Egypt. Mar Pollut Bull 144:167–172

Oregioni B, Astone S (1984) The determination of selected trace metals in marine sediments by flame atomic absorption spectrophotometer LAEA. Monaco laboratory internal report, Cited from reference methods on pollution studies N.38, UNEP

Philips DJ, Rainbow PS (1994) Biomonitoring of trace aquatic contaminants, 2nd edn. Chapman and Hall, London

Ponnusamy K, Sivaperumal P, Suresh M, Arularasan S, Munilkumar S, Pal A (2014) Heavy metal concentration from biologically important edible species of bivalves (Perna viridis and Modiolus metcalfei) from vellar estuary, South East Coast of India. J Aquac Res Dev 5:258

Qing X, Yutong Z, Shenggao L (2015) Assessment of heavy metal pollution and human health risk in urban soils of steel industrial city (Anshan), Liaoning, Northeast China. Ecotoxicol Environ Saf 120:377–385

Qu HX, Dong SG, Tang ZH, Wu YP (2009) Distribution and ecological evaluation of heavy metals in multi-medium of Luoyuan Bay. Mar Environ Sci 28:293–308

Rainbow P, Wang W (2001) Comparative assimilation of Cr, Se and Zn by the barnacle Elminius modestus from phytoplankton and zooplankton diets. Mar Ecol Programme 218:239–248

Selvaraj K, Ram Mohan V, Szefer P (2004) Evaluation of metal contamination in coastal sediments of the Bay of Bengal. India: geochemical and statistical approaches. Mar Pollut Bull 49:174–185

Sinex SA, Helz GR (1981) Regional geochemistry of trace elements in Checapeake Bay sediments. Environ Geol 3:315–323

Song Y, Yu K, Zhao J, Feng Y, Shi Q, Zhang H, Ayoko G, Frost R (2014) Past 140-year environmental record in the northern South China Sea: evidence from coral skeletal trace metal variations. Environ Pollut 185:97–106

Szefer P, Ali A, Ba-Haroon A, Rajeh A (1999) Distribution and relationships of selected trace metals in mollusks and associated sediments from the Gulf of Aden, Yemen. Environ Pollut 106:299–314

Taylor SR (1964) Abundance of chemical elements in the continental crust: a new table. Geochim Cosmochim Acta 28:1273–1285

Turekian K, Wedepohl K (1961) Distribution of the elements in some major units of the earth's crust. Geol Soc Am 72:175–192

Wang C, Liu S, Zhao Q, Deng L, Dong S (2012) Spatial variation and contamination assessment of heavy metals in sediments in the Manwan Reservoir, Lancang River. Ecotoxicol Environ 82:32–39

Wu Q, Leung JY, Geng X, Chen S, Huang X, Lu Y (2015) Heavy metal contamination of soil and water in the vicinity of an abandoned e-waste recycling site: implications for dissemination of heavy metals. Sci Total Environ 506–507:217–225. https://doi.org/10.1016/j.scitotenv.2014.10.121

Ziko A, El-Sorogy A, Aly M, Nour HE (2001) Sea shells as pollution indicators, Red Sea coast, Egypt. Egypt J Paleontol 1:97–114
Acknowledgements
The authors extend their sincere appreciation to the geology department at Zagazig University and the Deanship of Scientific Research at King Saud University for its funding of this research (No. RG-1438-060).
Additional information
Publisher's Note
Springer Nature remains neutral with regard to jurisdictional claims in published maps and institutional affiliations.
About this article
Cite this article
Nour, H.E., El-Sorogy, A.S. Heavy metals contamination in seawater, sediments and seashells of the Gulf of Suez, Egypt. Environ Earth Sci 79, 274 (2020). https://doi.org/10.1007/s12665-020-08999-0
Received:

Accepted:

Published:
Keywords
Heavy metals

Sediments

Seashells

Seawater

Gulf of Suez