Abstract
The ecological security status of Pingtan Island (PI) from 2005 to 2011 is evaluated dynamically. Results show that the ecological status of PI is increasing, and the quality of its environment is constantly optimized, especially during 2009–2012. Principal component analysis is used to analyze the driving forces of the ecological security of PI. The driving force, status, and response of PI determine its ecological security. The effect was evident in 2011. The trend of principal component synthetic score is consistent with that of the ecological security dynamic map of PI. This study can enrich the empirical case and the relevant theoretical system of environment assessment in the island. Meanwhile, it can provide reference for the evaluation methods of ecological security status of the same kind of islands at home and abroad as well as the optimal control policies.
Access options
Buy single article
Instant access to the full article PDF.
US$ 39.95
Tax calculation will be finalised during checkout.
Subscribe to journal
Immediate online access to all issues from 2019. Subscription will auto renew annually.
US$ 119
Tax calculation will be finalised during checkout.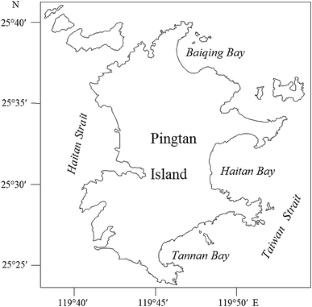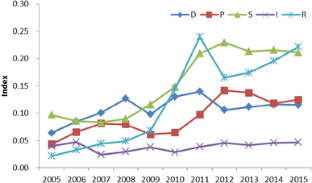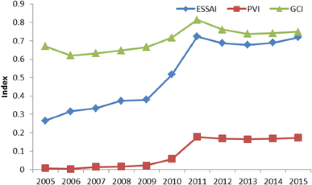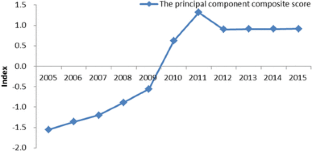 References
Borja A, Bricker SB, Dauer DM, Demetriades NT, Ferreira JG, Forbes AT, Zhu C (2008) Overview of integrative tools and methods in assessing ecological integrity in estuarine and coastal systems worldwide. Mar Pollut Bull 56(9):1519–1537

Cao CX, Yang B, Xu M, Li XW, Ramesh P, Zhao XJ, Chen W (2017) Evaluation and analysis of post-seismic restoration of ecological security in Wenchuan using remote sensing and GIS. Geomat Nat Hazards Risk 7(6):1919–1936

Ciftcioglu GC (2017) Assessment of the relationship between ecosystem services and human wellbeing in the social-ecological landscapes of Lefke Region in North Cyprus. Landsc Ecol 32:897–913

De Lange HJ, Sala S, Vighi M, Faber JH (2010) Ecological vulnerability in risk assessmentda review and perspectives. Sci Total Environ 408(18):3871–3879

Esperanza H, Christian K, Susana O, Ben D, Salvador H, Violette G (2014) A multi-criteria index for ecological evaluation of tropical agriculture in Southeastern Mexico. PLoS ONE 9:e112493

Fan YS, Chen S, Gu G (2016) Change of island landscape ecological risk:a case study of Zhujiajian Island of Zhoushan. Mar Sci Bull 01:1–10

Han SC (2017) Evaluation and analysis of eco-security in environmentally sensitive areas using an emergy ecological footprint. Int J Environ Res Public Health 14(2):136

Huang H, Chen B, Ma ZY, Liu ZH, Zheng SL, Yu WW, Liao JJ, Hu WJ, Du JG, Chen GC (2017) Assessing the ecological security of the estuary in view of the ecological services-A case study of theXiamen Estuary. Ocean Coast Manag 137(1):12–23

Jones K, Pan X, Garza A, Lloyd-Reilley J (2010) Multi-level assessment of ecological coastal restoration in South Texas. Ecol Eng 36(4):435–440

Li F, Xu M, liu Q, Wang ZF, Xu WJ (2014) Ecological restoration zoning for a marine protected area: a case study of Haizhouwan National MarinePark, China. Ocean Coast Manag 98:158–166

Li F, Lu S, Sun Y, Li X, Xi B, Liu W (2015) Integrated evaluation and scenario simulation for forest ecological security of beijing based on system dynamics model. Sustainability 7(10):13631–13659

Linstaedter A, Kuhn A, Naumann C (2016) Assessing the resilience of a real-world social-ecological system: lessons from a multidisciplinary evaluation of a South African pastoral system. Ecol Soc 21(3):35

Rombouts I, Beaugrand G, Artigas LF, Dauvin JC, evaert G, Goberville F, Kirby E, R.R (2013) Evaluating marine ecosystem health: case studies of indicators using direct observations and modelling methods. Ecol Indic 24:353–365

Song GB, Chen Y, Tian MR, Lv SH, Zhang SS, Liu SL (2010) The ecological vulnerability evaluation in southwestern mountain region of China based on GIS and AHP method. Procedia Environ Sci 2:465–475

Suo AN, Guan D, Sun Y, Lin Y, Zhang M (2016) Advances in coastal landscape ecology and its role in the construction of marine ecological civilization. Acta Ecol Sin 11:3167–3175

UNEP (2002) Global environment out look. Earthscan Publication Ltd, London, p 91

Wang L, Bian Z, Chen H (2014) Land ecological security assessment for Yancheng city based on catastrophe theory. Earth Sci Res J 18(2):181–187

Wei C, Guo ZY, Wu JP, Ye SF (2014) Constructing an assessment indices system to analyze integrated regional carrying capacity in the coastal zones–A case in Nantong. Ocean Coast Manag 93:51–59

Wu HY, Chen KL, Chen ZH, Chen QH, Qiu YP, Wu JC, Zhang JF (2012a) Evaluation for the ecological quality status of coastal waters in East China Sea using fuzzy integrated assessment method. Mar Pollut Bull 64(3):546–555

Wu CY, Yang JH, Xu ZH (2012b) Research on the evaluation of flood disaster based on principal component projection method. China Saf Sci J 04:121–126

Xu L, Yin H, Li Z, Li S (2014) Land ecological security evaluation of Guangzhou, China. Int J Environ Res Public Health 11:10537–10558

Ye SF, Guo ZY (2012) The assessment and decision of the integrated carrying capacity in the Yangtze Delta coastal area: theory and practice. Ocean Press, Beijing

Zhang ZH, Ye SF, Zhu MY (2008) Valuation of typical marine ecosystem services. Marine Press, Beijing

Zhang X, Tao P, Cheng J (2016) Method and application of resource and environment carrying capacity assessment for island offshore sea areas. Res Environ Sci 11:1725–1734

Zhou B, Yu H, Zhong LS, Chen T (2016) Developmental trend forecasting of tourism ecological security trend:the case of Mount Putuo Island. Acta Ecol Sin 23:7792–7803
Acknowledgements
This work is supported by the National Natural Science Fund project "coastal zone of Jiangsu modern Sedimentation rate and heavy metal source tracer studies" (No.41373112); Jiangsu Social Science Fund "Jiangsu marine development evaluation index system" (No.17GLB003); Major Program of the Philosophy and Social Science Fund of Education Department of Jiangsu Province (No.2017ZDAXM005); Major Program of National Philosophy and Social Science Foundation of China (No.16ZDA054).
About this article
Cite this article
Gao, S., Sun, H., Cao, G. et al. Dynamic assessment of island ecological security under urbanization: a case study of Pingtan Island in the Southeast Coast of China. Environ Earth Sci 77, 531 (2018). https://doi.org/10.1007/s12665-018-7706-x
Received:

Accepted:

Published:
Keywords
Survival environment

Process of urbanization

Ecological security evaluation

Driving force analysis

Pingtan Island