Abstract
The island of Korčula, which has an area of 271.47 km2 is located along the north-eastern coast of the Adriatic Sea. Due to the Mediterranean climate, size and karst geology its water resources are very scarce. This paper describes the natural features of the island (air temperature, precipitation, geology, hydrogeology and groundwater) which are important for the water appearance and its distribution in time and space. The water supply of the island has been managed in the following ways: through a pipeline from the mainland, by drawing groundwater and by rain harvesting. Tourism causes high seasonal water needs which are barely met by the existing water supply system. Therefore, present water resource management on the island must be improved. The paper also presents mathematical programming scheme to get optimal costs and benefits of water exploitation on the island. Besides economic aspect, linear programming is applied to social and ecological objectives, as well. This study suggests that island's water management should be primarily based on wisely using its proper water resources.
Access options
Buy single article
Instant access to the full article PDF.
US$ 39.95
Tax calculation will be finalised during checkout.
Subscribe to journal
Immediate online access to all issues from 2019. Subscription will auto renew annually.
US$ 119
Tax calculation will be finalised during checkout.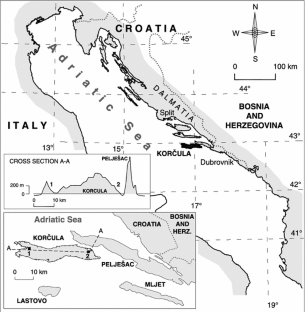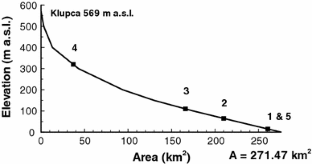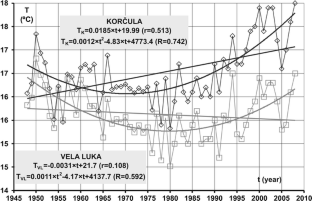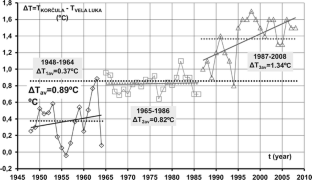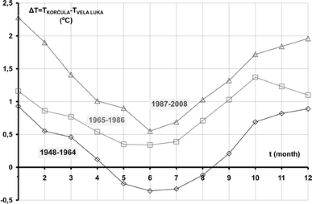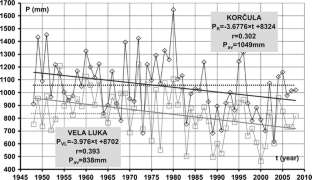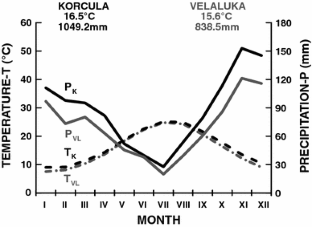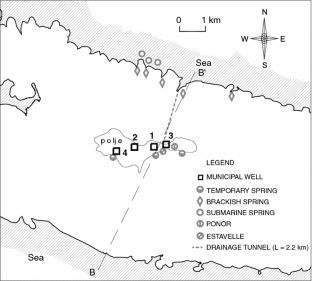 References
Alperovits E, Shamir U (1977) Design of optimal water distribution systems. Water Resour Res 13(6):885–900

Bačani A, Vlahović T, Perković D (2006) Procjena retencijskog kapaciteta crpilišta Blato na otoku Korčuli (Yield assessment for Blato well field, island of Korčula). Rudarsko-Geološko Naftni Zbornik 18:1–13

Bogardi I, Matyasovszky I, Bârdossy A, Duckstein L (1994) A hydroclimatological model of areal drought. J Hydrol 153:245–264

Bögli A (1980) Karst hydrology and physical speleology. Springer, Berlin, p 284

Bonacci O (1987) Karst hydrology with special reference to the Dinaric karst. Springer, Berlin, p 184

Bonacci O (1991) Hydrology and water resources of small karst islands along the Yugoslav Adriatic coast. Krš Jugoslavije-Carsus Iugoslavie 13:1–34

Bonacci O (2004) Poljes. In: Gunn J (ed) Encyclopedia of caves and karst science. Fitzroy Dearborn, New York, pp 599–600

Bonacci O, Roje-Bonacci T (2003) Groundwater on small Adriatic karst islands. RMZ Mater Geoenviron 50(1):41–44

Bonacci O, Trninić D, Roje-Bonacci T (2008) Analyses of the water temperature regime of the Danube and its tributaries in Croatia. Hydrol Process 22(7):1014–1021

Bonacci O, Pipan T, Culver D (2009) A framework for karst ecohydrology. Environ Geol 56(5):891–900

Bonaccorso B, Bordi I, Cancalliere A, Rossi G, Sutera A (2003) Spatial variability of drought: an analysis of the SPI in Sicily. Water Resour Manag 17(4):273–296

Bras RL, Rodriguez-Iturbe I (1984) Random functions and hydrology. Addison-Wesley, Boston, p 559

Cancelliere A, Di Mauro G, Bonaccorso B, Rossi G (2007) Drought forecasting using the standardized precipitation index. Water Resour Manag 21(5):801–819

Charalambous CN (2001) Water management under drought condition. Desalination 138:3–6

Diaz Arenas AA, Febrillet Huertas J (1986) Hydrology and water balance of small islands. A review of existing knowledge. Technical Documents in Hydrology. UNESCO, Paris, p 30

Drogue C (1980) Essai d'identification d'un type de structure de magasins carbonates fissures. Mémoire Hydrogéologique Série Société Géologique de France 11:101–108

Drogue C (1985) Geothermal gradients and ground water circulation in fissured and karstic rocks: the role played by the structure of the permeable network. J Geodyn 4:219–231

Duplančić Leder T, Ujević T, Čala M (2004) Coastline lengths and areas of islands in the Croatian part of the Adriatic Sea determined from the topographic maps at the scale 1:25000. Geoadria 9(1):5–32

Falkenmark M, Chapman T (1989) Comparative hydrology. UNESCO, Paris, p 480

Garbrecht J, Fernandez JP (1994) Visualization of trends and fluctuations in climatic records. Water Resour Bull 30(2):297–306

Gikas P, Tchobanoglous G (2009) Sustainable use of water in the Aegan islands. J Environ Manag 90(8):2601–2611

Hoppel SK, Viessman W (1972) A linear analysis of an urban water supply system. J Am Water Res Assoc 8(2):304–311

Jacovkis PM, Gradowczyk H, Freisztav AM, Tabak EG (1989) A linear programming approach to water resources optimization. Methods Models Oper Res 33:341–362

Kessler A, Shamir U (1989) Analysis of the linear programming gradient method for optimal design of water supply networks. Water Resour Res 25(7):1469–1480

Kitanidis PK (1997) Introduction to geostatistics. Cambridge University Press, Cambridge, p 249

Kondili E, Kaldellis JK, Papapostolou C (2010) A novel systematic approach to water resources optimisation in areas with limited water resources. Desalination 250(1):297–301

Kumar PV, Bindi M, Crisci A, Maracchi G (2005) Detection of variations in air temperature at different time scales during the period 1889–1998 at Firenze, Italy. Clim Change 72(1–2):123–150

Levi BG (2008) Trends in the hydrology of the western US bear the imprint of manmade climate change. Phys Today 61(4):16–18

Li G (2010) Changes of the Yellow River water resources and countermeasures. IHP VII Technical Documents in Hydrology. UNESCO Office, Beijing, pp 11–23

Liou TS, Lee YH, Chiang LW, Lin W, Guo TR, Chen WS, Chien JM (2009) Alternative water resources in granite rock: a case from Kinmen Island, Taiwan. Environ Earth Sci 59(5):1033–1046

Ljubenkov I, Bonacci O, Brajković Z (2010) Flooded karst field (polje): case of Donje Blato on the island of Korčula. Proc of BALWOIS Conf (May 2010). Ohrid, Macedonia, pp 209–210

Palmer WC (1965) Meteorological drought. US Weather Bureau Res Pap No 45, p 58

Sokolov AA, Chapman TG (1974) Methods for water balance computations. UNESCO, Paris, p 127

Terzić J (2006) Hydrogeology of the Adriatic karstic islands. PhD dissertation, Faculty of Mining, Geology and Petroleum, University of Zagreb, Croatia, p 220 (in Croatian)

Terzić J, Marković Ž, Pekaš Ž (2007) Influence of sea-water intrusion and agricultural production on the Blato Aquifer, Island of Korčula, Croatia. Environ Geol 54(4):719–729

Terzić J, Peh Z, Marković T (2010) Hydrochemical properties of transition zone between fresh groundwater and seawater in karst environment of the Adriatic islands, Croatia. Environ Earth Sci 59(8):1629–1642

Tsagarakis KP, Dialynas GE, Angelakis AN (2004) Water resources management in Crete (Greece) including water recycling and reuse and proposed quality criteria. Agric Water Manag 66(1):35–47

Uddameri V, Kuchanur M (2007) Simulation-optimization approach to assess groundwater availability in Refugio County, TX. Environ Geol 51:921–929

Vacher HL (1997) Introduction: varieties of carbonate islands and a historical perspective. In: Vacher HL, Quinn TM (eds) Geology and hydrogeology of carbonate islands. Elsevier, Amsterdam, pp 1–33

Vacher HL, Quinn TM (1997) Geology and hydrogeology of carbonate islands. Elsevier, Amsterdam, p 948

Vaux H (2011) Groundwater under stress: the importance of management. Environ Earth Sci 62:19–23

Verhoog FH (1987) Hydrology and water balance of small islands. Water resources development of small Mediterranean islands and coastal areas. UNEP Technical Reports, pp 7–16

Vicente-Serrano SM (2006) Difference in spatial patterns of drought on different time scales: an analysis of the Iberian Peninsula. Water Resour Manag 20(1):37–60

Vicente-Serrano SM (2007) Evaluating the impact of drought using remote sensing in a Mediterranean, semi-arid region. Nat Hazards 40(1):173–208

Voivontas D, Arampatzis G, Manoli E, Karavitis C, Assimacopoulos D (2003) Water supply modelling towards sustainable management in small islands: the case of Paros, Greece. Desalination 156(1–3):127–135

Walter WA, Harnickell E, Mueller-Dombois D (1975) Climate-diagram maps of the individual continents and the ecological climatic regions of the earth. Springer, New York, p 36

White I, Falkland T (2010) Management of freshwater lenses on small Pacific islands. Hydrogeol J 18(1):227–246

Yoshino MM (1976) Local wind bora. University of Tokyo Press, Tokyo, p 289

Zacharias I, Koussouris T (2000) Sustainable water management in the European islands. Phys Chem Earth 25(3):233–236

Zhou X, Chen M, Liang C (2003) Optimal schemes of groundwater exploitation for prevent of seawater intrusion in the Leizhou Peninsula in southern China. Environ Geol 43:978–985
About this article
Cite this article
Bonacci, O., Ljubenkov, I. & Knezić, S. The water on a small karst island: the island of Korčula (Croatia) as an example. Environ Earth Sci 66, 1345–1357 (2012). https://doi.org/10.1007/s12665-011-1345-9
Received:

Accepted:

Published:

Issue Date:
Keywords
Small karst island

Precipitation

Air temperature

Groundwater

Water supply

Linear programming

Korčula Island (Croatia)