Abstract
Background
The impact of incidentally detected hepatocellular carcinoma (iHCC) in explanted liver on the prognosis of the patients undergoing orthotopic liver transplantation remains controversial with several studies reporting survival worse than true non-hepatocellular carcinoma (non-HCC) recipients. Patients undergoing living donor liver transplantation (LDLT) have the benefit of a shorter waiting time to transplant which in principle should reduce the frequency of new tumors developing while waiting for transplant. We aimed to evaluate the incidence, histopathological features, and impact of iHCC on short- and long-term outcomes in adult LDLT recipients.
Methods
The present study retrospectively analyzed the patients' demographics, tumor characteristics, and outcomes of iHCC in adult patients undergoing LDLT for non-HCC indications at our center between August 2009 and March 2018.
Results
Five hundred and forty-five adults underwent LDLT in our center during the study period. iHCC was detected in the explanted livers in 28 patients (5.1%) out of 545 LDLTs. Only one patient had iHCC beyond Milan criteria. No tumor recurrence was observed in the iHCC cohort after a median follow-up of 28 months. Five-year overall and recurrence-free survival was 96.4%.
Conclusions
Incidence of iHCC in explanted livers after LDLT is low and most patients have very early-stage tumors with excellent recurrence-free survival. Hence, no specific post-transplant surveillance or treatment is necessary.
Access options
Buy single article
Instant access to the full article PDF.
US$ 39.95
Tax calculation will be finalised during checkout.
Subscribe to journal
Immediate online access to all issues from 2019. Subscription will auto renew annually.
US$ 79
Tax calculation will be finalised during checkout.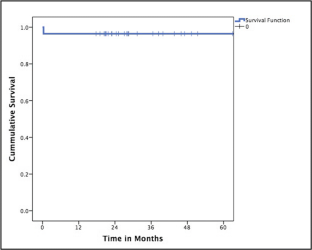 References
1.

Adam R, Karam V, Delvart V, et al. Evolution of indications and results of liver transplantation in Europe. A report from the European Liver Transplant Registry (ELTR). J Hepatol. 2012;57:675–88.

2.

Taniguchi M. Liver transplantation in the MELD era – analysis of the OPTN/UNOS registry. Clin Transpl. 2012;41–65.

3.

Mazzaferro V, Regalia E, Doci R, et al. Liver transplantation for the treatment of small hepatocellular carcinomas in patients with cirrhosis. N Engl J Med. 1996;334:693–9.

4.

Mazzaferro V, Llovet JM, Miceli R, et al. Predicting survival after liver transplantation in patients with hepatocellular carcinoma beyond the Milan criteria: a retrospective exploratory analysis. Lancet Oncol. 2009;10:35–43.

5.

Sotiropoulos GC, Malago M, Molmenti EP, et al. Liver transplantation and incidentally found hepatocellular carcinoma in liver explants: need for a new definition? Transplantation. 2006;81:531–5.

6.

Caroli-Bottino A, Nascimento CM, Basto S, et al. Hepatocellular carcinoma: incidental finding in cirrhotic explanted livers. Transplant Proc. 2005;37:2791–2.

7.

Chui AK, Wong J, Rao AR, et al. High incidence of incidental hepatocellular carcinoma exists among hepatitis explanted livers. Transplant Proc. 2003;35:350–1.

8.

Kishi Y, Sugawara Y, Tamura S, Kaneko J, Kokudo N, Makuuchi M. Impact of incidentally found hepatocellular carcinoma on the outcome of living donor liver transplantation. Transpl Int. 2006;19:720–5. 

9.

Senkerikova R, Frankova S, Speri J, et al. Incidental hepatocellular carcinoma: risk factors and long-term outcome after liver transplantation. Transplant Proc. 2014;46:1426–9.

10.

El Moghazy W, Kashkoush S, Meeberg G, Kneteman N. Incidence, characteristics and prognosis of incidentally discovered hepatocellular carcinoma after liver transplantation. J Transp Secur. 2016;2016:1916387.

11.

Perez P, Rodriguez-Peralvarez M, Guerrero L, et al. Incidental hepatocellular carcinoma after liver transplantation: prevalence, histopathological features and prognostic impact. PLoS One. 2017;12:e0175010. 

12.

Abdelfattah MR, Abblkhail F, Al-Manea H. Misdiagnosed or incidentally detected hepatocellular carcinoma in explanted livers: lessons learned. Ann Transplant. 2015;20:366–72.

13.

Rizzi PM, Kane PA, Ryder SD, et al. Accuracy of radiology in detection of hepatocellular carcinoma before liver transplantation. Gastroenterology. 1994;107:1425–9.

14.

Bialecki ES, Di Bisceglie AM. Diagnosis of hepatocellular carcinoma. HPB (Oxford). 2005;7:26–34.

15.

Kierans AS, Kang SK, Rosenkrantz AB. The diagnostic performance of dynamic contrast-enhanced MR imaging for detection of small hepatocellular carcinoma measuring up to 2 cm: a meta-analysis. Radiology. 2016;278:82–94.

16.

Klintmalm GB. Liver transplantation for hepatocellular carcinoma: a registry report of the impact of tumor characteristics outcome. Ann Surg. 1998;228:479–90.

17.

Castillo E, Pelletier S, Kumer S, Abouljoud M, Divine G, Moonka D. Incidental hepatocellular carcinoma after liver transplantation: population characteristics and outcomes. Transplant Proc. 2009;41:219–21.  

18.

Mourad MM, Algarni A, Aly MA, et al. Tumor characteristics and long-term outcome of incidental hepatocellular carcinoma after orthotopic liver transplant. Exp Clin Transplant. 2015;13:333–8.
Ethics declarations
Conflict of interest
MR, MV, TMAS, AR, MSR, and MR declare that they have no conflict of interest.
Ethics statement
The study was performed conforming to the Helsinki declaration of 1975, as revised in 2000 and 2008 concerning human and animal rights, and the authors followed the policy concerning informed consent as shown on Springer.com.
Disclaimer
The authors are solely responsible for the data and the contents of the paper. In no way, the Honorary Editor-in-Chief, Editorial Board Members, the Indian Society of Gastroenterology or the printer/publishers are responsible for the results/findings and content of this article.
Additional information
Publisher's note
Springer Nature remains neutral with regard to jurisdictional claims in published maps and institutional affiliations.
About this article
Cite this article
Rajakannu, M., Vij, M., Shaikh, T.M.A. et al. Prognostic impact of incidentally detected hepatocellular carcinoma in explanted livers after living donor liver transplantation. Indian J Gastroenterol (2021). https://doi.org/10.1007/s12664-020-01127-7
Received:

Accepted:

Published:
Keywords
Chronic liver disease

Cirrhosis

Hepatocellular carcinoma

Liver cancer

Liver transplantation

Malignancy

Non-alcoholic steatohepatitis

Prognosis

Recurrence

Survival

Viral hepatitis