Abstract
Background
Around 10% to 30% patients with acute pancreatitis (AP) do not have a cause after the routine investigations, and are considered as having idiopathic acute pancreatitis (IAP). Establishing the etiology in such patients will prevent recurrences and evolution to chronic pancreatitis. Endoscopic ultrasonography (EUS) and magnetic resonance cholangiopancreatography (MRCP) characteristically are used to diagnose IAP when routine methods fail, but their exact role is not determined.
Methods
This prospective study was undertaken in a tertiary care hospital, in which patients admitted initially with diagnosis of IAP were evaluated. These patients underwent MRCP and EUS at least 4 weeks after an attack of AP. The results of EUS and MRCP were compared and analyzed with various clinical variables using suitable statistical tests.
Results
A total of 31 patients with IAP were included. EUS and/or MRCP was able to establish at least one etiology in 17 patients (54.8%). The diagnoses revealed were gallbladder (GB) microlithiasis, GB sludge, choledocholithiasis, pancreatobiliary ductal anomalies, pancreatic adenocarcinoma, and intraductal papillary mucinous neoplasm. Comparing the diagnostic accuracy of both the modalities, EUS (14/31) was able to diagnose more cases than MRCP (8/31). The diagnostic capability of EUS was lower in patients who had a cholecystectomy (12.5% vs. 56.5%; p = 0.03).
Conclusions
EUS and MRCP are useful modalities in the etiological diagnosis of IAP and should be used in conjunction. EUS is better for establishing a possible biliary etiology and MRCP for an anatomical alteration in pancreatobiliary ducts.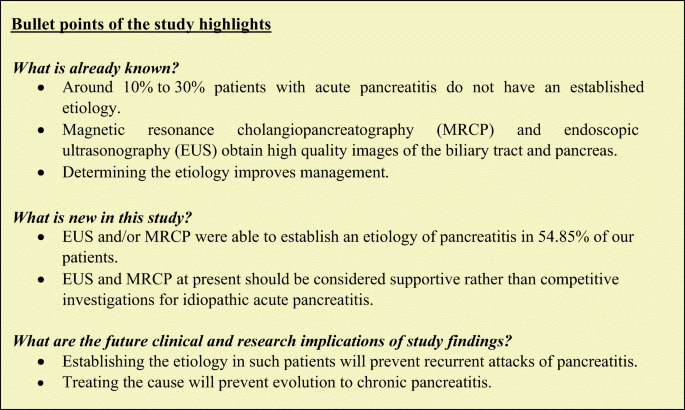 Access options
Buy single article
Instant access to the full article PDF.
US$ 39.95
Tax calculation will be finalised during checkout.
Subscribe to journal
Immediate online access to all issues from 2019. Subscription will auto renew annually.
US$ 79
Tax calculation will be finalised during checkout.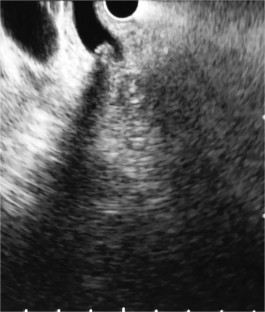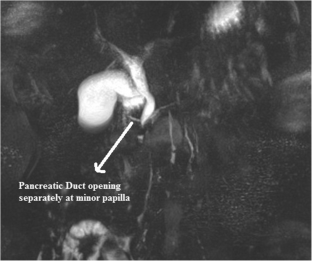 References
1.

Lankisch PG, Apte M, Banks PA. Acute pancreatitis. Lancet. 2015;386:85–96.

2.

Van Brummelen SE, Venneman NG, Van Erpecum KJ, VanBerge-Henegouwen GP. Acute idiopathic pancreatitis: does it really exist or is it a myth? Scand J Gastroenterol Suppl. 2003;239:117–22.

3.

Dahan P, Andant C, Levy P, et al. Prospective evaluation of endoscopic ultrasonography and microscopic examination of duodenal bile in the diagnosis of cholecystolithiasis in 45 patients with normal conventional ultrasonography. Gut. 1996;38:277–81.

4.

Ho S, Bonasera RJ, Pollack BJ, Grendell J, Feuerman M, Gress F. A single-center experience of endoscopic ultrasonography for enlarged pancreas on computed tomography. Clin Gastroenterol Hepatol. 2006;4:98–103. 

5.

Makary MA, Duncan MD, Harmon JW, et al. The role of magnetic resonance cholangiography in the management of patients with gallstone pancreatitis. Ann Surg. 2005;241:119–24.

6.

Vila JJ, Vicuña M, Irisarri R, et al. Diagnostic yield and reliability of endoscopic ultrasonography in patients with idiopathic acute pancreatitis. Scand J Gastroenterol. 2010;45:375–81.

7.

Banks PA, Bollen TL, Dervenis C, et al. Classification of acute pancreatitis—2012: revision of the Atlanta classification and definitions by international consensus. Gut. 2013;62:102–11.

8.

Frossard JL, Sosa-Valencia L, Amouyal G, Marty O, Hadengue A, Amouyal P. Usefulness of endoscopic ultrasonography in patients with "idiopathic" acute pancreatitis. Am J Med. 2000;109:196–200.  

9.

Norton SA, Alderson D. Endoscopic ultrasonography in the evaluation of idiopathic acute pancreatitis. Br J Surg. 2000;87:1650–5.

10.

Lee SP, Nicholls JF, Park HZ. Biliary sludge as a cause of acute pancreatitis. N Engl J Med. 1992;326:589–93.

11.

Block MA, Priest RJ. Acute pancreatitis related to grossly minute stones in a radiographically normal gallbladder. Am J Dig Dis. 1967;12:934–8.

12.

Freund H, Pfeffermann R, Durst AL, Rabinovici N. Gallstone pancreatitis: exploration of the biliary system in acute and recurrent pancreatitis. Arch Surg. 1976;111:1106–7.

13.

Negro P, Flati G, Flati D, Porowska B, Tuscano D, Carboni M. Occult gallbladder microlithiasis causing acute recurrent pancreatitis. A report of three cases. Acta Chir Scand. 1984;150:503–6.

14.

Houssin D, Castaing D, Lemoine J, Bismuth H. Microlithiasis of the gallbladder. Surg Gynecol Obstet. 1983;157:20–4.

15.

Kelly TR. Gallstone pancreatitis: local predisposing factors. Ann Surg. 1984;200:479–85.

16.

Armstrong CP, Taylor TV, Jeacock J, Lucas S. The biliary tract in patients with acute gallstone pancreatitis. Br J Surg. 1985;72:551–5.

17.

Bertrand L, Lamarque JL. Biliary microlithiasis. Medico-radiological observations. Nouv Press Med. 1975;4:3135–8.

18.

Ardengh JC, Malheiros CA, Rahal F, Pereira V, Ganc AJ. Microlithiasis of the gallbladder: role of endoscopic ultrasonography in patients with idiopathic acute pancreatitis. Rev Assoc Med Bras. 1992. 2010;56:27–31. 

19.

Ros E, Navarro S, Bru C, Garcia-Pugés A, Valderrama R. Occult microlithiasis in 'idiopathic' acute pancreatitis: prevention of relapses by cholecystectomy or ursodeoxycholic acid therapy. Gastroenterology. 1991;101:1701–9.

20.

Mujica VR, Barkin JS, Go VL. Acute pancreatitis secondary to pancreatic carcinoma. Study group participants. Pancreas. 2000;21:329–32.

21.

Lin A, Feller ER. Pancreatic carcinoma as a cause of unexplained pancreatitis: report of ten cases. Ann Intern Med. 1990;113:166–7.

22.

Yasuda K, Mukai H, Fujimoto S, Nakajima M, Kawai K. The diagnosis of pancreatic cancer by endoscopic ultrasonography. Gastrointest Endosc. 1988;34:1–8. 

23.

Tandon M, Topazian M. Endoscopic ultrasound in idiopathic acute pancreatitis. Am J Gastroenterol. 2001;96:705–9.

24.

Draganov P, Forsmark CE. "Idiopathic" pancreatitis. Gastroenterology. 2005;128:756–63.

25.

Thevenot A, Bournet B, Otal P, Canevet G, Moreau J, Buscail L. Endoscopic ultrasound and magnetic resonance cholangiopancreatography in patients with idiopathic acute pancreatitis. Dig Dis Sci. 2013;58:2361–8.

26.

Mariani A, Arcidiacono PG, Curioni S, Giussani A, Testoni PA. Diagnostic yield of ERCP and secretin-enhanced MRCP and EUS in patients with acute recurrent pancreatitis of unknown aetiology. Dig Liver Dis. 2009;41:753–8.

27.

Vila JJ. Endoscopic ultrasonography and idiopathic acute pancreatitis. World J Gastrointest Endosc. 2010;2:107–11.

28.

Wan J, Ouyang Y, Yu C, Yang X, Xia L, Lu N. Comparison of EUS with MRCP in idiopathic acute pancreatitis: a systematic review and meta-analysis. Gastrointest Endosc. 2018;87:1180–8.

29.

Somani P, Sunkara T, Sharma M. Role of endoscopic ultrasound in idiopathic pancreatitis. World J Gastroenterol. 2017;23:6952–61.

30.

Yusoff IF, Raymond G, Sahai AV. A prospective comparison of the yield of EUS in primary vs. recurrent idiopathic acute pancreatitis. Gastrointest Endosc. 2004;60:673–8.

31.

Smith I, Ramesh J, Kyanam Kabir Baig KR, Mönkemüller K, Wilcox CM. Emerging role of endoscopic ultrasound in the diagnostic evaluation of idiopathic pancreatitis. Am J Med Sci. 2015;350:229–34.  

32.

Ortega AR, Gómez-Rodríguez R, Romero M, Fernández-Zapardiel S, Céspedes Mdel M, Carrobles JM. Prospective comparison of endoscopic ultrasonography and magnetic resonance cholangiopancreatography in the etiological diagnosis of "idiopathic" acute pancreatitis. Pancreas. 2011;40:289–94.  
Acknowledgments
The authors acknowledge the contribution of all the nursing and endoscopy staff of the department of gastroenterology, Sir Sunderlal Hospital, Varanasi.
Ethics declarations
Conflict of interest
TM, VKD, DPY, SKS, AV, PT, and RT declare that they have no conflict of interest.
Ethics statement
The study was performed conforming to the Helsinki declaration of 1975, as revised in 2000 and 2008 concerning human and animal rights, and the authors followed the policy concerning informed consent as shown on Springer.com.
Ethical approval
The ethical clearance for the study was obtained from the Institutional Ethical Committee. Informed consent was obtained from each participant in their native language.
Disclaimer
The authors are solely responsible for the data and the contents of the paper. In no way, the Honorary Editor-in-Chief, Editorial Board Members, the Indian Society of Gastroenterology or the printer/publishers are responsible for the results/findings and content of this article.
Additional information
Publisher's note
Springer Nature remains neutral with regard to jurisdictional claims in published maps and institutional affiliations.
About this article
Cite this article
Mitra, T., Dixit, V.K., Yadav, D.P. et al. Idiopathic acute pancreatitis—A myth or reality? Role of endoscopic ultrasonography and magnetic resonance cholangiopancreatography in its diagnosis. Indian J Gastroenterol (2021). https://doi.org/10.1007/s12664-020-01125-9
Received:

Accepted:

Published:
Keywords
Biliary sludge

Chronic pancreatitis

Endoscopic retrograde cholangiopancreatography

Endoscopic ultrasonography

Gallstone

Magnetic resonance cholangiopancreatography

Microlithiasis

Pancreas divisum

Pancreatitis