Gallstone ileus of upper gastrointestinal tract: A case series
Abstract
Three patients with gallstone ileus are presented here. All of them were diagnosed on the basis of clinical presentation, endoscopy, and abdominal ultrasonography (USG) findings. We, therefore, propose that presence of the triad, i.e. cholecystoduodenal fistula on endoscopy, diseased gallbladder on USG, and clinical and radiological features of luminal obstruction should point to the diagnosis of gallstone ileus.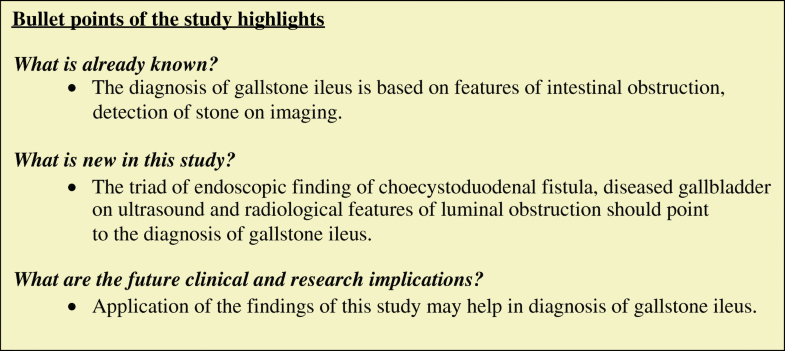 Keywords
Cholecystoduodenal fistula 
Duodenal obstruction 
Gallstone ileus 
Small bowel obstruction 
Notes
Compliance with ethical standards
Conflict of interest
MI, PKS, SM, and WNB declare that they have no conflict of interest.
Ethical clearance
The authors declare that the study was performed in a manner conforming to the Helsinki declaration of 1975, as revised in 2000 and 2008 concerning human and animal rights, and the authors followed the policy concerning informed consent as shown on Springer.com.
Disclaimer
The authors are solely responsible for the data and the content of the paper. In no way, the Honorary Editor-in-Chief, Editorial Board Members, or the printer/publishers are responsible for the results/findings and content of this article.
Copyright information
© Indian Society of Gastroenterology 2019