Abstract
Background
The surgical approach for cranial reconstruction is influenced by the presence of pre-existing scar tissue. Scars that lie within the vicinity of cranial defect require modification.
Purpose
The present study was conducted to analyse co-relation between craniectomy scar and cranioplasty incision.
Materials and Methods
A retrospective evaluation of 70 patients who were divided into three groups based on location of cranioplasty incision line was done. In group I, incision was located parallel and outside the scar; group II, incision was located over the scar; and group III, mixed and criss-cross incision was present. The primary outcome variable of interest was to analyse co-relation between craniectomy and cranioplasty incisions.
Results
There were 45 cases of group I, 15 cases of group II and 10 cases of group III. Thirty-three patients had defect on left side, 26 had on right side, and 10 had bifrontal defect. No significant association was noted between the site and cranioplasty incision (Chi2 = 9.155, p = 0.433 and likelihood ratio = 9.487, p = 0.394).
Conclusion
Well-vascularized broad-based scalp flap that provides adequate exposure and located on healthy bone irrespective of pre-existing craniectomy scar forms the mainstay of successful cranial reconstruction.
Access options
Buy single article
Instant access to the full article PDF.
US$ 39.95
Tax calculation will be finalised during checkout.
Subscribe to journal
Immediate online access to all issues from 2019. Subscription will auto renew annually.
US$ 79
Tax calculation will be finalised during checkout.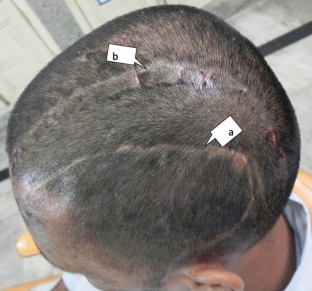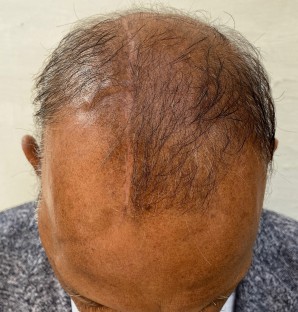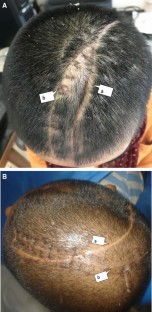 References
1.

St-Hilaire H, Mithani SK, Taylor J, Simmons OP, Singh N, Rodriguez ED (2009) Restoring the failed cranioplasty: nonanatomical titanium mesh with perforator flap. Plast Reconstr Surg 123:1813–1817

2.

Reddy S, Khalifian S, Flores JM, Bellamy J, Manson PN, Rodriguez ED, Dorafshar AH (2014) Clinical outcomes in cranioplasty: risk factors and choice of reconstructive material. Plast Reconstr Surg 133:864–873

3.

Berry JAD, Miulli DE, Lam B, Elia C, Minasian J, Podkovik S, Wacker MRS (2019) The neurosurgical wound and factors that can affect cosmetic, functional, and neurological outcomes. Int Wound J 16:71–78

4.

Sakamoto Y, Arnaud E (2016) Multiple delayed scalp reconstruction for complicated cranial defects. Plast Reconstr Surg Glob Open 4:e836

5.

Di Rienzo A, Pangrazi PP, Riccio M, Colasanti R, Ghetti I, Iacoangeli M (2016) Skin flap complications after decompressive craniectomy and cranioplasty: proposal of classification and treatment options. Surg Neurol Int 7:S737–S745

6.

Houseman ND, Taylor GI, Pan WR (2000) The angiosomes of the head and neck: anatomic study and clinical applications. Plast Reconstr Surg 105:2287–2313

7.

Sobani ZA, Shamim MS, Zafar SN, Qadeer M, Bilal N, Murtaza SG, Enam SA, Bari ME (2011) Cranioplasty after decompressive craniectomy: An institutional audit and analysis of factors related to complications. Surg Neurol Int 2:123

8.

Walcott BP, Kwon CS, Sheth SA, Fehnel CR, Koffie RM, Asaad WF, Nahed BV, Coumans JV (2013) Predictors of cranioplasty complications in stroke and trauma patients. J Neurosurg 118:757–762

9.

Agrawal A, Garg LN (2011) Split calvarial bone graft for the reconstruction of skull defects. J Surg Tech Case Rep 3:13–16

10.

Movassaghi K, Ver Halen J, Ganchi P, Amin-Hanjani S, Mesa J, Yaremchuk MJ (2006) Cranioplasty with subcutaneously preserved autologous bone grafts. Plast Reconstr Surg 117:202–206

11.

Kwarcinski J, Boughton P, Ruys A, Doolan A, Van Gelder J (2017) Cranioplasty and craniofacial reconstruction: a review of implant material, manufacturing method and infection risk. Appl Sci 7:276

12.

Aydin S, Kucukyuruk B, Abuzayed B, Aydin S, Sanus GZ (2011) Cranioplasty: Review of materials and techniques. J Neurosci Rural Pract 2:162–167

13.

Gordon CR, Fisher M, Liauw J, Lina I, Puvanesarajah V, Susarla S, Coon A, Lim M, Quinones-Hinojosa A, Weingart J, Colby G, Olivi A, Huang J (2014) Multidisciplinary approach for improved outcomes in secondary cranial reconstruction: introducing the pericranial-onlay cranioplasty technique. Neurosurgery. 10 Suppl 2(0 2):179–190
Funding
This research did not receive any specific grant from funding agencies in the public, commercial or not-for-profit sectors.
Ethics declarations
Conflict of interest
All authors have no conflict of interest to declare.
Ethical Approval
All procedures involved in the present study involving human participant were in accordance with the ethical standards of the institutional and/or national research committee and with the 1964 Declaration of Helsinki and its later amendments or comparable ethical standards. This article does not contain any studies with animals performed by any of the authors. Institutional ethical committee approval was obtained.
Informed Consent
Written informed consent was obtained from patients included in the study.
Additional information
Publisher's Note
Springer Nature remains neutral with regard to jurisdictional claims in published maps and institutional affiliations.
About this article
Cite this article
Sahoo, N.K., Thakral, A., Kumar, S. et al. Flap Design for Cranial Reconstruction: An Analysis of Craniectomy and Cranioplasty Incisions. J. Maxillofac. Oral Surg. (2021). https://doi.org/10.1007/s12663-021-01526-z
Received:

Accepted:

Published:
Keywords
Cranial reconstruction

Cranioplasty

Skin flap

Scalp incision