Abstract
Introduction
Dental impression compound is a rigid impression material mainly used for prosthetic work in dentistry. It is usually manipulated in a temperature controlled water or air bath.
Materials and methods
When there is a fracture of bilateral parasymphysis there are chances lingual splaying and thus causing hampering of occlusion and function for the patient.
Conclusion
Thus, we propose that impression compound is a quick, economical option for prevention of lingual splaying during bilateral parasymphysis fracture reduction. The hardened impression compound will act as a lingual splint in order to prevent splaying of the lingual cortical bone which will help in ease of fracture reduction of bilateral parasymphyseal region.
Access options
Buy single article
Instant access to the full article PDF.
US$ 39.95
Tax calculation will be finalised during checkout.
Subscribe to journal
Immediate online access to all issues from 2019. Subscription will auto renew annually.
US$ 79
Tax calculation will be finalised during checkout.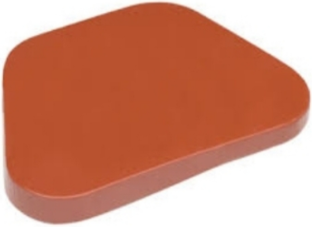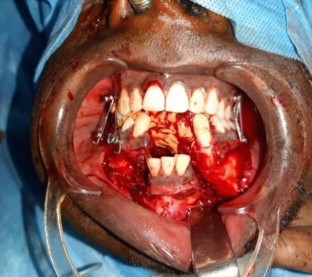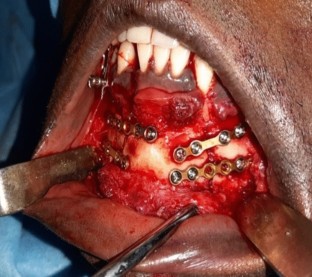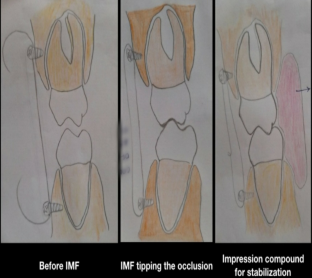 References
1.

Kudva A, Carriappa KM, Kamath A et al (2016) Compression Dressing Using DentalImpression Compound for Conservative Management of Sialocele. J. Maxillofac. OralSurg. 15:555–557. https://doi.org/10.1007/s12663-016-0895-5

2.

Pickrell BB, Serebrakian AT, Maricevich RS (2017) Mandible fractures. Semin Plast Surg 31(2):100–107. https://doi.org/10.1055/s-0037-1601374

3.

Susarla SM, Swanson EW, Peacock ZS (2014) Bilateral mandibular fractures. Eplasty 14:ic38

4.

Rudderman RH, Mullen RL, Phillips JH (2008) The biophysics of mandibular fractures: an evolution toward understanding. Plast Reconstr Surg 121(2):596–607. https://doi.org/10.1097/01.prs.0000297646.86919.b7

5.

Balasubramani S, Panneerselvam E, Sharma AR (2017) Craniomaxillofac trauma reconstruction. Open 1:e9–e14
Additional information
Publisher's Note
Springer Nature remains neutral with regard to jurisdictional claims in published maps and institutional affiliations.
About this article
Cite this article
Sargunam, E.D., Deepak, C., Sivashanmugam, S.S. et al. Dental Impression Compound for Mandibular Bilateral Parasymphysis Fracture Reduction. J. Maxillofac. Oral Surg. (2021). https://doi.org/10.1007/s12663-020-01506-9
Received:

Accepted:

Published:
Keywords
Parasymphysis

Mandible

Fracture

Impression compound

Splint