Abstract
Introduction
Parapharyngeal space infection may lead to severe and potentially life-threatening complications. The aim of this study was to assess the odontogenic infection pathway to the parapharyngeal space using CT imaging.
Materials and Methods
Nineteen patients in mandibular odontogenic infections with abscess who underwent contrast-enhanced CT were evaluated in this study. We reviewed the location of abscess and spread of odontogenic infections to the different components of the buccal space, submandibular space, sublingual space, masticator space and parapharyngeal space using CT imaging. The location of abscess and spread of odontogenic infections were analyzed with the Pearson Chi-square test.
Results
Regarding the odontogenic infection pathway to parapharyngeal space, the masticator space (100%) was the most frequent, followed by the buccal space (85.7%), submandibular space (85.7%) and sublingual space (57.1%), while those without parapharyngeal space, the submandibular space (83.3%) was the most frequent, followed by the buccal space (75.0%), masticator space (58.3%) and sublingual space (33.3%). The masticator space was significant space in patients with/without parapharyngeal space infection (P = 0.047).
Conclusion
CT imaging could be an effective method in assessment of odontogenic infection pathway to the parapharyngeal space. The odontogenic infection in masticator space tends to display spread of parapharyngeal space.
This is a preview of subscription content, log in to check access.
Access options
Buy single article
Instant access to the full article PDF.
US$ 39.95
Price includes VAT for USA
Subscribe to journal
Immediate online access to all issues from 2019. Subscription will auto renew annually.
US$ 99
This is the net price. Taxes to be calculated in checkout.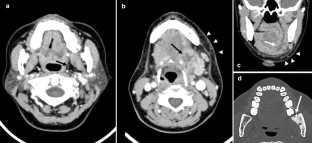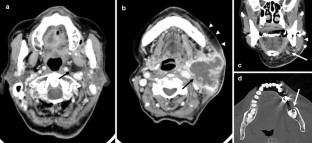 References
1.

Rzepakowska A, Rytel A, Krawczyk P, Osuch-Wojcikiewicz E, Widlak I, Deja M, Niemczyk K (2019) The factors contributing to efficiency in surgical management of purulent infections of deep neck spaces. Ear Nose Throat J. https://doi.org/10.1177/0145561319877281

2.

Wang B, Gao BL, Xu GP, Xiang C (2014) Images of deep neck space infection and the clinical significance. Acta Radiol 55(8):945–951

3.

Maroldi R, Farina D, Ravanelli M, Lombardi D, Nicolai P (2012) Emergency imaging assessment of deep neck space infections. Semin Ultrasound CT MR 33(5):432–442

4.

Sichel JY, Dano I, Hocwald E, Biron A, Eliashar R (2002) Nonsurgical management of parapharyngeal space infections: a prospective study. Laryngoscope 112(5):906–910

5.

Simard RD, Socransky S, Chenkin J (2019) Transoral point-of-care ultrasound in the diagnosis of parapharyngeal space abscess. J Emerg Med 56(1):70–73

6.

Bertossi D, Barone A, Iurlaro A, Marconcini S, Santis DD, Finotti M, Procacci P (2017) Odontogenic orofacial infections. J Craniofac Surg 28(1):197–202

7.

Mardini S, Gohel A (2018) Imaging of odontogenic infections. Radiol Clin N Am 56(1):31–44

8.

Ogle OE (2017) Odontogenic infections. Dent Clin N Am 61(2):235–252

9.

Moghimi M, Baart JA, Karagozoglu KH, Forouzanfar T (2013) Spread of odontogenic infections: a retrospective analysis and review of the literature. Quintessence Int 44(4):351–361

10.

Shakya N, Sharma D, Newaskar V, Agrawal D, Shrivastava S, Yadav R (2018) Epidemiology, microbiology and antibiotic sensitivity of odontogenic space infections in central India. J Maxillofac Oral Surg 17(3):324–331

11.

Ariji Y, Gotoh M, Kimura Y, Naitoh M, Kurita K, Natsume N, Ariji E (2002) Odontogenic infection pathway to the submandibular space: imaging assessment. Int J Oral Maxillofac Surg 31(2):165–169

12.

Schuknecht B, Stergiou G, Graetz K (2008) Masticator space abscess derived from odontogenic infection: imaging manifestation and pathways of extension depicted by CT and MR in 30 patients. Eur Radiol 18(9):1972–1979

13.

Bassiony M, Yang J, Abdel-Monem TM, Elmogy S, Elnagdy M (2009) Exploration of ultrasonography in assessment of fascial space spread of odontogenic infections. Oral Surg Oral Med Oral Pathol Oral Radiol Endod 107(6):861–869

14.

Ogura I, Iizuka N, Ishida M, Sawada E, Kaneda T (2017) Spread of odontogenic infections in the elderly: prevalence and characteristic multidetector CT findings. Int J Diagn Imaging 4(1):28–33
Acknowledgements
This work was supported by JSPS KAKENHI Grant Number JP 18K09754.
Ethics declarations
Conflict of interest
The authors declare no conflict of interest.
Informed Consent
The study was approved by institutional review board. Informed written consent was obtained from the patients for participation in the study.
Additional information
Publisher's Note
Springer Nature remains neutral with regard to jurisdictional claims in published maps and institutional affiliations.
About this article
Cite this article
Ogura, I., Minami, Y., Sugawara, Y. et al. Odontogenic Infection Pathway to the Parapharyngeal Space: CT Imaging Assessment. J. Maxillofac. Oral Surg. (2020). https://doi.org/10.1007/s12663-020-01401-3
Received:

Accepted:

Published:
Keywords
Odontogenic infection

Fascial spaces

Parapharyngeal space

Masticator space

CT