Abstract
Introduction and Aim
Flexible nasal endoscopy (FNE) is a useful adjunct in diagnosis and follow-up of oncology patients as well as in airway assessment. Proficiency in this technique is also listed as part of the Oral and Maxillofacial Surgery (OMFS) curriculum. We aimed to explore OMFS trainee perceptions of training and confidence in this technique.
Materials and Methods
An electronic survey was undertaken of OMFS higher surgical trainees in the UK. A 10-item questionnaire was formulated using online survey software (SurveyMonkey) and distributed to Specialty Registrars in all deaneries via their regional representatives. Questions on training, exposure to and confidence in FNE were asked.
Results
A total of 43 responses were received which included all grades of higher surgical trainees. A large proportion had undertaken FNE in oncology rotations (78.6%) and as part of airway assessment (85.6%). Nearly half of trainees (47.6%) were confident in diagnosing pathology using FNE although 16.6% had low levels of confidence in the technique. Only 38% had received formal training, and the majority of this training was a teaching session from a senior. A very large proportion of trainees (90.5%) feel formal training should be available in FNE and 76% would undertake a formal OMFS training course in FNE if available.
Conclusions
Trainees have high levels of exposure to FNE but variable levels of confidence in the technique. Trainees appear to receive limited formal training in the technique, and the introduction of more formalised training could be explored.
Access options
Buy single article
Instant access to the full article PDF.
US$ 39.95
Tax calculation will be finalised during checkout.
Subscribe to journal
Immediate online access to all issues from 2019. Subscription will auto renew annually.
US$ 79
Tax calculation will be finalised during checkout.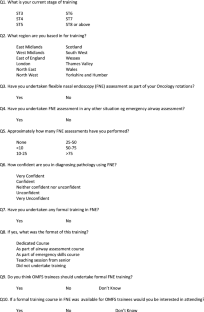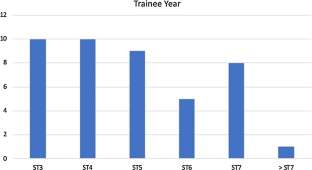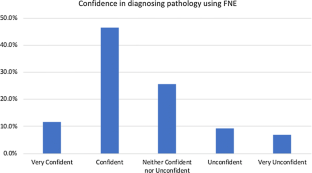 References
1.

The Intercollegiate Surgical Curriculum- Oral and Maxillofacial Surgery 2016. https://www.iscp.ac.uk/curriculum/surgical/surgical_syllabus_list.aspx. Accessed 17 Feb 2019

2.

Swords C, Smith ME, Wasson JD, Qayyum A, Tysome JR (2017) Validation of a new ENT emergencies course for first-on-call doctors. J Laryngol Otol. 131(2):106–112

3.

Malekzadeh S, Malloy KM, Chu EE, Tompkins J, Battista A, Deutsch ES (2011) ORL emergencies boot camp: using simulation to onboard residents. Laryngoscope 121(10):2114–2121

4.

Lancer JM, Jones AS (1985) Flexible fibreoptic rhinolaryngoscopy, results of 338 consecutive examinations. J Laryngol Otol 99(8):771–773

5.

Ul Sutton L, Qamar MF, Shah K, Salisbury S, Hughes J (2018) Trainee oncologists experience of flexible nasal endoscopy in the head and neck clinic. Glob J Otolaryngol 13(4):1–4

6.

Dawe SR, Pena GN, Windsor JA, Broaeders JAJL, Cregan PC, Hewett PJ, Maddern GJ (2014) Systematic review of skills transfer after surgical simulation-based training. Br J Surg 101(9):1063–1076

7.

Smith ME, Leung BC, Sharma R, Nazeer S, McFerran DJ (2014) A randomized controlled trial of nasolaryngoscopy training techniques. Laryngoscope 124(9):2034–2038

8.

Laeeq K, Pandian V, Skinner M, Masood H, Stewart CM, Weatherly R, Cummings CW, Bhatti NI (2010) Learning curve for competency in flexible laryngoscopy. Laryngoscope 120(10):1950–1953

9.

Brook CD, Platt MP, Russell K, Grillone GA, Aliphas A, Nooddzij JP (2015) Time to competency, reliability of flexible transnasal laryngoscopy by training level: a pilot study. Otolaryngol Head Neck Surg 152(5):843–850

10.

Russell KA, Brook CD, Platt MP, Grillone GA, Aliphas A, Noordzij JP (2017) The benefits and limitations of target training in flexible transnasal laryngoscopy diagnosis. JAMA Otolaryngol Head Neck Surg 143(7):707–711

11.

Ahmed N, McVicar IH, Mitchell DA (2019) Simulation-based training in maxillofacial surgery: are we going to be left behind? Br J Oral Maxillofac Surg 57:67–71
Ethics declarations
Conflict of interest
The authors declare that they have no conflict of interest.
Additional information
Publisher's Note
Springer Nature remains neutral with regard to jurisdictional claims in published maps and institutional affiliations.
About this article
Cite this article
McGoldrick, D.M., Walton, G. UK Oral and Maxillofacial Surgery Trainee Perceptions of Flexible Nasal Endoscopy. J. Maxillofac. Oral Surg. 20, 90–94 (2021). https://doi.org/10.1007/s12663-019-01311-z
Received:

Accepted:

Published:

Issue Date:
Keywords
Training

Flexible nasal endoscopy

Oncology