Abstract
Purpose
To evaluate transdermal diclofenac in terms of analgesic efficacy, safety, compliance and cost-effectiveness and to compare it with oral tablets and intramuscular (IM) injections following surgical removal of impacted mandibular third molars.
Subjects and Methods
A prospective, single-centre, multi-arm parallel, randomized study on subjects undergoing extraction of impacted mandibular third molars was conducted between January 2016 and December 2017. The study included 90 participants, 30 in each group. Participants received the standard once daily (OD) dosages of diclofenac in each group for three post-operative days and were advised to consume paracetamol 500 mg as rescue analgesics if the pain was not alleviated. Outcome measures such as demographics, duration of surgery, post-operative pain, the number of rescue analgesics taken, adverse drug reactions experienced and overall global assessment for three post-operative days were recorded by the participants on a questionnaire.
Results
Transdermal and oral forms achieved similar analgesia on all 3 days. Injectable diclofenac had significantly better pain control on the second and third post-operative days compared to tablets and on the third day compared to transdermal diclofenac. A higher number of rescue analgesics was consumed in oral group on day 1. Gastritis and vomiting were seen in 36.66% and 10% cases, respectively, in oral group. 100% of those in IM group had pain on injection. 6.6% complained of dry skin due to patch, while 3.33% had rash and pruritus. Transdermal group had better overall global assessment by patients with 16.67%, 46.67% and 20% participants reporting excellent, very good and good pain control, respectively. The cost in INR was maximum for the transdermal group.
Conclusion
Transdermal diclofenac is an excellent alternative to oral and parenteral routes of drug administration in oral surgical procedures with adequate analgesic efficacy, good compliance and fewer side effects.
Access options
Buy single article
Instant access to the full article PDF.
US$ 39.95
Tax calculation will be finalised during checkout.
Subscribe to journal
Immediate online access to all issues from 2019. Subscription will auto renew annually.
US$ 79
Tax calculation will be finalised during checkout.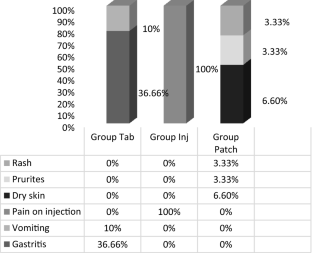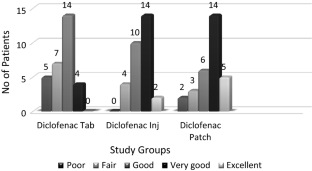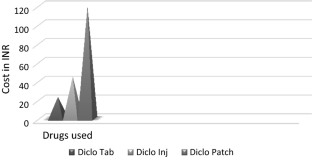 References
1.

Willis JV, Kendall MJ, Finn RM, Thornhill DP, Welling PG (1979) The pharmacokinetics of diclofenac sodium following intravenous and oral administration. Eur J Pharmacol 16:405–410

2.

Keith AD (1983) Polymer matrix consideration for transdermal devices. Drug Dev Ind Pharm 9:605–621

3.

Predel HG, Koll R, Pabst H, Dieter R, Gallacchi G, Giannetti B, Bulitta M, Heidecker JL, Mueller EA (2004) Diclofenac patch for topical treatment of acute impact injuries: a randomised, double-blind, placebo-controlled, multicentre study. Br J Sports Med 38:318–323

4.

Galer BS, Rowbotham M, Perander J, Devers A, Friedman E (2000) Topical diclofenac patch relieves minor sports injury pain: results of a multicenter controlled clinical trial. J Pain Symptom Manage 19:287–294

5.

Alessandri F, Lijoi D, Mistrangelo E, Nicoletti A, Crosa M, Ragni N (2006) Topical diclofenac patch for postoperative wound pain in laparoscopic gynecologic surgery: a randomized study. J Minim Invasive Gynecol 13:195–200

6.

Hawker GA, Mian S, Kendzerska T, French M (2011) Measures of adult pain. Arthritis Care Res 63:240–252

7.

Cooper SA (1983) Models for clinical assessment of oral analgesics. Am J Med Novemb 14:24–29

8.

Vaile JH, Davis P (1998) Topical NSAIDs for musculoskeletal conditions. A Rev Lit Drugs 56:783–799

9.

Scheindlin S (2004) Transdermal drug delivery: past, present, future. Mol Interv 4:308–312

10.

Arora P, Mukherjee B (2002) Design, development, physicochemical, and in vitro and in vivo evaluation of transdermal patches containing diclofenac diethylammonium salt. J Pharm Sci 91:2076–2089

11.

Perepa A, Sinha R, Uppada UK, Kumar AVSSS (2016) Diclofenac transdermal patch: a potential ingress to maxillofacial surgery. J Maxillofac Oral Surg. https://doi.org/10.1007/s12663-016-0941-3

12.

Krishnan S, Sharma P, Sharma R, Kumar S, Verma M, Chaudhary Z (2013) Transdermal diclofenac patches for control of post-extraction pain. Pilot randomized controlled double-blind study. Oral Maxillofac Surg. https://doi.org/10.1007/s10006-013-0422-5

13.

Bachalli PS, Nandakumar H, Srinath N (2009) A comparative study of diclofenac transdermal patch against oral diclofenac for pain control following removal of mandibular impacted third molars. J Maxillofac Oral Surg 8:167–172

14.

Selvi UPG, Kamatchi D, Babu C, Keerthana S, Jeeva SVL (2016) Comparison of transdermal diclofenac patch with intramuscular diclofenac injection as an analgesic modality following surgical extraction of impacted mandibular third molars: a cross over efficacy trail. Int J Sci Study 4:117–123

15.

Bhaskar H, Pranav Kapoor R (2010) Comparison of transdermal diclofenac patch with oral diclofenac as an analgesic modality following multiple premolar extractions in orthodontic patients: a cross over efficacy trial. Contemp Clin Dent 1:158–163

16.

Krishna R, Nataraj MS (2012) Efficacy of a single dose of a transdermal diclofenac patch as pre-emptive postoperative analgesia: a comparison with intramuscular diclofenac. South Afr J Anaesth Analg 18:194–197

17.

Hsieh LF, Hong CZ, Chern SH, Chen CC (2010) Efficacy and side effects of diclofenac patch in treatment of patients with myofascial pain syndrome of the upper trapezius. J Pain Symptom Manage 39:116–125
Ethics declarations
Conflicts of interest
The authors declare that they have no conflict of interest.
Additional information
Publisher's Note
Springer Nature remains neutral with regard to jurisdictional claims in published maps and institutional affiliations.
About this article
Cite this article
Samal, D., Mishra, N., Meher, B. et al. Comparison of Safety, Efficacy, Patient Compliance and Cost-Effectiveness of Transdermal, Oral and Intramuscular Diclofenac for Pain Control Following Oral Surgical Procedures. J. Maxillofac. Oral Surg. 20, 63–69 (2021). https://doi.org/10.1007/s12663-019-01260-7
Received:

Accepted:

Published:

Issue Date:
Keywords
Transdermal

Oral

Injectable diclofenac

Oral surgery