Abstract
Introduction
Perforator dissection can be technically demanding with a steep learning curve. Inadvertent perforator damage during dissection can be minimized with practice and familiarity with tissue-handling techniques unique to perforator dissection. There currently lacks a simulation model that mimics the human perforator in size and course. We present a porcine training model with five consistent perforator flaps per side that can be readily harvested and is a reproducible simulation model.
Materials and Methods
Five fresh cadaveric pigs were used in this study to evaluate the feasibility and location of the perforators. Ten perforators were dissected out in each pig (five per side) by the same surgeon. The length of perforator was measured and intramuscular route was noted. The ease of dissection was graded, and its similarity to actual surgery was graded as well.
Results
Five consistent perforators were identified across each side of five fresh cadaveric pigs. The perforators were located, namely in the neck, anterior flank, posterior flank, rectus and hindlimb. They were fasciocutaneous and had an intramuscular course of each (average 2.5 cm length). The perforators were found to be on each side of the pig, giving ten perforators for dissection practice in total.
Discussion
The five perforators named in this porcine model are easily replicated and can be performed for perforator dissection simulation and practice.
This is a preview of subscription content, log in to check access.
Access options
Buy single article
Instant access to the full article PDF.
US$ 39.95
Price includes VAT for USA
Subscribe to journal
Immediate online access to all issues from 2019. Subscription will auto renew annually.
US$ 99
This is the net price. Taxes to be calculated in checkout.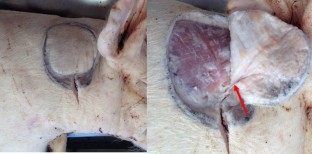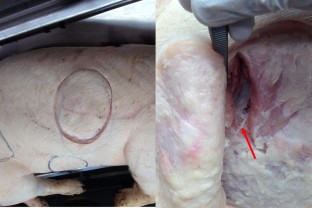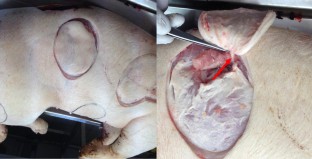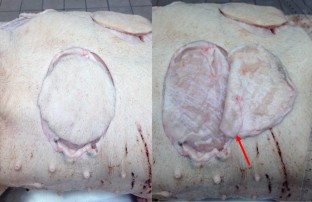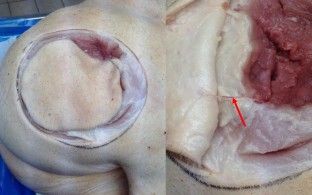 References
1.

de Blacam C, Tierney S, Shelley O (2017) Experience of plastic surgery registrars in a European Working Time Directive compliant rota. J Plast Surg Hand Surg. 51(4):264–269

2.

Loh CY, Tiong VT, Loh AY, Athanassopoulos T (2014) Microsurgery training: a home do-it-yourself model. Microsurgery 34(5):417–418

3.

Dumestre D, Yeung JK, Temple-Oberle C (2014) Evidence-based microsurgical skill-acquisition series part 1: validated microsurgical models—a systematic review. J Surg Educ 71(3):329–338

4.

Loh CY, Tiong VT, Loh AY, Athanassopoulos T (2014) Microsurgery training: a home do-it-yourself model. Microsurgery 34(5):417–418

5.

Athanassopoulos T, Loh CY (2015) The chicken foot digital replant training model. Hand Surg 20(1):199–200

6.

Loh CY, Gunn E, Pennell DJ, Athanassopoulos T (2014) Pinnaplasty: a porcine training model. J Plast Reconstr Aesthet Surg 67(6):868–869

7.

Hong JW, Kim YS, Lee WJ, Hong HJ, Roh TS, Song SY (2010) Evaluation of the efficacy of microsurgical practice through time factor added protocol: microsurgical training using nonvital material. J Craniofac Surg 21(3):876–881

8.

Stefanidis D, Yonce TC, Green JM, Coker AP (2013) Cadavers versus pigs: which are better for procedural training of surgery residents outside the OR? Surgery 154(1):34–37

9.

Tan SS, Sarker SK (2011) Simulation in surgery: a review. Scott Med J 56:104–109

10.

Loh CYY, Wang AYL, Tiong VTY, Athanassopoulos T, Loh M, Lim P, Kao HK (2018) Animal models in plastic and reconstructive surgery simulation-a review. J Surg Res 221:232–245
Ethics declarations
Conflict of interest
The authors have declared that no conflict of interest exists.
Additional information
Publisher's Note
Springer Nature remains neutral with regard to jurisdictional claims in published maps and institutional affiliations.
About this article
Cite this article
Oezdogan, Y., Loh, C.Y.Y., Prochnow, N. et al. Perforator Dissection Simulation: A High-Fidelity Five-Flap Porcine Training Model. J. Maxillofac. Oral Surg. 19, 151–156 (2020). https://doi.org/10.1007/s12663-019-01220-1
Received:

Accepted:

Published:

Issue Date:
Keywords
Flap surgery

Porcine perforator flap dissection

Pig model

Plastic surgery

Flap

Surgical simulation