Abstract
In the last few years, the mixture of nuclear medicine and the reverse engineering method has confirmed to be an identical key development in the medical field. In contrast, the traditional method has some downsides. For instance, some difficulty presence in matching the well suitable due to the change of patient's oral state and it takes more attention to meet reliability and comfort. So, the patient-specific prosthesis is required. An additional crucial problem of the patient-specific dental prosthesis is a fabrication method. The prosthesis in dental application is hard to fabricate owing to the multifaceted structures and base material. By the way of ever-growing demands for accuracy, complexity and skin-tight tolerance, traditional methods have turn into unsuccessful for machining them. This paper introduces a methodology for the computer-aided design and additive layer manufacturing of the patient-specific dental implant body for the rehabilitation of teeth. A 3Dimensional model of the dental imperfection is created while the acquirement of helical computed tomography scanning data. Then simulation is made over through software Carestream Dental. Finally, the implant is fixed into the patient's tooth and the healing phase goes up to 3–6 months depending upon the patient. Then the crown is being fitted. During the healing phase to check the implant's primary stability, implant stability quotient is checked. The values must be greater than or equal to 50 to attain primary stability. The medical practice exhibited that digital manufacturing and back-engineering software are outstanding mixtures of traits for dental devices designed to withstand tremendous masticatory forces and offer much more flexibility with the customized implant.
Access options
Buy single article
Instant access to the full article PDF.
US$ 39.95
Tax calculation will be finalised during checkout.
Subscribe to journal
Immediate online access to all issues from 2019. Subscription will auto renew annually.
US$ 79
Tax calculation will be finalised during checkout.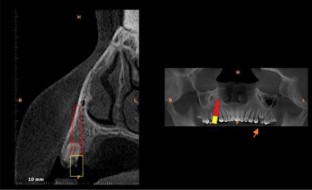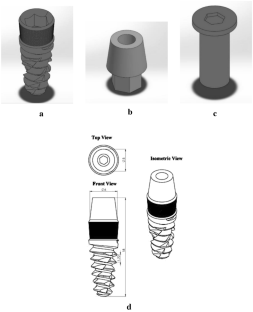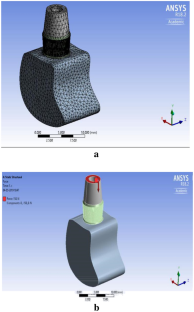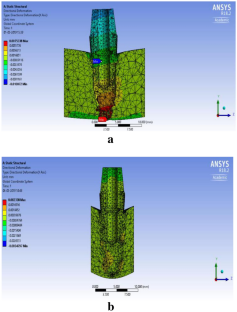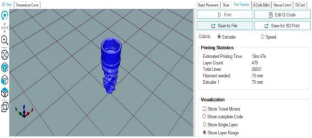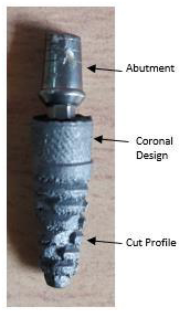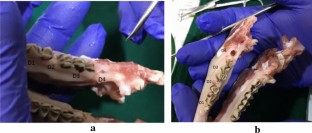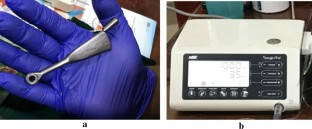 References
Alghazzawi TF, Lemons J, Liu PR, Essig ME, Bartolucci AA, Janowski GM (2012) Influence of low temperature environmental exposure on the mechanical properties and structural stability of dental zirconia. J Prosthodont 21:363–369

Ananth H, Kundapur V, Mohammed HS, Anand M, Amarnath GS, Mankar S (2015) A review on biomaterials in dental implantology. Int J Biomed Sci 11(3):113–120

Anitua E, Tapia R, Luzuriaga F, Orive G (2010) Influence of implant length, diameter, and geometry on stress distribution: a finite element analysis. Int J Periodontics Restor Dent 30:89–95

Attar H, Calin M, Zhang LC, Scudino S, Eckert J (2014) Manufacture by elective laser melting and mechanical behaviour of commercially pure titanium. Mater Sci Eng A 593:170–177

Balaji BS, Balakrishnan S, Venkatachalam K, Jeyakrishnan V (2020) Automated query classification based web service similarity technique using machine learning. J Ambient Intell Human Comput. https://doi.org/10.1007/s12652-020-02186-6

Basha AJ, Balaji BS, Poornima S, Prathilothamai M, Venkatachalam K (2020) Support vector machine and simple recurrent network based automatic sleep stage classification of fuzzy kernel. J Ambient Intell Human Comput. https://doi.org/10.1007/s12652-020-02188-4

Berner S, Dard M, Gottlow J, Molenberg A, Wieland M (2009) Titanium zirconium: a novel material for dental implants. Eur Cells Mater 17(16):189–205

Chen X, Xie L, Chen J, Du R, Deng F (2012) Design and fabrication of custom-made dental implants. J Mech Sci Technol 26(7):1993–1998

Cheng YY, Cheung WL, Chow TW (2010) Strain analysis of maxillary complete denture with three dimensional finite element method. J Prosthet Dent 103:309–318

Chou H-Y, Jagodnik JJ, Müftü S (2008) Predictions of bone remodeling around dental implant systems. J Biomech 41:1365–1373

Eraslan O, Inan O (2010) The effect of thread design on stress distribution in a solid screw implant: a 3D finite element analysis. Clin Oral Investig 14:411–416

Figliuzzi M, Mangano F, Mangano C (2012) A novel root analogue dental implant using CT scan and CAD/CAM: selective laser melting technology. Int J Oral Maxillofac Surg 41:858–862

Gallas MM, Abeleira MT, Fernandez JR, Burguera M (2005) Three-dimensional numerical simulation of dental implants as orthodontic anchorage. Eur J Orthod 27:12–16

Ghuneim WA (2013) In situ tooth replica custom implant: a 3D finite element stress and strain analysis. J Oral Implantol 39:559–573

Hansson S, Werke M (2003) The implant thread as a retention element in cortical bone: the effect of thread size and thread profile: a Finite element study. J Biomech 36:1247–1258

Hopkinson N, Dickens P (1996) Analysis of rapid manufacturing-using layer for manufacturing processes production. Proc IMechE Part B J Eng Manuf 217:31–39

Kong L, Sun Y, Hu K, Li D, Hou R, Yang J, Liu BB (2008) Bivariate evaluation of cylinder implant diameter and length: a three-dimensional finite element analysis. J Prosthodont 17:286–293

Las Casas EB, Ferreira PC, Cimini CA, Toledo EM, Barra LP, Cruz M (2008) Comparative 3D finite element stress analysis of straight and angled wedge-shaped implant designs. Int J Oral Maxillofac Implants 23:215–225

Lee J, Frias V, Lee K, Wright RF (2004) Effect of implant size and shape on implant success rates: a literature review. J Prosthet Dent 4(4):377–381

Mangano FG, Cirotti B, Sammons RL, Mangano C (2012) Custom-made, root-analogue direct laser metal forming implant: a case report. Lasers Med Sci 27:1241–1245

Martinez H, Davarpanah M, Missika P, Celletti R, Lazzara R (2001) Optimal implant stabilization in low density bone. Clin Oral Implants Res 12:423–432

Miyamoto I, Tsuboi Y, Wada E, Suwa H, Iizuka T (2005) Influence of cortical bone thickness and implant length on implant stability at the time of surgery—clinical, prospective. Biomech Imaging Study 37:776–780

Ochi S, Morris H, Winkler S (1994) The influence of implant type, material, coating, diameter, and length on Periotest values at second-stage surgery. DICRG interim report No. 4. Dental Implant Clinical Research Group. Implant Dent 3:159–162

Osman RB, Swain MV (2015) A critical review of dental implant materials with an emphasis on titanium versus zirconia. Materials 8:932–958

Sagomonyants KB, Jarman-Smith ML, Devine JN, Aronow MS, Gronowic GA (2007) The in vitro response of human osteoblasts to polyetheretherketone (PEEK) substrates compared to commercially pure titanium. Biomaterials 24:3115–3123

Shaw MC (2004) Metal cutting principle. Oxford series on advanced manufacturing, US

Silva NR, Witek L, Coelho PG, Thompson VP, Rekow ED, Smay J (2011) Additive CAD/CAM process for dental prostheses. J Prosthodont 20:93–96

Tada S, Stegaroiu R, Kitamura E, Miyakawa O, Kusakari H (2003) Influence of implant design and bone quality on stress/strain distribution in bone around implants: a 3-dimensional finite element analysis. Int J Oral Maxillofac Implants 18:357–368

Tunchel S, Blay A, Kolerman R, Mijiritsky E, Shibli JA (2016) 3D printing/additive manufacturing single titanium dental implants: a prospective multicenter study with 3 years of follow-up. Int J Dent 2016:1–9

Turkyilmaz I (2005) Influence of bone density on implant stability parameters and implant success: a retrospective clinical study. BMC Oral Health 8(32):1–8

Venkatachalam K, Devipriya A, Maniraj J, Sivaram M, Ambikapathy A, Amiri IS (2020) A novel method of motor imagery classification using EEG signal. J Artif Intell Med 103:101787

Wang L, Sadler P, Breeding LC, Dixon DL (2007) An in vitro study of Implant-tooth supported connections using a Robot test system. J Biomech Eng 121(3):290–297

Yasoda K, Ponmagal RS, Bhuvaneshwari KS, Venkatachalam K (2020) Automatic detection and classification of EEG artifacts using fuzzy kernel SVM and wavelet ICA (WICA). Soft Comput. https://doi.org/10.1007/s00500-020-04920-w

Yoon Y, Sun X, Huang JK, Hou G, Rechowicz K, McKenzie FD (2013) Designing natural-tooth-shaped dental implants based on soft-kill option optimization. Comput Aided Des Appl 10:59–72

Zhou L (2009) Progress of dental implantology. West China J Stomatol 27(1):8–12

Zhuang HB, Pan MC (2010) Irregular bone defect detection and device on dental Implants. J Medi Dev 4(2):27521
Additional information
Publisher's Note
Springer Nature remains neutral with regard to jurisdictional claims in published maps and institutional affiliations.
About this article
Cite this article
Balamurugan, P., Selvakumar, N. Development of patient specific dental implant using 3D printing. J Ambient Intell Human Comput (2021). https://doi.org/10.1007/s12652-020-02758-6
Received:

Accepted:

Published:
Keywords
Dental implant

Custom-made

FEA

3D printing

ISQ