Abstract
Numerical modeling plays an important role in the prediction of received signal strength inside the human body, in case of on-body to in-body radio wave propagation in a body area network (BAN). Since the structure of a human body is heterogeneous in nature, the Fresnel scattering coefficients could not be used to incorporate the attenuation properties of the multilayer tissue structure of the human body. This paper proposes the use of ABCD matrix method, which has been used in the analysis of multilayer dielectric slab structure, to determine the attenuation of the electro magnetic (EM) signal due to various in-body structures. In addition, variation of reflection and transmission coefficients of a four-layer body tissue structure with respect to the incident angle is presented and recommends suitable operating frequency in ultra-wide band (UWB) for BAN applications. The authors conducted measurements in body mimicking liquid phantom in UWB and included in support of their research outcome.
This is a preview of subscription content, log in to check access.
Access options
Buy single article
Instant access to the full article PDF.
US$ 39.95
Price includes VAT for USA
Subscribe to journal
Immediate online access to all issues from 2019. Subscription will auto renew annually.
US$ 99
This is the net price. Taxes to be calculated in checkout.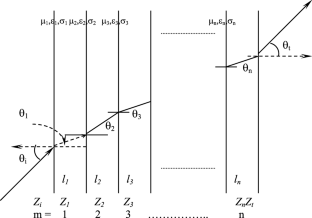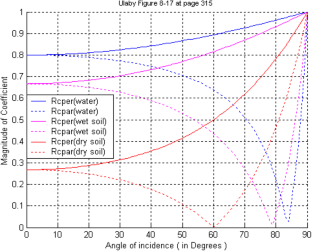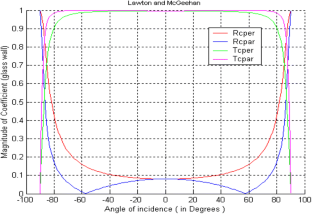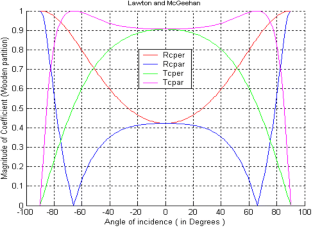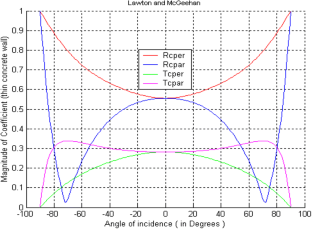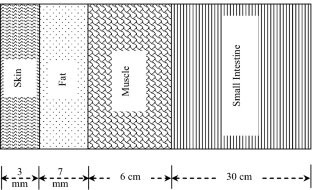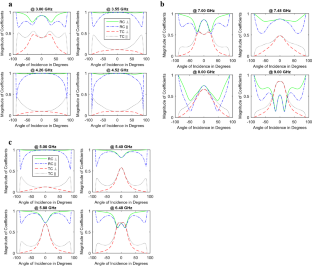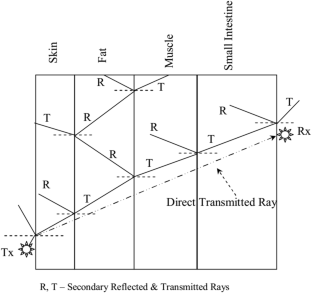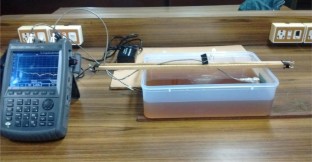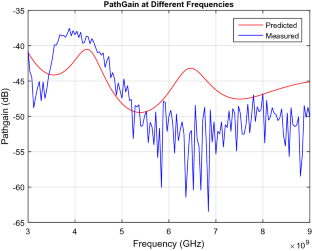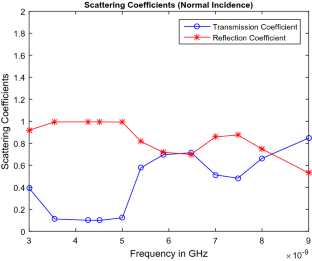 References
Brumm JC, Bauch G (2017) On the shadowing distribution for ultra wideband in-body communication path loss modelling. In: 2017 IEEE International Symposium on antennas and propagation and USNC/URSI National Radio Science Meeting, San Diego, CA, pp 805–806

Chavez-Santiago R, Balasingham I (2014) Ultrawideband signals in medicine [life sciences]. IEEE Signal Process Mag 31(6):130–136

Cho HS, Park YJ (2018) Novel design for heart rate detection using UWB impulse radar on Android platform. IEEJ Trans Electr Electron Eng 13(5):799–800

Degli-Esposti V, Fuschini F, Vitucci EM, Barbiroli M, Zoli M, Tian Li, Yin X, Dupleich DA, Müller R, Schneider C, Thomä RS (2014) Ray-tracing-based MM-wave beamforming assessment. IEEE Access 2:1314–1325

Floor PA, RaulChavez-Santiago SB, ØyvindAardal JB, Grymyr O-J, Halvorsen PS, Palomar R, Plettemeier D, Hamran S-E, Ramstad TA, Balasingham I (2015) In-body to on-body ultrawideband propagation model derived from measurements in living animals. IEEE J Biomed Health Inform 19(3):938–948

Garcia-Pardo C, Fornes-Leal A, Cardona N, Chávez-Santiago R, Bergsland J, Balasingham I, Brovoll S, Aardal O, Hamran S.-E., Palomar R (2016) Experimental Ultra Wideband Path Loss Models for Implant Communications. In: IEEE 27th Annual international symposium on personal, indoor, and mobile radio communications (PIMRC), Valencia, 1–6

Ghasemi A, Abedi A, Ghasemi F (2016) Propagation engineering in wireless communications, 2nd edn. Springer, New York

Ishimaru A (2017) Electromagnetic Wave propagation, radiation, and scattering: from fundamentals to applications. In: IEEE Press series on electromagnetic wave theory

Kumar K, Paul A, Chen JI (2020) Special issue on "Wearable computing techniques for smart health". J Ambient Intell Human Comput. https://doi.org/10.1007/s12652-020-01786-6

Leelatien P, Ito K, Saito K, Sharma M, Alomainy A (2018) Channel characteristics and wireless telemetry performance of transplanted organ monitoring system using ultrawideband communication. IEEE J Electromagn RF Microw Med Biol 2(2):94–101

Li X, Zhou G, Yang Q, Zhu X, Ren G, Liu L (2020a) Preparation and performance of electromagnetic wave absorbing foamed ceramics with high closed porosity and gradient SiC distribution. Ceram Int 46(2):2294–2299

Li Y, Yang L, Gao M, Zhao X, Zhang X (2020b) A study of a one-turn circular patch antenna array and the influence of the human body on the characteristics of the antenna. Ad Hoc Netw 99:102059

Liu ZY, Guo LX, Fan TQ (2013) Microcellular propagation prediction model based on an improved ray tracing algorithm. J Opt Soc Am A 30(11):2372–2380

Maskooki A, Soh CB, Gunawan E, Low KS (2013) Ultra-wideband real-time dynamic channel characterization and system-level modeling for radio links in body area networks. IEEE Trans Microw Theory Tech 61(8):2995–3004

Peddie J (2019) Ray-tracing programs and plug-ins. Ray tracing: a tool for all. Springer, Cham, pp 181–330

Pongphan Leelatien K, Ito K, Saito MS, Alomainy A (2018) Channel characteristics and wireless telemetry performance of transplanted organ monitoring system using ultra-wideband communication. IEEE J Electromagn RF Microw Med Biol. https://doi.org/10.1109/JERM.2018.2827779

Pramanik PKD, Nayyar A, Pareek G (2019) WBAN: driving e-healthcare beyond telemedicine to remote health monitoring: architecture and protocols. Telemedicine Technologies. Academic Press, Amsterdam, pp 89–119

Priya A, Kaja Mohideen S, Thirumaraiselvan P (2018) Propagation losses of UWB antenna for on-body to in-body signal propagation. Prog Electromagnet Res 73:101–109

Qamar HH, Farahat AE, Hussein KFA, El Mashade MB (2020) Assessment of scattering of plane waves on optically illuminated area of rough surface. Prog Electromagn Res 86:77–102

Rana SP, Dey M, Brown R, Siddiqui HU, Dudley S (2018) Remote vital sign recognition through machine learning augmented UWB. In: 12th European Conference on Antennas and Propagation (EuCAP 2018), IET

Rappaport TS (2010) Wireless communications principles and practice. Prentice Hall, New Jersey

Rappaport TS, Mac-Cartney GR, Samimi MK, Sun S (2015) Wideband millimeter-wave propagation measurements and channel models for future wireless communication system design. IEEE Trans Commun 63(9):3029–3056

Shavit R (2018) Radome electromagnetic theory and design. Wiley, New York

Teh C, Chung B, Lim E (2018) An accurate and efficient 3-D shooting-and- bouncing-polygon ray tracer for radio propagation modeling. IEEE Trans Antennas Propag 66(12):7244–7254

Thirumaraiselvan P, Jayashri S (2018) Numerical modelling of ultra wide band signal propagation in human abdominal region. Int J Biomed Eng Technol (IJBET) 27(1/2):17–32

Thirumaraiselvan P, Sakthidasan K, Geo VB, Prakash VR, Vasudevan N (2019) A statistical lower UWB channel model for in body communications. Mob Netw Appl 24(6):1814–1820

Thirumaraiselvan P, Jayashri S (2016) Modeling of Wi-Fi signal propagation under tree canopy in a college campus. In: Proceedings of International IEEE Conference on Communication and Signal processing (ICCSP'16), India, pp 2273–2277

Ulaby FT, Ravaioli U, Michielssen E (2015) Fundamentals of applied electromagnetics. Global Edition, Pearson

Volakis J (2018) Antenna engineering handbook, 5th edn. McGraw Hill Professional, New York

Westaby D, Lombard M (eds) (2019) Therapeutic gastrointestinal endoscopy. CRC Press, Boca Raton

Yun Z, Iskander MF (2015) Ray tracing for radio propagation modeling: principles and applications. IEEE Access 3:1089–1100

Zehforoosh Y (2019) Evaluation of a mushroom shape CPW-fed antenna with triple band-notched characteristics for UWB applications based on multiple attribute decision making. Analog Integr Circuits Signal Process 98(2):385–393. https://doi.org/10.1007/s10470-018-1292-4

Zhai D, Zhang F, Wei C, Bai Y, Zhu L, Li G, Peng J (2020) Dielectric properties and electromagnetic wave transmission performance of polycrystalline mullite fiberboard at 245 GHz. Ceram Int 46(6):7362–7373
Additional information
Publisher's Note
Springer Nature remains neutral with regard to jurisdictional claims in published maps and institutional affiliations.
About this article
Cite this article
Subramanian, S., Packirisamy, T., Mahalingam, M. et al. Scattering coefficients and pathgain of a multilayer tissue structure using ABCD matrix method. J Ambient Intell Human Comput (2020). https://doi.org/10.1007/s12652-020-02244-z
Received:

Accepted:

Published:
Keywords
Body area network

Multilayer structure

ABCD matrix

Scattering coefficients

Path loss