Abstract
A three phase Vienna rectifier topology is proposed with a modified inductor and control models. The presented switched inductor structure works during the active switch turn on and turned off condition. So, voltage gain of the converter will be improved and the stress across the active switch due to voltage will be reduced. Here, (PSO) Particle Swarm Optimization algorithm-based control model is utilized to optimize the gain parameters of bidirectional active switch with required switching frequency. By using the capacitor voltage and the switched inductor current for gain adjustment through the light load and full load condition. So, the proposed topology reduces the (THD) Total Harmonic Distortion present in the inductor current and improves the power factor at both the continuous and the discontinuous conduction mode. The proposed circuit is applied using MATLAB/simulink and analyzed by comparing with feed forward compensation method and implemented in hardware using Field Programmable Gate Array (FPGA).
This is a preview of subscription content, log in to check access.
Access options
Buy single article
Instant access to the full article PDF.
US$ 39.95
Price includes VAT for USA
Subscribe to journal
Immediate online access to all issues from 2019. Subscription will auto renew annually.
US$ 99
This is the net price. Taxes to be calculated in checkout.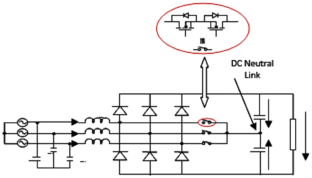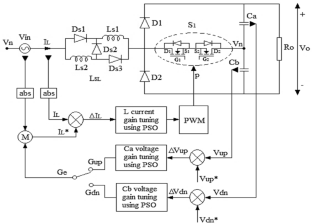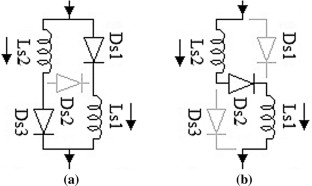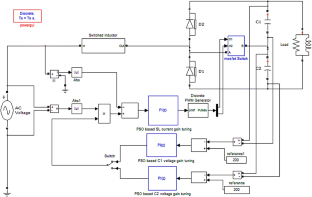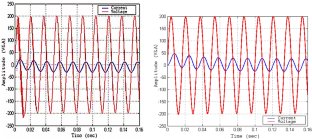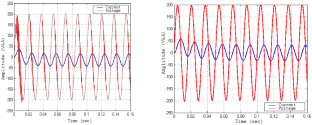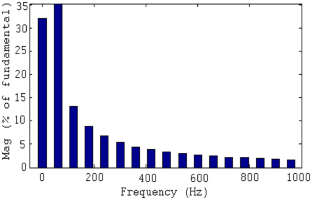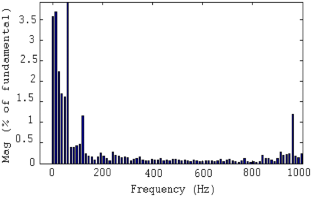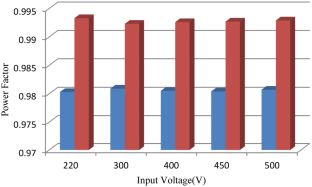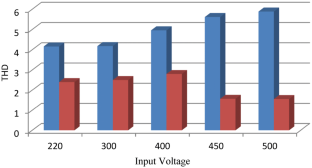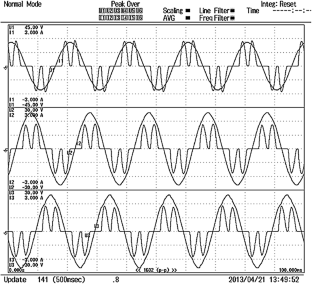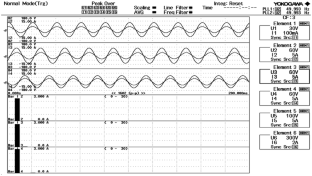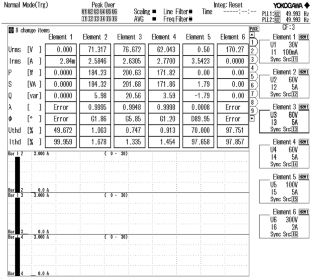 References
Adhikari Jeevan, Prasanna IV, Panda Sanjib Kumar (2017) Reduction of input current harmonic distortions and balancing of output voltages of the vienna rectifier under supply voltage disturbances. IEEE Trans Power Electron 32(7):5802–5812

Brindha R, Ganapathy V (2014) Design and implementation of FPGA based fuzzy controller for VIENNA Rectifier. Int Rev Modell Simulat 7(3):387–393

Brindha R, Ganapathy V (2015) Analysis and implementation of improved performance of triplen harmonic injection for vienna rectifier. Int J Control Autom 8(10):273–286

Chen Hao, David N, Aliprantis DC (2013) analysis of permanent-magnet synchronous generator with vienna rectifier for wind energy conversion system. IEEE Trans Sustain Energy 4(1):154–163

Ding Wenlong, Qiu Han, Duan Bin, Xing Xiangyang, Cui Naxin, Zhang Chenghui (2019a) A novel segmented component injection scheme to minimize the oscillation of DC-link voltage under balanced and unbalanced conditions for vienna rectifier. IEEE Trans Power Electron 34(10):9536–9551

Ding Wenlong, Zhang Chenghui, Gao Feng, Duan Bin, Qiu Han (2019b) A zero-sequence component injection modulation method with compensation for current harmonic mitigation of a vienna rectifier. IEEE Trans Power Electron 34(1):801–814

Ghassan EM, Kanaan HY and Al-Haddad K (2010) H∞ Robust control applied to the three-phase/switch/level (VIENNA) rectifier". 36th Annual Conference on IEEE Industrial Electronics Society, pp. 2049–2054

Govindaraj T, Nithyadevi V (2012) Analysis of vienna rectifier for DC drive. Int J Adv Innov Res 7844:489–496

Hang Lijun, Zhang Ming, Tolbert Leon M, Zhengyu Lu (2013) Digitized feedforward compensation method for high-power-density three-phase Vienna PFC converter. IEEE Trans Ind Electron 60(4):1512–1519

Hang L, Li B, Zhang M, Wang Y, Tolbert LM (2014) Equivalence of SVM and carrier-based PWM in three-phase/wire/level vienna rectifier and capability of unbalanced-load control. IEEE Trans Ind Electron 61(1):20–28

Izadinia Ali Reza, Karshenas Hamid Reza (2018) Current shaping in a hybrid 12-pulse rectifier using a Vienna rectifier. IEEE Trans Power Electron 33(2):1135–1142

Lai Rixin, Wang Fei, Burgos Rolando, Boroyevich Dushan, Jiang Dong, Zhang Di (2009) Average modeling and control design for VIENNA-type rectifiers considering the DC-link voltage balance. IEEE Trans Power Electron 24(11):2509–2522

Lee June-Seok, Lee Kyo-Beum (2017) Predictive control of vienna rectifiers for PMSG systems. IEEE Trans Ind Electron 64(4):2580–2591

Lee June-Seok, Lee Kyo-Beum, Blaabjerg Frede (2019) Predictive control with discrete space-vector modulation of vienna rectifier for driving PMSG of wind turbine systems. IEEE Trans Power Electron 34(12):12368–12383

Liu Bo, Ren Ren, Jones Edward A, Wang Fred, Costinett Daniel, Zhang Zheyu (2018) A modulation compensation scheme to reduce input current distortion in GaN-based high switching frequency three-phase three-level vienna-type-rectifiers. IEEE Trans Power Electron 33(1):283–298

Ming Zhang, Bin Li, Lijun Hang, Leon M Tolbert and Zhengyu Lu, "Performance Study for High Power Density Three-Phase Vienna PFC Rectifier by Using SVPWM Control Method", 20th Annual IEEE Applied Power Electronics Conference and Exposition, pp.1187 - 1191, 2012

Mukherjee Debranjan, Kastha Debaprasad (2019) Voltage sensorless control of VIENNA rectifier in the input current oriented reference frame. IEEE Trans Power Electron 34(8):8079–8091

Reddy Anantha Baddam, Tulasi Ram Das G (2011) High quality rectifiers with reduced THD for enhanced mains power quality-vienna with synchronous logic. ARPN J Eng Appl Sci 6(7):97–109

Reyes M, Rodriguez P, Vazquez S, Luna A, Teodorescu R, Carrasco JM (2012) Enhanced decoupled double synchronous reference frame current controller for unbalanced grid-voltage conditions. IEEE Trans Power Electron 27(9):3934–3943

Sharma Bhupender, Sehgal Shivani, Nain Ajay (2013) Particle swarm optimization and genetic algorithm based optimal power flow solutions. Int J Appl Innov Eng Manag 2(7):307–315

Soeiro TB, Kolar JW (2013) Analysis of high-efficiency three-phase two- and three-level unidirectional hybrid rectifiers. IEEE Trans Ind Electron 60(9):3589–3601

Vimala D, Vani E (2012) A Novel of VIENNA Rectifier for Wind Power Generation with Induction Machines. International Journal of Communications and Engineering 03(3):9–16

Xianjin Z and Caihong F (2012) Research on 3-phase 4-Wire VIENNA rectifier based on one cycle control. Fifth International Conference on Intelligent Computation Technology and Automation, pp. 280–282

Zhang Ming, Hang Lijun, Yao Wenxi, Zhengyu Lu, Tolbert LM (2013) A novel strategy for three-phase/switch/level (Vienna) rectifier under severe unbalanced grids. IEEE Trans Ind Electron 60(10):4243–4252

Zhu Wenjie, Chen Changsong, Duan ShanXu, Wang Tao, Liu Peng (2019a) A carrier-based discontinuous PWM method with varying clamped area for vienna rectifier. IEEE Trans Ind Electron 66(9):7177–7188

Zhu Wenjie, Chen Changsong, Duan Shanxu (2019b) Rectifier. Electronics 12(8):3854–3864
Additional information
Publisher's Note
Springer Nature remains neutral with regard to jurisdictional claims in published maps and institutional affiliations.
About this article
Cite this article
Brindha, R., Christy, A.A., Elanthirayan, R. et al. A modified inductor and control models of three phase Vienna rectifier topology using particle swarm optimization algorithm. J Ambient Intell Human Comput (2020). https://doi.org/10.1007/s12652-020-02179-5
Received:

Accepted:

Published:
Keywords
Switched inductor

PSO

Proportional gain

Integral gain

Power factor

THD