Abstract
Children with autism spectrum disorder (ASD) are deficit in communication, social skills, empathy, emotional responsiveness and have significant behavioral pattern. They have difficulty in understanding other feelings and their own emotions. This leads to the sudden emotional outburst and aggressive behavior in these children. Parents, caretakers and doctors find it very difficult to prevent such extreme behaviors. Learning the positive and negative valence leads in determining the early indications before the onset of emotional outbursts in children with ASD. The present study measures the psycho physiological electrocardiogram (ECG) signal from the typically developed (TD) children and children with ASD in the age group of 5–11 years. Personalized protocol was developed for every child with ASD to induce positive and negative valence and ECG data was collected using wearable Shimmer ECG device. The heart rate variability (HRV) and the QRS amplitude were derived from ECG signal using Pan–Tompkins algorithm and eleven features were extracted using DWT (db2, db4 and db8) mother wavelet. The significant features of ECG, HRV and QRS amplitude were classified using the K nearest neighbor (KNN), support vector machine (SVM) and ensemble classifier. Ensemble and KNN classifier achieved maximum accuracy of 81% and 76.2% for children with ASD and Ensemble and SVM classifiers obtained maximum accuracy of 87.4% and 83.8% for TD children using HRV data.
Access options
Buy single article
Instant access to the full article PDF.
US$ 39.95
Tax calculation will be finalised during checkout.
Subscribe to journal
Immediate online access to all issues from 2019. Subscription will auto renew annually.
US$ 79
Tax calculation will be finalised during checkout.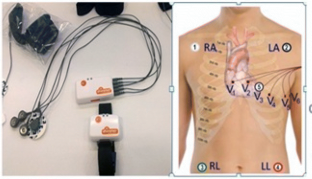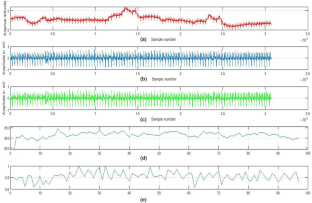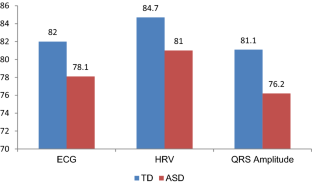 References
Agrafioti F, Hatzinakos D, Anderson AK (2012) ECG pattern analysis for emotion detection. IEEE Trans Affect Comput 3(1):102–115. https://doi.org/10.1109/T-AFFC.2011.28

Baron-cohen S, Leslie AM (1985) Does the autistic child have a "theory of mind"? Cognition 21:37–46

Becker H, Fleureau J, Guillotel P, Wendling F, Merlet I, Albera L, Member S (2017) Emotion recognition based on high-resolution EEG recordings and reconstructed brain sources. IEEE Trans Affect Comput. https://doi.org/10.1109/TAFFC.2017.2768030

Behzad M, Tinati MA (2005) ECG baseline wander elimination using wavelet packets. World Acad Sci Eng Technol 3(2):14–16 (ISSN: 2070-3724)

Cheng B, Liu G (2008) Emotion recognition from surface EMG signal using wavelet transform and neural network. In: IEEE 2nd international conference on bioinformatics and biomedical engineering, pp 1363–1366. https://doi.org/10.1109/ICBBE.2008.670

Dawson G, Webb SJ, Carver L, Panagiotides H, McPartland J (2004) Young children with autism show atypical brain responses to fearful versus neutral facial expressions of emotion. Dev Sci 7(3):340–359. https://doi.org/10.1111/j.1467-7687.2004.00352.x

Deschamps PKH, Coppes L, Kenemans JL, Schutter DJLG, Matthys W (2015) Electromyographic responses to emotional facial expressions in 6–7 year olds with autism spectrum disorders. J Autism Dev Disord 45(2):354–362. https://doi.org/10.1007/s10803-013-1890-z

Elsabbagh M, Divan G, Koh YJ, Kim YS, Kauchali S, Marcín C, Fombonne E (2012) Global prevalence of autism and other pervasive developmental disorders. Autism Res 5(3):160–179. https://doi.org/10.1002/aur.239

Goshvarpour A, Abbasi A, Goshvarpour A (2017) ScienceDirect: an accurate emotion recognition system using ECG and GSR signals and matching pursuit method. Biomed J 40(6):1–14. https://doi.org/10.1016/j.bj.2017.11.001

Imah EM, Al Afif F, Ivan Fanany M, Jatmiko W, Basaruddin T (2011) A comparative study on Daubechies wavelet transformation, kernel PCA and PCA as feature extractors for arrhythmia detection using SVM. In: IEEE region 10 annual international conference proceedings/TENCON, pp 5–9. https://doi.org/10.1109/TENCON.2011.6129052

Jerritta S, Murugappan M, Wan K, Yaacob S (2013) Emotion detection from QRS complex of ECG signals using Hurst exponent for different age groups. In: Proceedings-2013 humaine association conference on affective computing and intelligent interaction(ACII), pp 849–854. https://doi.org/10.1109/ACII.2013.159

Katsigiannis S, Ramzan N (2017) DREAMER: a database for emotion recognition through EEG and ECG signals from wireless. IEEE J Biomed Health Inform 22(1):98–106. https://doi.org/10.1109/JBHI.2017.2688239

Kessous L, Castellano G, Caridakis G (2010) Multimodal emotion recognition in speech-based interaction using facial expression, body gesture and acoustic analysis. J Multimodal User Interfaces 3(1):33–48. https://doi.org/10.1007/s12193-009-0025-5

Krishnamurthy V (2008) A clinical experience of autism in india. J Dev Behav Pediatr 29(4):331–333. https://doi.org/10.1097/DBP.0b013e3181829f1f

Krupa N, Anantharam K, Sanker M, Datta S, Sagar JV (2016) Recognition of emotions in autistic children using physiological signals. Health Technol 6(2):137–147. https://doi.org/10.1007/s12553-016-0129-3

Kushki A, Khan A, Brian J, Anagnostou E (2015) A Kalman filtering framework for physiological detection of anxiety-related arousal in children with autism spectrum disorder. IEEE Trans Biomed Eng 62(3):990–1000. https://doi.org/10.1109/TBME.2014.2377555

Kuusikko S, Haapsamo H, Jansson-Verkasalo E, Hurtig T, Mattila ML, Ebeling H, Moilanen I (2009) Emotion recognition in children and adolescents with autism spectrum disorders. J Autism Dev Disord 39(6):938–945. https://doi.org/10.1007/s10803-009-0700-0

Lee J, Jeong K (1996) A simple real-time QRS detection algorithm. In: Proceedings 18 th international conference IEEE engineering in medicine and biology society, vol 4, pp 1396–1398. https://doi.org/10.1109/IEMBS.1996.647473

Lin I, Yamada T, Komine Y, Kato N, Kato M (2015) Vocal identity recognition in autism spectrum disorder. PLoS One 10(6):1–10. https://doi.org/10.1371/journal.pone.0129451

Lord C, Cook EH, Leventhal BL, Amaral DG (2000) Autism spectrum disorders. Neuron 28:355–363. https://doi.org/10.4103/0253-7613.40480

Maaoui C, Pruski A (2010), Emotion recognition through physiological signals for human-machine communication. In: Kordic V (ed) Cutting edge robotics 2010. InTech, pp 317–333 (ISBN: 978-953-307-062-9). https://doi.org/10.5772/10312

Messinger DS (2013) Emotional responses to odors in children with high-functioning autism: autonomic arousal, facial behavior and self-report. J Autism Dev Disord 43:869–879. https://doi.org/10.1007/s10803-012-1629-2

Murugappan M, Juhari MRBM, Nagarajan R, Yaacob S (2009) An investigation on visual and audiovisual stimulus based emotion recognition using EEG. Int J Med Eng Inf 1(3):342. https://doi.org/10.1504/IJMEI.2009.022645

Neuhaus E, Bernier R, Beauchaine TP (2014) Brief report: Social skills, internalizing and externalizing symptoms, and respiratory sinus arrhythmia in autism. J Autism Dev Disord 44(3):730–737. https://doi.org/10.1007/s10803-013-1923-7

Oberman LM, Winkielman P, Ramachandran VS (2009) Slow echo: facial EMG evidence for the delay of spontaneous, but not voluntary, emotional mimicry in children with autism spectrum disorders. Dev Sci 12(4):510–520. https://doi.org/10.1111/j.1467-7687.2008.00796.x

Palanisamy K, Yaacob S (2012) ECG signal denoising using wavelet thresholding techniques in human stress assessment. Int J Electr Eng Inform 4(2):306–319. https://doi.org/10.15676/ijeei.2012.4.2.9

Palma S, Di Tonacci A, Domenici C, Pioggia G, Murator F, Billeci L (2017) Monitoring of autonomic response to sociocognitive tasks during treatment in children with autism spectrum disorders by wearable technologies: a feasibility study. Comput Biol Med 85:143–152. https://doi.org/10.1016/j.compbiomed.2016.04.001

Parastesh Karegar F, Fallah A, Rashidi S (2017) ECG based human authentication with using generalized hurst exponent. In: Proceedings 25th Iranian conference on electrical engineering (ICEE 2017), pp 34–38. https://doi.org/10.1109/IranianCEE.2017.7985480

Picard RW, Vyzas E, Healey J (2001) Toward machine emotional intelligence: analysis of affective\nphysiological state. IEEE Trans Pattern Anal Mach Intell 23(10):1175–1191. https://doi.org/10.1109/34.954607

Quintana DS, Guastella A, Outhred T, Hickie IB, Kemp AH (2012) Heart rate variability is associated with emotion recognition: direct evidence for a relationship between the autonomic nervous system and social cognition. Int J Psychophysiol 86(2):168–172. https://doi.org/10.1016/j.ijpsycho.2012.08.012

Raike A, Saad-Sulonen J, Scheible J, Suzi R, Toikkanen T (2008) Computers helping people with special needs, vol 5105, pp 142–149. https://doi.org/10.1007/978-3-540-70540-6

Ram CS, Ponnusamy R (2017) Toward design and enhancement of emotion recognition system through speech signals of autism spectrum disorder children for tamil language using multi-support vector machine. In: Proceedings of international conference on computational intelligence and data engineering (ICCIDE 2017), vol 9, pp 145–158. https://doi.org/10.1007/978-981-10-6319-0_13

Raouzaiou A, Ioannou S, Karpouzis K, Tsapatsoulis N, Kollias S, Cowie R (2003) An intelligent scheme for facial expression recognition. Lect Notes Comput Sci 2714:1109–1116

Sasikumar K, George Priya Doss C, Adalarasu K (2015) Analysis of physiological signal variation between autism and control group in south indian population. Biomed Res 26(3):525–529 (ISSN 0970-938X)

Selvaraj J, Murugappan M, Wan K, Yaacob S (2014) Electrocardiogram-based emotion recognition system using empirical mode decomposition and discrete Fourier transform. Expert Syst 31(2):110–120. https://doi.org/10.1111/exsy.12014

Torrado JC, Gomez J (2017) Emotional self-regulation of individuals with autism spectrum disorders: smartwatches for monitoring and interaction. Sensors 17(6):1–29. https://doi.org/10.3390/s17061359

Yuvaraj R, Murugappan M (2016) Hemispheric asymmetry non-linear analysis of EEG during emotional responses from idiopathic Parkinson's disease patients. Cogn Neurodyn 10(3):225–234. https://doi.org/10.1007/s11571-016-9375-3

Yuvaraj R, Murugappan M, Ibrahim NM, Omar MI, Sundaraj K, Mohamad K, Satiyan M (2014a) Emotion classification in Parkinson's disease by higher-order spectra and power spectrum features using EEG signals: a comparative study. J Integr Neurosci 13(1):89–120. https://doi.org/10.1142/S021963521450006X

Yuvaraj R, Murugappan M, Mohamed Ibrahim N, Sundaraj K, Omar MI, Mohamad K. Palaniappan R (2014b) Detection of emotions in Parkinson's disease using higher order spectral features from brain's electrical activity. Biomed Signal Process Control 14(1):108–116. https://doi.org/10.1016/j.bspc.2014b.07.005

Zantinge G, van Rijn S, Stockmann L et al (2017a) Physiological Arousal and Emotion Regulation Strategies in Young Children with Autism Spectrum Disorders. J Autism Dev Disord 47(9):2648–2657. https://doi.org/10.1007/s10803-017-3181-6

Zantinge G, van Rijn S, Stockmann L, Swaab H (2017b) Psychophysiological responses to emotions of others in young children with autism spectrum disorders: Correlates of social functioning. Autism Res 10(9):1499–1509. https://doi.org/10.1002/aur.1794

Zong C, Chetouani M (2010) Hilbert–Huang transform based physiological signals analysis for emotion recognition. In: 2009 IEEE international symposium on signal processing and information technology (ISSPIT), pp 334–339. https://doi.org/10.1109/ISSPIT.2009.5407547
Ethics declarations
Conflict of interest
The authors declare that they have no conflict of interest.
Ethical consideration
Ethical approval was obtained from the Ethics Committee of National Institute for Empowerment of Persons with Multiple Disabilities (NIEPMD), Chennai regarding the protocol and data acquisition procedure prior to performing the experiments. Ethical Approval ID: SE: -0101/2018.
Additional information
Publisher's Note
Springer Nature remains neutral with regard to jurisdictional claims in published maps and institutional affiliations.
About this article
Cite this article
Bagirathan, A., Selvaraj, J., Gurusamy, A. et al. Recognition of positive and negative valence states in children with autism spectrum disorder (ASD) using discrete wavelet transform (DWT) analysis of electrocardiogram signals (ECG). J Ambient Intell Human Comput 12, 405–416 (2021). https://doi.org/10.1007/s12652-020-01985-1
Received:

Accepted:

Published:

Issue Date:
Keywords
Autism spectrum disorder (ASD)

Heart rate variability (HRV)

Pan–Tompkins algorithm

K nearest neighbor (KNN)