Abstract
Purpose
The aim of this work was to optimize a bacteriocin produced by Enterococcus faecium TJUQ1 and the potential application in vegetable wash solution.
Methods
The agar well diffusion method was applied to screening strains with antibacterial activity. It was identificated based on physiobiochemical characteristics and 16S rDNA sequence analysis. Response surface method (RSM) was applied to optimize bacteriocin yield and discover the best production condition.
Results
A total of 31 isolates of lactic acid bacteria (LAB) isolated from pickled Chinese celery were screened for bacteriocin production. Strain TJUQ1 showed an inhibition zone against Listeria monocytogenes CMCC 1595 as indicator by using agar well diffusion assay and identified as E. faecium. The culture parameters were further optimized using response surface methodology (RSM). By using Plackett–Burman (PB) design, beef extract, K2HPO4 and initial pH were found to be the most significant factors for bacteriocin activity. The effects of the three main factors on bacteriocin activity were further investigated using a central composite design (CCD) and the optimum composition was found to be beef extract 15.20 g/L, K2HPO4 1.93 g/L and initial pH 7.19. Optimum conditions were validated by experiment in which bacteriocin activity was increased 1.78-fold (816.87 ± 5.21 AU/mL) in 18 h fermentation. The bacteriocin-containing wash solutions showed activity against L. monocytogenes CMCC 1595 inoculated onto fresh-cut iceberg lettuce within the first 3 days of storage at 4 °C.
Conclusion
A bacteriocin-producing strain TJUQ1 isolated from pickled Chinese celery was identified as E. faecium. The strain produced a high level of bacteriocin and the bacteriocin-containing wash solutions showed activity against L. monocytogenes CMCC 1595 inoculated onto fresh-cut iceberg lettuce.
Graphical Abstract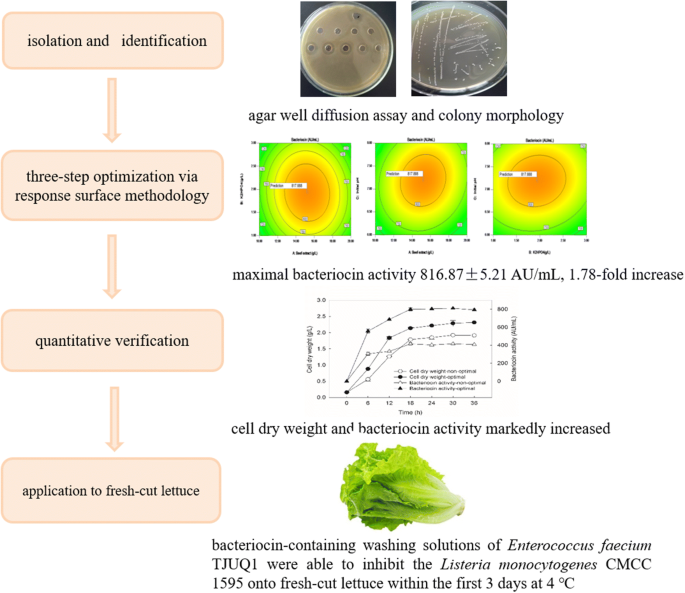 This is a preview of subscription content, log in to check access.
Access options
Buy single article
Instant access to the full article PDF.
US$ 39.95
Price includes VAT for USA
Subscribe to journal
Immediate online access to all issues from 2019. Subscription will auto renew annually.
US$ 99
This is the net price. Taxes to be calculated in checkout.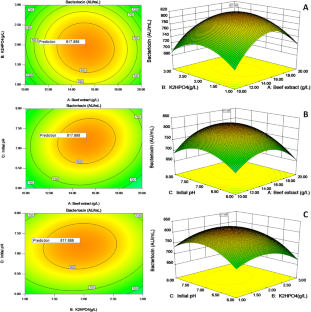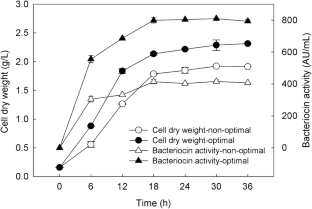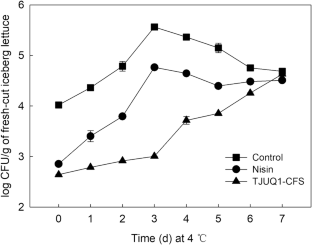 References
1.

Jia, B., Raphenya, A.R., Alcock, B., Waglechner, N., Guo, P., Tsang, K.K., Lago, B.A., Dave, B.M., Pereira, S., Sharma, A.N., Doshi, S., Courtot, M., Lo, R., Williams, L.E., Frye, J.G., Elsayegh, T., Sardar, D., Westman, E.L., Pawlowski, A.C., Johnson, T.A., Brinkman, F.S., Wright, G.D., McArthur, A.G.: CARD 2017: expansion and model-centric curation of the comprehensive antibiotic resistance database. Nucleic Acids Res. 45(D1), 566–573 (2017)

2.

Ashton, P.M., Nair, S., Dallman, T., Rubino, S., Rabsch, W., Mwaigwisya, S., Wain, J., O'Grady, J.: MinION nanopore sequencing identifies the position and structure of a bacterial antibiotic resistance island. Nat. Biotechnol. 33(3), 296–300 (2015)

3.

Dominguez, A.P.M., Bizani, D., Cladera-Olivera, F., Brandelli, A.: Cerein 8A production in soybean protein using response surface methodology. Biochem. Eng. J. 35(2), 238–243 (2007)

4.

Masias, E., Dupuy, F.G., da Silva Sanches, P.R., Farizano, J.V., Cilli, E., Bellomio, A., Saavedra, L., Minahk, C.: Impairment of the class IIa bacteriocin receptor function and membrane structural changes are associated to enterocin CRL35 high resistance in Listeria monocytogenes. Biochim. Biophys. Acta 1861(7), 1770–1776 (2017)

5.

Amaral, D.M.F., Silva, L.F., Casarotti, S.N., Nascimento, L.C.S., Penna, A.L.B.: Enterococcus faecium and Enterococcus durans isolated from cheese: survival in the presence of medications under simulated gastrointestinal conditions and adhesion properties. J. Dairy Sci. 100(2), 933–949 (2017)

6.

Grande Burgos, M.J., Pérez-Pulido, R., Gálvez, A., Lucas, R.: Biofilms formed by microbiota recovered from fresh produce: bacterial biodiversity, and inactivation by benzalkonium chloride and enterocin AS-48. LWT 77, 80–84 (2017)

7.

Garde, S., Avila, M., Medina, M., Nunez, M.: Fast induction of nisin resistance in Streptococcus thermophilus INIA 463 during growth in milk. Int. J. Food. Microbiol. 96(2), 165–172 (2004)

8.

Liang, X., Sun, Z., Zhong, J., Zhang, Q., Huan, L.: Adverse effect of nisin resistance protein on nisin-induced expression system in Lactococcus lactis. Microbiol. Res. 165(6), 458–465 (2010)

9.

Abo-Amer, A.E.: Optimization of bacteriocin production by Lactobacillus acidophilus AA11, a strain isolated from Egyptian cheese. Ann. Microbiol. 61(3), 445–452 (2010)

10.

Todorov, S.D., Dicks, L.M.: Effect of medium components on bacteriocin production by Lactobacillus plantarum strains ST23LD and ST341LD, isolated from spoiled olive brine. Microbiol. Res. 161(2), 102–108 (2006)

11.

Castro, M.P., Palavecino, N.Z., Herman, C., Garro, O.A., Campos, C.A.: Lactic acid bacteria isolated from artisanal dry sausages: characterization of antibacterial compounds and study of the factors affecting bacteriocin production. Meat Sci. 87(4), 321–329 (2011)

12.

Radha, K.R., Padmavathi, T.: Statistical optimization of bacteriocin produced from Lactobacillus delbrueckii subsp bulgaricus isolated from yoghurt. Int. Food Res. J. 24(2), 803–809 (2017)

13.

Delgado, A., Arroyo Lopez, F.N., Brito, D., Peres, C., Fevereiro, P., Garrido-Fernandez, A.: Optimum bacteriocin production by Lactobacillus plantarum 17.2b requires absence of NaCl and apparently follows a mixed metabolite kinetics. J. Biotechnol. 130(2), 193–201 (2007)

14.

Baselice, A., Colantuoni, F., Lass, D.A., Nardone, G., Stasi, A.: Trends in EU consumers' attitude towards fresh-cut fruit and vegetables. Food Qual. Prefer. 59, 87–96 (2017)

15.

Marques, J.L., Funck, G.D., Dannenberg, G.D.S., Cruxen, C., Halal, S., Dias, A.R.G., Fiorentini, A.M., Silva, W.P.D.: Bacteriocin-like substances of Lactobacillus curvatus P99: characterization and application in biodegradable films for control of Listeria monocytogenes in cheese. Food Microbiol. 63, 159–163 (2017)

16.

Maragkoudakis, P.A., Zoumpopoulou, G., Miaris, C., Kalantzopoulos, G., Pot, B., Tsakalidou, E.: Probiotic potential of Lactobacillus strains isolated from dairy products. Int. Dairy J. 16(3), 189–199 (2006)

17.

Hwanhlem, N., Chobert, J.-M., H-Kittikun, A.: Bacteriocin-producing lactic acid bacteria isolated from mangrove forests in southern Thailand as potential bio-control agents in food: isolation, screening and optimization. Food Control 41, 202–211 (2014)

18.

Ge, J., Ping, W., Song, G., Du, C., Ling, H., Sun, X., Gao, Y.: Paracin 1.7, a bacteriocin produced by Lactobacillus paracasei HD1.7 isolated from Chinese cabbage sauerkraut, a traditional Chinese fermented vegetable food. Wei sheng wu xue bao Acta Microbiol. Sin. 49(5), 609–616 (2009)

19.

Du, R., Xing, H., Zhou, Z., Han, Y.: Isolation, characterisation and fermentation optimisation of glucansucrase-producing Leuconostoc mesenteroides DRP105 from sauerkraut with improved preservation stability. Int. J. Food Sci. Technol. 52(12), 2522–2530 (2017)

20.

Cang, L., Zhou, D.M., Wang, Q.Y., Wu, D.Y.: Effects of electrokinetic treatment of a heavy metal contaminated soil on soil enzyme activities. J. Hazard. Mater. 172(2–3), 1602–1607 (2009)

21.

Shen, W.J., Liang, Y., Hong, R., Patel, S., Natu, V., Sridhar, K., Jenkins, A., Bernlohr, D.A., Kraemer, F.B.: Characterization of the functional interaction of adipocyte lipid-binding protein with hormone-sensitive lipase. J. Biol. Chem. 276(52), 49443–49448 (2001)

22.

Yang, Y., Peng, Q., Guo, Y., Han, Y., Xiao, H., Zhou, Z.: Isolation and characterization of dextran produced by Leuconostoc citreum NM105 from manchurian sauerkraut. Carbohydr. Polym. 133, 365–372 (2015)

23.

Du, R.P., Xing, H.W., Yang, Y.P., Jiang, H.J., Zhou, Z.J., Han, Y.: Optimization, purification and structural characterization of a dextran produced by L-mesenteroides isolated from Chinese sauerkraut. Carbohyd. Polym. 174, 409–416 (2017)

24.

Allende, A., Martinez, B., Selma, V., Gil, M.I., Suarez, J.E., Rodriguez, A.: Growth and bacteriocin production by lactic acid bacteria in vegetable broth and their effectiveness at reducing Listeria monocytogenes in vitro and in fresh-cut lettuce. Food Microbiol. 24(7–8), 759–766 (2007)

25.

Kumar, V., Sheoran, P., Gupta, A., Yadav, J., Tiwari, S.K.: Antibacterial property of bacteriocin produced by Lactobacillus plantarum LD4 isolated from a fermented food. Ann. Microbil. 66(4), 1431–1440 (2016)

26.

Han, B., Yu, Z.Q., Liu, B.S., Ma, Q.S., Zhang, R.J.: Optimization of bacteriocin production by Lactobacillus plantarum YJG, isolated from the mucosa of the gut of healthy chickens. Afr. J. Microbiol. Res. 5(10), 1147–1155 (2011)

27.

Zhao, X., Han, Y., Tan, X.Q., Wang, J., Zhou, Z.J.: Optimization of antifungal lipopeptide production from Bacillus sp BH072 by response surface methodology. J. Microbiol. 52(4), 324–332 (2014)

28.

Degli Esposti, M., Toselli, M., Sabia, C., Messi, P., de Niederhausern, S., Bondi, M., Iseppi, R.: Effectiveness of polymeric coated films containing bacteriocin-producer living bacteria for Listeria monocytogenes control under simulated cold chain break. Food Microbiol. 76, 173–179 (2018)
Acknowledgements
This work was financially supported by the financial aid from the National Science-Technology Support Program of China (2015BAD16B01).
Additional information
Publisher's Note
Springer Nature remains neutral with regard to jurisdictional claims in published maps and institutional affiliations.
Electronic supplementary material
Below is the link to the electronic supplementary material.
About this article
Cite this article
Qiao, X., Du, R., Wang, Y. et al. Isolation, Characterisation and Fermentation Optimisation of Bacteriocin-Producing Enterococcus faecium. Waste Biomass Valor 11, 3173–3181 (2020). https://doi.org/10.1007/s12649-019-00634-9
Received:

Accepted:

Published:

Issue Date:
Keywords
Enterococcus faecium

Response surface methodology

Bacteriocin

Optimization

Wash solution