Abstract
This study determines the effect of incorporating polyvinyl alcohol (PVA) into ZrO2 (PVA:ZrO2) on the hysteresis-type current–voltage characteristics of Au/ZrO2/heavily doped p-type Si (p+-Si) devices. In order to determine the correlation between morphology and performance, the Au/ZrO2/p+-Si and Au/PVA:ZrO2/p+-Si devices are fabricated and their current–voltage characteristics are determined. These devices exhibit hysteresis. Incorporating PVA into ZrO2 induces a strong steric effect, which results in the elimination of crystallographic defects in the ZrO2 films and an improvement in the hysteresis characteristics for Au/PVA:ZrO2/p+-Si devices. Incorporating PVA into ZrO2 modulates hysteresis in Au/ZrO2/p+-Si devices.
This is a preview of subscription content, log in to check access.
Access options
Buy single article
Instant access to the full article PDF.
US$ 39.95
Price includes VAT for USA
Subscribe to journal
Immediate online access to all issues from 2019. Subscription will auto renew annually.
US$ 99
This is the net price. Taxes to be calculated in checkout.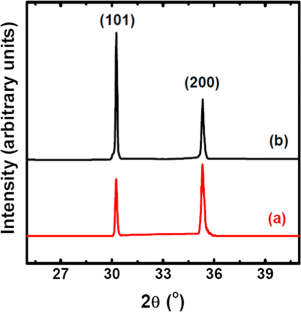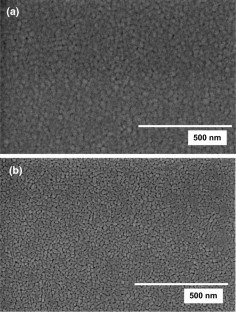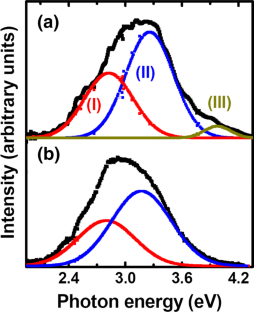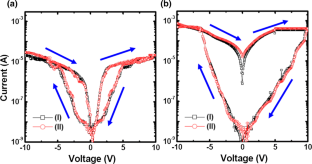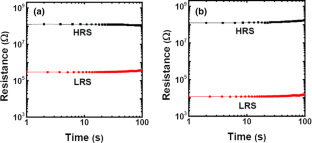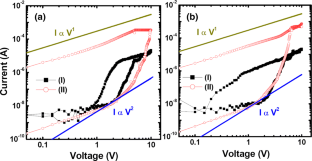 References
[1]

S Chatterjee, S K Samanta, H D Banerjee and C K Maiti Electron. Lett.37 390 (2001)

[2]

M Copel, M Gribelyuk and E Gusev Appl. Phys. Lett.76 436 (2000)

[3]

C C Lin, Y P Chang, H B Lin and C H Lin Nanoscale Research Letters7 187 (2012)

[4]

V Chauhan, R Gupta, V Kumar, J Ram, F Singh, M Prasad, S Kumar, S Ojha, P A Alvi, R Mehra and R Kumar Ceramics International45 18887 (2019)

[5]

X Dong, G Xia, Q Zhang, L Li, H Gong, J Bi and S Wang Ceramics International43 15205 (2017)

[6]

D Lee, H Choi, H Sim, D Choi, H Hwang, M J Lee, S A Seo and I K Yoo IEEE Electron Device Lett.26 719 (2005)

[7]

D C Hsu, I Y Chang, M T Wang, P C Juan, Y L Wang and J Y Lee Appl. Phys. Lett.92 202901 (2008)

[8]

Y Ohya, T Kume and T Ban Jpn. J. Appl. Phys.44 1919 (2005)

[9]

J M Kim, J W Lee, J K Kim, B K Ju, J S Kim, Y H Lee and M H Oh Appl. Phys. Lett.85 6368 (2004)

[10]

A Salaün, H Grampeix, J Buckley, C Mannequin, C Vallée, P Gonon, S Jeannot, C Gaumer, M Gros-Jean and V Jousseaume Thin Solid Films525 20 (2012)

[11]

Q Liu, W Guan, S Long, R Jia and M Liu Appl. Phys. Lett.92 012117 (2008)

[12]

Q Liu, S Long, W Guan, S Zhang, M Liu and J Chen Journal of Semiconductors30 042001 (2009)

[13]

M T Soo, N Prastomo, A Matsuda, G Kawamura, H Muto, A F M Noor, Z Lockman and K Y Cheong Appl. Surf. Sci.258 5250 (2012)

[14]

M H Boratto, M Congiu, S B O dos Santos and L V A Scalvi Ceramics International44 10790 (2018)

[15]

Y Dora, S Han, D Klenov, P J Hansen, K No, U K Mishra, S Stemmer and J S Speck J. Vac. Sci. Technol. B Microelectron. Nanometer. Struct.24 575 (2006)

[16]

V M Ievlev, K A Solntsev, A A Sinel'nikov, S A Soldatenko and A M Vozgor'kov Inorganic Materials47 402 (2011)

[17]

Q Zhang, X Li, J Shen, G Wu, J Wang and L Chen Materials Letters45 311 (2000)

[18]

C Shao, H Guan, Y Liu, J Gong, N Yu and X Yang J. Crystal Growth267 380 (2004)

[19]

S Sunwoo, J H Kim, K G Lee and H Kim J. Mater. Sci.35 3677 (2007)

[20]

N T B Linh, K H Lee and B T Lee J. Mater. Sci. 46 5615 (2011)

[21]

F R Lamastra, A Bianco, A Meriggi, G Montesperelli, F Nanni and G Gusmano Chemical Engineering Journal 145 169 (2008)

[22]

M H Boratto, R A Ramos Jr., M Congiu, C F O Graeff and LV A Scalvi Applied Surface Science410 278 (2017)

[23]

W C Liu, D Wu, A D Li, H Q Ling, Y F Tang and N B Ming Appl. Surf. Sci.191 181 (2002)

[24]

A Hardy, S Van Elshocht, C Adelmann, T Conard, A Franquet, O Douhéret, I Haeldermans, J D'Haen, S De Gendt, M Caymax, M Heyns, M D'Olieslaeger, M K Van Bael and J Mullens Thin Solid Films516 8343 (2008)

[25]

J Davies and J G P Binner Journal of the European Ceramic Society20 1539 (2000)

[26]

S Croll Progress in Organic Coatings44 131 (2002)

[27]

Y J Lin and J F Yu J. Non-Crystalline Solids426 132 (2015)

[28]

A Christensen and E A Carter Phys. Rev. B58 8050 (1998)

[29]

W Wang, F Hou, J Liu and H Guo Electroplating & Pollution Control24 9 (2004)

[30]

R H French, S J Glass, F S Ohuchi, Y N Xu and W Y Ching Phys. Rev. B49 5133 (1994)

[31]

C R Aita, E E Hoppe and R S Sorbello Appl. Phys. Lett.82 677 (2003)

[32]

Z Wang, B Yang, Z Fu, W Dong, Y Yang and W Liu Appl. Phys. A81 691 (2005)

[33]

A Emeline, V G Kataeva and A S Litke Langmuir14 5011 (1998)

[34]

L Chua Semicond. Sci. Technol.29 104001 (2014)

[35]

Y J Lin, W C Chen, Y M Chin and C J Liu J. Phys. D: Appl. Phys.42 045419 (2009)

[36]

D Panda and T Y Tseng Thin Solid Films531 1 (2013)

[37]

M A Lampert and P Mark Current Injection in Solids (New York: Academic) (1970)

[38]

J Zhang, H Yang, Q Zhang, H Jiang, J Luo, J Zhou and S Dong Appl. Phys. A116 663 (2014)

[39]

H Y Jeong, S K Kim, J Y Lee and S Y Choi Appl. Phys. A102 967 (2011)
Acknowledgements
The authors acknowledge the support of the Ministry of Science and Technology, Taiwan (Contract Nos. 106-2112-M-018-001-MY3, 103-2112-M-018-003-MY3 and 100-2112-M-018-003-MY3) in the form of grants.
Additional information
Publisher's Note
Springer Nature remains neutral with regard to jurisdictional claims in published maps and institutional affiliations.
About this article
Cite this article
Yu, J., Lin, Y., Lin, M. et al. Incorporation of polyvinyl alcohol into ZrO2 to modulate the hysteresis-type current–voltage characteristics of Au/ZrO2/heavily doped p-type Si devices. Indian J Phys (2020). https://doi.org/10.1007/s12648-020-01764-w
Received:

Accepted:

Published:
Keywords
Thin films

Hysteresis

Point defects

Oxides

Polymer
PACS Nos.
73.50.−h

77.55.+f

77.84.Bw

71.20.Rv