Abstract
In this paper, we have successfully prepared Cu2FeSnS4 (CFTS) thin films by a facile spray pyrolysis method. In order to optimize the synthesis conditions of the CFTS thin films, two series of experiments were performed. In the first series, the thin films were deposited at a substrate temperature of 370 °C for different spray durations (td) of 20, 40 and 60 min. And in the second, the CFTS thin films were annealed in the sulfur atmosphere at a temperature of 450 °C for 30 min. Moreover, the X-ray diffractograms showed that the as-deposited and the post-annealed CFTS thin films revealed a stannite structure. The post-annealed CFTS thin films are considered as an ideal absorber in solar cells because of a large absorption coefficient (105 cm−1) and a direct band gap (1.55 eV). The activation energies Ea obtained from both angular frequency and DC conductivity are found to be 1 and 0.97 eV, respectively.
This is a preview of subscription content, log in to check access.
Access options
Buy single article
Instant access to the full article PDF.
US$ 39.95
Price includes VAT for USA
Subscribe to journal
Immediate online access to all issues from 2019. Subscription will auto renew annually.
US$ 99
This is the net price. Taxes to be calculated in checkout.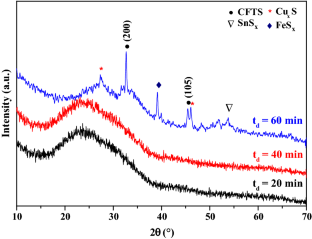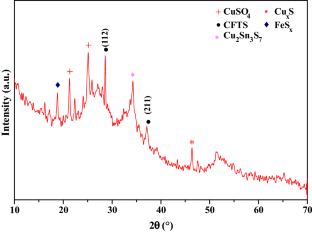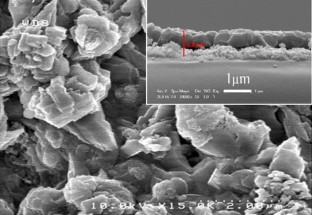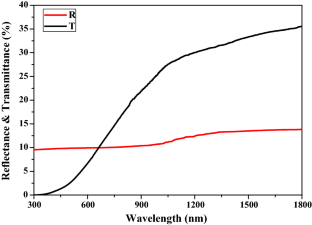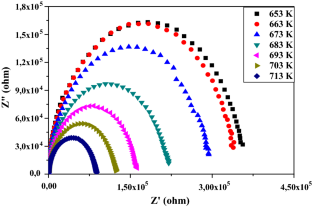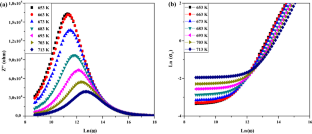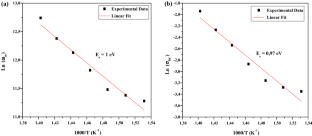 References
[1]

F Ozel J. Alloy. Compd.657 157 (2016)

[2]

H Guan, H Shen, B Jiao and X Wang Mater. Sci. Semicond. Process. 25 159 (2013)

[3]

S Chatterjee and A J Pal Sol. Energy Mater. Sol. Cells.160 233 (2017)

[4]

X Meng, H Deng, L Sun, P Yang and J Chu Mater. Lett.161 427 (2015)

[5]

M Cao, C Li, B Zhang, J Huang, L Wang and Y Shen J. Alloy. Compd.622 695 (2015)

[6]

K Mokurala, P Bhargava and S Mallick Mater. Chem. Phys.147 371 (2014)

[7]

C Yan et al. Chem. Commun.48 2603 (2012)

[8]

R R Prabhakar et al. ACS Appl. Mater. Interfaces6 17661 (2014)

[9]

D Perednis and L J Gauckler J. Electroceram.14 103 (2005)

[10]

S Dridi, N Bitri and M Abaab Mater. Lett. 204 61 (2017)

[11]

S Mahjoubi, N Bitri, H Bouzouita, M Abaab and I Ly Appl. Phys. A123 452 (2017)

[12]

S K S Basha and M C Rao Ceram. Int. 44 648 (2018)

[13]

K Mokurala, S Mallick and P Bhargava J. Power Sources305 134 (2016)

[14]

G El Fidha, N Bitri, S Mahjoubi, M Abaab and I Ly Mater. Lett. 215 62 (2018)

[15]

M Adelifard J. Anal. Appl. Pyrolysis. 122 209 (2016)

[16]

X Jiang, W Xu, R Tan, W Song and J. Chen Mater. Lett. 102–103 39 (2013)

[17]

P Kevin, S N Malik, M A Malik and P O'Brien Mater. Lett. 152 60 (2015)

[18]

A Hannachi, H Oueslati, N Khemiri and M Kanzari Opt. Mater.72 702 (2017)

[19]

N Kamoun, H Bouzouita and B Rezig Thin Solid Films.515 5949 (2007)

[20]

C R Mariappan, G Govindaraj, S V Rathan and G V Prakash Mater. Sci. Eng. B123 63 (2005)
Additional information
Publisher's Note
Springer Nature remains neutral with regard to jurisdictional claims in published maps and institutional affiliations.
About this article
Cite this article
Dridi, S., El Fidha, G., Bitri, N. et al. Synthesis of chemical spray pyrolyzed Cu2FeSnS4 thin films for solar cells. Indian J Phys 94, 1097–1102 (2020). https://doi.org/10.1007/s12648-019-01539-y
Received:

Accepted:

Published:

Issue Date:
Keywords
CFTS thin films

Spray pyrolysis

Stannite structure

Electrical properties

Solar cells
PACS No.