Abstract
The neutron capture cross-sectional reactions for 106,108,110,111,112,113,114,116Cd isotopes have been calculated with different level density models which are constant temperature Fermi gas (CTFG) model, back-shifted Fermi gas model, generalized superfluid model and Hartree–Fock–Bogoliubov model by using TALYS 1.9 and EMPIRE 3.2 codes for incident neutron energies up to 250 keV. The obtained results have been analyzed with each level density model parameters existing in Reference Input Parameter Library (RIPL-3) and available experimental data. As an outcome, to obtain more precise and coherent calculations with the experimental values, level density model and its parameters have been determined. Also, hadronic interactions of low-energy neutrons have been investigated for a situation by using GEANT4.
This is a preview of subscription content, log in to check access.
Access options
Buy single article
Instant access to the full article PDF.
US$ 39.95
Price includes VAT for USA
Subscribe to journal
Immediate online access to all issues from 2019. Subscription will auto renew annually.
US$ 99
This is the net price. Taxes to be calculated in checkout.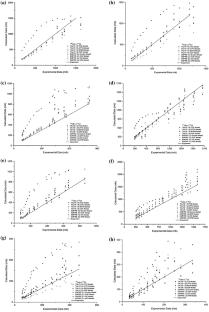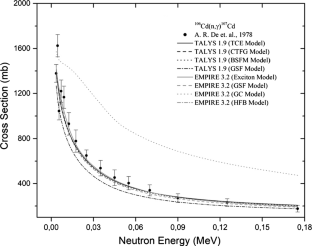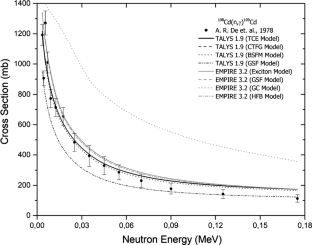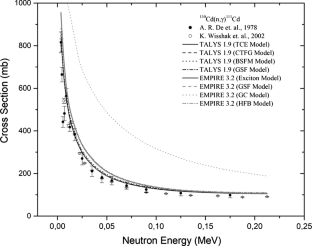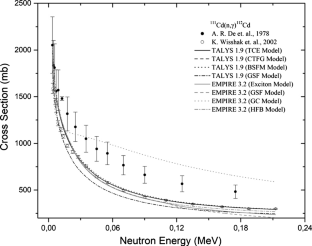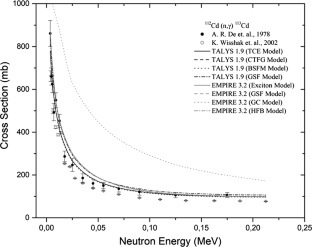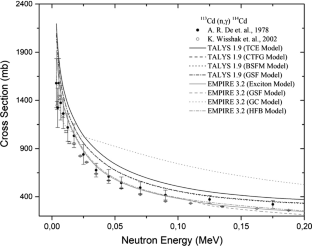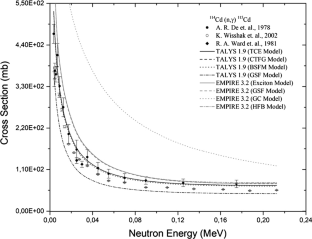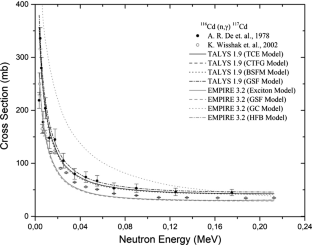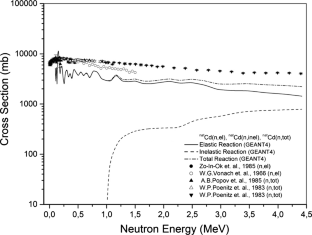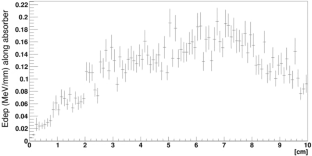 References
[1]

A R L de Musgrovet, B J Allent and R L Macklin J. Phys. G: Nucl. Phys.4(5) 771 (1978)

[2]

HA Bethe Phys. Rev.50 332 (1936)

[3]

A Gilbert, A G W Cameron Can. J. Phys.43 1446 (1965)

[4]

Y Byun Ph.D. Thesis (Ohio University, USA) (2013)

[5]

[5] D Suchiang, J Jeremiah, B Jyrwa and L Khongiang Ann. Nucl. Energy65 97 (2014)

[6]

S Bedenko, J Jeremiah and V Knyshev Mater. Sci. Eng. (IOP Conf. Ser.)135 012004 (2016)

[7]

R Ghosh, S Badwar, B. Lawriniang et al. J. Radioanal Nucl. Chem.307 1481 (2016)

[8]

İ H Sarpün, A Aydın, A Kaplan, H Koca and E Tel Ann. Nucl. Energy70 175 (2014)

[9]

A Kaplan, H Özdoğan, A Aydın and E Tel J. Fusion Energ.32(3) 344 (2013)

[10]

B Demir, İ H Sarpün, A Kaplan, V Capali, A Aydın and E Tel J. Fusion Energ.34(4) 808 (2015)

[11]

A Koning, S Hilaire and S Goriely TALYS User Manual (NRG, The Netherlands) (2017)

[12]

M Herman, et al EMPIRE User's Manual (2013)

[13]

RIPL–Reference Input Parameter Library for Calculation of Nuclear Reactions and Nuclear Data Evaluations, Nucl. Data Sheets 110 (2009)

[14]

Experimental Nuclear Reaction Data (EXFOR/CSISRS), Available from http://www.nndc.bnl.gov/exfor

[15]

K Wisshak, F Voss and F Kappeler Phys. Rev. C66 025801 (2002)

[16]

M Lindner, R J Nagle and J H Landrum Nucl. Sci. Eng.59 381 (1976)

[17]

A J Koning, S Hilaire and M C Duijvestijn (AIP Conf. Proc 769) 1154 (2005)

[18]

W Dilg, W Schantl and H Vonach Nucl. Phys. A217 269 (1973)

[19]

A V Ignatyuk, K K Istekov and G N Smirenkin Sov. J. Nucl. Phys.29 450 (1979)

[20]

A V Ignatyuk, J L Weil and S Raman Phys. Rev. C47 1504 (1993)

[21]

Geant4 Collaboration, Geant4 User's Guide for Application Developers (2014)

[22]

Z I Ok, V G Nikolenko and A B Popov Dubna Rep.85 133 (1985)

[23]

W G Vonach and A B Smith Nucl. Phys.78 389 (1966)

[24]

A B Popov, G S Samosvat and Z I Ok Dubna Rep.84 669 (1984)

[25]

W P Poenitz and J F Whalen Argonne National Laboratory Reports80 (1983)
Additional information
Publisher's Note
Springer Nature remains neutral with regard to jurisdictional claims in published maps and institutional affiliations.
About this article
Cite this article
Çapalı, V. Analysis of neutron capture cross section using different level density models on cadmium isotopes up to 250 keV neutron-induced energy and GEANT4 simulation. Indian J Phys 94, 1041–1049 (2020). https://doi.org/10.1007/s12648-019-01534-3
Received:

Accepted:

Published:

Issue Date:
Keywords
Cross section

Reactor materials

Level density models

Hadronic interactions
PACS Nos.
21.60.-n

21.30.Fe

32.80.Cy

21.10.Ma

28.50.-k

28.41.-i