Abstract
A study to assess the quality of drinking water sources and health conditions of the natives in a rural location of Solan District (30° 54′ 16.76′′ N, 77° 05′ 48.18′′ E) was conducted during February–May in 2018. Water samples were collected from four different sites covering two different and only sources of water supply, i.e., Bawdi (natural well) and Handpump in the village. These collected samples were tested for the quality parameters such as color, temperature, pH, electrical conductivity, total dissolved solids, total hardness, calcium hardness (Ca-H), magnesium hardness (Mg-H), ions such as Cl−, CO32−, HCO3−, Na+, K+ and selected metals (Fe, Pb and Cr). The Indian Standard methods were followed for the collection and analysis of water samples. A health survey was also conducted to check the current health conditions of the natives and correlate with the water chemistry. The results of health survey and chemical analysis of water samples collected from Bawdi and Handpump have been discussed in this paper and compared with the permissible limits of WHO and BIS.
Access options
Buy single article
Instant access to the full article PDF.
US$ 39.95
Tax calculation will be finalised during checkout.
Subscribe to journal
Immediate online access to all issues from 2019. Subscription will auto renew annually.
US$ 79
Tax calculation will be finalised during checkout.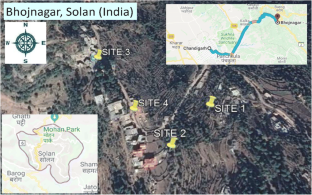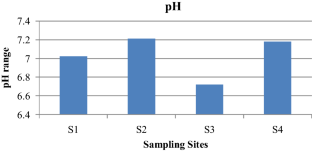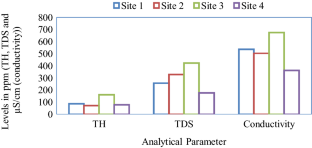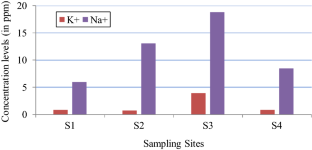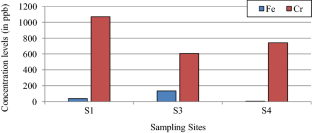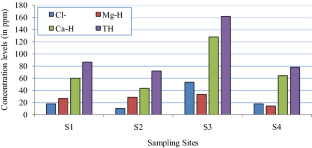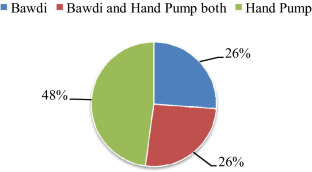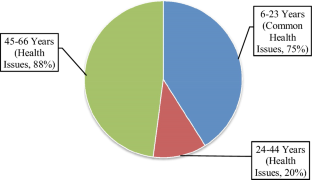 References
1.

D. Hinrichsen and H. Tacio, The coming freshwater crisis is already here. The linkages between population and water. Washington, DC, Woodrow Wilson International Center for Scholars, (2002) pp. 1–26.

2.

Global Water Supply and Sanitation Assessment Report, World Health Organization and United Nations Children's Fund, (2000). http://www.who.int/water_sanitation_health/monitoring/jmp2000.pdf.

3.

S. Karavoltsos, A. Sakellari, N. Mihopoulos, M. Dassenakis and M.J. Scoullos, Evaluation of the quality of drinking water in regions of Greece, Desalination, 224(1–3) (2008) 317–329.

4.

R.G. Sinclair, E.L. Jones and C.P. Gerba, Viruses in recreational water‐borne disease outbreaks: a review, J. Appl. Microbiol., 107(6) (2009) 1769–1780.

5.

U.K. Singh, A.L. Ramanathan and V. Subramanian, Groundwater chemistry and human health risk assessment in the mining region of East Singhbhum, Jharkhand, India, Chemosphere, 204 (2018) 501–513.

6.

A. Khan, M. Shahnaz, N. Jehan, S. Rehman, M.T. Shah and I. Din, Drinking water quality and human health risk in Charsadda district, Pakistan, J. Clean. Prod., 60 (2013) 93–101.

7.

A.H. Smith, C. Hopenhayn-Rich, M.N. Bates, H.M. Goeden, I. Hertz-Picciotto, H.M. Duggan, R. Wood, M.J. Kosnett and M.T. Smith, Cancer risks from arsenic in drinking water, Environ, Health Perspect., 97 (1992) 259.

8.

J.E. Marcovecchio, S.E. Botté and R.H. Freije, Heavy metals, major metals, trace elements, Handb. Water Anal., 2 (2007) 275–311.

9.

PCD, Pollution Control Department, Groundwater standards for drinking proposes. Manual inspection of contaminated groundwater standards for drinking proposes. Manual inspection of contaminated ground water from waste disposal facilities, Ministry of Natural Resources and Environment, (2000).

10.

H. Carlson-Lynch, B.D. Beck and P.D. Boardman, Arsenic risk assessment, Environ. Health Perspect., 102(4) (1994) 354.

11.

P. Mushak and A.F. Crocetti, Risk and revisionism in arsenic cancer risk assessment, Environ. Health Perspect., 103(7–8) (1995) 684.

12.

H. Nakadaira, K. Nakamura, K. Mutoh, M. Yamamoto and K. Katoh, Arsenic residues in well water 36 y after endemic arsenic poisoning, Arch. Environ. Health Int. J., 55(5) (2000) 364.

13.

R.E. Hall, A system of boiler water treatment based on chemical equilibrium, Ind. Eng. Chem., 17(3) (1925) 283–290.

14.

M. Chetia, S. Chatterjee, S. Banerjee, M.J. Nath, L. Singh, R.B. Srivastava and H.P. Sarma, Groundwater arsenic contamination in Brahmaputra river basin: a water quality assessment in Golaghat (Assam), India, Environ. Monit. Assess., 173(1–4) (2011) 371–385.

15.

K. Saravanakumar and R.R. Kumar, Analysis of water quality parameters of groundwater near Ambattur industrial area, Tamil Nadu, India, Indian J. Sci. Technol., 4(5) (2011) 660–662.

16.

S. Singh, N. Singh and S. Kumar, Quality of water in and around Chandigarh region: a review, J. Chem. Environ. Sci. Appl., 1(1) (2014) 33–43.

17.

S. Singh, A. Rani, R.K. Mahajan and T.P.S. Walia, Analysis of uranium and its correlation with some physico-chemical properties of drinking water samples from Amritsar, Punjab, J. Environ. Monit., 5(6) (2003) 917–921.

18.

J.K. Vodela, J.A. Renden, S.D. Lenz, W.H. McElhenney and B.W. Kemppainen, Drinking water contaminants (arsenic, cadmium, lead, benzene, and trichloroethylene). 1. Interaction of contaminants with nutritional status on general performance and immune function in broiler chickens, Poult. Sci., 76(11) (1997) 1474–1492.

19.

J. Wu and Z. Sun, Evaluation of shallow groundwater contamination and associated human health risk in an alluvial plain impacted by agricultural and industrial activities, mid-west China, Expo. Health, 8(3) (2016) 311–329.

20.

R.K. Rattan, S.P. Datta, P.K. Chhonkar, K. Suribabu and A.K. Singh, Long-term impact of irrigation with sewage effluents on heavy metal content in soils, crops and groundwater-a case study, Agric. Ecosyst. Environ., 109(3–4) (2005) 310–322.

21.

S. Chotpantarat, S.K. Ong, C. Sutthirat and K. Osathaphan, Effect of pH on transport of Pb2+, Mn2+, Zn2+ and Ni2+ through lateritic soil: column experiments and transport modeling, J. Environ. Sci., 23(4) (2011) 640–648.

22.

M.N. Rashed, Monitoring of contaminated toxic and heavy metals, from mine tailings through age accumulation, in soil and some wild plants at Southeast Egypt, J. Hazard. Mater., 178(1–3) (2010) 739–746.

23.

M. Taboada-Castro, A. Diéguez-Villar, M.L. Rodríguez-Blanco and M.T. Taboada-Castro, Agricultural impact of dissolved trace elements in runoff water from an experimental catchment with land-use changes, Commun. Soil Sci. Plant Anal., 43(1–2) (2012) 81–87.

24.

D. Chakraborti, M.M. Rahman, S. Ahamed, R.N. Dutta, S. Pati and S.C. Mukherjee, Arsenic groundwater contamination and its health effects in Patna district (capital of Bihar) in the middle Ganga plain, India, Chemosphere, 152 (2016) 520–529.

25.

D. Chakraborti, S.K. Singh, M.M. Rahman, R.N. Dutta, S.C. Mukherjee, S. Pati and P.B. Kar, Groundwater arsenic contamination in the ganga river basin: a future health danger, Int. J. Environ. Res. Public Health, 15(2) (2018) 180. http://doi.org/10.3390/ijerph15020180.

26.

National Research Council, Arsenic in drinking water, National Academy Press, Washington, DC, (1999).

27.

G.A. Wasserman, X. Liu, F. Parvez, H. Ahsan, P. Factor-Litvak, J. Kline, A. Van Geen, V. Slavkovich, N.J. Lolacono, D. Levy, Water arsenic exposure and intellectual function in 6-year-old children in Araihazar, Bangladesh, Environ. Health Perspect., 115 (2007) 285–289.

28.

S.K. Singh and A.K. Ghosh, Health risk assessment due to groundwater arsenic contamination: children are at high risk, Hum. Ecol. Risk Assess. Int. J., 18 (2012) 751–766.

29.

A. Azizullah, M.N.K. Khattak, P. Richter and D.P. Hader, Water pollution in Pakistan and its impact on public health-a review, Environ. Int., 37(2) (2011) 479–497.

30.

E.O. Lawson, Physico-chemical parameters and heavy metal contents of water from the mangroves swamps of logos lagoon, logos, Nigeria, Adv. Biol. Res., 5(1) (2011) 08–21.

31.

Census, (2011). https://www.census2011.co.in/data/village/21993-bhoj-nagar-himachal-pradesh.html.

32.

Census, (2011), Part-A. http://censusindia.gov.in/2011census/dchb/0209_PART_A_DCHB_SOLAN.pdf.

33.

WHO report, Guideline for water quality, (2017), p. 222. https://apps.who.int/iris/bitstream/handle/10665/254637/9789241549950eng.pdf;jsessionid=0305D1FF9281A11862AA6B24B42AB160?sequence=1.

34.

B.L. Sandick, D.B. Engell and O. Maller, Perception of drinking water temperature and effects for humans after exercise, Physiol. Behav., 32(5) (1984) 851–855.

35.

B. Benelam and L. Wyness, Hydration and health: a review, Nutr. Bull., 35(1) (2010) 3–25.

36.

World Health Organization Working Group, Health impact of acidic deposition, Sci. Total Environ., 52 (1986) 157–187.

37.

Guidelines for drinking-water quality, Health criteria and other supporting information, World Health Organization, Geneva, 2nd ed., (1996), Vol. 2.

38.

S.M. Langan, Flares in childhood eczema, Skin Ther. Lett., 14(8) (2009) 1.

39.

P. Sengupta, Potential health impacts of hard water, Int. J. Prev. Med., 4(8) (2013) 866.

40.

L.G. Wesson, Physiology of the human kidney, New York, NY, Grune and Stratton, (1969), p. 591.

41.

S. Murakami, Y. Goto, K. Ito, S. Hayasaka, S. Kurihara, T. Soga, M. Tomita and S. Fukuda, The consumption of bicarbonate-rich mineral water improves glycemic control. Evidence-Based Complementary and Alternative Medicine, (2015).

42.

Y. Zair, F. Kasbi-Chadli, B. Housez, M. Pichelin, M. Cazaubiel, F. Raoux and K. Ouguerram, Effect of a high bicarbonate mineral water on fasting and postprandial lipemia in moderately hypercholesterolemic subjects: a pilot study, Lipids Health Dis., 12(1) (2013) 105.

43.

R. Siener, A. Jahnen and A. Hesse, Influence of a mineral water rich in calcium, magnesium and bicarbonate on urine composition and the risk of calcium oxalate crystallization, Eur. J. Clin. Nutr., 58(2) (2004) 270.

44.

USEPA, Edition of the Drinking Water Standards and Health Advisories, (2018). https://www.epa.gov/sites/production/files/2018-03/documents/dwtable2018.pdf.

45.

Potassium in drinking-water. Background document for development of WHO guidelines for drinking-water quality, WHO/HSE/WSH/09.01/7.

46.

N. Jain, S. Kotla, B.B. Little, R.A. Weideman, E.S. Brilakis, R.F. Reilly and S. Banerjee, Predictors of hyperkalemia and death in patients with cardiac and renal disease, Am. J. Cardiol., 109(10) (2012) 1510–1513.

47.

G.M. McMahon, M.L. Mendu, F.K. Gibbons and K.B. Christopher, Association between hyperkalemia at critical care initiation and mortality, Intensive Care Med., 38 (2012) 1834–1842.

48.

J. Khanagavi, T. Gupta, W.S. Aronow, T. Shah, J. Garg, C. Ahn, S. Sule and S. Peterson, Hyperkalemia among hospitalized patients and association between duration of hyperkalemia and outcomes, Arch. Med. Sci. AMS, 10(2) (2012) 251.

49.

C.A. Finch and E.R. Monsen, Iron nutrition and the fortification of food with iron, J. Am. Med. Assoc., 219 (1972) 1462–1465.

50.

G. Papanikolaou and K. Pantopoulos, Iron metabolism and toxicity, Toxicol. Appl. Pharmacol., 202(2) (2005) 199–211.

51.

X. Huang, Iron overload and its association with cancer risk in humans: evidence for iron as a carcinogenic metal, Mutat. Res. 533 (2003) 153–171.

52.

Y. Kohgo, K. Ikuta, T. Ohtake, Y. Torimoto and J. Kato, Body iron metabolism and pathophysiology of iron overload, Int. J. Hematol., 88(1) (2008) 7–15.

53.

Iron In Drinking Water, Environmental Health Fact Sheet, Department of Public Health, Bruce Rauner, Governer, Illions, accessed online on Sep 15, 2019. http://www.idph.state.il.us/envhealth/factsheets/ironFS.htm.

54.

Illions Department of Public Health, Iron in Drinking Water, Health, retrieved online on Sep 15, 2019. http://www.dph.illinois.gov/topics-services/environmental-health-protection/private-water/iron-drinking-water.

55.

S. Martin, Human health effects of heavy metals, Issue 15 March 2009. https://engg.ksu.edu/chsr/files/chsr/outreach-resources/15HumanHealthEffectsofHeavyMetals.pdf.

56.

USEPA Web Document, Basic information about lead in drinking water, accessed online on Sep 15, 2019. https://www.epa.gov/ground-water-and-drinking-water/basic-information-about-lead-drinking-water.

57.

WHO Document, Lead poisoning and health, 23 August 2018, accessed online on September 15, 2019. https://www.who.int/news-room/fact-sheets/detail/lead-poisoning-and-health.

58.

M. Hanna-Attisha, J. LaChance, R.C. Sadler and A. Champney Schnepp, Elevated blood lead levels in children associated with the Flint drinking water crisis: a spatial analysis of risk and public health response, Am. J. Public Health, 106(2) (2016) 283–290.

59.

A. Zhitkovich, Chromium in drinking water: sources, metabolism, and cancer risks, Chem. Res. Toxicol., 24(10) (2011) 1617–1629.

60.

A.H. Smith and C.M. Steinmaus, Health effects of arsenic and chromium in drinking water: recent human findings, Ann. Rev. Public Health, 30 (2009) 107–122.

61.

C. Pellerin and S.M. Booker, Reflections on hexavalent chromium: health hazards of an industrial heavyweight, Environ. Health Perspect., 108(9) (2000) A402–A407.

62.

M. Costa and C.B. Klein, Toxicity and carcinogenicity of chromium compounds in humans, Crit. Rev. Toxicol., 36(2) (2006) 155–163.

63.

R.M. Sedman, J.A.Y. Beaumont, T.A. McDonald, S. Reynolds, G. Krowech and R. Howd, Review of the evidence regarding the carcinogenicity of hexavalent chromium in drinking water, J. Environ. Sci. Health C, 24(1) (2006) 155–182.
Acknowledgements
Authors are thankful to Dr Amjad Ali, Head, School of Chemistry and Biochemistry, Thapar Institute of Engineering and Technology, Patiala, for providing research lab facilities and Management and Vice-Chancellor, MMDU, Mullana, Haryana, for providing research opportunity. Thanks are also due to Mr Chander Thakur, Chemistry Lab Technician, School of Chemistry and Biochemistry, Thapar Institute of Engineering and Technology, Patiala, and residents of Bhojnagar village for their support in the collection of health data.
Additional information
Publisher's Note
Springer Nature remains neutral with regard to jurisdictional claims in published maps and institutional affiliations.
Electronic supplementary material
Below is the link to the electronic supplementary material.
About this article
Cite this article
Singh, N., Sharma, M. Assessment of the Quality of Drinking Water Sources and Human Health in a Rural Area of Solan, North India. MAPAN 35, 301–308 (2020). https://doi.org/10.1007/s12647-019-00354-4
Received:

Accepted:

Published:

Issue Date:
Keywords
Bawdi water

Drinking water quality

Solan

Chromium

Handpump

Toxicity