Abstract
Mesaconitine, one of Aconitum carmichaelii Debx bioactive compounds, was shown to evoke Ca2+ homeostasis and its related physiological effects in endothelial cell types. However, the effect of mesaconitine on Ca2+ signaling and cell viability in human brain microvascular endothelial cells is unclear. This study focused on exploring whether mesaconitine changed cytosolic Ca2+ concentrations ([Ca2+]i), affected cell viability, and established the relationship between Ca2+ signaling and viability in HBEC-5i human brain microvascular endothelial cells. In HBEC-5i cells, cell viability was measured by the cell proliferation reagent (WST-1). [Ca2+]i was measured by the Ca2+-sensitive fluorescent dye fura-2. Mesaconitine (10–100 μM) concentration dependently induced [Ca2+]i rises. Ca2+ removal reduced the signal by approximately 25%. Mesaconitine (40–100 μM) caused cytotoxicity in HBEC-5i cells. This cytotoxic response was significantly reversed by chelation of cytosolic Ca2+ with BAPTA/AM. In Ca2+-containing medium, mesaconitine-induced Ca2+ entry was inhibited by 25% by modulators of store-operated Ca2+ channels and protein kinase C (PKC). Furthermore, mesaconitine also induced Mn2+ influx suggesting of Ca2+ entry. In Ca2+-free medium, treatment with the endoplasmic reticulum Ca2+ pump inhibitor thapsigargin abolished mesaconitine-evoked [Ca2+]i rises. Conversely, treatment with mesaconitine abolished thapsigargin-evoked [Ca2+]i rises. Inhibition of phospholipase C (PLC) with U73122 abolished mesaconitine-induced [Ca2+]i rises. In sum, mesaconitine caused cytotoxicity that was triggered by preceding [Ca2+]i rises. Furthermore, mesaconitine induced [Ca2+]i rises by evoking Ca2+ entry via PKC-sensitive store-operated Ca2+ channels and PLC-dependent Ca2+ release from the endoplasmic reticulum. It suggests that Ca2+ signaling have a potential cytotoxic effect on mesaconitine-treated human brain microvascular endothelial cells.
This is a preview of subscription content, log in to check access.
Access options
Buy single article
Instant access to the full article PDF.
US$ 39.95
Price includes VAT for USA
Subscribe to journal
Immediate online access to all issues from 2019. Subscription will auto renew annually.
US$ 99
This is the net price. Taxes to be calculated in checkout.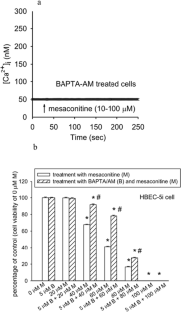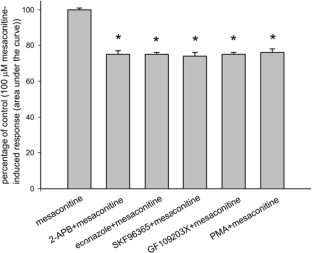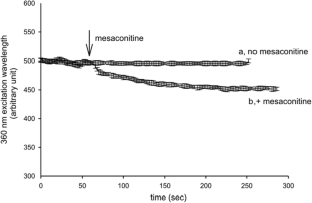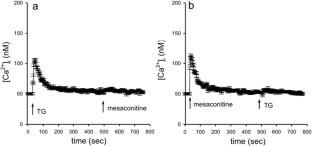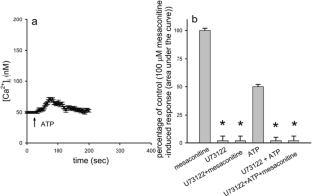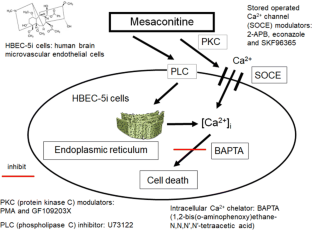 References
Al Suleimani YM, Hiley CR (2016) Characterization of calcium signals provoked by lysophosphatidylinositol in human microvascular endothelial cells. Physiol Res 65:53–62

Ameri A, Seitz U (1998) Effects of mesaconitine on [3H]noradrenaline uptake and neuronal excitability in rat hippocampus. Exp Brain Res 121:451–456

Baek A, Park EJ, Kim SY, Nam BG, Kim JH, Jun SW, Kim SH, Cho SR (2018) High-frequency repetitive magnetic stimulation enhances the expression of brain-derived neurotrophic factor through activation of Ca2+-calmodulin-dependent protein kinase II-cAMP-response element-binding protein pathway. Front Neurol 9:285

Berridge MJ (2016) The inositol trisphosphate/calcium signaling pathway in health and disease. Physiol Rev 96:1261–1296

Berridge MJ (2003) Cardiac calcium signaling. Biochem Soc Trans 31:930–933

Bootman MD (2012) Calcium signaling. Cold Spring Harb Perspect Biol 4:a011171

Carrillo C, Giraldo M, Cavia MM, Alonso-Torre SR (2017) Effect of oleic acid on store-operated calcium entry in immune-competent cells. Eur J Nutr 56:1077–1084

Claessens A, Adams Y, Ghumra A, Lindergard G, Buchan CC, Andisi C, Bull PC, Mok S, Gupta AP, Wang CW, Turner L, Arman M, Raza A, Bozdech Z, Rowe JA (2012) A subset of group A-like var genes encodes the malaria parasite ligands for binding to human brain endothelial cells. Proc Natl Acad Sci U S A 109:E1772–E1781

Cui HZ, Kim HY, Kang DG, Lee HS (2013) Ginseng-aconite decoction elicits a positive inotropic effect via the reverse mode Na+/Ca2+ exchanger in beating rabbit atria. J Ethnopharmacol 148:624–631

Dionicio CL, Peña F, Constantino-Jonapa LA, Vazquez C, Yocupicio-Monroy M, Rosales R, Zambrano JL, Ruiz MC, Del Angel RM, Ludert JE (2018) Dengue virus induced changes in Ca2+ homeostasis in human hepatic cells that favor the viral replicative cycle. Virus Res 245:17–28

Dorovini-Zis K, Prameya R, Bowman PD (1991) Culture and characterization of microvascular endothelial cells derived from human brain. Lab Investig 64:425–436

Falcón-Moya R, Losada-Ruiz P, Sihra TS, Rodríguez-Moreno A (2018) Cerebellar kainate receptor-mediated facilitation of glutamate release requires Ca2+-calmodulin and PKA. Front Mol Neurosci 11:195

Florenzano F, Viscomi MT, Mercaldo V, Longone P, Bernardi G, Bagni C, Molinari M, Carrive P (2006) P2X2R purinergic receptor subunit mRNA and protein are expressed by all hypothalamic hypocretin/orexin neurons. J Comp Neurol 498:58–67

Garg V, Kirichok YY (2019) Patch-clamp analysis of the mitochondrial calcium uniporter. Methods Mol Biol 1925:75–86

Grynkiewicz G, Poenie M, Tsien RY (1985) A new generation of Ca2+ indicators with greatly improved fluorescence properties. J Biol Chem 260:3440–3450

He LP, Di B, Du YX, Yan F, Su MX, Liu HQ, You LJ (2009) Development and validation of a high-performance liquid chromatography-tandem mass spectrometry method for the rapid simultaneous quantification of aconitine, mesaconitine, and hypaconitine in rat plasma after oral administration of Sini decoction. J Anal Toxicol 33:588–594

Im JY, Joo HJ, Han PL (2011) Rapid disruption of cellular integrity of zinc-treated astroglia is regulated by p38 MAPK and Ca2+-dependent mechanisms. Exp Neurobiol 20:45–53

Jaiswal Y, Liang Z, Zhao Z (2016) Botanical drugs in ayurveda and traditional Chinese medicine. J Ethnopharmacol 194:245–259

Jiao L, Gan-Schreier H, Tuma-Kellner S, Stremmel W, Chamulitrat W (2015) Sensitization to autoimmune hepatitis in group VIA calcium-independent phospholipase A2-null mice led to duodenal villous atrophy with apoptosis, goblet cell hyperplasia and leaked bile acids. Biochim Biophys Acta 1852:1646–1657

Kim YV, Pearce D, Kim KS (2008) Ca(2+)/calmodulin-dependent invasion of microvascular endothelial cells of human brain by Escherichia coli K1. Cell Tissue Res 332:427–433

Leite PM, Martins MA, Castilho RO (2016) Review on mechanisms and interactions in concomitant use of herbs and warfarin therapy. Biomed Pharmacother 83:14–21

Li H, Kan H, He C, Zhang X, Yang Z, Jin J, Zhang P, Ma X (2018) TRPV4 activates cytosolic phospholipase A2 via Ca2+-dependent PKC/ERK1/2 signalling in controlling hypertensive contraction. Clin Exp Pharmacol Physiol 45:908–915

Lorkowska B, Chlopicki S, Marcinkiewicz E, Gryglewski RJ (2004) Statins rise cytoplasmic calcium level [Ca2+]i in cultured endothelial cells. Pol J Pharmacol 56:313–318

Lu G, Dong Z, Wang Q, Qian G, Huang W, Jiang Z, Leung KS, Zhao Z (2010) Toxicity assessment of nine types of decoction pieces from the daughter root of Aconitum carmichaeli (Fuzi) based on the chemical analysis of their diester diterpenoid alkaloids. Planta Med 76:825–830

Merritt JE, Jacob R, Hallam TJ (1989) Use of manganese to discriminate between calcium influx and mobilization from internal stores in stimulated human neutrophils. J Biol Chem 264:1522–1527

Morita K, Sakakibara A, Kitayama S, Kumagai K, Tanne K, Dohi T (2002) Pituitary adenylate cyclase-activating polypeptide induces a sustained increase in intracellular free Ca2+ concentration and catechol amine release by activating Ca2+ influx via receptor-stimulated Ca2+ entry, independent of store-operated Ca2+ channels, and voltage-dependent Ca2+ channels in bovine adrenal medullary chromaffin cells. J Pharmacol Exp Ther 302:972–982

Murayama M, Hikino H (1985) Effect of cyclic AMP on mesaconitine-induced analgesia in mice. Eur J Pharmacol 108:19–23

Ogura J, Mitamura M, Someya A, Shimamura K, Takayama H, Aimi N, Horie S, Murayama T (2004) Mesaconitine-induced relaxation in rat aorta: role of Na+/Ca2+ exchangers in endothelial cells. Eur J Pharmacol 483:139–146

Putney JW (2018) Forms and functions of store-operated calcium entry mediators, STIM and Orai. Adv Biol Regul 68:88–96

Sanders K, Moran Z, Shi Z, Paul R, Greenlee H (2016) Natural products for cancer prevention: clinical update 2016. Semin Oncol Nurs 32:215–240

Schmitz-Peiffer C (2018) Anarchy in the UPR: a Ca2+-insensitive PKC inhibits SERCA activity to promote ER stress. Biosci Rep 38:BSR20170966

Tan Y, Liu X, Lu C, He X, Li J, Xiao C, Jiang M, Yang J, Zhou K, Zhang Z, Zhang W, Lu A (2014) Metabolic profiling reveals therapeutic biomarkers of processed Aconitum carmichaeli Debx in treating hydrocortisone induced kidney-yang deficiency syndrome rats. J Ethnopharmacol 152:585–593

Thastrup O, Cullen PJ, Drøbak BK, Hanley MR, Dawson AP (1990) Thapsigargin, a tumor promoter, discharges intracellular Ca2+ stores by specific inhibition of the endoplasmic reticulum Ca2+-ATPase. Proc Natl Acad Sci U S A 87:2466–2470

Tong P, Xu S, Cao G, Jin W, Guo Y, Cheng Y, Jin H, Shan L, Xiao L (2014) Chondroprotective activity of a detoxicated traditional Chinese medicine (Fuzi) of Aconitum carmichaeli Debx against severe-stage osteoarthritis model induced by mono-iodoacetate. J Ethnopharmacol 151:740–744

Tsien RY (1980) New calcium indicators and buffers with high selectivity against magnesium and protons: design, synthesis, and properties of prototype structures. Biochemistry 19:2396–2404

Wei H, Wu H, Yu W, Yan X, Zhang X (2015) Shenfu decoction as adjuvant therapy for improving quality of life and hepatic dysfunction in patients with symptomatic chronic heart failure. J Ethnopharmacol 169:347–355

Xu XL, Yang LJ, Jiang JG (2016) Renal toxic ingredients and their toxicology from traditional Chinese medicine. Expert Opin Drug Metab Toxicol 12:149–159

Zhang F, Tang MH, Chen LJ, Li R, Wang XH, Duan JG, Zhao X, Wei YQ (2008) Simultaneous quantitation of aconitine, mesaconitine, hypaconitine, benzoylaconine, benzoylmesaconine and benzoylhypaconine in human plasma by liquid chromatography-tandem mass spectrometry and pharmacokinetics evaluation of "SHEN-FU" injectable powder. J Chromatogr B Anal Technol Biomed Life Sci 873:173–179

Zhang M, Peng CS, Li XB (2015) In vivo and in vitro metabolites from the main diester and monoester diterpenoid alkaloids in a traditional Chinese herb, the Aconitum species. Evid Based Complement Alternat Med 2015:252434
Acknowledgments
This work was supported by the Department of Pharmacy and Master Program, College of Pharmacy and Health Care, Tajen University, Pingtung County 90741, Taiwan.
Ethics declarations
Conflict of Interest
The authors declare that they have no conflicts of interest.
Additional information
Publisher's Note
Springer Nature remains neutral with regard to jurisdictional claims in published maps and institutional affiliations.
About this article
Cite this article
Hsu, S., Liang, W. Cytotoxic Effects of Mesaconitine, the Aconitum carmichaelii Debx Bioactive Compound, on HBEC-5i Human Brain Microvascular Endothelial Cells: Role of Ca2+ Signaling-Mediated Pathway. Neurotox Res (2020). https://doi.org/10.1007/s12640-020-00249-2
Received:

Revised:

Accepted:

Published:
Keywords
Mesaconitine

Ca2+ signaling

Cytotoxicity

Human brain microvascular endothelial cells

Store-operated Ca2+ channel

Endoplasmic reticulum