Abstract
Cutaneous leishmaniasis represents the most neglected tropical disease across the world. In Morocco, this disease is endemic and constitutes a major public health problem, with a national control program been implemented. The current study aimed to determine the pattern and epidemiological features of cutaneous leishmaniasis in affected patients in an area covered by the CL control and prevention program (Central Morocco). A total of 161 patients suspected for cutaneous leishmaniasis were diagnosed according to WHO laboratory methods, and 82 cases were confirmed positive for CL. The reports were analysed by patients' socio-geographic status, gender and age. The number and distribution of CL lesions by location, gender and age were investigated. Overall the confirmed cases, 89 % were infected by Leishmania tropica versus 21 % for Leishmania major. Females were significantly more affected than males (p < 0.01). Children (0–15 years), especially those ≤ 7 years of age, were the most affected. For the distribution of lesions, single lesion cases were largely preponderant (70.7 %) compared to multiple lesions. Face location was significantly more frequent (62.2 %) compared to limbs (26.8 %). Face lesions were found more prevalent in children than in adults while limb lesions were highly observed in adults. The pattern of the disease is affected by many factors (e.g. environment, gender, age, etc.) and has specifics to be considered in prevention and control programs in endemic areas.
Access options
Buy single article
Instant access to the full article PDF.
US$ 39.95
Tax calculation will be finalised during checkout.
Subscribe to journal
Immediate online access to all issues from 2019. Subscription will auto renew annually.
US$ 79
Tax calculation will be finalised during checkout.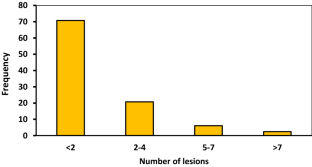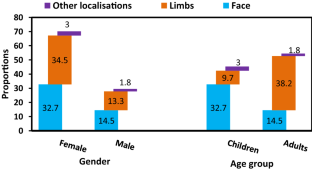 References
Aara N, Khandelwal K, Bumb RA, Mehta RD, Ghiya BC, Jakhar R, Dodd C, Salotra P, Satoskar AR (2013) Clinco-epidemiologic study of cutaneous leishmaniasis in Bikaner, Rajasthan, India. Am J Trop Med Hyg 89:111–115

Abazid N, Jones C, Davies CR (2012) Knowledge, attitudes and practices about leishmaniasis among cutaneous leishmaniasis patients in Aleppo, Syrian Arab Republic. East Mediterr Health J 18(1):7–14

Adawi S, Hilmi A (2012) Cutaneous leishmaniasis: a ten-year study of the epidemiology and clinical features in Salfit District (2001–2010). Int J Trop Dis Health 2(2):100–111

Akçali C, Çulha G, İnalöz S, Savaş N, Önlen Y, Savaş L, Kırtak N (2007) Cutaneous leishmaniasis in Hatay. J Turk Acad Dermatol 1(1):1

Alvar J, Velez ID, Bern C, Herrero M, Desjeux P, Cano J, Jannin J, den Boer M (2012) Leishmaniasis worldwide and global estimates of its incidence. PLoS ONE 7(5):35671

Arce A, Estirado A, Ordobas M, Sevilla S, García N, Moratilla L, de la Fuente S, Martínez AM, Pérez AM, Aránguez E, Iriso A, Sevillano O, Bernal J, Vilas F (2013) Re-emergence of leishmaniasis in Spain: community outbreak in Madrid, Spain, 2009 to 2012. Euro Surveill 18(30):20546

Bennis I, De Brouwere V, Ameur B, El Idrissi Laamrani A, Chichaoui S, Hamid S, Boelaert M (2015) Control of cutaneous leishmaniasis caused by Leishmania major in south-eastern Morocco. Trop Med Int Health 20(10):1297–1305

Bousslimi N, Aoun K, Ben-Abda I, Ben-Alaya-Bouafif N, Raouane M, Bouratbine A (2010) Epidemiologic and clinical features of cutaneous leishmaniasis in southeastern Tunisia. Am J Trop Med Hyg 83(5):1034–1039

Dedet JP, Pratlong F (2003) Leishmaniasis. In: Manson P, Cook G, Zumla A (eds) Manson's tropical diseases, 21st edn. Saunders, London, pp 1339–1364

Delgado O, Silva S, Coraspe V, Ribas MA, Rodriguez-Morales AJ, Navarro P, Franco-Paredes C (2008) American cutaneous leishmaniasis in children and adolescents from North central Venezuela. Trop Biomed 25(3):178–183

Desjeux P (2004) Leishmaniasis: current situation and new perspectives. Comp Immunol Microbiol Infect Dis 27(5):305–318

El Alem MM, Sebti F, Lemine M, Chichaoui S, Adlaoui E, Habbari K, Sadak A, Fellah H (2016) Geographical distribution and new situation of Leishmania species after the control of cutaneous leishmaniasis Foci in Errachidia Province, Morocco, in 2014. Biomed Res Int 2016:e8642373

El Hamouchi A, Daoui O, Ait Kbaich M, Mhaidi I, El Kacem S, Guizani I, Sarih M, Lemrani M (2019) Epidemiological features of a recent zoonotic cutaneous leishmaniasis outbreak in Zagora province, southern Morocco. PLoS Negl Trop Dis 13(4):e0007321

Fikre H, Mohammed R, Atinafu S, Griensven JV, Diro E (2017) Clinical features and treatment response of cutaneous leishmaniasis in North-West Ethiopia. Trop Med Int Health 22(10):1293–1301

Gandacu D, Glazer Y, Anis E, Karakis I, Warshavsky B, Slater P, Grotto I (2014) Resurgence of cutaneous leishmaniasis in Israel, 2001–2012. Emerg Infect Dis 20(10):1605–1611

Gitari JW, Nzou SM, Wamunyokoli F, Kinyeru E, Fujii Y, Kaneko S, Mwau M (2018) Leishmaniasis recidivans by Leishmania tropica in Central Rift Valley Region in Kenya. Int J Infect Dis 74:109–116

Harms G, Schnian G, Feldmeier H (2003) Leishmaniasis in Germany. Emerg Infect Dis 9(7):872–875

Layegh P, Moghiman T, Hoseini SAA (2013) Children and cutaneous leishmaniasis: a clinical report and review. J Infect Dev Ctries 7(8):614–617

McMichael AJ, Lindgren E (2011) Climate change: present and future risks to health, and necessary responses. J Intern Med 270:401–413

MoH, Ministry of Health (2010) Leishmaniases control: activities guide [French]. Lutte contre les leishmanioses, guide des activités. Directory of Epidemiology and Diseases Control, Rabat, p 144

MoH, Ministry of Health (2016) Health in numbers [French] Santé en chiffres. Department of Planning and Financial Resources Planning and Studies Division Health Studies and Information Service, Rabat, p 166

Nassiri A, Baybay H, Aqil N, Oukarfi S, Gallouj S, Mernissi F (2016) cutaneous leishmaniasis in children in Morocco: about 12 cases. [French]. Ann Dermatol Venereol 143(S12):300–301

Nawaratna SSK, Weilgama DJ, Wijekoon CJ, Dissanayake M, Rajapaksha K (2007) Cutaneous leishmaniasis, Sri Lanka. Emerg Infect Dis 13(7):1068–1070

Nawaz M, Din M, Khan A, Khan A, Ali M, Ud Din S, Asla K (2020) Epidemiological features of cutaneous leishmaniasis endemic in hilly areas of district Karak, Khyber-Pakhtunkhwa province of Pakistan. J Parasit Dis 44:725–729

Nikouee F, Soltanian M, Babaee F, Motamed-Jahromi M (2017) Cutaneous leishmaniasis: an epidemiological survey in Iran during 2013–2015. J Nurs Midwifery Sci 4(1):58–62

Nilforoushzadeh MA, Bidabadi LS, Hosseini SM, Nobari RF, Jaffary F (2014) Cutaneous leishmaniasis in Isfahan province, Iran, during 2001–2011. J Skin Stem Cell 1(2):e23303

Rostami MN, Saghafipour A, Vesali E (2013) A newly emerged cutaneous leishmaniasis focus in central Iran. Int J Infect Dis 17(12):e1198–e1206

Simon S, Nacher M, Carme B, Basurko C, Roger A, Adenis A, Ginouves M, Demar M, Couppie P (2017) Cutaneous leishmaniasis in French Guiana: revising epidemiology with PCR-RFLP. Trop Med Health 45:5

Soltani S, Foroutan M, Hezarian M. Afshari H, Kahvaz MS (2019) Cutaneous leishmaniasis: an epidemiological study in southwest of Iran. J Parasit Dis 43:190–197

WHO, World Health Organization (1991) Basic laboratory methods in medical parasitology. In: Basic Malaria Microscopy. Part I. WHO, Geneva, 114p

WHO, World Health Organization (2007) Cutaneous leishmaniasis, why are you neglecting me? A WHO initiative to control cutaneous leishmaniasis in selected old world areas. WHO, Geneva

WHO, World Health Organization (2010) Control of the Leishmaniasis: report of a meeting of the WHO Expert Committee on the Control of Leishmaniases, Geneva, 22–26 March 2010. WHO, Geneva

World Health Assembly (2007) The World Health Assembly Resolution (WHA60.13) on the "Control of Leishmaniasis". Geneva, Switzerland, p 5

Yemisen M, Ulas Y, Celik H, Aksoy N (2012) Epidemiological clinical characteristics of 7122 patients with cutaneous leishmaniasis in Sanliurfa, between 2001 and 2008. Int J Dermatol 51(3):300–304

Zougaghi L, Bouskraoui M, Amine M, Akhdari N, Amal S (2011) Cutaneous leishmaniasis due to Leishmania tropica in the area of Marrakech (Morocco): a rebellious focus! Rev Francoph laboratoires 429:35–39

Zouirech M, Rajoui M, Faraji C, El Guamri Y, Amahmid O, El Hachimi MY, Bouhout S, El Kharrim K, Belghyti D (2018) Entomological inventory of Phlebotomine sand flies and epidemiological study of leishmaniasis in Afourer, Azilal province, High Atlas, Morocco. Med Sante Trop 28:385–389
Acknowledgements
The authors are extremely grateful to the officials and staff of: the Regional Direction of Health and the Regional Laboratory of Epidemiological Diagnostic and Environmental Hygiene, Marrakech-Safi, and the Ambulatory Outreach Service (SIAAP) for their valuable collaboration on this study. Their assistance is greatly appreciated.
Funding
This research did not receive any specific grant from funding agencies in the public, commercial, or not-for-profit sectors.
Ethics declarations
Conflict of interest
The authors declare that there is no conflict of interest.
Additional information
Publisher's note
Springer Nature remains neutral with regard to jurisdictional claims in published maps and institutional affiliations.
About this article
Cite this article
Amahmid, O., El Guamri, Y., Zenjari, K. et al. Epidemiological features of cutaneous leishmaniasis in diagnosed patients from an endemic area (central Morocco). J Parasit Dis (2021). https://doi.org/10.1007/s12639-021-01357-2
Received:

Accepted:

Published:
Keywords
Cutaneous leishmaniasis

Epidemiology

Demographic data

Clinical feature