Abstract
In the present study, eggs and copepodid stages of Argulus japonicus were treated with ethanol and methanol extract of Azadirachta indica (neem) leaf and its antiparasitic efficacy (AE %) was determined. The experiments were performed in triplicate along with the positive (2% DMSO) and negative (without DMSO and extract) control groups. The reduced cumulative hatching percentage of eggs by 13% (in ethanolic) and 17% (in methanolic) extract of neem leaf at 1.5 g L−1 was obtained during 15-day exposure compared to the control group showing 70–85% eggs hatching. The AE of 100% for ethanolic and 91.66% for methanolic extract against the copepodid stage was found at 1.25 and 1.5 g L−1 respectively in 6 h. The histological analysis of the eggs showed the undifferentiated decaying mass of cells with extensively damaged eggs when treated with ethanolic extract of neem leaf. Further, severe degeneration in the branchial region, digestive tract and eye cells was observed in the copepodids treated with ethanol extract than the methanol extract. The terpenoids a potential antiparasitic compound of ethanolic extract produced more AE than the methanolic extract. Thus, the ethanolic extract of neem leaf can be potentially utilized as a natural parasiticide to disrupt the egg and other life phases of A. japonicus.
Access options
Buy single article
Instant access to the full article PDF.
US$ 39.95
Tax calculation will be finalised during checkout.
Subscribe to journal
Immediate online access to all issues from 2019. Subscription will auto renew annually.
US$ 79
Tax calculation will be finalised during checkout.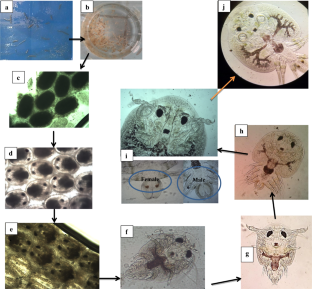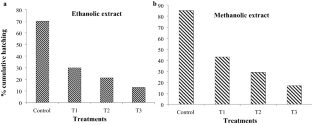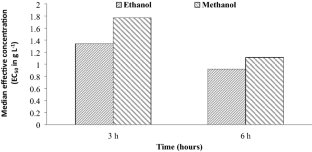 Data availability
All data generated or analyzed during this study are available from the corresponding author on reasonable request.
References
Ahne W, Bjorklund HV, Essbauer S, Fijan N, Kurath G, Winton JR (2002) Spring viremia of carp (SVC). Dis Aquat Org 52:261–272

Bandilla M, Hakalahti T, Hudson PJ, Valtonen ET (2005) Aggregation of Argulus coregoni (Crustacea: Branchiura) on rainbow trout (Oncorhynchus mykiss): a consequence of host susceptibility or exposure. Parasitol 130:169–176

Banerjee A, Manna S, Saha SK (2014) Effect of aqueous extract of Azadirachta indica, A. Juss (neem) leaf on oocyte maturation, oviposition, reproductive potentials and embryonic development of a freshwater fish ectoparasite Argulus bengalensis Ramakrishna, 1951 (Crustacea: Branchiura). Parasitol Res 113:4641–4650

Banerjee A, Poddar S, Manna S, Saha SK (2016) Mutualistic association of rotifer Philodina roseola with the branchiuran fish ectoparasite Argulus bengalensis at its embryonic stage. Biol Lett 12:20151043

Banerjee A, Saha SK (2013) Biphasic control of Argulus bengalensis Ramakrishna (1951) (Crustacea: Branchiura) with plant derivatives. Aquaculture 414:202–209

Biswas K, Chattopadhyay RK, Banerjee U, Bandyopadhyay U (2002) Biological activities and medicinal properties of neem (Azadirachta indica). Curr Sci 82:1336–1345

Devi NP, Das SK, Sanjukta RK, Singh SG (2019) A comparative study on antibacterial activity of integumentary extract of selected freshwater fish Species and Neem extracts against gram-positive and Gram-Negative bacteria. J Entomol Zool Stud 7:1352–1355

Finney DJ (1971) Probit Analysis, 3rd edn. Cambridge University Press, Cambridge, p 333

Fryer G (1982) The parasitic Copepoda and Branchiura of British freshwater fishes. A handbook and key- Freshw Biol Assoc Sci Publ 46–87

Goktepe I, Portier R, Ahmedna M (2004) Ecological risk assessment of neem-based pesticides. Environ Sci Health 39:311–320

Gonzalez TA, Becker JA, Hutson KS (2018) Parasite dispersal from the ornamental goldfish trade. Adv Parasitol 100:239–281

Hakalahti T, Lankinen Y, Valtonen ET (2004) Efficacy of emamectin benzoate in the control of Argulus coregoni (Crustacea: Branchiura) on rainbow trout Oncorhynchus mykiss. Dis Aquat Org 60:197–204

Hakalahti T, Mikheev VN, Valtonen ET (2008) Control of freshwater fish louse Argulus coregoni: a step towards an integrated management strategy. Dis Aquat Org 82:67–77

Hashemi ZSS, Hossain MA (2016) Biological activities of different neem leaf crude extracts used locally in Ayurvedic medicine. Pacific Sci Rev A: Nat Sci Eng 18:128–131

Hemaprasanth KP, Kar B, Garnayak SK, Mohanty J, Jena JK, Sahoo PK (2012) Efficacy of two avermectins, doramectin and ivermectin against Argulus siamensis infestation in Indian major carp, Labeo rohita. Vet Parasitol 190:297–304

Idris F, Mahasri G (2020) Different concentration influence of Moringa oleifera leaf aqueous extract immersion against Argulus japonicus egg damage. IOP Conf Series: Earth Environ Sci 441:0121–0131

Kar B, Mohapatra A, Mohanty J, Sahoo PK (2017) Evaluation of ribosomal P0 peptide as a vaccine candidate against Argulus siamensis in Labeo rohita. Open Life Sci 12:99–108

Kavitha M, Raja M, Kamaraj C, Karthik RR, Balasubramaniam V (2017) In vitro antimicrobial activity of Azadirachta indica (Leaves) against fish pathogenic bacteria isolated from naturally infected Dawkinsia filamentosa (Blackspot barb). Med Aromat Plants 6:2167–412

Kismiyati K, Subekti S, Inaya AFN (2015) The influence of Papaya Seed (Carica papaya) toward the damage eggs of Argulus japonicus. J Ilmiah Perikanan dan Kelautan 7:159–164

Kumar A, Raman RP, Kumar K, Pandey PK, Kumar V, Mohanty S, Kumar S (2012a) Antiparasitic efficacy of piperine against Argulus spp. on Carassius auratus (Linn. 1758): in vitro and in vivo study. Parasitol Res 111:2071–2076

Kumar R, Sharma S, Devi L (2018) Investigation of total phenolic, flavonoid contents and antioxidant activity from extracts of Azadirachta indica of Bundelkhand Region. Int J Life Sci Sci 2455:1716

Kumar S, Raman RP, Kumar K, Pandey PK, Kumar N, Mohanty S, Kumar A (2012b) In vitro and in vivo antiparasitic activity of Azadirachtin against Argulus spp. in Carassius auratus (Linn. 1758). Parasitol Res 110:1795–1800

Kumari P, Kumar S, Paul T, Raman RP, Rajendran KV (2020) Potential Management strategies against argulosis in aquaculture. Aquacult Mag 6:30–36

Kumari P, Kumar S, Ramesh M, Shameena S, Deo AD, Rajendran KV, Raman RP (2019) Antiparasitic effect of aqueous and organic solvent extracts of Azadirachta indica leaf against Argulus japonicus in Carassius auratus. Aquaculture 511:634175

Kumari P, Ramesh M, Shameena SS, Raman RP, Kumar S (2018). Argulosis: threat for ornamental fish industry. Aquacult Times 7–11.

Ling F, Wang JG, Lu C, Wang GX, Lui YH, Gong XN (2012) Effects of aqueous extract of Capsicum frutescens (Solanaceae) against the fish ectoparasite Ichthyophthirius multifiliis. Parasitol Res 111:841–848

Mamadou K, Moussa C, Kouame F, Elena SR, Agathe F, Livui MD (2013). In vivo antiparasitic effects of an African's traditional plant Ocimum gratissimum (Linn., 1758) on fish louse Argulus spp. infesting the Nile tilapia males Oreochromis niloticus (Linn., 1758) in fish farming. Open Sci. Repository Vet Med N DOI: 10.7392- 23050447.

Mishra SS, Rakesh D, Dhiman M, Choudhary P, Debbarma J, Sahoo SN, Mishra CK (2017) Present status of fish disease management in freshwater aquaculture in India: state-of-the-art-review. J Aquacult Fish 1:003

Mordue AJ, Nisbet AJ (2000) Azadirachtin from the neem tree Azadirachta indica: its actions against insects. Anais Soci Entomol Brasil 29:615–632

Mousavi HE, Behtash F, Rostami-Bashman M, Mirzargar SS, Shayan P, Rahmati-holasoo H (2011) Study of Argulus spp. infestation rate in Goldfish, Carassius auratus (Linnaeus, 1758) in Iran. Humam Vet Med 3:198–204

Muchlisin ZA, Munazir AM, Fuady Z, Winaruddin W, Sugianto S, Adlim M, Fadli N, Hendri A (2014) Prevalence of ectoparasites on mahseer fish (Tor tambra Valenciennes, 1842) from aquaculture ponds and wild population of Nagan Raya District, Indonesia. Hum Vet Med 6:148–152

Noga EJ (2010) Fish Disease Diagnosis and Treatment. 2nd Edition Mosby-yearbook, Inc. watsworth publishing Co USA 366.

Pandreka A, Dandekar DS, Haldar S, Uttara V, Vijayshree SG, Mulani FA, Aarthy T, Thulasiram HV (2015) Triterpenoid profiling and functional characterization of the initial genes involved in isoprenoid biosynthesis in neem (Azadirachta indica). Plant Biol 15:201–214

Raman RP (2017) Applicability, feasibility and efficacy of phytotherapy in aquatic animal health management. Am J Plant Sci 8:257

Rath S, Pereira LA, Dal Bosco SM, Maniero MG, Fostier AH, Guimaraes JR (2016) Fate of ivermectin in the terrestrial and aquatic environment: mobility, degradation, and toxicity towards Daphnia similis. Environ Sci Pollut Res 23:5654–5666

Roberts RJ, Hardy RW, Sugiura SH (2001) Screamer disease in Atlantic salmon, Salmo salar in Chile. J Fish Dis 24:543–549

Rushton-Mellor SK (1994) The genus Argulus (Crustacea: Branchiura) in Africa: identification keys. Syst Parasitol 28:51–63

Saha M, Bandyopadhyay PK (2015) First report of three species of Argulus (Crustacea: Branchiura) infesting on redcap Oranda gold fish (Carassius auratus) in India. Biolife 3:813–819

Sahoo PK, Mohanty J, Garnayak SK, Mohanty BR, Kar B, Prasanth H, Jena JK (2013a) Estimation of loss due to argulosis in carp culture ponds in India. Indian J Fish 60:99–102

Sahoo PK, Mohanty J, Hemaprasanth KB, Mohanty BR, Garnayak SK, Jena JK (2013b) Egg laying strategies and effect of temperature on egg development of Argulus siamensis. J Parasit Dis 37:158–162

Sahoo PK, Parida S, Mohapatra A, Mohanty J (2019) Selection of candidate reference genes for RT-qPCR analysis in Argulus siamensis and their validation through screening of drugs and drug targets. Sci Rep 9:1–11

Sahoo PK, Paul A, Sahoo MK, Pattanayak S, Kumar PR, Das BK (2020) Incidences of Infectious Diseases In Freshwater Aquaculture Farms Of Eastern India: a passive surveillance based Study from 2014–2018. J Aquacult Res Dev 11:579

Sari NDK (2014) Control of Argulus japonicus eggs by means of drying, Doctoral dissertation, Airlangga University. 113–124

Saurabh S, Mohanty BR, Sahoo PK (2011) Expression of immune–related genes in rohu Labeo rohita (Hamilton) by experimental freshwater lice Argulus siamensis (Wilson) infection. Vet Parasitol 175:119–128

Shafir A, Van JG (1986) Laying, development and hatching of eggs of the fish ectoparasite Argulus japonicus (Crustacea: Branchiura). J Zool 210:401–413

Shimura S (1983) Seasonal occurrence, sex ratio and site preference of Argulus coregoni Thorell (Crustacea: Branchiura) parasitic on cultured freshwater salmonids in Japan Parasitol 86: 537–552.

Taylor NGH, Sommerville C, Wootten R (2006) The epidemiology of Argulus spp. (Crustacea: Branchiura) infections in stillwater trout fisheries. J Fish Dis 29:193–200

Vazquez-Leon LA, Paramo-Calderon DE, Robles-Olvera VJ, Valdes-Rodriguez OA, Perez-Vazquez A, Garcia-Alvarado MA, Rodriguez-Jimenes GC (2017) Variation in bioactive compounds and antiradical activity of Moringa oleifera leaves: influence of climatic factors, tree age, and soil parameters. European Food Res Technol 243:1593–1608

Walker PD, Flik G, Bonga SEW (2004) The biology of parasites from the genus Argulus and a review of the interactions with its host. Symp Soc Exp Biol 55:107–128

Wang GX, Han J, Cheng C, Feng TT, Fu-yuan L, Zhu B (2009) Bioassay-guided isolation and identification of active compounds from Fructus cnidii against Dactylogyrus intermedius (Monogenea) in goldfish (Carassius auratus). Parasitol Res 106:247–255

Woo PTK (1995) Fish Diseases and Disorders: Protozoan and Metazoan Infections. CAB Int 1:542–550

Yıldız KKA, Kumantas A (2002) Argulus foliaceus infection in a goldfish (Carassius auratus). Israel J Vet Med 57:118–120

Yunikasari RD, Mahasri G (2020) Correlation between water quality and prevalence on Koi (Cyprinus carpio) which infested by Argulus in Mungkid Subdistrict and Muntilan Subdistrict, Magelang Regency. Central Java E&ES 441:012150
Acknowledgement
The authors owe their thankfulness and gratitude to ICAR, The Director and Vice-Chancellor, ICAR-Central Institute of Fisheries Education, Mumbai, India, for providing all the facilities required for the present work.
Ethics declarations
Conflict of interest
The authors declare no conflict of interest.
Ethical standards
The authors assert that all procedures contributing to this work comply with the ethical standards of the relevant national and institutional guides on the use of laboratory animals.
Additional information
Publisher's Note
Springer Nature remains neutral with regard to jurisdictional claims in published maps and institutional affiliations.
Electronic supplementary material
Below is the link to the electronic supplementary material.
About this article
Cite this article
Kumari, P., Kumar, S., Deo, A.D. et al. Antiparasitic potentiality of ethanol and methanol extracts of Azadirachta indica leaf for eggs and copepodid stage of Argulus japonicus: in vitro study. J Parasit Dis (2021). https://doi.org/10.1007/s12639-021-01355-4
Received:

Accepted:

Published:
Keywords
Azadirachta indica

Ethanol extract

Antiparasitic efficacy

Argulus japonicus

Eggs

Copepodid