Abstract
This study assessed the effects of artemether and in combination with diminazene aceturate on parasitaemia, weight, haematology and pathology induced by experimentally Trypanosoma brucei brucei infection in Wistar rats. Fifty adult rats comprising 25 each of males and females were assigned into 5 groups of ten rats (five males and five females). Rats in group I was uninfected while groups II-V were infected with T b brucei. Groups II were untreated; III administered diminazene aceturate once; IV and V administered artemether only and in combination with diminazene aceturate respectively for 5 days. Parasitaemia was determined daily, blood was collected for haematology and weight obtained every four days for a period of 32 days. At 24 days post-treatment, rats were humanely euthanized and organs harvested for pathological examination. Results revealed parasitaemia at day 4 post-infection, significant (p < 0.05) decrease in weight, erythrogram and leucogram in all infected rats. Following treatment, there was significant (p < 0.05) decrease in parasitaemia, increased weight gain and improved haematology. Pathological examination revealed significantly (p < 0.05) decreased gross and histopathological lesions in treated groups compared to group II. In conclusion, artemether and in combination with diminazene aceturate produced antitrypanosomal effects against experimental trypanosomosis.
Access options
Buy single article
Instant access to the full article PDF.
US$ 39.95
Tax calculation will be finalised during checkout.
Subscribe to journal
Immediate online access to all issues from 2019. Subscription will auto renew annually.
US$ 79
Tax calculation will be finalised during checkout.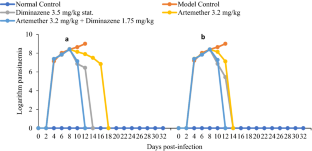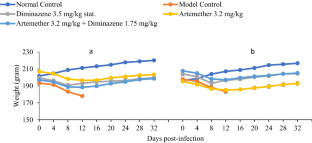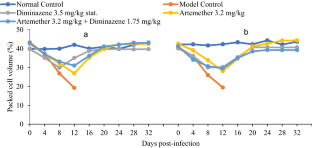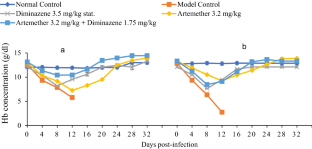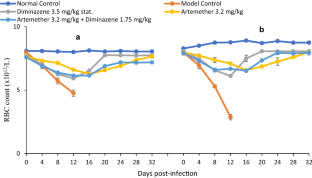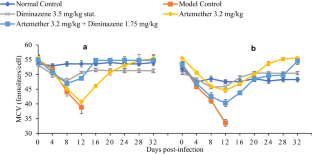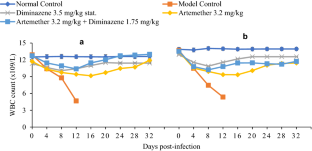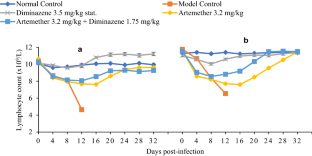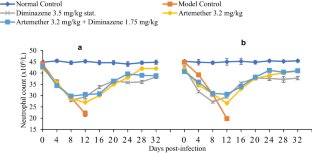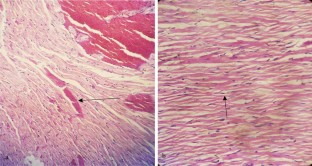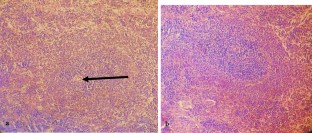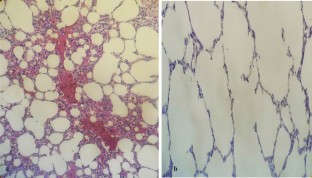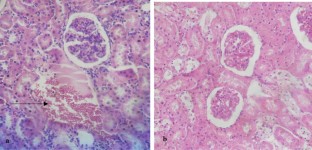 References
Barghash SM (2016) Evaluation of in vitro and in vivo activities of some medicinal plants against trypanosomiasis. Int J Adv Res 4:1169–1178. https://doi.org/10.21474/IJAR01/1599

Beverley SM (2016) African Trypanosomes Find a Fat Haven. Cell host Micro 19(6):748–749. https://doi.org/10.1016/j.chom.2016.05.022

Eghianruwa KI, Oridupa OA (2018) Chemotherapeutic control of trypanosomosis-a review of past measures, current status and future trends. Vet arhiv 88(2):245–270. https://doi.org/10.24099/vet.arhiv.161115a

Geiger A, Ponton F, Simo G (2015) Adult blood-feeding tsetse flies, trypanosomes, microbiota and the fluctuating environment in sub-Saharan Africa. ISME J 9(7):1496–1507. https://doi.org/10.1038/ismej.2014.236

Giordani F, Morrison LJ, Rowan TG, De Koning HP, Barrett MP (2016) The animal trypanosomiases and their chemotherapy: a review. Parasitol 143(14):1862–1889. https://doi.org/10.1017/S0031182016001268

Guo Z (2016) Artemisinin anti-malarial drugs in China. Acta Pharm Sinica 6(2):115–124. https://doi.org/10.1016/j.apsb.2016.01.008

Harvey AL (2008) Natural products in drug discovery. Drug Discovery Today 13(19–20):894–901. https://doi.org/10.1016/j.drudis.2008.07.004

Herbert WJ, Lumsden WHR (1976) Trypanosoma brucei: a rapid "matching" method for estimating the host's parasitemia. Exp Parasitol 40(3):427–431. https://doi.org/10.1016/0014-4894(76)90110-7

Hien TT, Davis TM, Chuong LV, Ilett KF, Sinh DX, Phu NH (2004) Comparative pharmacokinetics of intramuscular artesunate and artemether in patients with severe falciparum malaria. Antimicrob Agents Chemother 48:4234–4239. https://doi.org/10.1128/AAC.48.11.4234-4239.2004

Ibrahim A, Mbaya AW, Anene BM, Luka J (2016) Comparative parasitaemia and haematology of mice, rats and rabbits experimentally infected with Trypanosoma brucei brucei and their responses to diminazene diaceturate (Veriben®) therapy. Asian Pacific J Trop Dis 6(7):527–532. https://doi.org/10.1016/S2222-1808(16)61082-4

Jolayemi KO, Mohammed M, Sani D, Okoronkwo MO, Amaje J (2020) In vitro and in vivo changes observed in Trypanosoma brucei brucei-infected rats treated with artesunate and/or diminazene aceturate. Sokoto J Vet Sci 18(4):211–220. https://doi.org/10.4314/sokjvs.v18i4.5

Kagira JM, Thuita JK, Ngotho M, Mdachi R, Mwangangi DM, Ndung'u JM (2006) Haematology of experimental Trypanosoma brucei rhodesiense infection in vervet monkeys. Afr J Health Sci 13(3):59–65. https://doi.org/10.4314/ajhs.v13i3.30837

Kennedy PG (2013) Clinical features, diagnosis, and treatment of human African trypanosomiasis (sleeping sickness). Lancet Neurol 12(2):186–194. https://doi.org/10.1016/S1474-4422(12)70296-X

Luna LG (1968) Manual of histologic staining methods of the Armed Forces Institute of Pathology. Third edition McGraw-Hill New York:174.

Mergia E, Shibeshi W, Terefe G, Teklehaymanot T (2016) Antitrypanosomal activity of Verbascum sinaiticum Benth (Scrophulariaceae) against Trypanosoma congolense isolates. BMC Complement Alter Med 16:362. https://doi.org/10.1186/s12906-016-1346-z

Muhanguzi D, Mugenyi A, Bigirwa G, Kamusiime M, Kitibwa A, Akurut GG, Ochwo S, Amanyire W, Okech SG, Hattendorf J, Tweyongyere R (2017) African animal trypanosomiasis as a constraint to livestock health and production in Karamoja region: a detailed qualitative and quantitative assessment. BMC Vet Res 13(1):355. https://doi.org/10.1186/s12917-017-1285-z

Naß J, Efferth T (2018) The activity of Artemisia spp. and their constituents against Trypanosomiasis. Phytomedicine 47:184–191. https://doi.org/10.1016/j.phymed.2018.06.002

Okwor OH, Ogugua VN, Okagu IU (2020) Therapeutic evaluation of anti-trypanosoma activity of ethanol extracts of Jatropha curcas roots in comparison with diminazene aceturate in Trypanosoma brucei brucei–parasitized rats. Comp Clin Pathol 29(6):1189–1198. https://doi.org/10.1007/s00580-020-03171-3

Rosenthal PJ (2004) Antiprotozoal drugs. In: Katzung, BG Basic and Clinical Pharmacology. The McGraw-Hill Companies Incorporation. Singapore:864–885.

Schalm OW, Jain NC, Carroll EJ (1975) Veterinary hematology. Lea and Febiger, Philadelphia, P. 422

Stijlemans B, De Baetseller P, Magez S, Van Ginderachter JA, Trez CD (2018) African Trypanosomiasis-associated anemia: The contribution of the interplay between parasites and the mononuclear phagocyte System. Front Immunol 9:218. https://doi.org/10.3389/fimmu.2018.00218

Szempruch AJ, Sykes SE, Kieft R, Dennison L, Becker AC, Gartrell A, Martin WJ, Nakavasu ES, Almeida IC, Hajduk SL, Harrington JM (2016) Extracellular vesicles from Trypanosoma brucei mediate virulence factor transfer and cause host anemia. Cell 164(1–2):246–257. https://doi.org/10.1016/j.cell.2015.11.051

Tauheed AM, Mamman M, Ahmed A, Suleiman MM, Balogun EO (2020) In vitro and in vivo antitrypanosomal efficacy of combination therapy of Anogeissus leiocarpus. Khaya senegalensis and potash J Ethnopharmacol 258:112805. https://doi.org/10.1016/j.jep.2020.112805

Tesfalem NE (2017) Immune response of hosts and prospects of vaccine development against African Trypanosomes: the review. J Nat Sci Res 7(5):1–9

Waller DG, Sampson AP (2017) Chemotherapy of infections. In: Medical Pharmacology and Therapeutics Fifth Edition. Elsevier:581–629

Weber JS, Ngomtcho SCH, Shaida SS, Chechet GD, Gbem TT, Nok JA, Kelm S (2019) Genetic diversity of trypanosome species in tsetse flies (Glossina spp.) in Nigeria. Parasites Vectors 12(1):481. https://doi.org/https://doi.org/10.1186/s13071-019-3718-y

White NJ (2008) Qinghaosu (artemisinin): the price of success. Science 320(5874):330–334. https://doi.org/10.1126/science.1155165
Acknowledgement
The authors are grateful to Mr. Dennis Otie of Department of Veterinary Pharmacology and Toxicology A.B.U. Zaria, for his technical expertise and assistance in conducting this research.
Ethics declarations
Conflict of interest
The authors declare no conflict of interest.
Ethical approval
Ethical approval was obtained from Ahmadu Bello University Committee on Animal Use and Care (ABUCAUC).
Additional information
Publisher's Note
Springer Nature remains neutral with regard to jurisdictional claims in published maps and institutional affiliations.
About this article
Cite this article
Jolayemi, K.O., Mamman, M., Sani, D. et al. Comparative effects of artemether and in combination with diminazene aceturate in the treatment of experimental Trypanosoma brucei brucei infection in Wistar rats. J Parasit Dis (2021). https://doi.org/10.1007/s12639-021-01350-9
Received:

Accepted:

Published:
Keywords
Artemether

Haematology

Parasitaemia

Pathology

Trypanosoma brucei brucei