Abstract
During the study fishes of the species Channa striatus, Heteropneustes fossilis, Anabas testudineus, Channa punctata were collected and examined for ecto as well as endoparasites. However, a new species of parasitic nematode of the genus Camallanus Railliet and Henry (Rev Parasitol 39:117–129, 1915) is described only from intestinal region of Siluriformes fish Heteropneustes fossilis Bloch (1794). Buccal capsule of the new species is slightly longer than width marked internally by 9–10 beaded longitudinal ridges in lateral view, 1–2 dorsal and ventral ridges incomplete that differs from other related species. It also differs on the basis of body measurements, maximum width/length ratio of buccal capsule, number and length of spicule, tridents nature, number and arrangement of caudal papillae in the posterior end. Due to differences in many aspects from the related congeners, the present species is proposed as new to the science. The present study deals with the morphological and morphometric description of Camallanus sonaiensis sp.n. from Assam, India.
Access options
Buy single article
Instant access to the full article PDF.
US$ 39.95
Tax calculation will be finalised during checkout.
Subscribe to journal
Immediate online access to all issues from 2019. Subscription will auto renew annually.
US$ 79
Tax calculation will be finalised during checkout.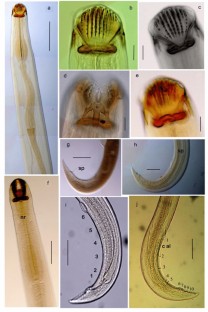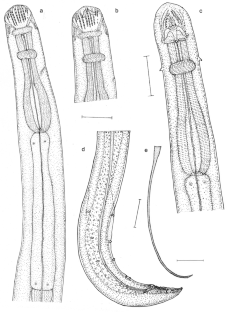 References
Agrawal V (1967) Some new Camallanoidea (Spirurida) nematodes from fishes, amphibians and reptiles. Ann Parasit Hum Comp 42:327–342

Arya, S.N. (1978). A new nematode, Camallanus kumaoni n. sp. (Camallanoidea) from a freshwater fish. Revta Bras. Biol., 40(3): 463–465.

Arya SN, Nama HS (1993) A new nematode Camallanus satyapali sp. n. from the freshwater fish of India. Indian J Helminth 45:120–123

Bashirullah AKM (1974) Two new nematodes species of Camallanus Railliet and Henry 1915 from freshwater fishes of Dacca Bangladesh. Nor J Zool 22:57–60

Bhalerao GD (1942) Some metacercarial forms of Clinostomatidae (Trematoda) from India. Proc Indian Acad Sci 16:67–71

Binky K, Ranibala T, Shomorendra M, Kar D (2011) Diversity of Helminth Parasites in fishes of Karbala Wetland in Cachar District of Assam. Environ Ecol 29(1):20–21

Chakravarthy GK (1942) On the nematode Camallanus salmonae from Kashmir. Curr Sci 11:441–442

Das P, Bordoloi SC (1997) Fish fauna of a Torrential River (Baisistha) in Kamrup District Assam, India. Journal of Inland Fisheries society of India 29(1):54–58

Das D, Goswami MM (2014) Helminth infection in Anabas testudineus of three wetlands of Goalpara, Assam. J Appl Nat Sci 6(2):677–679

Dey SC (1981) Studies on the hydrobiological conditions of some commercially important Beels of Kamrup district of Assam and their bearing on fish production, Final technical report, N.E.C., 177pp

Dutta PN, Lahon B (1987) Prospects and potentialities of beel fishery in Assam. In: Compendium of workshop on development of Beel fishery in Assam, pp 1–7

Fang W, Luo D (2007) A new Enteric Nematode of Camallanus (Nematoda: Camallanidae) from Jiyu Island of Amoy (Taiwan Strait). J Parasitol 93(5):1128–1131

Fernando CH, Furtado JI (1963) A study of some helminth parasites of freshwater fishes in Ceylon. Z Parasitenkd 23:141–163. https://doi.org/10.1007/BF00260290

Gupta R (1962) Two new species of the rare genus Schwartz itrema (Vigueras, 1940) Vigue-ras, 1941 (Trematoda: Strigeidae). Proc Nat Sci India 32:387–392

Gupta SP, Verma SL (1978) On four new species of the genus Camallanus (Family: Camallanidae Railliet and Henry, 1915) from freshwater fishes of Lucknow. Rev Parasitol 39:117–129

Gupta V, Bakshi R (1980) Nematode parasites of fishes I. Three new nematode species from freshwater fishes of Lucknow. Indian J Helminth 31:157–168

Gupta V, Bakshi R (1983) Nematode parasites of fishes III. On two new spirurids from the intestine of the freshwater fishes of India. Rev Parasitol 44:179–185

Justine JL, Briand MJ, Bray RA (2012) A quick and simple method, usable in the field for collecting parasites in suitable condition for both morphological and molecular studies. Parasitol Res 111(1):341–351

Kabre GB, Petter AJ (1997) Camallanus polypteri n. sp. (Nematoda: Camallanidae) in freshwater fishes from Burkina Faso. Onderstepoort J Vet Res 64:33–37

Kakar A, Bilqees FM, Iqbal A, Panezei MA, Mukhtar GES (2013) A new nematode Camallanus boomkeri from the fish, Channa orientalis (Oestiechthyes:Channidaes) in freshwaters of Panjgur, Balochistan. J Anim Plant Sci 23(5):1333–1341

Kar D (2005) Fish Fauna of river Barak of Mizoram and Tripura with a note on Conservation. J Freshw Biol 1:16

Kar D (2010) Biodiversity conservation prioritization. Swastik Publication, New Delhi, p X+180

Khan D, Yaseen T (1969) Helminth parasites of fishes from East Pakistan 1. Nematodes. Bull Dep Zool Univ Punjab NS Article 4:1–33

Khera S (1954) Nematode parasites of some Indian vertebrates. Indian J Helminth 6:27–33

Margolis L, Esch GW, Holmes JC, Schod GA (1982) The use of ecological terms in parasitology. Report of an ad-hoc Committee of the American Society of Parasitologists. J Parasit 68:131–133

Moorthy VN (1937) Camallanus sweeti, new species of Camallanidae (Nematoda). J Parasitol 23:302–306

Pearse AS (1933) Parasites of Siamese fishes and crustaceans. J Siam Soc Suppl 9(2):179–191

Railliet A, Henry A (1915) Sur les nematodes du genre Camallanus Raill, and Henry, 1915 (Cucullanus auct., non Mueller, 1777). Bull Soc Pathol Exot 8:117–119

Rasheed S (1970) Some new and known camallanid parasites of marine food fish from Pakistan. Revista de la Sociedad Mexicana de Historia Natural 31:193–210

Romen S, Kar D (2014) Abundance and distribution of Helminth parasites in the fishes of Sone Beel, The Biggest Wetland in Assam. Int J Sci Res 3(12):2277–8179

Sahay U, Narayan S (1968) A new nematode Camallanus thaparus from Channa (Ophiocephalus) striatus (Bloch). Indian J Helimnth 20(2):118–124

Siddiqi MN, Khattak AR (1984) Three new species of nematodes from fishes of N. W. F. P. (Pakistan). Pak Vet J 4(1):7–11

Singha R, Shomorendra M, Kar D (2015) Parasite infection of three freshwater fishes in Dolu Lake, Silchar, Assam. Int J Fish Aquat Stud 2(3):125–127

Sood ML (1989) Fish nematodes from South Asia, 1st edn. Kalyani Publishers, New Delhi, p 389

Soota TD (1983) Studies on nematode parasites of Indian vertebrates I. Fishes Rec Zool Surv India Misc Publ occasional paper No. 54, 352p

Srivastava AB, Gupta SP (1975) On three new species of the genus Camallanus Railliet and Henry, 1915, from marine fishes of Puri, Orissa. Indian J Helminthol 27:124–131

Stromberg PC, Crites JL (1975) Population biology of Camallanus oxycephalus Ward and Magath, 1916 (Nematoda: Camallanidae) in White Bass in Western Lake Erie. J Parasitol 61:123–132

Wahid S, Praveen S (1969) Studies on parasites of fishes from Pakistan I. Neocammallus vachaii new species, with a description of Orientocreadium batrachoides Tubangui, 1931. Pakistan J Zool 1:81–86

Yamaguti S (1958) Systema helminthum. Vol I. The digenic trematodes of vertebrates. Part I and II. Interscience Publishers, New York

Yamaguti S (1961) Systema helminthum. Vol. III. The nematodes of vertebrates. Part 1 and 2. Inter-Science Publishers, New York, London, 1261p

Yeh LS (1960) On a re-construction of genus Camallanus. Railiet and Henry, 1915. J Helminth 34:117–124
Acknowledgements
The authors wish to acknowledged Rita and Nandi, resident of Binnakandi, Cachar for their support during collection of fishes from different places of Barak Valley, Assam. The authors also obliged to Head of Department, Department of Zoology, Manipur University for providing necessary laboratory facilities. Also we would like to thank UGC for giving fellowship to the first author.
Ethics declarations
Conflict of interest
The authors declare no conflict of interests regarding the publication of this article.
Ethical approval
The procedures performed during the study were in accordance with the Institutional Animal Ethics Committee, Manipur University.
Additional information
Publisher's Note
Springer Nature remains neutral with regard to jurisdictional claims in published maps and institutional affiliations.
About this article
Cite this article
Lebanan, K., Mohilal, N. Camallanus sonaiensis sp.n. (Camallanidae), a new species of nematode from Heteropneustes fossilis collected from Assam, India. J Parasit Dis (2021). https://doi.org/10.1007/s12639-020-01344-z
Received:

Accepted:

Published:
Keywords
Nematode

Camallanus

Siluriformes

Heteropneustes fossilis

Trident

Spicule