Abstract
The current study aimed to investigate the prevalence of intestinal parasites from various species of mammals and birds housed in a zoological garden in Beni-Suef province, Egypt. A total of 77 fecal samples were collected from various primates (16), carnivores (7) and herbivores (54). Meanwhile, 123 fecal samples were collected from two Ostrichs (Struthio camelus), five Numida meleagris (Numida meleagris), twoIndian Peafowls (Pavo cristatus), two Emu (Dromaius novaehollandiae) 101 Pigeons (Columba livia domestica) and 11 Swan Goose (Anser sygnoides). In addition, seven stool samples from zookeepers who had been in close contact with animals and birds were examined. Salt flotation and formol ether sedimentation techniques were applied for parasitological examination. Positive samples of Giardia cysts were preserved in alcohol and kept at 4 °C until DNA extraction. Parasitological findings revealed that 48.05% of zoo animals were infected with intestinal parasites; 11.69% were positive with helminths and 27.27% with protozoa, however 9.09% had mixed infection. It was found that 75%, 57.14% and 38.89% of primates, carnivores and herbivores respectively were infected with intestinal parasites. In Primates the most prevalent parasites were Giardia spp. (43.75%) then Entamoeba histolytica/dispar (12.5%), Entamoeba coli (12.5%) and Trichuris spp. (6.25%). For carnivores, Ancylostomatidae had the highest prevalence (42.86%) followed by Spirometra spp. (14.29%). Meanwhile, Eimeria spp. (20.37%) was the most prevalent parasite in herbivores, followed by Blantidium coli (7.41%) and Tricuris spp. (7.41%), then Toxocara spp. (3.70%). Furthermore, the prevalence of infection in zoo birds was 21.95%. The identified parasites were Eimeria spp., Giardia spp., Capillaria spp., Ascaridia spp., Isospora spp. and Sublura brumpti. Stool examination of zookeepers revealed the presence of G. doudenalis and E. histolytica/ dispar cysts. The gdh gene of G. duodenalis was successfully amplified from fecal samples of zoo mammalsand zookeepers. In conclusion, the application of preventive and control measures against the propagation of infectious intestinal parasites is essential to prevent the spread of these parasites among zoo animals or to humans.
Access options
Buy single article
Instant access to the full article PDF.
US$ 39.95
Tax calculation will be finalised during checkout.
Subscribe to journal
Immediate online access to all issues from 2019. Subscription will auto renew annually.
US$ 79
Tax calculation will be finalised during checkout.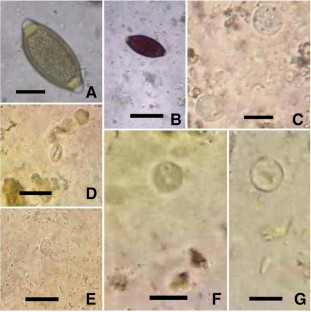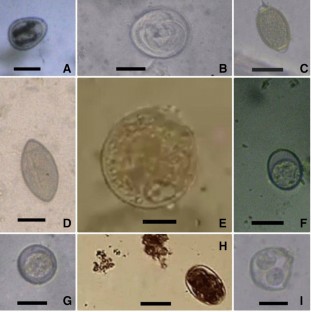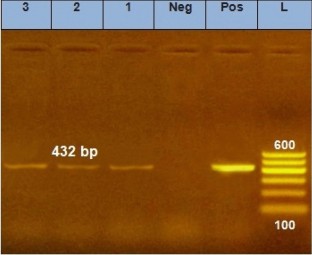 References
Abe N, Yasukawa A (1996) Prevalence of Toxocara spp. Eggs in sandpits of parks in Osaka city, Japan, with notes on the prevention of egg contamination by fence construction. J Vet Med Sci 59:79–80

Adejinmi OJ, Ayinmode AB (2008) Preliminary investigation of zooanthroponosis in a Nigerian zoological garden. Vet Res 2(3–4):38–41

Arafa WM, Mahrous LN, Aboelhadid S M, Abdel-Ghany A E (2012) Investigation of enteric parasites of zoo animals and zookeepers in Beni-Suef Governorate, Egypt. BS VET MED J 7th Sci Conf, 22(1), pp 121–125

Akinboye DO, Ogunfeitimi AA, Fawole O, Agbolade O, Ayinde OO, Atulomah NOS, Amosu AM, Livingstone R (2010) Control of parasitic infections among workers and inmates in a Nigerian zoo. Nigeria J Parasitol 1:35–38

Ajibade WA, Adeyemo OK, Agbede SA (2010) Coprological survey and inventory of animals at Obafemi Awolowo University and University of Ibadan Zoological Gardens. WJZ 4:266–271

Babaei Z, Ourmazdi H, Akhlaghi L, Rezaei Sasan, Razmjou E, Soltani Arabshahi SK, Memar AR, Hadighi R (2008) Molecular characterization of the Iranian isolates of Giardia Lamblia: application of the glutamate dehydrogenase gene. Iranian Journal Of Public Health 37(2):75–82

Bertrand I, Albertini L, Schwartzbrod J (2005) Comparison of two target genes for detection and genotyping of Giardia lamblia in Human Feces by PCR and PCR-restriction fragment length polymorphism. J Clin Microbiol 43(12):5940–5944

Chakraborty A, Islam S (1996) A survey of gastrointestinal parasitic infection in some free ranging herbivores in the Kaziranga National Park. Zoos' Print 11:3–5

Chanu NO, Singh TS, Dutta S (2018) Detection and genetic characterization of Giardia intestinalis in children with gastrointestinal symptoms by PCR RELP in Sikkim, India. J. Nat Sc Biol Med 9(2):193

Chauhan PPS, Bhatia BB, Arora GS, Agrawal RD, Ahluwalia SS (1973) A preliminary survey of parasitic infections among mammals and birds at Lucknow and Delhi Zoo. Indian J Anim Sci 43(2):163–168

David EB, Coradi ST, Oliveira-Sequeira TCG, Ribolla PEM, Katagiri S, Guimarães S (2011) Diagnosis of Giardia infections by PCR-based methods in children of an endemic area. J Venom Anim Toxins Incl Trop Dise 17(2):209–215

Fallah E, Nahavandi K, Jamali R, et al. (2008) Molecular identification of Giardia duodenalis isolates from human and animal reservoirs by PCR-RFLP. Int J Biol Sci 2:172–184

Faria CP, Zanini GM, Dias GS, da Silva S, Sousa MdC (2016) Molecular characterization of Giardia lamblia: first report of assemblage b in human isolates from Rio de Janeiro (Brazil). PLoS ONE 11(8):e0160762. https://doi.org/10.1371/journal.pone.0160762

Fagiolini M, Riccardo PL, Piero L, Paolo C, Riccardo M, Claudia C, Domenico O, Riccardo F, Stefania P (2010) Gastrointestinal parasites in mammals of two Italian zoological gardens. J Zoo Wildlife Med 41(4):662–670

Geraghty V, Mooney J, Pike K (1982) A study of parasitic infections in mammals and birds at the Dublin zoological garden. Vet Res Commun 5:343–348

Hazrati Tappeh K, Manafi G, Asgharzadeh M et al (2014) Incidence of Giardia lamblia subspecies by PCR-RFLP in Stool specimens of hospitalized children at Urmia Mutahhari hospital, West Azerbaijan province, Iran. Iran J Parasitol 9(4):541–547

Hunter PR, Thompson RC (2005) The zoonotic transmission of Giardia and Cryptosporidium. Int J Parasitol 5:1181–1190

Kiani H, Mirzapour A, Mobedi I, Spotin A, Tabaei SJS, Rahimi M (2018) Frequency of intestinal parasites among zoo animal by morphometric criteria and first report of the Bivitellobilharzia nairi from elephant (Elephasmaximus maximus) in Iran. Iran J Parasitol 13(4):611–617

Lee J, Kang S, Kim N, Lee C, Ahn K, Kwon H, Park C, Kim S (2010) Investigation of helminths and protozoans infecting old world monkeys: captive vervet, cynomolgus, and rhesus monkeys. Korean J Vet Res 50(4):273–277

Lim YAL, Ngui R, Shukri J, Rohela M, Mat Naim HR (2008) Intestinal parasites in various animals at a zoo in Malaysia. Vet Parasitol 157:154–159

Maesano G, Capasso M, Ianniello D, Cringoli G, Rinaldi L (2014) Parasitic infections detected by FLOTAC in zoo mammals from Warsaw. Poland. Acta Parasitolo 59(2):343–353

Magona JW, Musisi G (1999) Prevalence and infections levels of gastrointestinal nematodes in Ugandan goats in different agro climatic zones. Bull Anim Health Prod Afr 47:49–56

Margolis L, Esch GW, Holmes JC, Kuris AM, Schad GA (1982) The use of ecological terms in parasitology. (Report of an AdHoc Committee of the American Soceity of Parasitology). J Parasitol 68:131–133

Malekifard F, Ahmadpour M (2018) Molecular detection and identification of Giardia duodenalis in cattle of Urmia, northwest of Iran. Vet Res Forum 9(1):81–85

Maharjan M (2015) Endo-parasites of primates and their Zoonotic Importance. National Zoonoses and Food Hygiene Research Centre (NZFHRC), Kathmandu, Nepal, 21 (2)

Meamar A, Hadighi R (2008) Molecular characterization of the iranian isolates of giardia lamblia: Application of the glutamate dehydrogenase gene. Iran J Public Health 37:75–82

Mitchell MA, Tully TN (2009) Manual of exotic pet practice. Saunders Elsevier, St. Louis

Mirzapour A, Kiani H, Mobedi I, Spotin A, Seyyed Tabaei SJ, Rahimi M (2018) Frequency of Intestinal Parasites among Zoo Animal by Morphometric Criteria and First Report of the Bivitellobilharzia nairi from Elephant (Elephasmaximus maximus) in Iran. Iran J Parasitol 13(4):611–617

Mir AQ, Dua K, Singla LD, Sharma S, Singh MP (2016) Prevalence of parasitic infection in captive wild animals in Bir Moti Bagh mini zoo (Deer Park), Patiala, Punjab. Veterinary World 9:540–543

Muoria PK, Muruthi P, Rubenstein D, Oguge NO, Munene E (2005) Cross-sectional survey of gastro-intestinal parasites of Grevy's zebras in southern Samburu, Kenya. Afr J Ecol 43:392–395

Munene E, Otsyula M, Mbaabu DA, Mutahi WT, Muriuki SM, Muchemi GM (1998) Helminth and protozoan gastrointestinal tract parasites in captive and wild-trapped African non-human primates. Vet Parasitol 78(3):195–201

Naoki A, Minoru Y, Tatsuya T, Kotaro O (2012) Molecular Identification of Oesophagostomum and Trichuris Eggs Isolated from Wild Japanese Macaques. Korean J Parasitol 50(3):253–257

Opara MN, Osuji CT, Opara JA (2010) Gastrointestinal parasitism in captive animals at the zoological garden, Nekede Owerri, Southeast Nigeria. Rep Opin 2:21–28

Otegbade AC, Morenikeji OA (2014) Gastrointestinal parasites of birds in zoological gardens in south-west Nigeria. Trop Biomed 31(1):54–62

Panayotova-Pencheva MS (2013) Parasites in captive animals: a review of studies in some European zoos. Der Zoologische Garten 82(1–2):60–71

Plutzer J, Ongerth J, Karanis P (2010) Giardia taxonomy, phylogeny and epidemiology: facts and open questions. Int J Hyg Environ Health 213(5):321–333

Purcell JE, Philipp MT (2005) Parasitic diseases of nonhuman primates. In: Sonia WC (ed) The Laboratory Primate. Elsevier Academic, Amsterdam, pp 579–593

Rao A, Acharjyo L (1984) Diagnosis and classification of common diseases of captive animals at Nandankanan zoo in Orissa [India]. Indian J Anim Health 23:147–152

Rahman SM, Dey AR, Kundu UK, Begum N (2014) Investigation of gastrointestinal parasites of herbivores at Dhaka National Zoological Garden of Bangladesh. J Bangladesh Agril Univ 12(1):79–85

Read CM, Monis PT, Thompson RC (2004) Discrimination of all genotypes of Giardia duodenalis at the glutamate dehydrogenase locus using PCR-RFLP. Infect. Genet Evol 4:125–130

Ruta M, Anna K, Pēteris K, Edgars L, Dace K, Evija E, Daina IMR, Krūklīte A, Keidāns P, Liepiņš E, Keidāne K, Eihvalde E, Ikauniece D (2009) Parasitic infestation of animals in deer gardens in Latvia. Acta Biol Univ Daugavp 9:109–114

Siripattanapipong S, Leelayoova S, Mungthin M, Thompson RCA, Boontanom P, Saksirisampant W, Tan-ariya P (2011) Clonal diversity of the glutamate dehydrogenase gene in Giardia duodenalis from Thai Isolates: evidence of genetic exchange or Mixed Infections? BMC Microbiol 11:206. https://doi.org/10.1186/1471-2180-11-206

Sen Gupta MR (1974) A preliminary report on diseases and parasites of zoo animal's birds and reptiles. Indian J Anim Health 13:15–24

Smith Y, Kok OB (2006) Fecal helminth egg and oocyst counts of a small population of African lions (Panthera leo) in the southwestern Kalahari, Namibia Onderstepoort. J Vet Res 73:71–75

Soulsby EJL (1986) Helminths, arthropods and protozoa of domesticated animals, 7th edn. Baillere Tindall, London, UK, pp 593–614

Sousa MC, Morais JB, Machado JE, Poiares-da-Silva J (2006) Genotyping of Giardia lamblia human isolates from Portugal by PCR-RFLP and sequencing. J. Eukaryot Microbiol 53:174–176

Thawait VK, Maiti SK, Dixit AA (2014) Prevalence of gastro-intestinal parasites in captive wild animals of Nandan Van Zoo. Raipur, Chhattisgarh Vet World 7(7):448–451

Thompson RCA (2000) Giardiasis as a re-emerging infectious disease and its zoonotic potential. Int J Parasitol 30:1259–1267

Thompson RC (2004) The zoonotic significance and molecular epidemiology of Giardia and giardiasis. Vet Parasitol 126:15–35

Thomas RG, Ellis CG, Colin AC (2005) Gastrointestinal parasites of the Colobus monkeys of Uganda. J Parasitol 91(3):569–573

WHO (2020) Bench aids for the diagnosis of the intestine, 2nd edn. WHO, Geneva

WHO/PAHO/UNESCO (1997) report of a consultation of experts on amoebiasis. Weekly Epidemiological Report of the World Health Organization. 72: 97–9".View at: Google Scholar

Xiao L, Fayer R (2008) Molecular characterisation of species and genotypes of Cryptosporidium and Giardia and assessment of zoonotic transmission. Int J Parasitol 38(11):1239–1255

Zajac AM, Conboy GA (2006) Veterinary clinical parasitology. Blackwell Publishing, Malden
Acknowledgement
The authors are appreciative to the manager of Beni-Suef zoo and zooworkers for their great help.
Ethics declarations
Conflict of interest
Authors declare that they have no conflict of interest.
Ethical statement
This study was conducted according to the ethical standards of Faculty of Veterinary Medicine, Beni-Suef University, Egypt and approved by the Institutional Animal Care and Use Committee of Beni-Suef University (2019-BSUV-39).
Informed consent
The zookeepers involved in this investigation consented to facilitate this study.
Additional information
Publisher's Note
Springer Nature remains neutral with regard to jurisdictional claims in published maps and institutional affiliations.
Supplementary Information
Below is the link to the electronic supplementary material.
About this article
Cite this article
Kamel, A.A., Abdel-Latef, G.K. Prevalence of intestinal parasites with molecular detection and identification of Giardia duodenalis in fecal samples of mammals, birds and zookeepers at Beni-Suef Zoo, Egypt. J Parasit Dis (2021). https://doi.org/10.1007/s12639-020-01341-2
Received:

Accepted:

Published:
Keyword
Giardia

Molecular analysis

Intestinal parasites

Zoo animals

Zoo birds